Drawing cowgirls | Are you ready for adventure? // Dibujando vaqueras | Estás listo para la aventura?
English version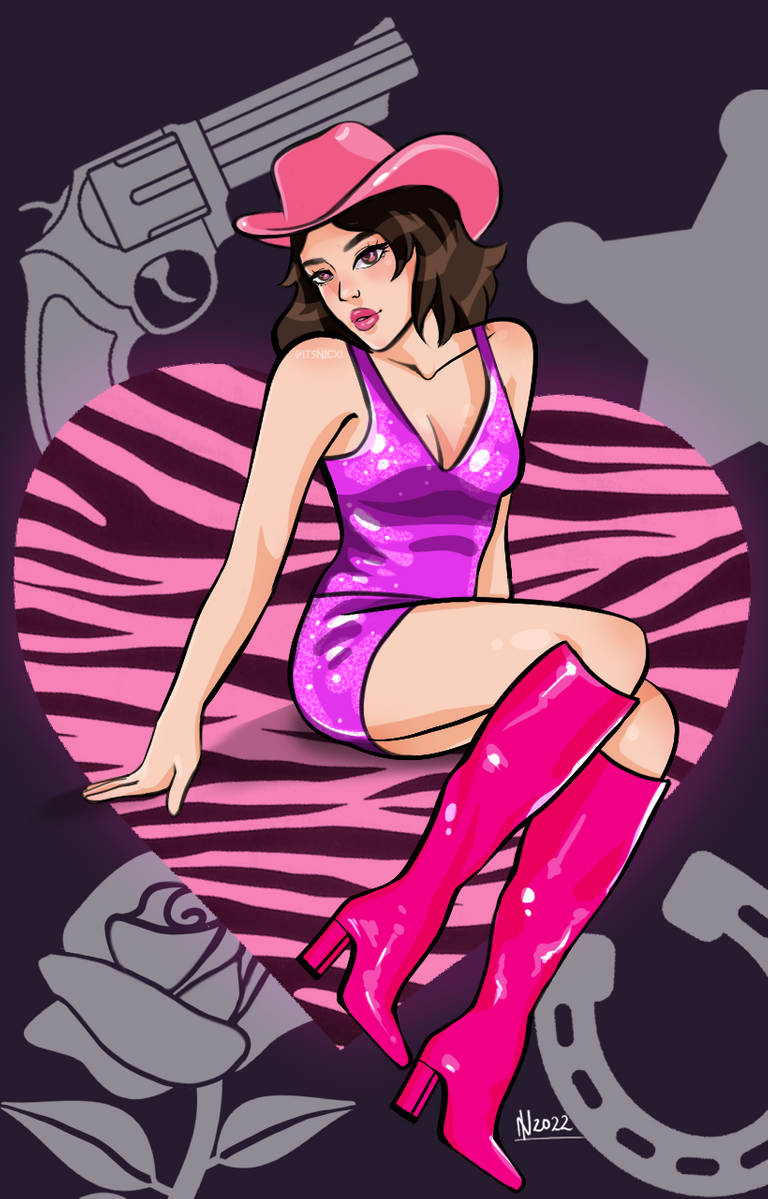 Another cowgirl? of course yes, she is my favorite character to work with for a season, I feel that if I don't follow a theme or a color palette, it wouldn't be so easy to be constant with a style or theme for my drawings, besides, I've become very fond of these cowgirls, I love the style and the colors I've used in these drawings.
My technique and the themes I like to approach when drawing in digital are far from the ones I would choose to do in traditional, but it is valid to express my ideas in different ways depending on the occasion.

For this drawing I used a palette of brighter colors, in my mind I kept relation with the colors of the other drawing I did link here, but once everything was finished, I realized that the previous drawing had a little softer colors, anyway, I decided to leave things as they were because I liked the result.
---
Process: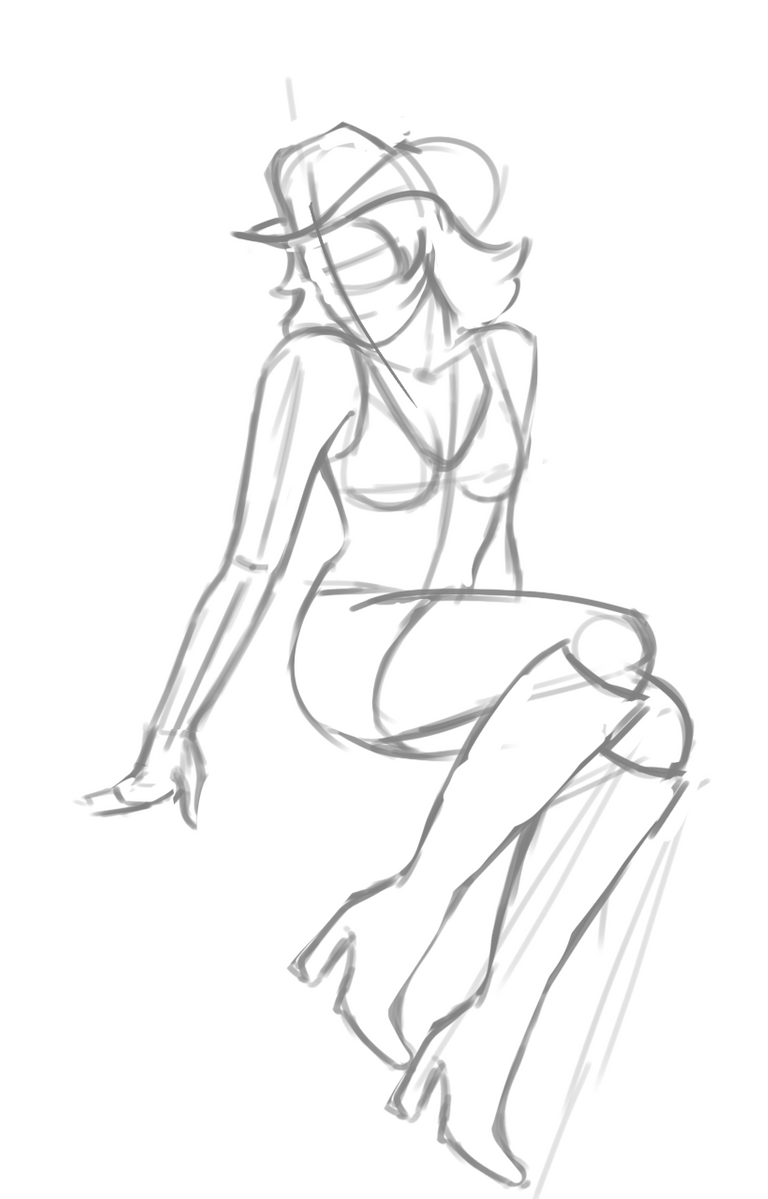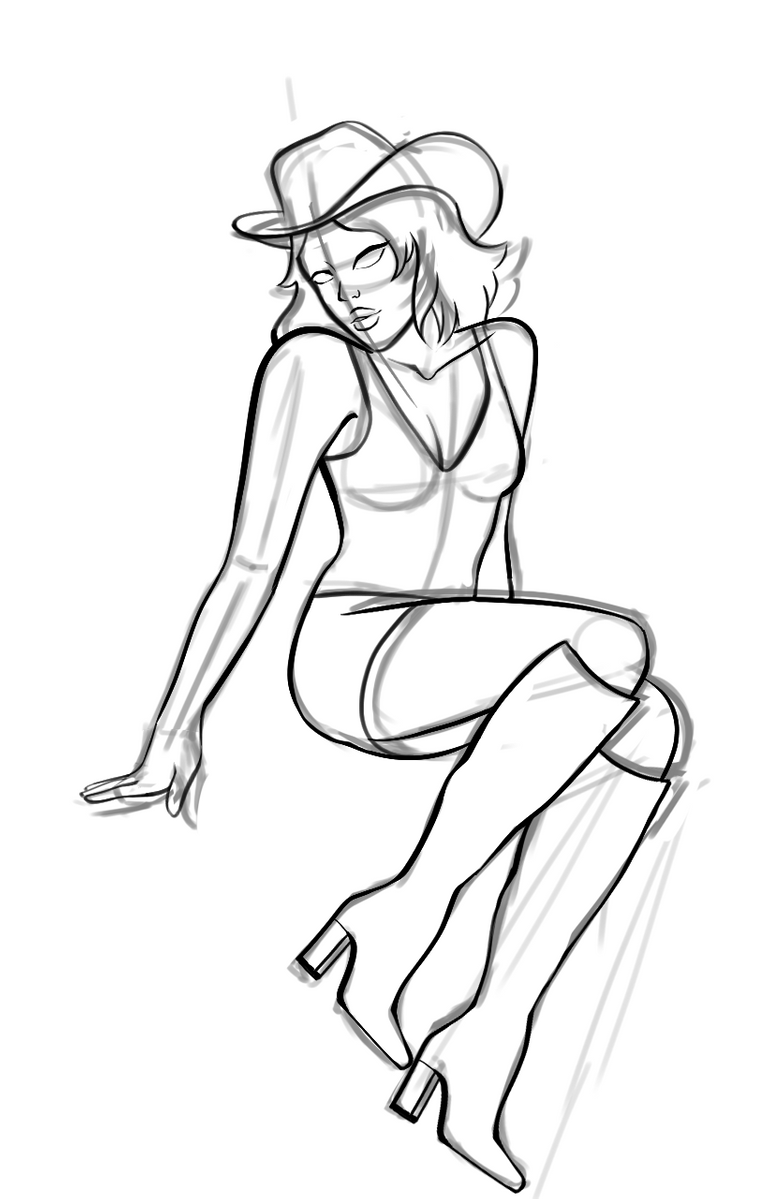 I established the figure of the character by making a quick sketch using a soft brush and then lowered the opacity of the layer to outline over it with the feather brush.
Whenever I get to the outlining step I feel a little nervous because I'm afraid it won't turn out as well as the sketch. The advantage of drawing in digital is that it's much easier to remove and modify something, but I'm still very detailed with what I do and I take my time to make it look the way I want.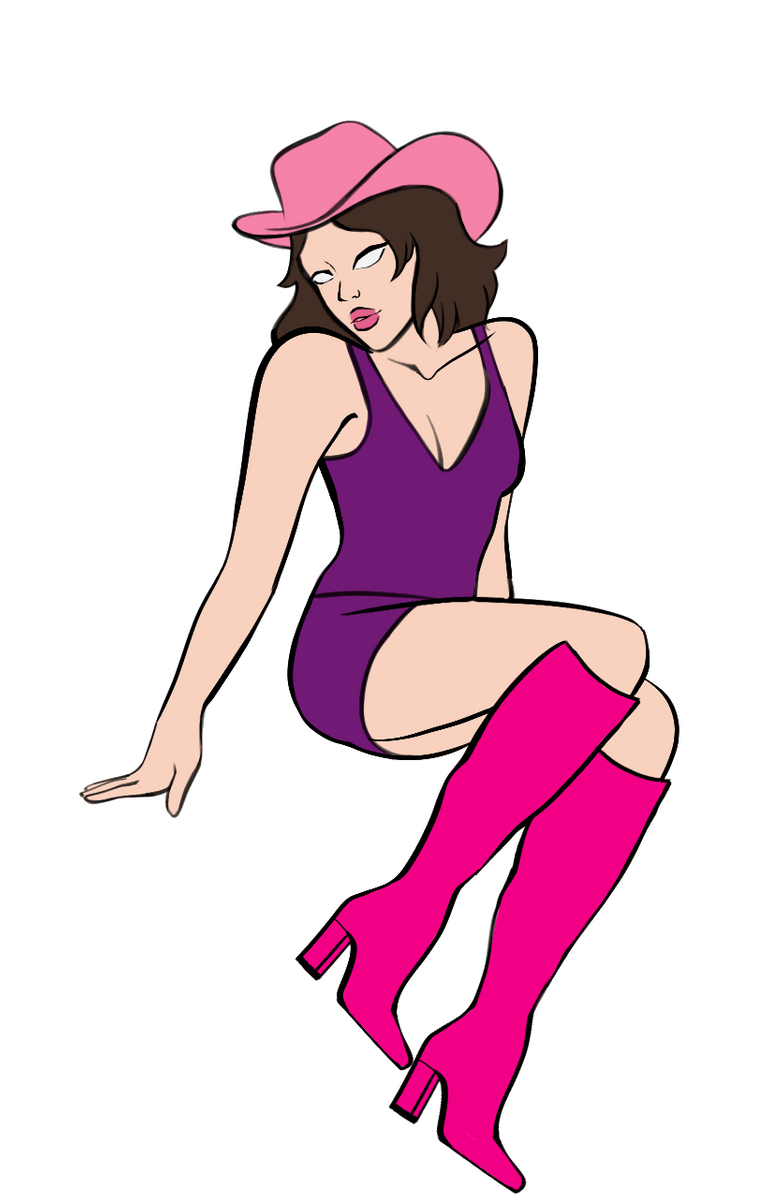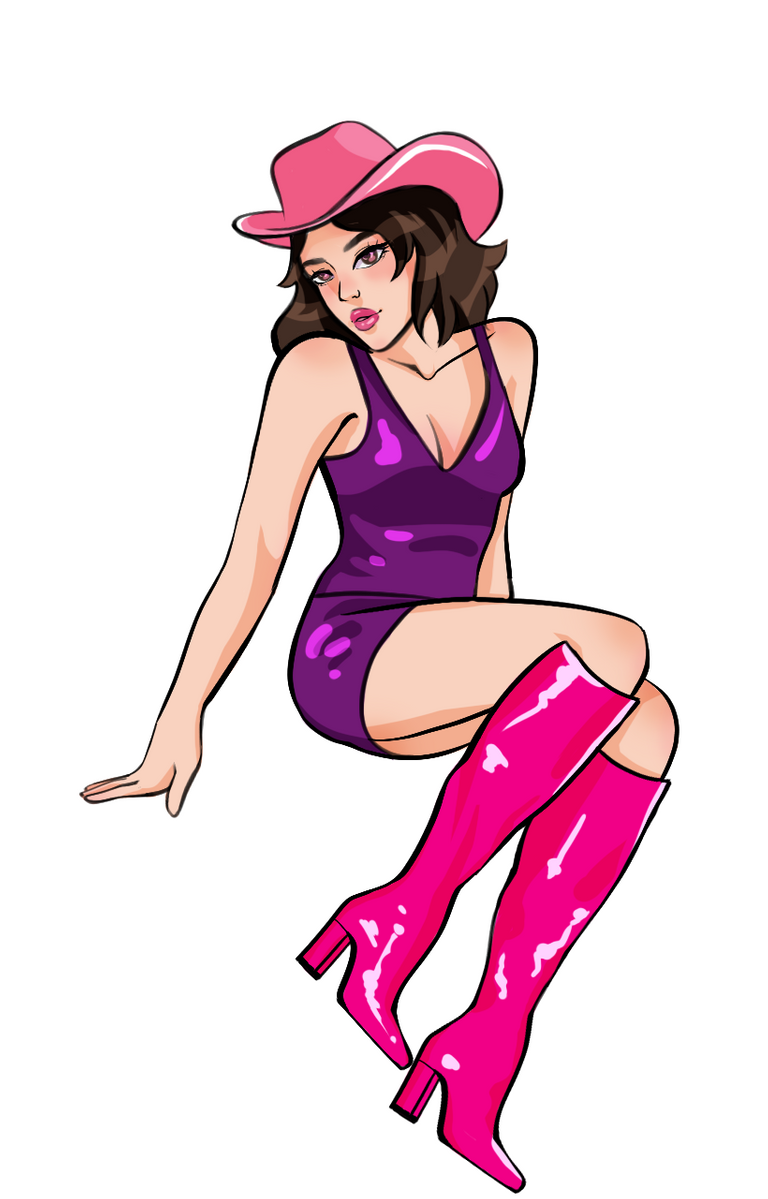 The coloring. As you will see, I applied the base colors for each part of the character, guided by the color palette I had chosen before. The girl's clothes I wanted to make them look shiny, like sequins, but I didn't have many ideas on how to achieve that.
After applying the shadows, I thought about adding an image of real sequins over the layer of clothing, but I realized that it didn't go well with the style at all. Since I couldn't think of anything else, I put that part on hold and moved forward with the rest.
The boots are my favorite part of the drawing, I like that without a lot of details I managed to make them look with that shiny texture.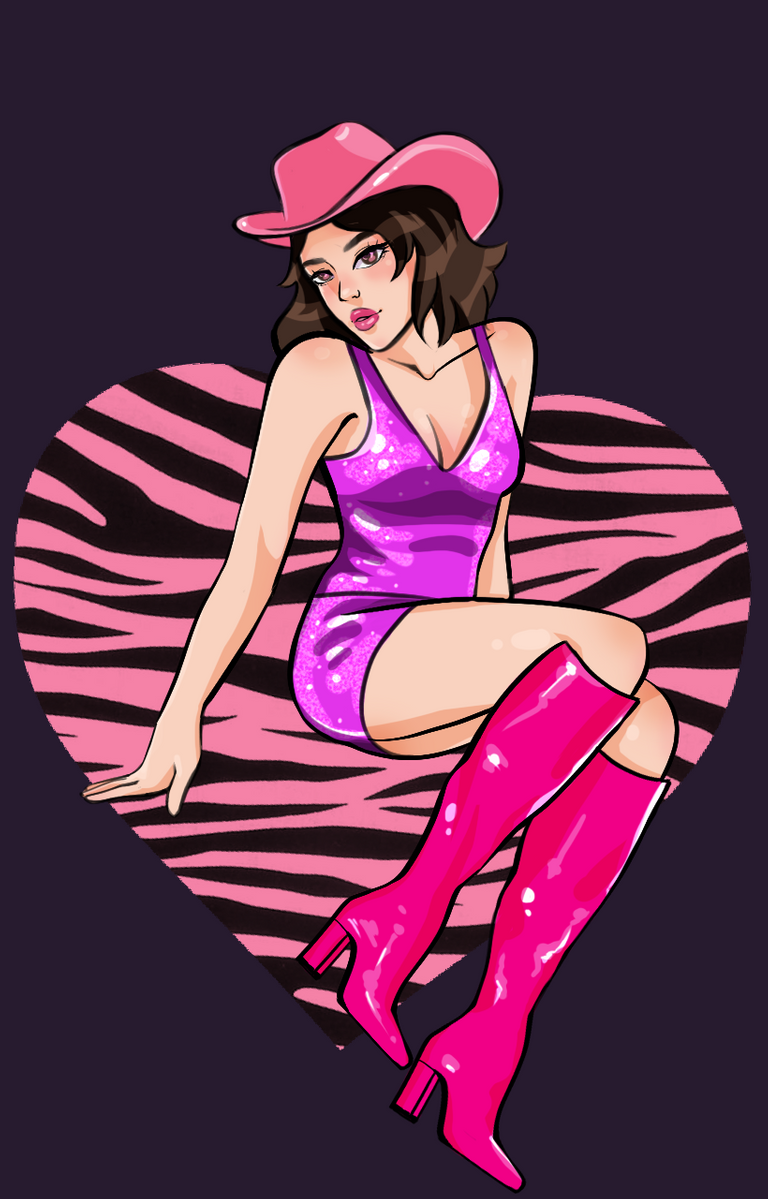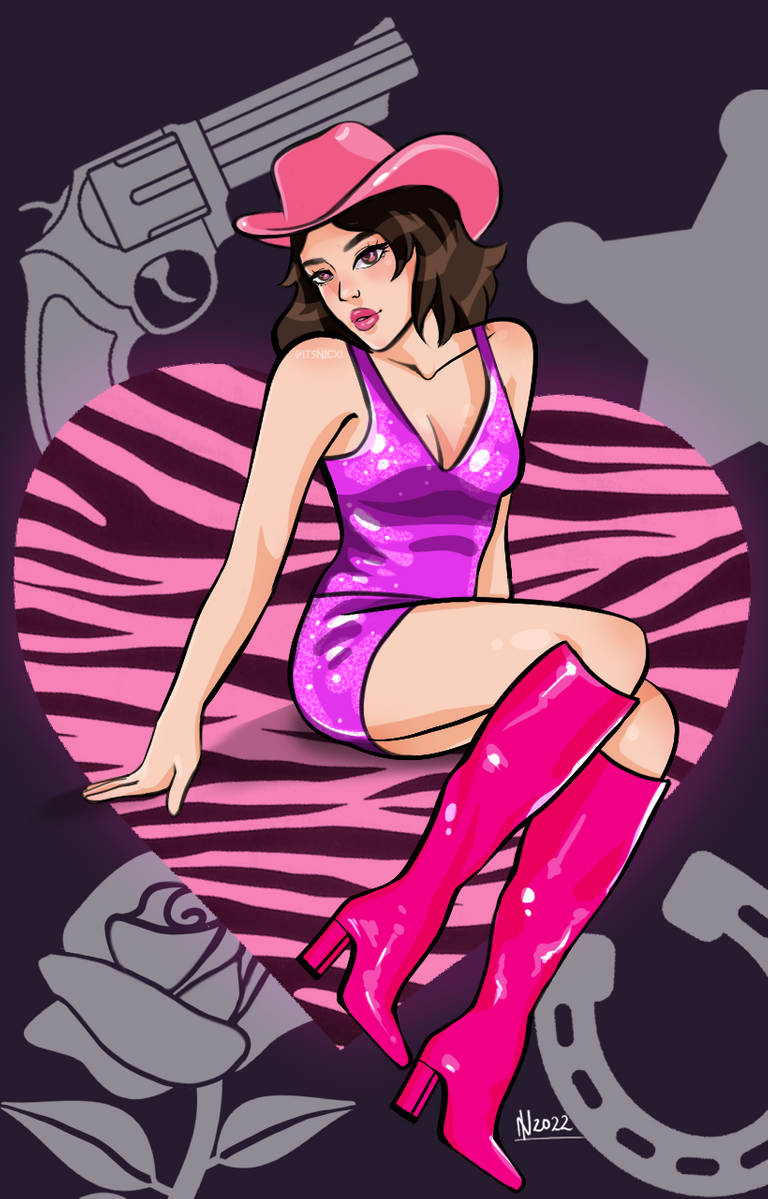 This time the background was easier to do (thank heaven). I drew a heart and with a special brush I stamped it with tiger stripes, on top of it, in a layer using linear overexposure, I added a shiny effect with pink color. I used some elements from the previous drawing like the revolver and the sheriff star, but I also drew a couple of extra ones like the rose and the horseshoe for this drawing and placed them behind the heart.
What do you think?
You can find me on twitter as @itsnicxi❤️
---

---
Versión en Español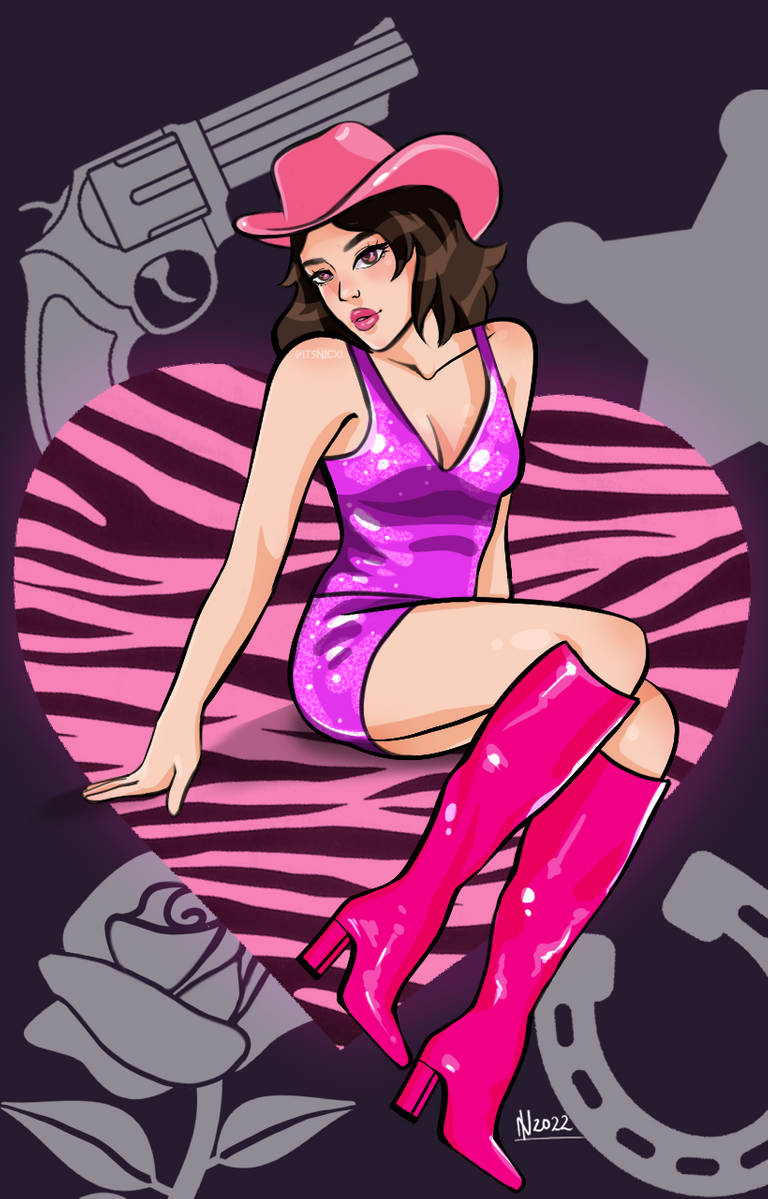 ¿Otra vaquera? por supuesto que sí, es mi personaje predilecto para trabajar durante una temporada, siento que si no me guío por un tema o una paleta de colores, no sería tan fácil ser constante con un estilo o tema para mis dibujos, además, ya le tomé mucho cariño a estas vaqueras, adoro el estilo y los colores que he usado en estos dibujos.
Mi técnica y los temas que me gustan abordar al dibujar en digital distan mucho de los que escogería para hacer en tradicional, pero es válido expresar mis ideas de distintas maneras según la ocasión.

Para este dibujo usé una paleta de colores más llamativos, en mi mente mantenía relación con los colores del otro dibujo que hice link aquí, pero una vez terminado todo, me di cuenta que el dibujo anterior tenía colores un poco más suaves, como sea, decidí dejar las cosas como estaban porque me gustó el resultado.
---
Proceso: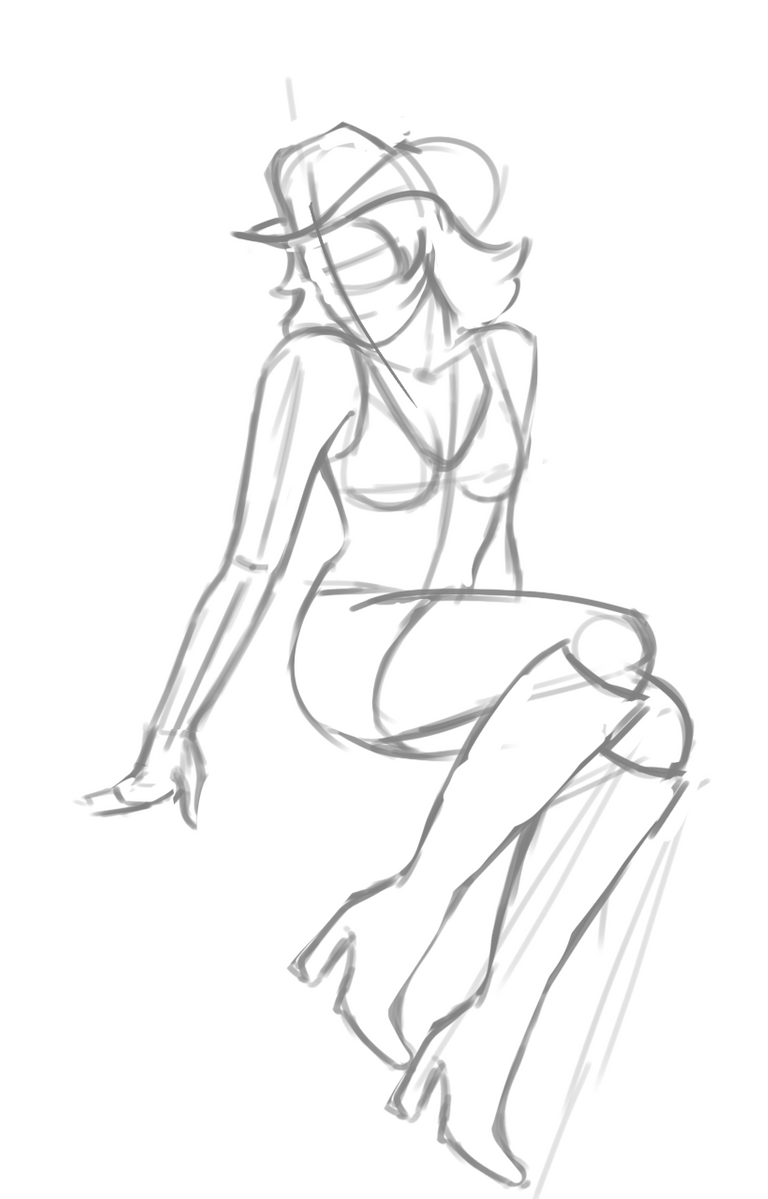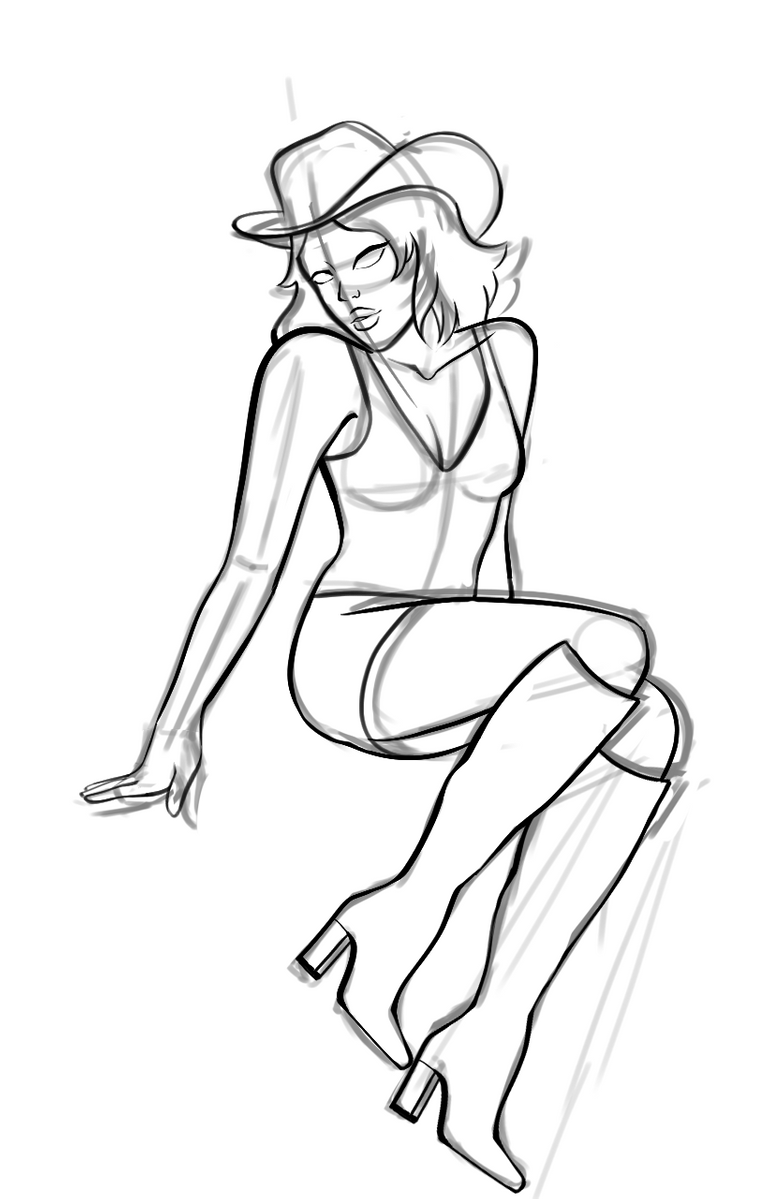 Establecí la figura del personaje haciendo un boceto rápido usando un pincel suave y luego najé la opacidad de la capa para delinear encima con el pincel pluma.
Siempre que llego al paso de delinear siento un poco de nervios porque temo que no resulte tan bien como en el boceto. La ventaja de dibujar en digital es que es mucho más fácil eliminar y modificar algo, pero aún así soy muy detallista con lo que hago y me tomo mi tiempo para que quede como quiero.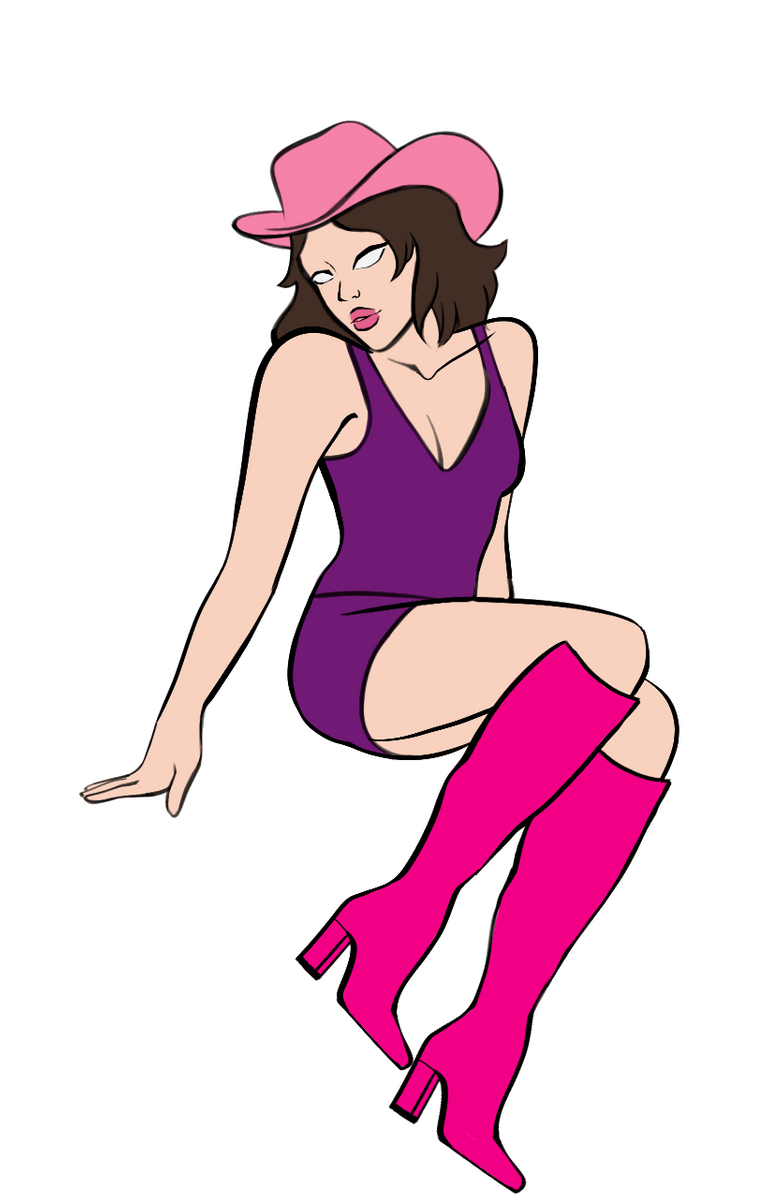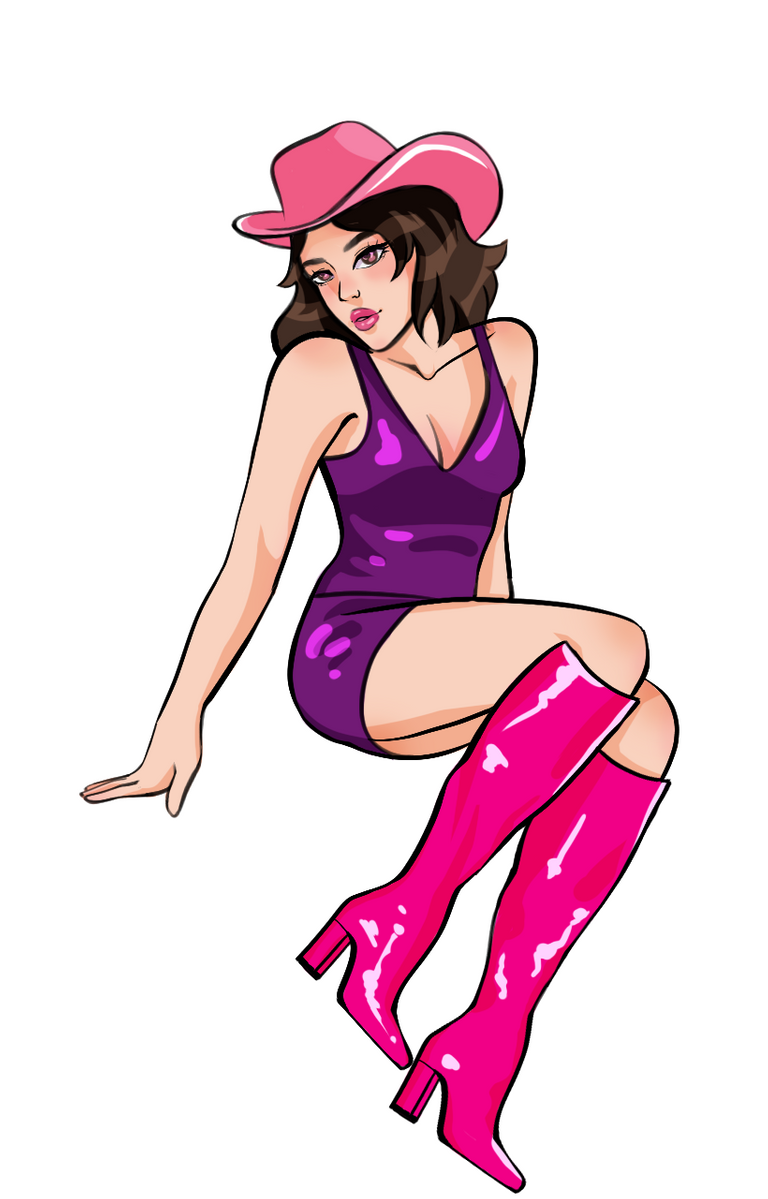 El coloreado. Como verán, apliqué los colores base de cada parte del personaje guiándome por la paleta de colores que había escogido antes. La ropa de la chica quería que se viera brillante, como con lentejuelas, pero no tenía muchas ideas de como lograr eso.
Después de aplicar las sombras, pensé en añadir una imagen de lentejuelas reales sobre la capa de ropa, pero me di cuenta que no iba nada bien con el estilo. Como no se me ocurría más nada, dejé esa parte en pausa y avancé con lo demás.
Las botas son mi parte favorita del dibujo, me agrada que sin muchos detalles logré que se vieran con esa textura brillante.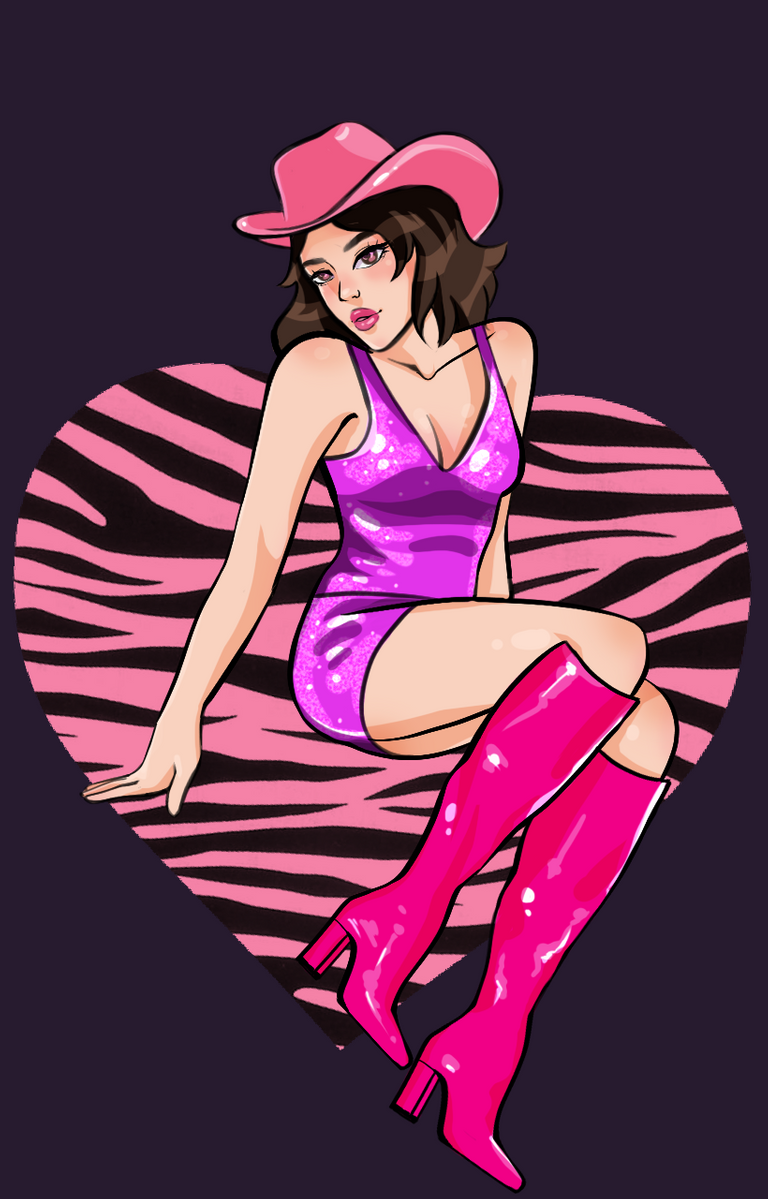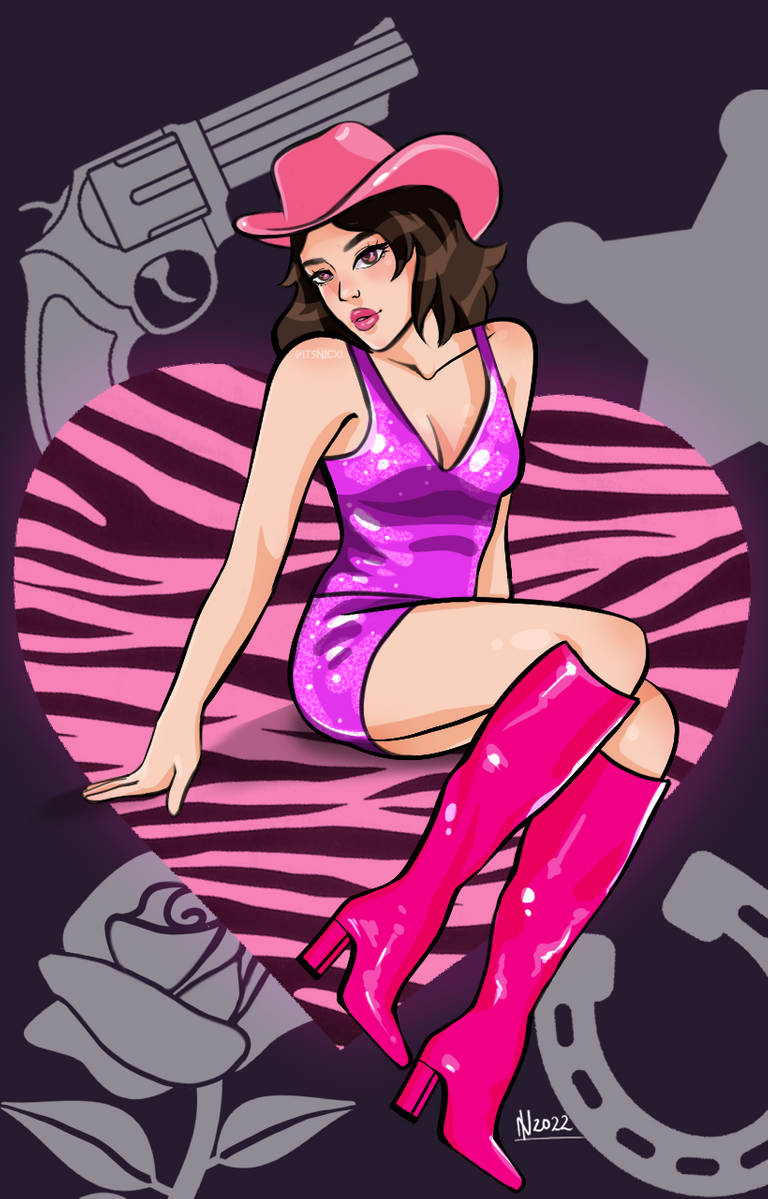 Esta vez el fondo fue más fácil de hacer (gracias al cielo). Dibujé un corazón y con un pincel especial lo estampé con rayas de tigre, encima de ella, en una capa usando la sobreexposición lineal, añadí un efecto brillante con color rosado. Usé algunos elementos del dibujo anterior como el revolver y la estrella de sheriff, pero también dibujé un par extra como la rosa y la herradura para este dibujo y los coloqué por detrás del corazón.
¿A ustedes qué les parece?
Pueden encontrarme en twitter como @itsnicxi❤️
---
---