Review | Sleeping Murder // Reseña | Un crimen dormido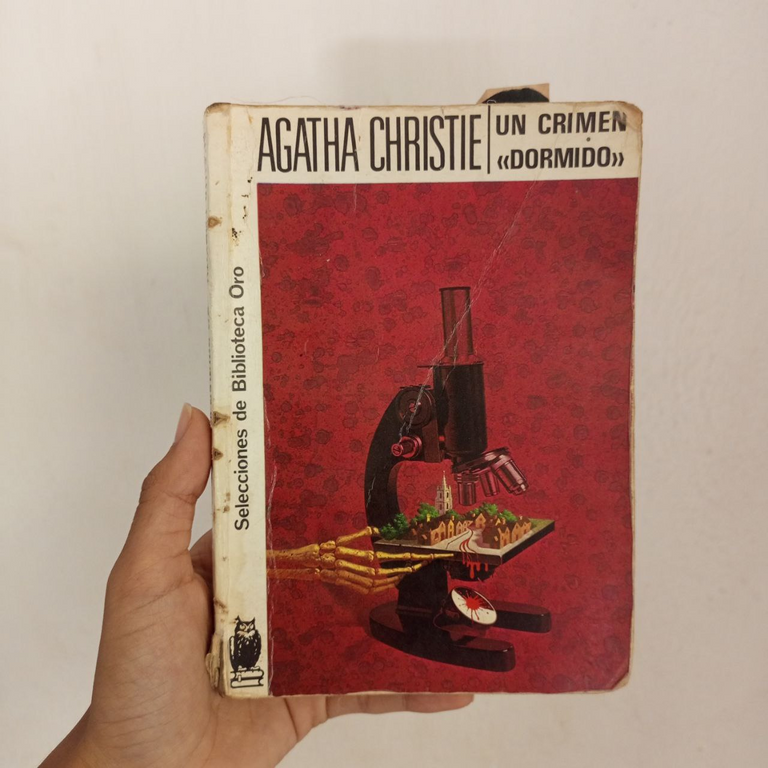 I bought this book at a book fair two or three months ago, what attracted my attention to this book was basically its title, I think it can allude to many possibilities as far as crimes and mysteries are concerned: is it an unsolved crime? or maybe, is it a crime that nobody knew about? You have to start reading to find out.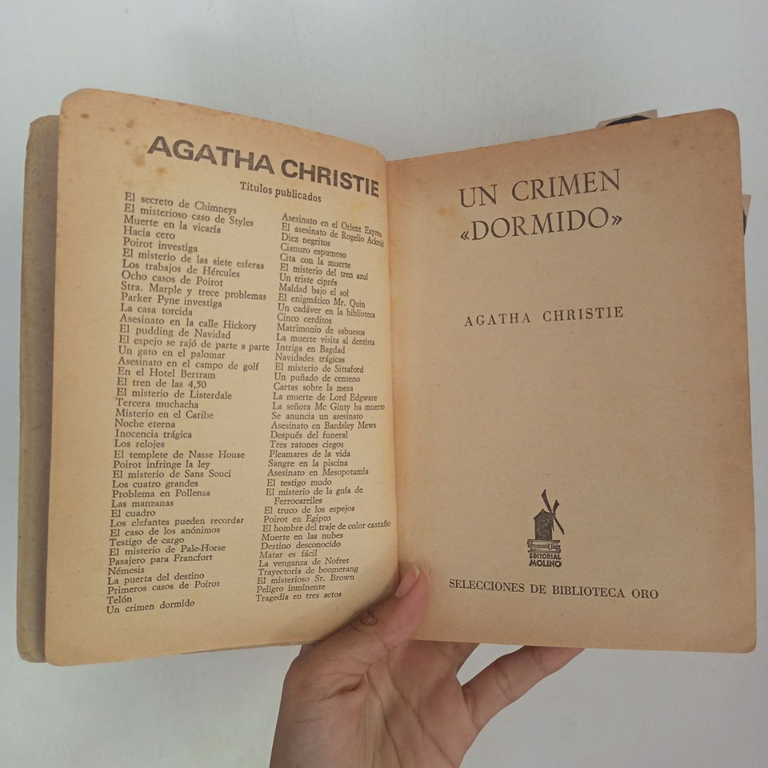 This book was printed in 1980, its cover is not in the best condition, but its pages are intact and I think there is something special about old books.
In this occasion Agatha Christie invites us to know a little of the life of the Reed couple, a couple of newlyweds who decide to buy a house in London, but not much time passes when Gwenda Reed begins to have some presentiments of having lived in it before, memories creep into her mind and she begins to have visions "I saw her lying on the floor, dead with a bluish face. She had been strangled."......*
---
The main characters, and the ones who make the decision to unearth the clues to a supposed crime that occurred at least 18 years earlier, are Gwenda and Giles Reed. Although they know the risk they are taking by deciding to take matters into their own hands, they are increasingly emboldened to find out if someone really did die in their home.
Gwenda doesn't have many memories of her childhood - when her mother died, she was sent to New Zealand to live with her aunt and uncle - yet she feels a strong connection to her home and can't shake the idea that she had been there before. **Miss Marple, an old woman she befriends, encourages her to ask her family about the time she lived with her father before being sent to New Zealand, and she discovers that she did indeed live in London for a short time with her father and stepmother, a young woman of whom she had no memory, and resided in the same house she is now living in with her husband, 18 years later.
So, the question is this: is the woman she remembers her stepmother, who could have strangled her, her own father? It is a situation too confusing and hard to assimilate, but Miss Marple, Gwenda and Giles uncover the facts little by little and discover several important things about the personality of Gwenda's father and her stepmother, as well as locate the former employees and inhabitants of the house to try to collect as much information as they can about the events at that time.
In this story we will discover the facts little by little, there are many characters involved, which can be a little confusing at first, but something I have noticed in Agatha Christie's stories is that she knows how to make us know her characters and remember them until the end, no matter if they are only 6, 8 or 12 characters.
---
This little book has taken me months to finish it, it has 220 pages but just like the title, it has left me asleep on more than one occasion. I love Agatha Christie's books, the adventure series with Poirot are the most entertaining for me, but this time, this detective does not enter the scene, and I do not know if it is because I'm used to the wit and charisma of this character, or simply this story has not captivated me, but it is not one of my favorite books.
One positive thing about this experience is that I am getting back into the habit of reading at night and in the mornings when I wake up (that instead of picking up the phone), as it is not a book that I am passionate about, I have been very patient with it and not forcing myself to finish it quickly, that way I have been able to enjoy even a little bit of the plot. I think I have another Agatha physical title to read, but maybe my next story to read will be a period romance because I miss my days reading stories with predictable endings and charming characters (I'm guilty).
I hope you enjoyed this review, if you are interested in reading it I invite you to do so, maybe you will like it much more than me, and if you already did tell me your experience!
---

---
Versión en Español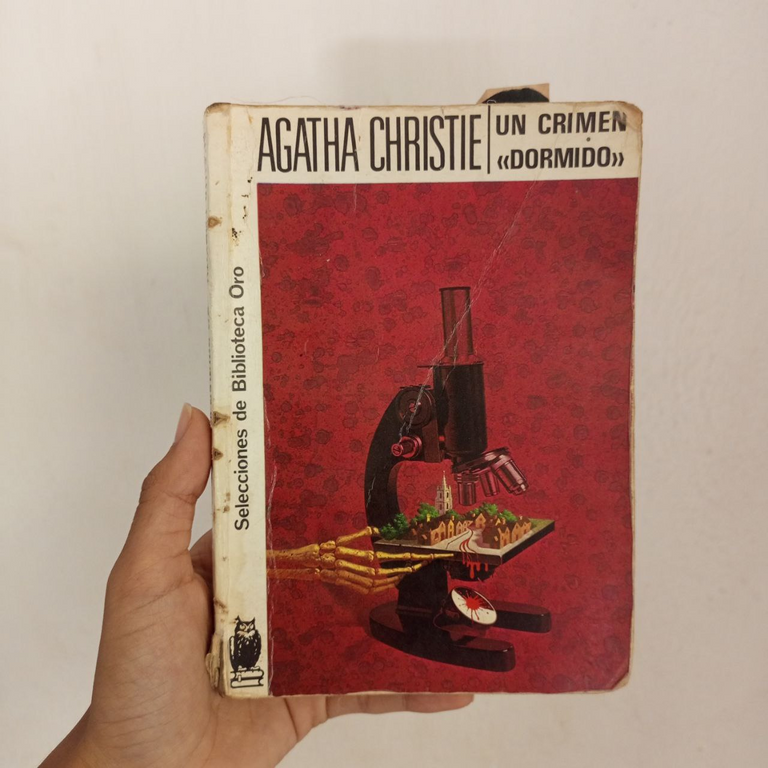 Este libro lo compré en una feria de libros hace dos o tres meses atrás, lo que atrajo mi atención de este libro fue básicamente su título, creo que puede aludir a muchas posibilidades en cuanto a crímenes y misterios se refiere: ¿es un crimen sin resolver? o quizá, ¿es un crimen del que nadie se enteró que ocurrió?... Hay que empezar a leer para averiguarlo.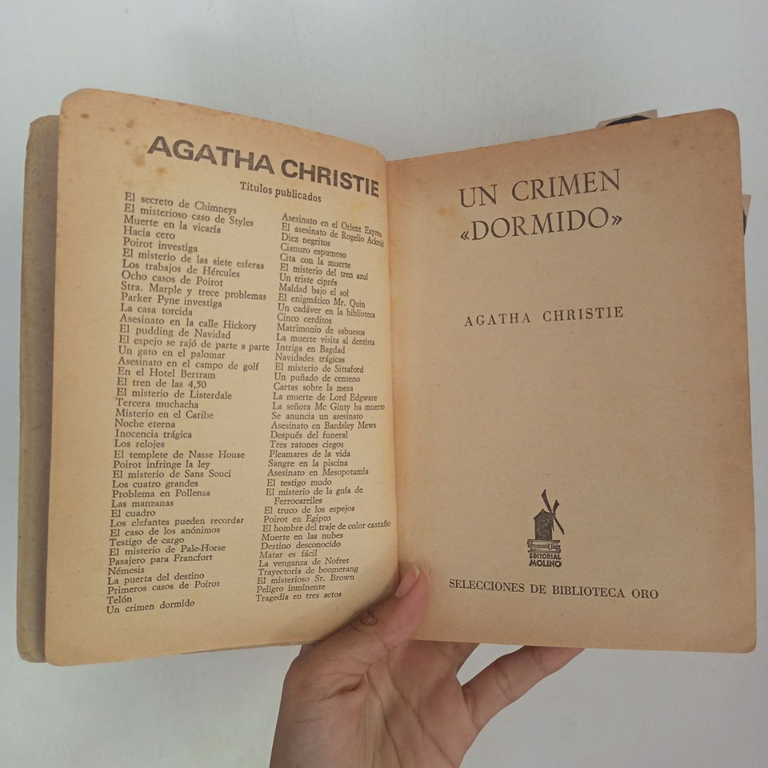 Este libro fue impreso en 1980, su carátula no está en el mejor estado, pero sus páginas están intactas y yo creo que hay algo especial en los libros antiguos.
En esta ocasión Agatha Christie nos invita a conocer la un poco de la vida del matrimonio Reed, una pareja de recién casados que deciden comprar una casa en Londres, pero no pasa demasiado tiempo cuando Gwenda Reed empieza a tener algunos presentimientos de haber habitado en ella anteriormente, los recuerdos se cuelan en su mente y empieza a tener visiones "la vi tendida en el suelo, muerta con el rostro de tono azulado. La habían estrangulado"...
---
Los personajes principales y los que toman la decisión de desempolvar las pistas de un supuesto crimen ocurrido al menos 18 años atrás, son Gwenda y Giles Reed. Aunque saben el riesgo que corren al decidir tomar el asunto por sus propias manos, cada vez se sienten más animados por descubrir si alguien realmente murió en su casa.
Gwenda no tiene muchos recuerdos de su infancia, al morir su madre fue enviada a Nueva Zelanda a vivir con sus tíos, aún así, siente una conexión muy grande con su casa y no puede quitarse la idea de encima de que ya había estado allí. Miss Marple, una anciana con la que traba amistad, le anima a preguntar a su familia por el tiempo que vivió con su padre antes de ser enviada a Nueva Zelanda, es entonces cuando descubre que efectivamente, vivió una breve temporada en Londres con su padre y su madrastra, una mujer joven de la que no tenía recuerdos, y residió en la misma casa que ahora está habitando con su esposo, 18 años después.
Entonces, la cuestión es la siguiente: ¿La mujer que recuerda es su madrastra?, ¿Quién pudo estrangularla? ¿su propio padre? Es una situación demasiado confusa y fuerte de asimilar, pero Miss Marple, Gwenda y Giles descosen los hechos poco a poco y descubren varias cosas importantes sobre la personalidad del padre de Gwenda y de su madrasta, así como localizan a los antiguos empleados y habitantes de la casa para tratar de recolectar cuanta información puedan sobre los hechos en ese tiempo.
En esta historia descubriremos los hechos poco a poco, hay muchos personajes involucrados, lo que puede resultar un poco confuso al principio, pero algo que me he fijado en las historias de Agatha Christie es que sabe como hacer para que conozcamos sus personajes y los recordemos hasta el final, no importa si son solo 6, 8 o 12 personajes.
---
Este pequeño libro me ha tomado meses en culminarlo, cuenta con 220 páginas pero así como el titulo, a mi me ha dejado dormida en más de una ocasión. Me encantan los libros de Agatha Christie, las series de aventuras con Poirot son de las más entretenidas para mi, pero en esta ocasión, este detective no entra en escena, y no sé si es porque estoy acostumbrada al ingenio y al carisma de este personaje, o sencillamente esta historia no me ha cautivado, pero no es de mis libros favoritos.
Algo positivo de esta experiencia es que estoy retomando el hábito de leer por las noches y por las mañanas al despertarme (eso en lugar de tomar el teléfono), como no es un libro que me apasione, he sido muy paciente con él y no me fuerzo a terminarlo rápido, de ese modo he podido disfrutar aunque sea un poco de la trama. Creo que tengo otro título en físico de Agatha por leer, pero quizá mi próxima historia por leer sea un romance de época porque extraño mis días leyendo historias con finales predecibles y personajes encantadores (soy culpable).
Espero que hayan disfrutado de esta reseña, si te interesa leerlo te invito a que lo hagas, quizá te guste mucho más que a mi, y si ya lo hiciste cuéntame tu experiencia!
---
---