Sketching small antique sculptures // Bocetando pequeñas esculturas antiguas
English version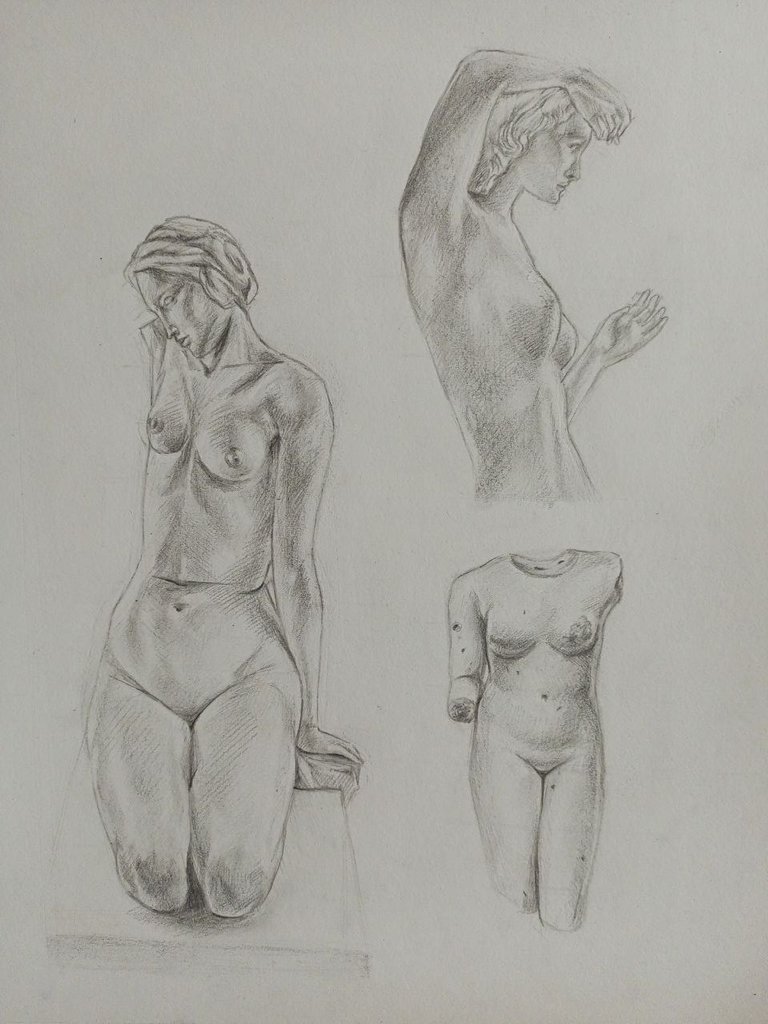 I live on a small island, and this week there has been a lot of chaos in the area because there are power failures that have lasted between 8 and 10 hours, which is terrible, but a few days ago I tried to take the positive side and since I could not use my computer or access the internet to do my college homework, I decided to take out my sketchbook and do a few practices of the body because I had some time without doing so.
I will not get tired of saying how fascinating I find the human anatomy, especially the female body, you do not know how many ideas I keep in my head of works that I hope to carry out little by little with this theme, meanwhile I try to practice from time to time foreshortenings and portraits of ancient sculptures because I think they are sublime and perfect works to recreate in pencil.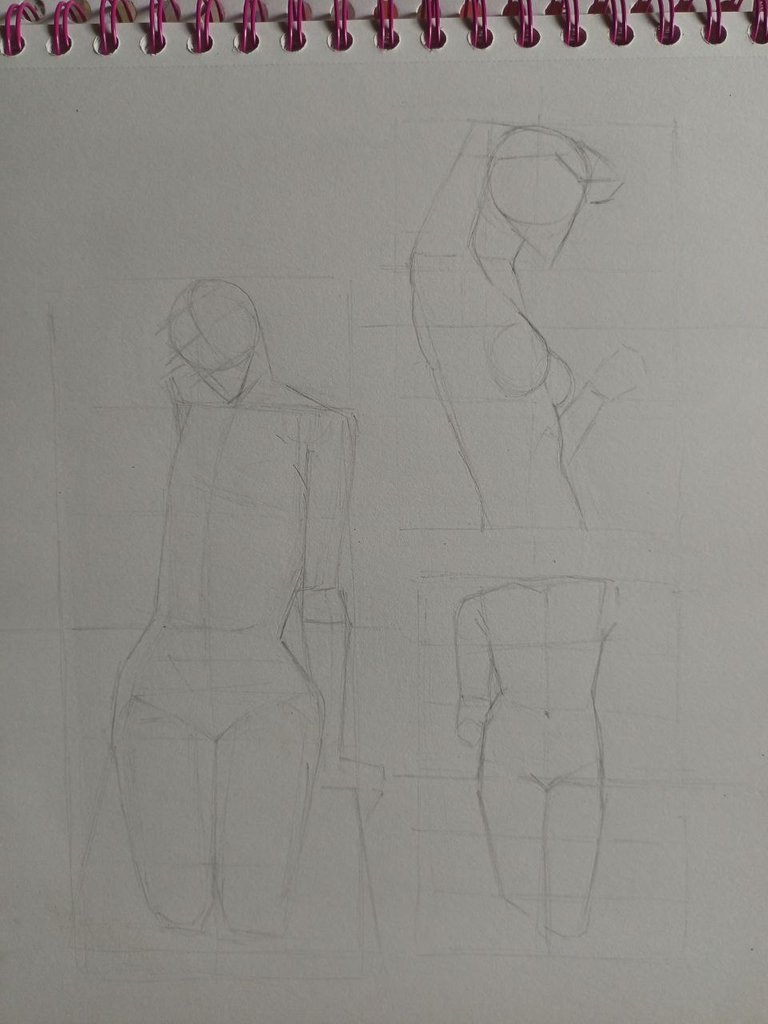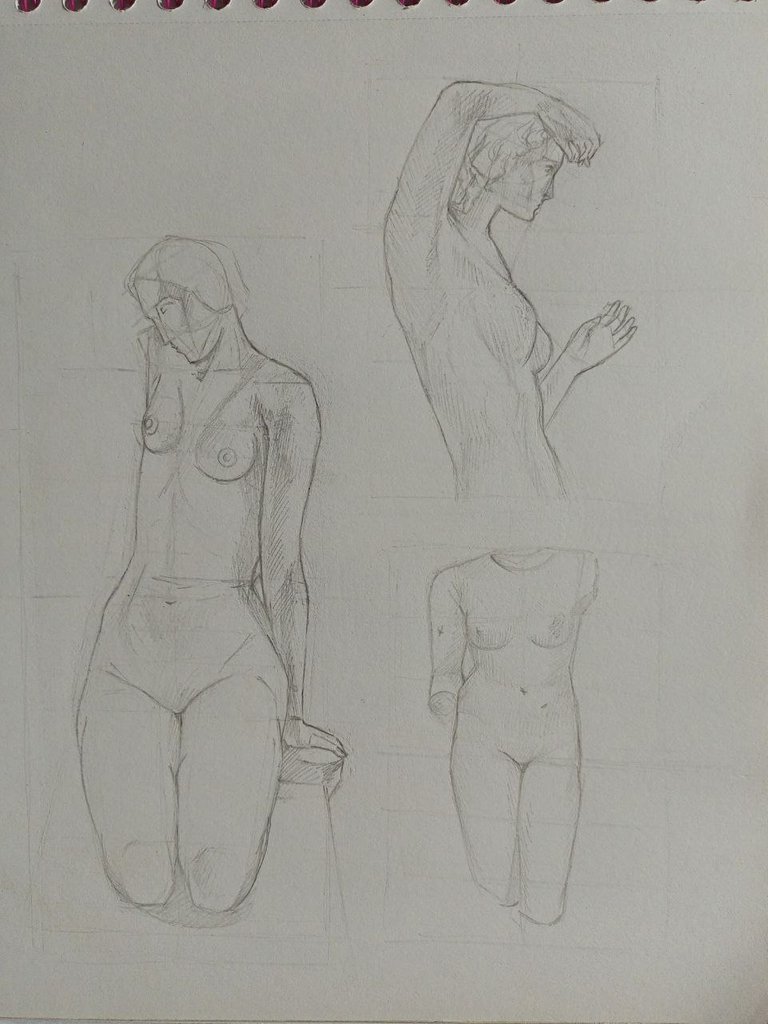 First I established the space I would use for each figure and with quick strokes I tried to draw the bodies, based only on geometrical figures and trying to have proportion. Then, with a softer pencil, I defined in more detail the outline of each body part and added some quick shadows.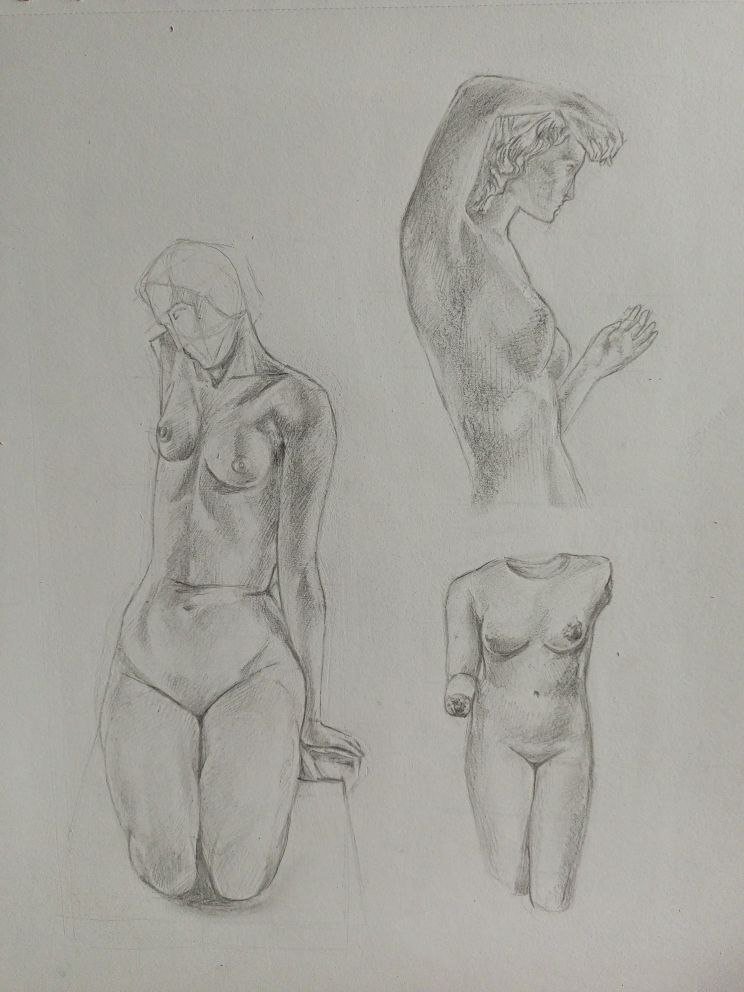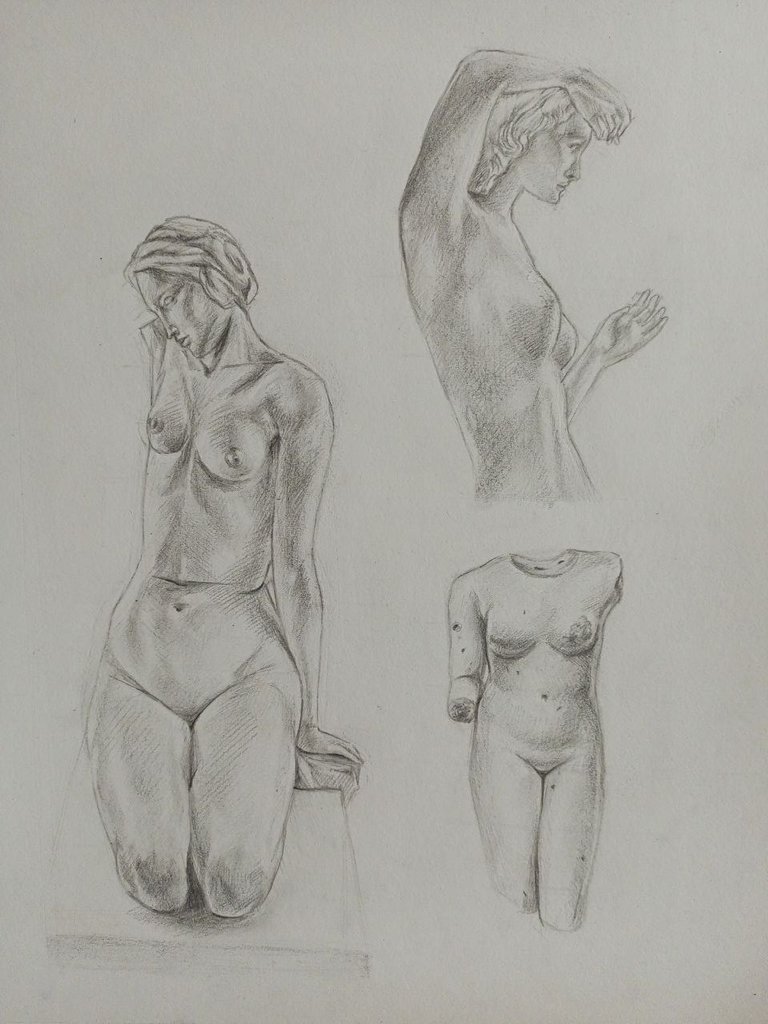 These sketches took me most of the morning, I sat for at least 3 or 4 hours (with breaks, of course), even though it was hot and I was anxious for the power to be restored, I felt relaxed and connected with what I was doing.
Little by little I added the layers of shadows, I am not a participant in blurring the shadows by running my finger over the surface of the drawing, but I must admit that I did it on a few occasions.
In the image on the right is the final result. There are a couple of things I could improve (I'm not proud of those hands, hahahah) but I like the overall result.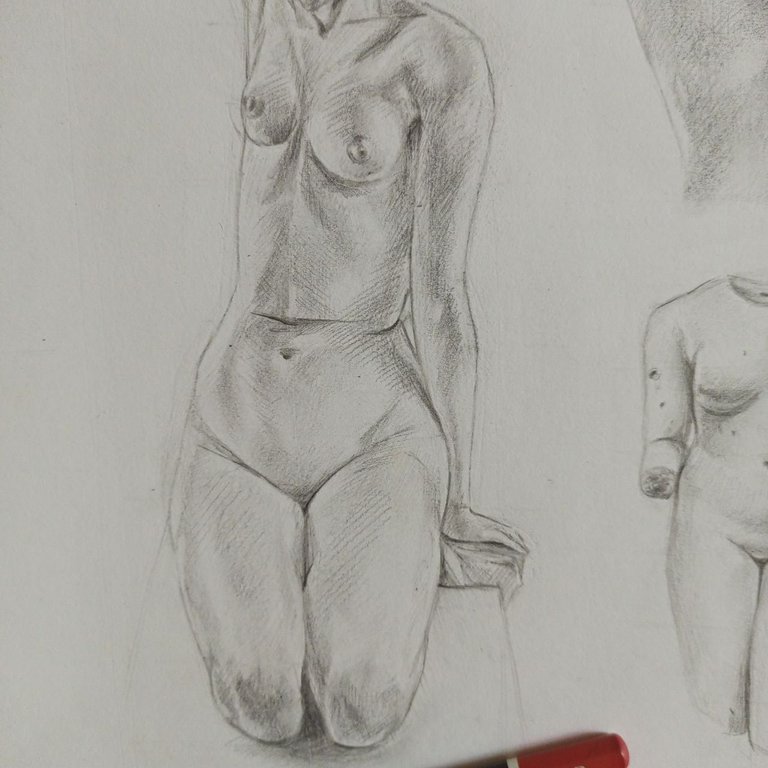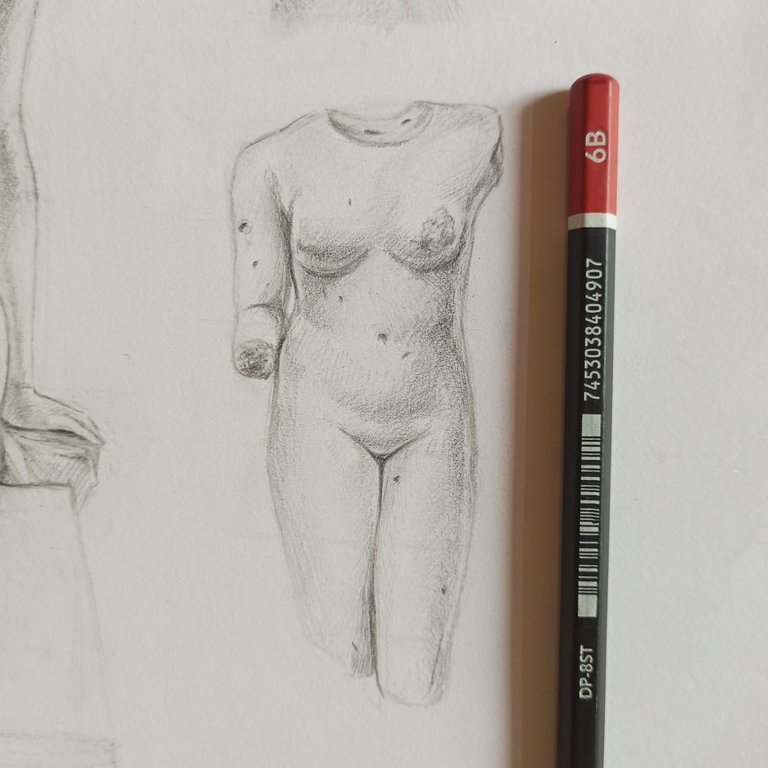 This little drawing is my favorite.
I hope you liked today's post, leave me your opinions in the comments and see you next time. :)))
---

---
Versión en Español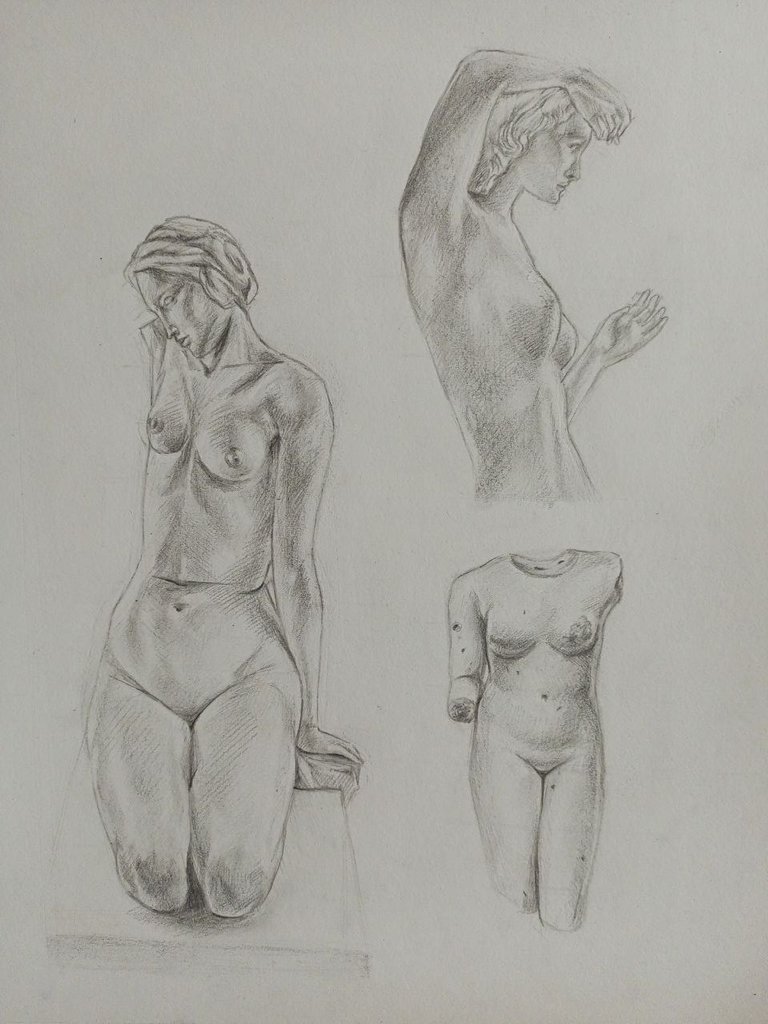 Vivo en una pequeña isla, y esta semana ha habido mucho caos en la zona porque hay fallas en el servicio eléctrico que han llegado a durar entre 8 y 10 horas, lo cual es terrible, pero hace pocos días traté de tomar el lado positivo y ya que no podía usar mi computadora ni acceder a internet para hacer mis deberes de la universidad, decidí sacar mi libreta de bocetos y hacer unas cuantas prácticas del cuerpo porque tenía algún tiempo sin hacerlo.
No me cansaré de decir lo fascinante que encuentro la anatomía humana, especialmente el cuerpo femenino, ustedes no saben la cantidad de ideas que guardo en mi cabeza de obras que espero llevar a cabo poco a poco con esta temática, por mientras intento practicar de vez en cuando escorzos y retratos de esculturas antiguas porque creo que son obras sublimes y perfectas para recrear a lápiz.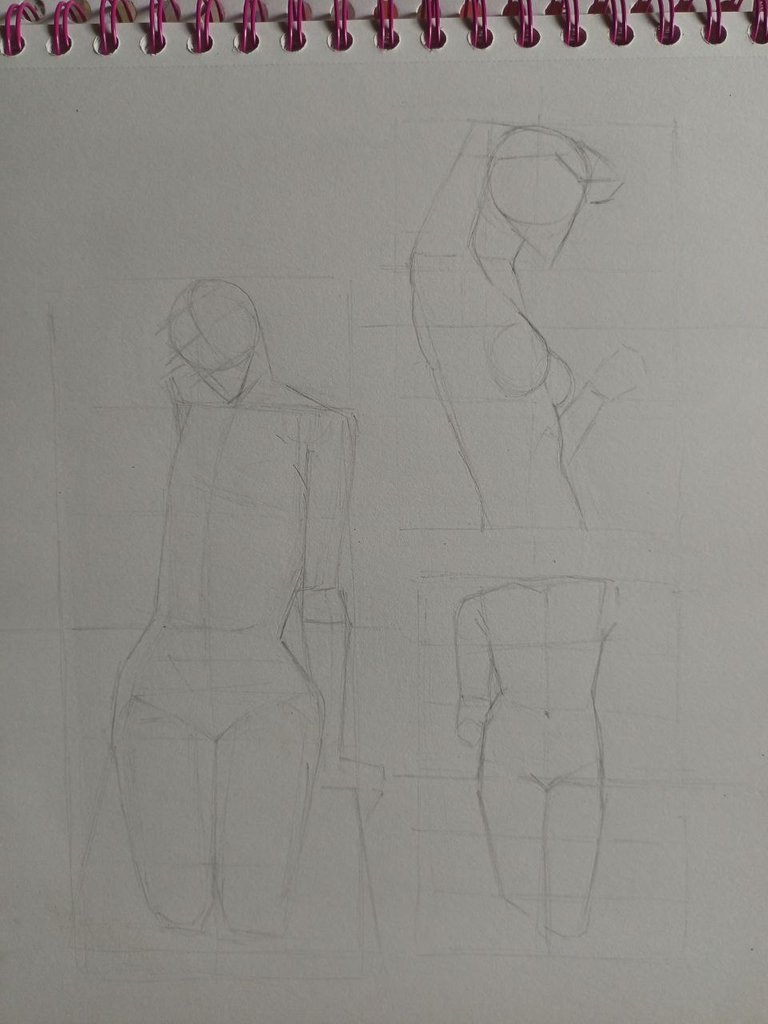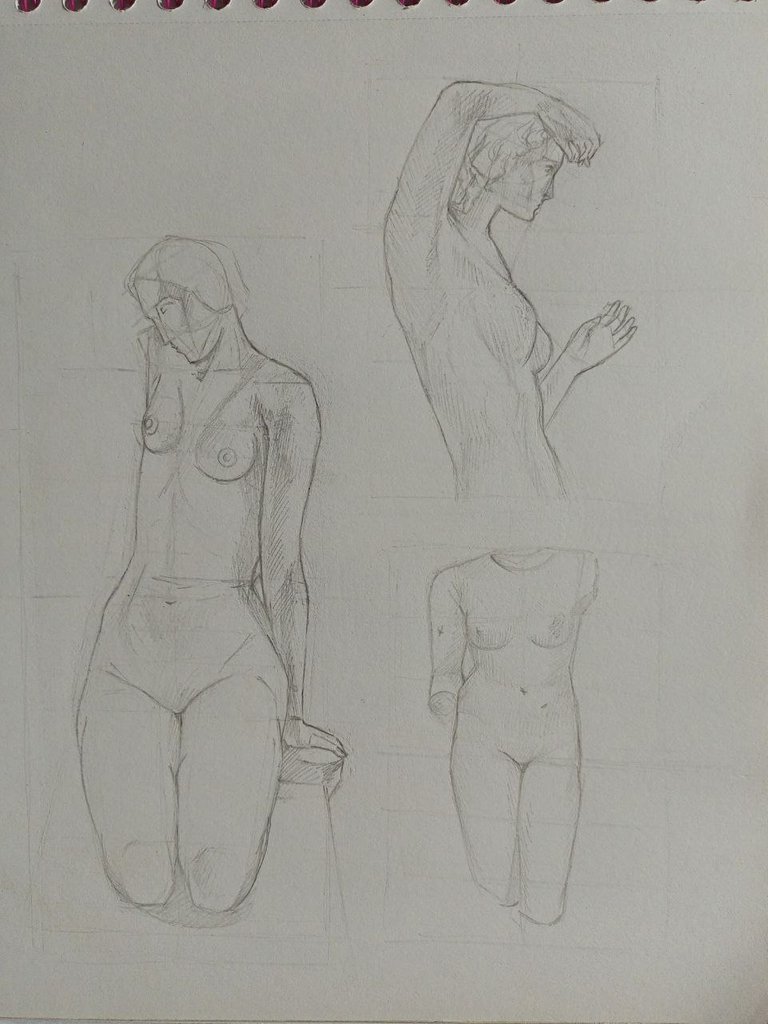 Primero establecí el espacio que usaría para cada figura y con trazos rápidos traté de dibujar los cuerpos, basándome solo en figuras geométricas y tratando que tuvieran proporción. Luego, con un lápiz más blando, definí más detalladamente el contorno de cada parte del cuerpo y añadí algunas sombras rápidas.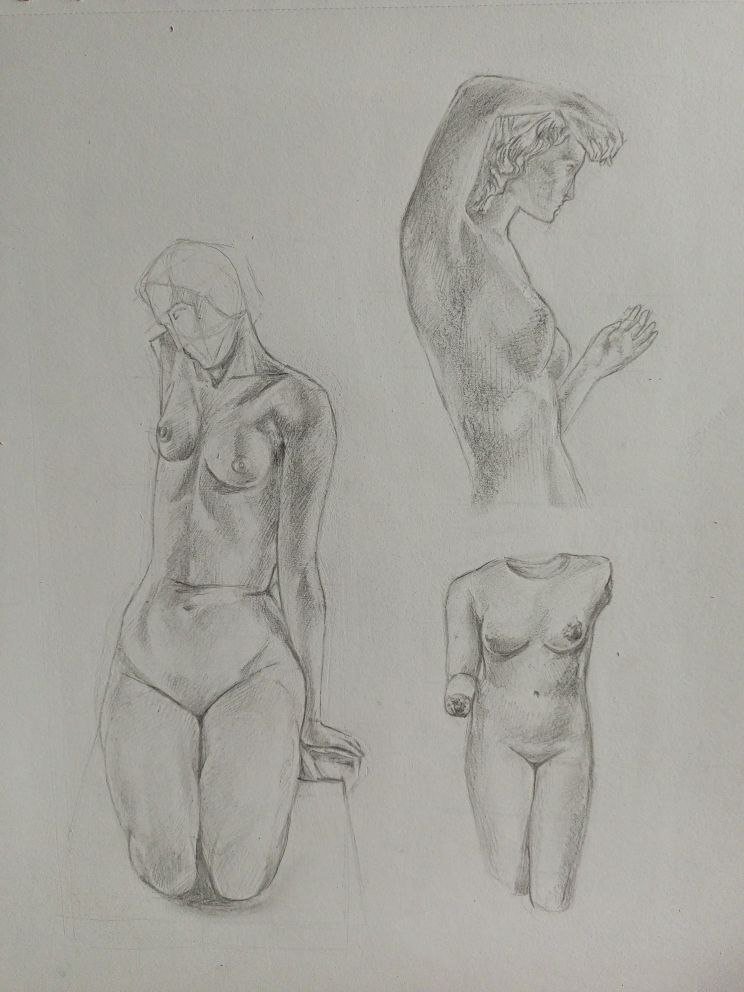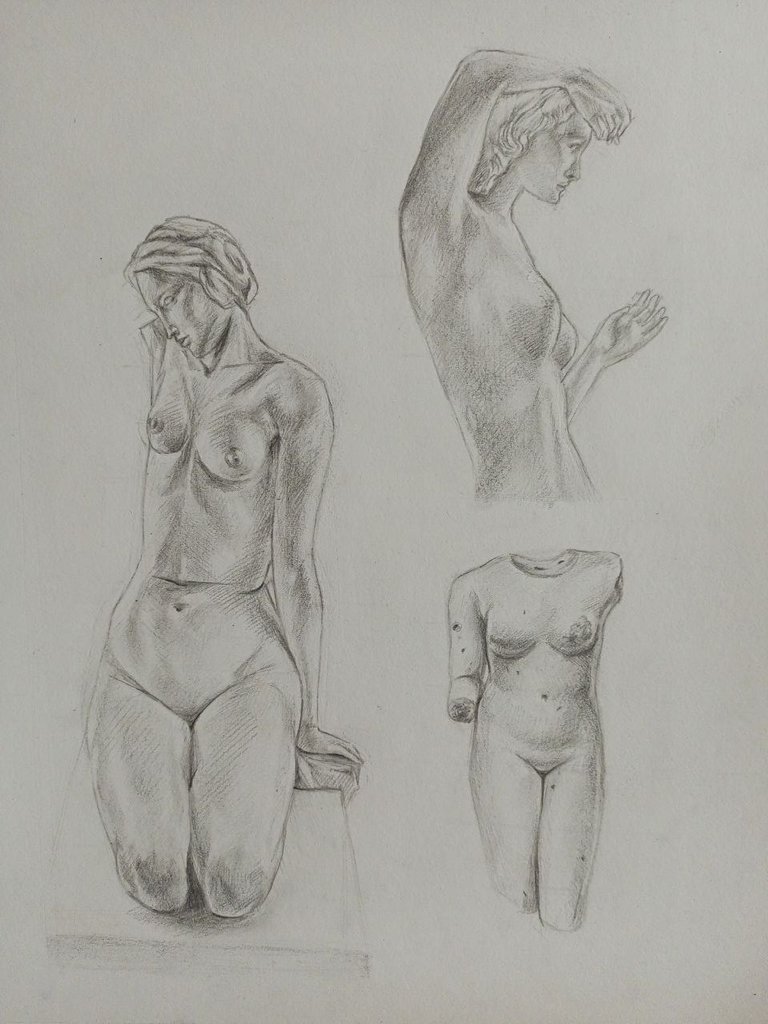 Estos bocetos me tomaron gran parte de la mañana, estuve sentada al menos 3 o 4 horas (con descansos, por supuesto), aunque hacía calor y ansiaba que reestablecieran el servicio eléctrico, me sentí relajada y conectada con lo que estaba haciendo.
Poco a poco fui añadiendo las capas de sombras, no soy partícipe de difuminar las sombras pasando el dedo por la superficie del dibujo, pero debo admitir que lo hice en unas cuantas ocasiones.
En la imagen de la derecha está el resultado final. Hay un par de cosas que podría mejorar (no me siento orgullosa de esas manos, jajaj) pero me agrada el resultado en general.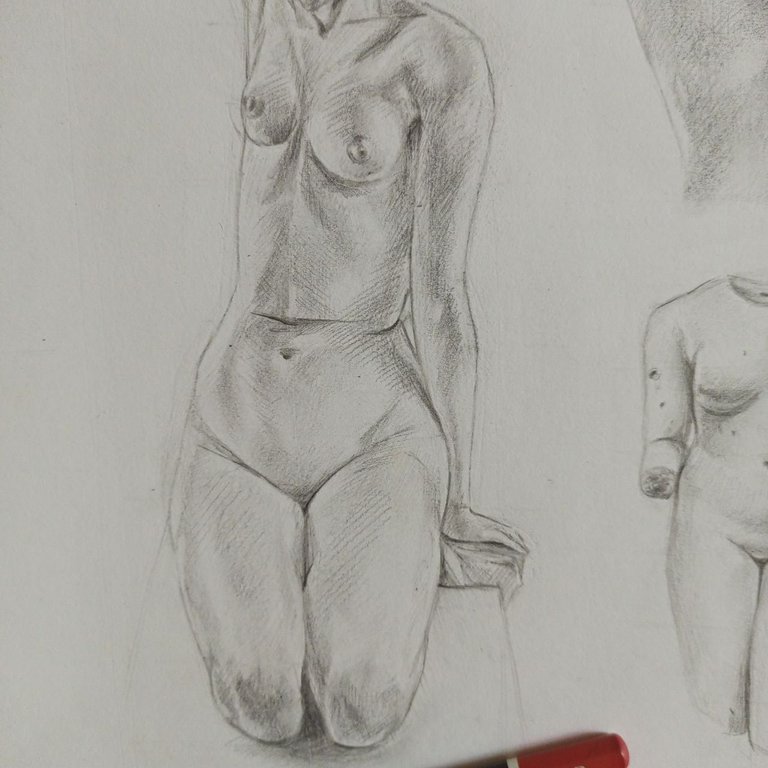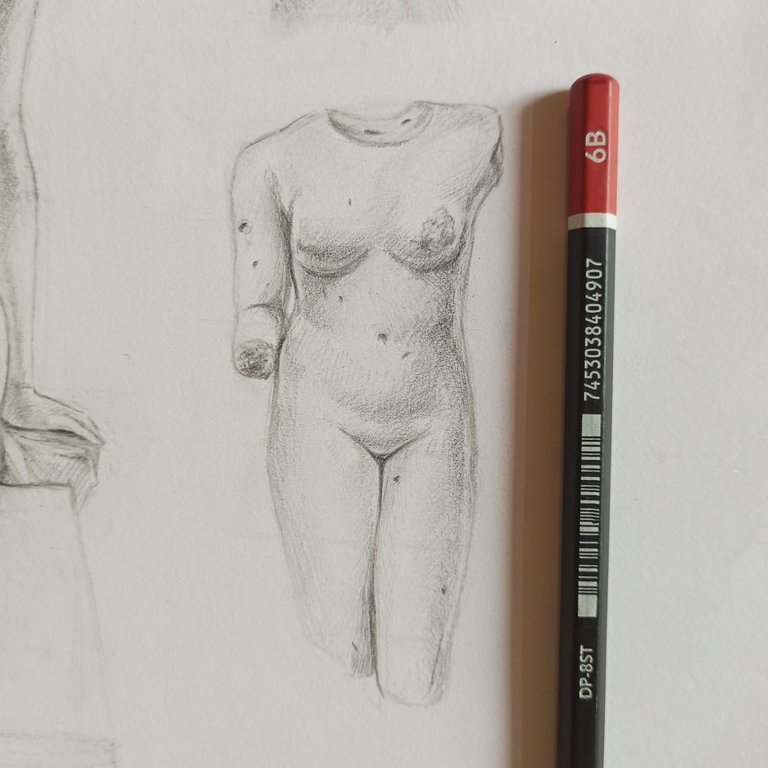 Este pequeño dibujo es mi favorito.
Espero que les haya gustado el post de hoy, déjenme sus opiniones en los comentarios y nos vemos en una próxima ocasión. :)))
---
---