Gardenjournal: autumn harvest, winter crops and my little yam family
I grow vegetables all year round, although there are specific winter crops and summer crops. In winter I can grow the brassica family, peas, spinach and beetroot family and lettuce although lettuce isn't my thing and I don't bother. Brassicas and Swiss Chard survive freezing temperatures happily although the peas are always dicey. I do prefer the peas as a break from endless leaves so I always put them in and hope. I sowed the seeds about 10 days ago and so far germination is looking good, even though night-time temperatures are in single digits and went as low as 1C the other night. I leave the trays outside, they must grow or not. I sowed all in trays because I wanted to get the germination going at the same time as I cleaned up the summer remnants.
Peas are tricky too in terms of growing times: plant too early and they are ready to produce in the coldest time of year and don't do much. Plant too late and they will get fried in the spring heat 🤷‍♀ With the threat of El Nino looming I decided to try Mange Tout this year: it's more heat tolerant and matures faster. I found a seed supplier online and of course I had to buy weird and wonderful stuff so I got Chioggia beetroot and kohlrabi seeds too. The last supplier's kohlrabi seeds never germinated so hopefully I have better luck with these.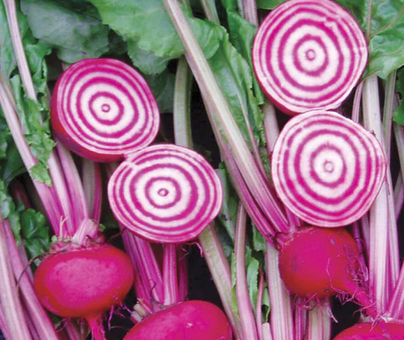 Image stolen from here: if you are in SA, buy from them too, their prices are much better than anybody else else's. Their seeds aren't hybridised either so it's possible to save seeds and grow your own once you have the first successful crop.
These yellow pear tomatoes were another wacky vegetable experiment: these seeds were old when they were given to me and the packet was easily over 10 years old and I thought "what the hell" and tipped the contents into a pot and didn't expect anything. 6 seeds germinated and as they are heirloom seeds, I now have plenty for next year.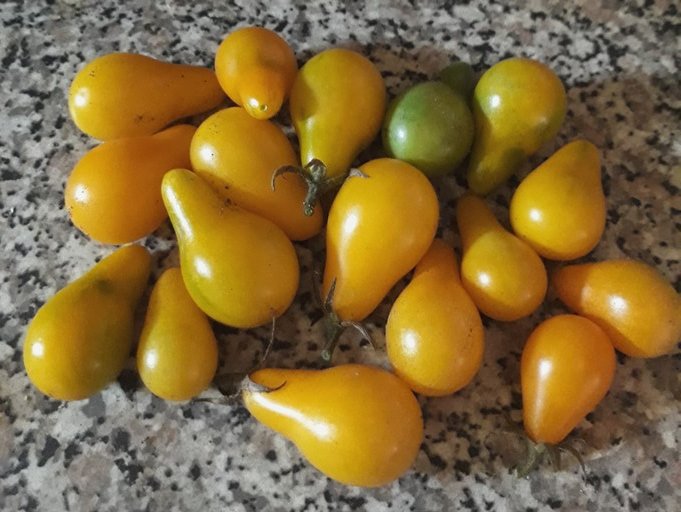 The horned melons are tastier this year after a summer of
less rain and more sun.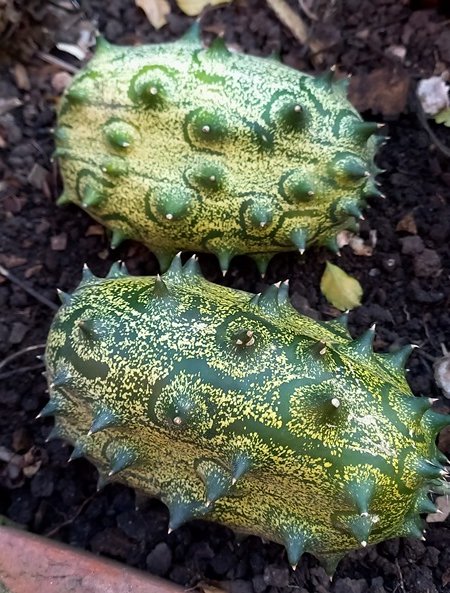 I thought I'd gotten rid of the sweet potatoes last year but they emerged so I had to go uprooting the terraces to find rogue tubers. Sweet potatoes are good but they smother anything in their way unless you eat the leaves very aggressively. I think I got all the tubers, some are large but they are good eating. Once I cooked the mountain of leaves, they went into the freezer in little containers and will supply a lot of meals, they can be dropped into stews or added to fried onions and tomatoes.
On the subject of yams, these are also part the family. I sowed them in October and they will be ready to separate into little pots next season. They are sought after by succulent collectors and I could sell them.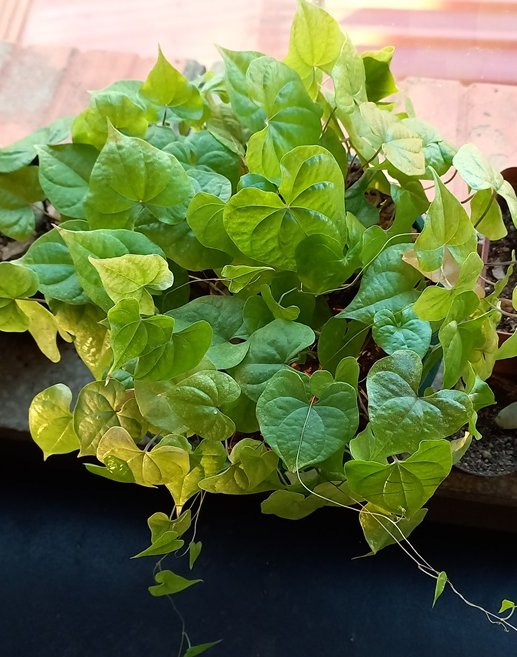 Dioscorea sylvatica is a slow growing indigenous medicinal plant and a natural source of cortisone. The yam family as a whole contain steroid compounds
Below, Dioscorea elephantipes. They are indigenous to my country, very long-lived, slow growing and edible but I won't be eating this very expensive little potato. I bought it last year, it stopped growing when it arrived and then suddenly sprouted in December, which is early for a winter-growing plant. Then I nearly killed it by watering too little, the caudex shrunk completely but a little googling set me and my plant back on the right track. That tiny caudex is now about 4 years old and 5cm across. In about 5 years from now, it will be very impressive looking, if I manage not to kill it of course...
If you're curious about what this post is about, look here: https://peakd.com/@riverflows/its-june-and-time-for-showing-off-your-gardens

---
---