IT'S MY 1 YEAR IN HIVE🎉🎉🥳🥳
What a day to finally express my feelings over my journey in this Blockchain for the past one year! I took a moment to reflect on that day I said "yes" to hive and the memories were running so fresh in my mind right now. @kenechukwu97, you know I can't talk about my little achievement here without mentioning your name 😍,thank you for creating this hive account for me on that faithful day, thank you for all your numerous assistant so far, thank you for everything bro, your words of encouragement has kept me going and I have seen alot of values and reasons to remain consistent here by God's grace.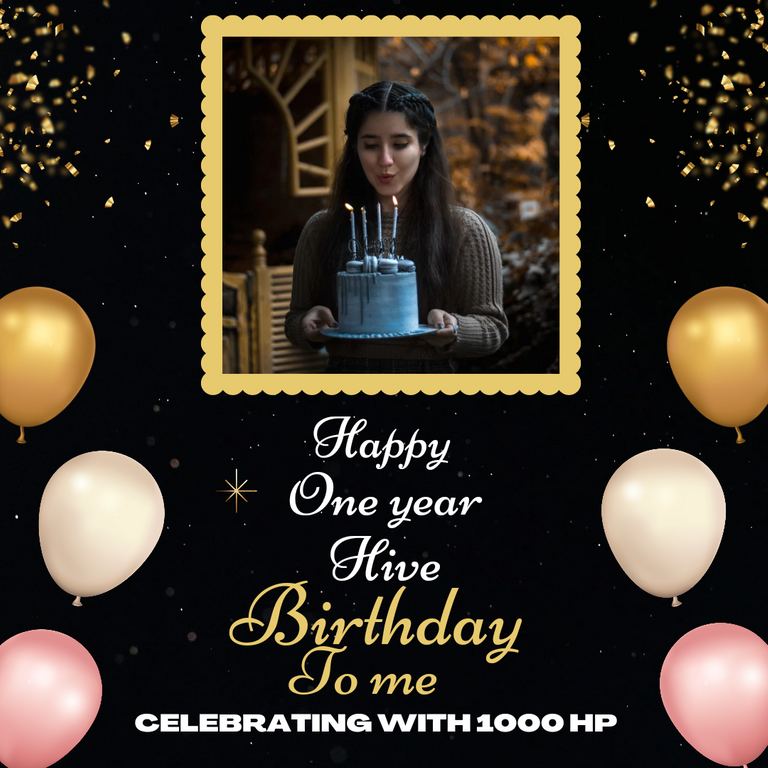 Image designed using #canva
I joined hive on the 4th October 2021, so permit me to say that this is actually a happy birthday in arrears but I had a reason why I didn't want to publish this post on the exact day but today. You will find out soon 🤗👍.....

On the 4th October 2021, that's 9 days ago, I received a happy birthday message on hive from @arcange and I was like so soon?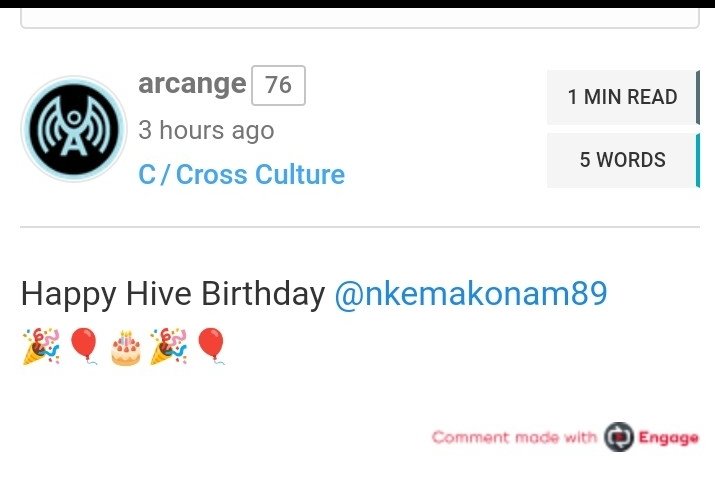 It was a mixed feeling 😉, I had set a goal of achieving at least 1k HP on my first year in hive and I wasn't so happy with the message because I was a little bit behind schedule 😂. I quickly traced my introductory post to be sure that it's actually my birthday in hive 😂, behold it was true! I quickly rush to my HP and met it at 939HP🤔, I encouraged myself with positive words and told my inner spirit to be grateful for everything. So I took the decision of not making the post until my set goal is achieved and yes, here it is 👇👇

A screenshot from #leofinance frontend
The screenshot shows a total of 1009.420HP, 250.321 received delegation and 326.958hp I delegated to some account.
Of course I know that achieving 1K HP is possible to so many people within 6 to 8 months of their stay in the Blockchain but then I am so grateful at this my little achievement so far . It's been a journey of multitasking all along, blogging and numerous family responsibilities as a mom but at least I still achieved my set goal almost within the time frame.

My first 4 months in hive wasn't funny, so many things were set to discourage me, lack of inspiration, no engagement; I will write and read the post myself, low reward, no friends , etc... but then, I was lost but found through the #newbies initiative program founded by @starstrings01 . Sir, thanks so much for touching my life positively through this program ❤️. This thank you message will not be complete if I fail to mention your name and the newbie team. My little growth so far started the day I was accepted into this initiative. Indeed knowledge is power, and if you are not informed, you will be deformed.
There are lots of things to learn about HIVE , I haven't gone anywhere but then, most of the things I have learnt now came from the lectures we received as a Newbie.

It's not my intention to make this post a lengthy one so I will summarize by mentioning "some" of my friends here who has in one way or the other supported my little growth so far! To be honest, I have made a good number of friends here who has supported me as well but I won't tag all of them so that it won't look spamming 🤦, so please don't feel bad if I didn't mention your name 😍, I love you all and I will forever value and appreciate your friendship. So thank you so much @vickoly , @hopestylist , @quduus1,@merit.ahama,@burlarj , @b0s, @hivedeb,@shrazi ,@sholex, @shopnilhasan , @otuyanancy , @olujay , @reineesmay (my run away friend 😂) etc..for your amazing support so far! It mean so much to me❤️
If you read up till this point, thanks for visiting my blog.
Remember to keep staying positive and be happy 😊🤗❤️🥰😍
---
---