Evaluating the Hopes of The EPL Giants.
Good Day Friends and Football Lovers,
Firstly, I would like to say that it's really a sad thing to be known as a United fan at the moment but then, is all hope dead? I don't think it's all dead yet but....
I decided to reflect on the occurrences and performances of the top eight teams in the EPL from last season and there's just so much that pricks my heart. Not just about reflecting on last season, also observing the steps these top eight teams are taking already and you know what? Even United is no where to be found!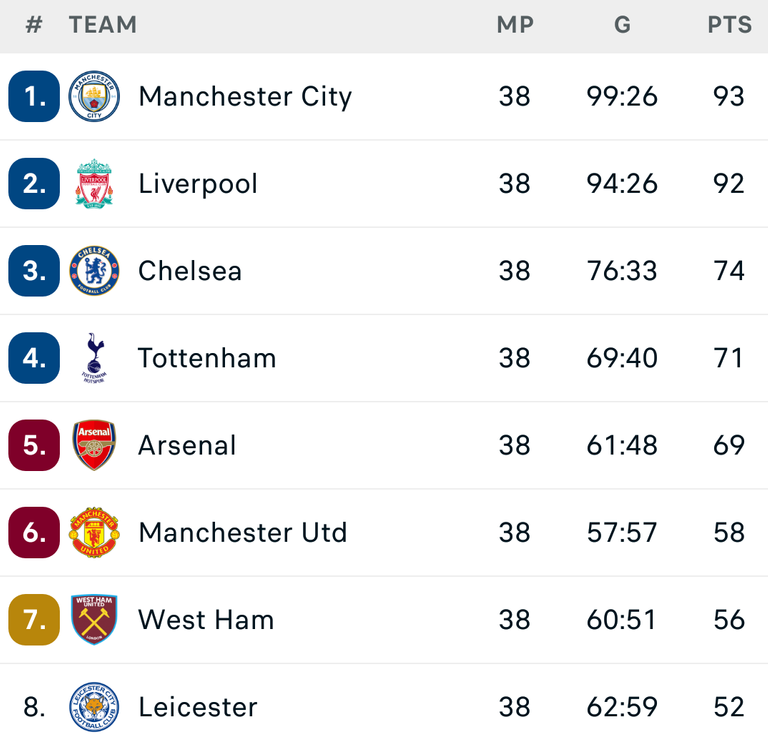 One thing is to fail in a season but another thing which seems to be the most important thing is to work on becoming better for the next one, not even when the winners never relent.
It's a very painful thing but we've got to talk about it anyways, United finished 35 points behind Manchester City the winner of last season and that's not even painful enough but United also finished 11 points behind Arsenal who was just right above us; isn't that crazy?
Come to think of it, City won the league and yet they've secured one of the best strikers (Haaland) in the world to be involved in their campaign for next season and they also got another backup striker who would be going on loan for next season, it hasn't even ended there, they've got big eyes on Philips from Leeds again why?
I guess they just have to be stronger!
Talking about Liverpool too, last season was a very slippery one for the club as they were able to make it to the UCL final but not lift the trophy, I feel that would have been as painful as them losing the league to City by a point but let's talk about the teams rebuilding....
Liverpool just sold out Mane and personally, I did think that was a bad move even though they brought in a new young and promising striker, I don't think it would be easy to say the lad would easily fit in into the clubs tactics but nevertheless, Liverpool is making progress with their signings without losing out much players.
If I am to keep talking, there's so much these teams in the top eight had to improve their team in the last two months except for United and Leicester City.
Tottenham had made some signings and personally, I am expecting more from them due to the fact that they made it to the UCL, Arsenal on the other hand now have their eyes on Gabriel Jesus after securing a sound player from the Portuguese League.
With all these happening, it's obvious that the coming season would be with a twist somehow, we can't really tell how bad or how well it's going to be for some big teams but I personally, I am waiting to be shocked!
Talking about be shocked......
Are we seriously and intentionally paying attention to Newcastle United? Well, there has been so many speculations that the team is going to be one of the biggest thing in the EPL real soon but now, I believe!
Newcastle has been pulling some major strings and I think it's only believable to think or say that they might make it to one of the European Competitions next season, I just have this positive feeling about that.
With all these hopes flying around, where do I find my beloved United?
It's not new thing, and many times @cryptoandcoffee had tried to make me give up on the fact that we could wake up from our misfortune very soon, he believes we'll have to give up some years before we can challenge again but the truth is, we've been off the real radar since 2014 and though it has gotten worse but then, I do no think we're that far from restoration any longer.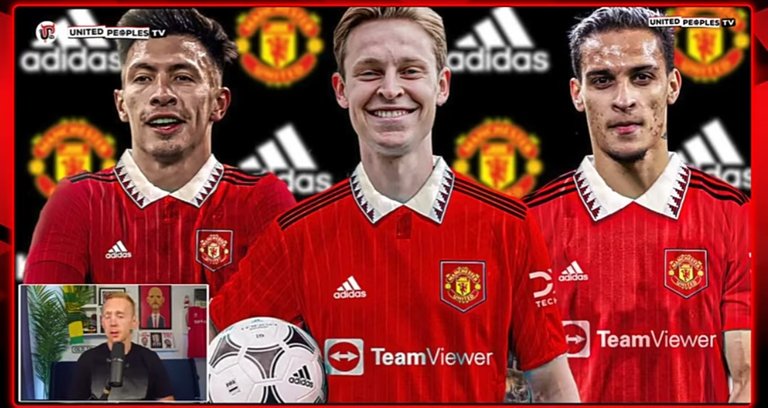 I read some rumours lately that United and Barcelona now has an agreement on De Jong's deal, I really wish that's true and I also hope Anthony not appearing in the training with Ajax is a good news for United.
To crown it all, I really wish and pray we (United) are able to hijack Erikson from Brentford because he's absolutely one of our greatest needs at the moment too.
---
All images are snapshots from football score application and YouTube videos.
---
THANKS FOR READING!
---
---