Real Madrid's comeback keeps Salah's wish alive.
Good Day Friends and Football Lovers 🤗,
I'd always known that football is crazy and can be unbelievable sometimes and that was why I couldn't agree easily with some football fans that seemed to believed that City would definitely qualify because they had the four to three goals win at home already.
I wasn't so sure that Real Madrid was going to win either but with their run this season and the manner at which they won the league already gave the guts to think that the match was going to be a very tough one for City and it was. To crown it all, I just discovered something new about Real Madrid.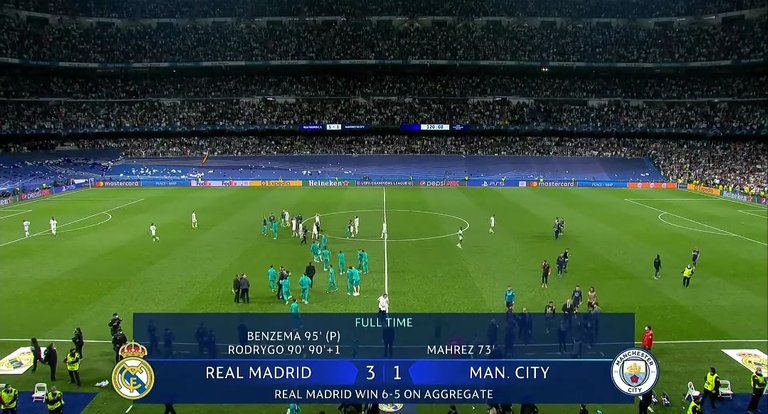 This was actually the biggest Real Madrid match I had taken my time to watch carefully and this made me realized truly what home advance means, though I know what talking about home advantage it's always more of the fans having to ginger their team up but with Real Madrid fans, I think it would be accurate to say - "They Never Walked Alone".
From the very beginning of the match, Real Madrid fans were on top of their voices and it practically and psychologically affects all the activities on the pitch. The men in white were more aggressive with their attacks.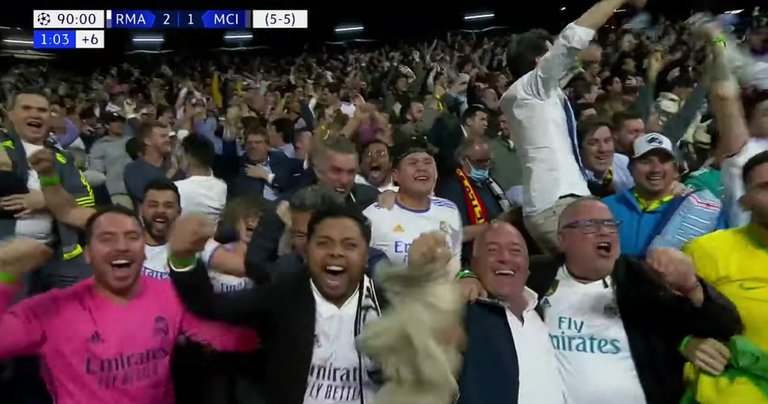 With the push from Madrid fans, if not that Walker has pace like Vinicius and has more power than Vinicius, I am sure many goals would have been recorded since the first all of the game.
Walker was so tough on Vinicius and Real Madrid as a whole was psychologically stuck with their play pattern always leading and heading to Vinicius which made their chances quite slim but as God would have it, Walker sustained an injury and for me, that was where the game started and ended!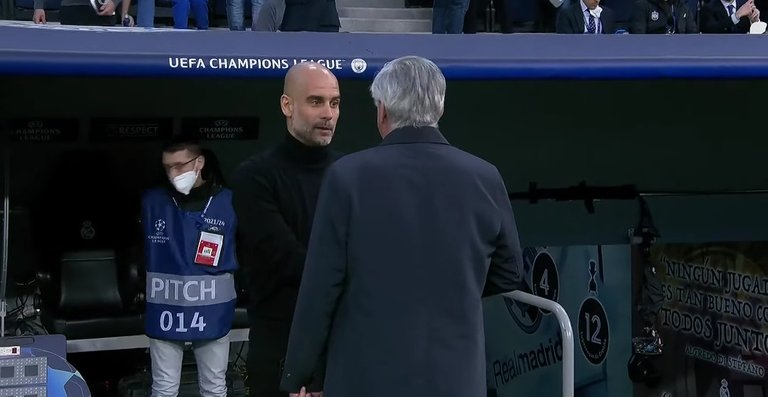 For me, I felt Ancelotti was just lucky to have won the game because it seems to me that he was stuck with the same plan work he had from the onset which has Vinicius as the bone of contention.
Since Walker was out and City secured a goal, It was very easy for Pep to make the mistake he made by taking out the likes of KDB and Mahrez who were part of the major attacking force for City.
To me, the match didn't portray Ancelotti to be better than Pep but who is more experienced?
Just having Mahrez and KDB out automatically turned City to embrace a defensive state which wasn't strong enough to hold down Madrid's attack, imagine two goals in less than two minutes against the might City? It was quite a shameful thing from my own point of view though.
---
Salah Seeking Vengeance?
Talking about individual players, Salah is one of the few ones I appreciate most times and some times I do not appreciate his selfish play.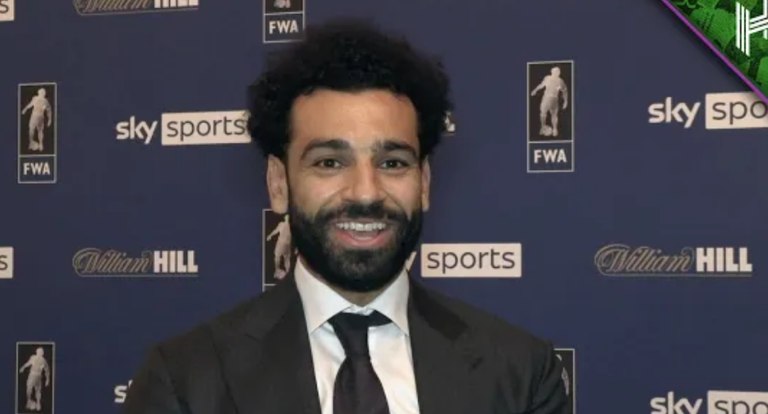 There's been this talk on the Internet lately about Salah seriously wishing to face Real Madrid in the final perhaps because of what happened during the final match of the UCL in 2018, even at that, I sincerely do not think Liverpool is really and really strong enough in terms of all it takes to take down Real Madrid in the Final, it could just end up being Real Madrid's 14th claim this year!
Nevertheless, Liverpool I am sure would portray a great performance and its football, they could even claim the trophy, it's just football and it comes with surprises beyond expectations sometimes, we only have to wait and watch!
---
All pictures are snapshots from highlight videos on YouTube.
---
THANKS FOR READING MY SPORT BLOG!
---
---