TradingDojo #6: App Like a Champ - 5 Free (and Paid) Tools That I Use on a Daily Basis!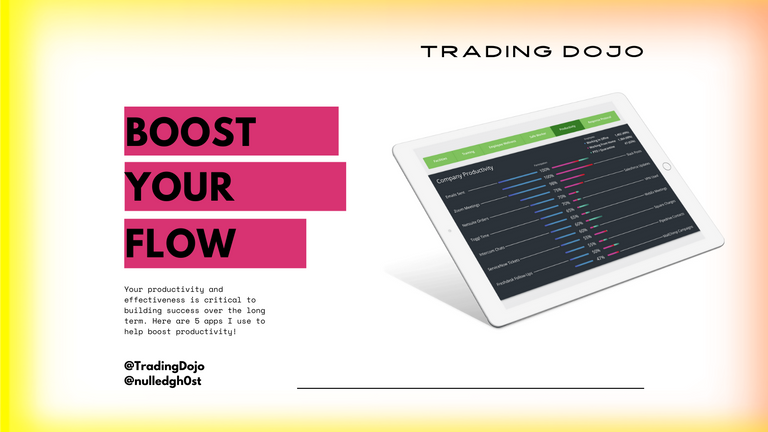 Having worked for myself for years now, I've built up quite the arsenal of apps and tools specifically meant to boost my level of productivity and focus. I've had the chance to play with hundreds of different apps for a variety of purposes, and therefore, have experienced both their pros and cons.
This has been a great way for me to filter through the cornucopia of tools that others have built, allowing me to find the best in class for both free and paid applications. I personally try to stick with the best possible tools I can that are free, unless it's absolutely necessary to run a paid version of something - I also recommend the same exact utilities I use to my clients and others that I'm collaborating on projects with. Getting people I work with on the same wavelength simplifies and streamlines projects, therefore reducing the amount of time and energy spent on them.
Today, I'm sharing 5 of my favorites, in hopes that I can help you also improve your workflow (and hopefully reduce your monthly overhead) - because saving time and money is key to being a successful self-starter!
1. Asana - Free Project Board/Management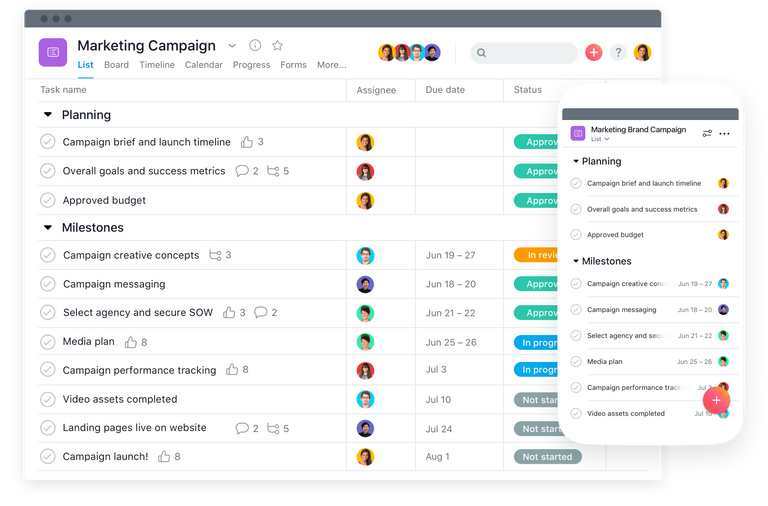 This one takes the cake in terms of free project management utilities.
Asana has been around for quite a while now and has been a staple in my toolkit when it comes to managing projects, whether small or large in scale. I've used it for managing website buildouts for personal use, and also have deployed it for enterprises comprising 20+ team members. It's held up to the test in both situations.
Being able to rapidly deploy one of their templates makes Asana an incredibly valuable app. I love being able to visualize the project via a card-style layout, and creating various boards within a project gives me the ability to separate various parts of a project - for example, marketing would have its own board, while website design inhabits another board. Within these boards, tasks are broken down into phases/segments via a column setup.
Tasks can also easily be automated via one of the hundreds of available app integrations. It's also incredibly fast to set up automated task management - for example, when you mark a task "complete", a rule can be rapidly configured to automate moving that task to the "completed" column (or another column that indicates a step in that tasks journey). This gives you excellent control over your tasks and managing which step it's at in the project lifecycle.
If you haven't already given Asana a shot, I highly suggest you try it out at https://asana.com/ - it's 100% free! There's a "paid" version, but the only time you really need that (in my opinion) is when managing a larger organization that requires complex controls or high-level automation/settings configurations.
2. Todoist - Never Lose Track of Personal Tasks Again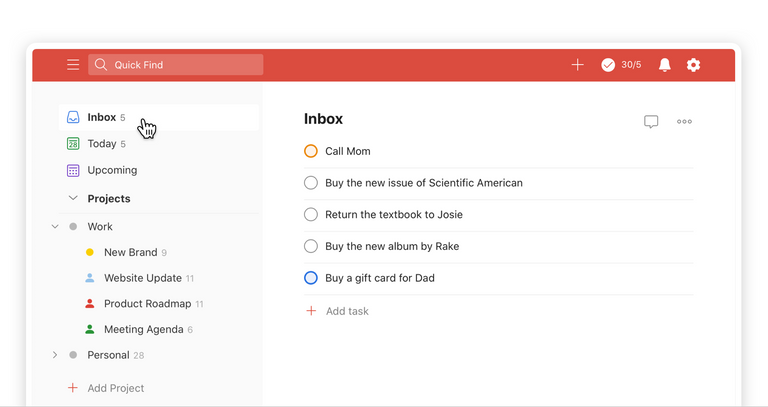 Although this can potentially overlap Asana in terms of functionality, I also use Todoist on a daily basis. However, instead of using the full web app, I've opted to utilize the browser extension and mobile app.
Being able to quickly add and review my tasks makes this app a very attractive option. By simply clicking on the extension icon, I'm able to pop open a mini-window that displays my personal tasks. By using this for my personal tasks, I'm able to easily separate project/work tasks from my everyday personal tasks - ensuring that nothing is left behind in the daily grind.
With Todoist, you're also able to integrate a variety of tools, my favorite being a time tracker. With the single click of a button, you can track the amount of time you spend on each individual task. Once you've marked a task complete, the timer will automatically stop, calculating the total amount of minutes (or hours) you've spent on a particular task. There's also a nifty tool built in that allows you to view how many tasks you've completed for a certain time period, along with the total amount of time spent during that window.
Todoist definitely is worth adding to your tool belt, I promise!
3. Kotatogram - Telegram Like a Boss (Multiple Accounts)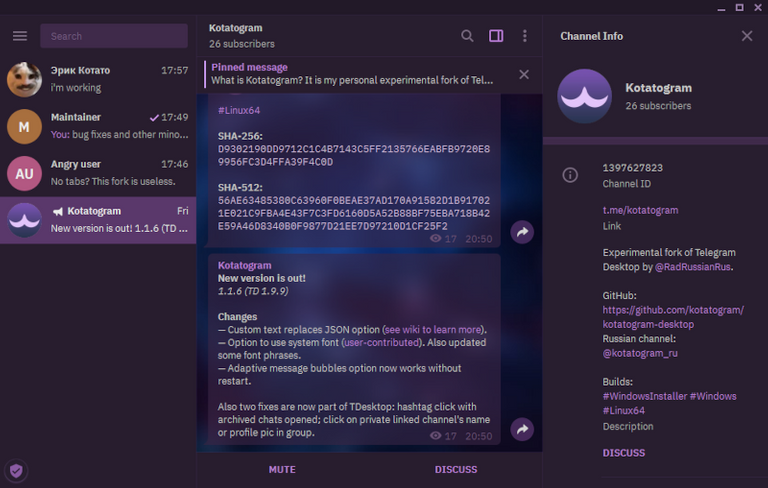 I've just recently found this one, but it has quickly become an absolutely necessity for me.
I have multiple telegram accounts for various purposes, and unfortunately, the default Telegram app only allows 2x accounts per device. This is incredibly annoying and restrictive, naturally. Having to log in and log out of various accounts to check messages is a real pain in the ass and a waste of time. When a colleague introduced me to Kotatogram, it was love at first sight.
This is a free application and allows you to have as many Telegram accounts hooked up as you like. You'll never have to deal with restrictive account limits on your devices again! Now, you can have a sh**load of accounts on a single device, without having to relog endlessly. Welcome to the future!
4. Obsidian - Meet Your Second Brain!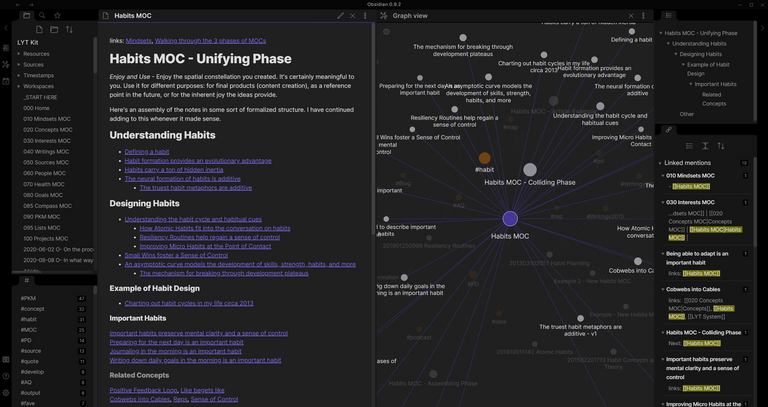 This is another desktop app that I was just recently introduced to, and the learning curve is real with this one. While it's difficult to learn & master, it's insanely useful.
Think of Obsidian like having a 2nd brain. Yeah - it's legit. With this app, I'm able to take notes from a variety of projects, ideas, etc, and organize them into a visual mind map. Over time, as the amount of notes you have builds up, it begins indexing and displaying an intricate web of ideas, based on various tags that you utilize. Creating a web of ideas allows you to revisit your notes in the future, and quickly find ideas that are related to one another.
There are a few very useful 3rd party integrations for this that extend the visual aspect even further. However, I highly suggest that you stick with the basics first, as it will definitely take some time to learn even those. This app is completely free and meant for Desktop use (Mac, Linux, and Windows are all available).
I currently use Obsidian to house notes from various areas of my life - work projects, personal projects, notes for my book (in progress!), topics and ideas for Hive articles and YouTube videos, and also general notes from books I've read on my Kindle. There are a TON of YouTube videos out there that can help you set up Obsidian for use with your own personal needs, so I am confident that you'll find new ways to do exactly what you need to do with it.
Obsidian is 100% necessary for me now - I don't even know how I did without it for so long. I used to have tons of jumbled notes sprawled across various folders, and searching for notes or information was becoming increasingly tedious and time-consuming. With Obsidian, I've completely eliminated this mess, while also simplifying my notetaking and organizational system.
5. Squoosh - Free Yet Powerful Image Resizing & Optimization

Last but not least on this list is a very simple utility, but one that still is insanely useful. I use this one almost every single day, and have for a few years now.
Squoosh is an image optimization & resizing tool that was released by Google a few years back. It was originally released solely as a web application, however this year, they finally turned it into an actual desktop application for Windows! I'm not 100% sure if it's also available as a desktop app for Mac or Linux, although if not, you can still just as easily use the web app version.
This app eliminates the need to use Photoshop if all you need to do is optimize your image size (in terms of disk space used), and also to resize your images. It has an incredibly nifty preview slider that shows you how your chosen optimization settings will affect the image that is output. I use this mainly to reduce image size, as it's an extremely effective way to boost up website loading speed (I do a lot of website design & development, so web speed is something I deal with a ton). I've had some images reduce by as much as 99% size while barely changing up the quality of the final image.
Skip paying for Photoshop monthly if all you need is an image optimization utility!
---
Of course, there's a boatload of other apps I use, and I'll definitely be sharing them in the future. I have to keep these articles somewhat bite-sized as time is somewhat in short supply for me at the moment, however, I hope that will change as my audience grows! If you'd like to support my ability to continue creating and sharing content, please consider voting on this post, as it's a great way to help me monetize my content, without costing you anything out of pocket!
---
Happy Coinhunting,
Gh0st | @TradingDojo / @nulledgh0st

---
Subscribe below:
Substack - bite-sized emails with airdrop alerts and other important crypto happenings!
---
---