An exquisite coffee in Mar del Plata, Argentina. "Cafe Bakery,Le Pan Quotidien"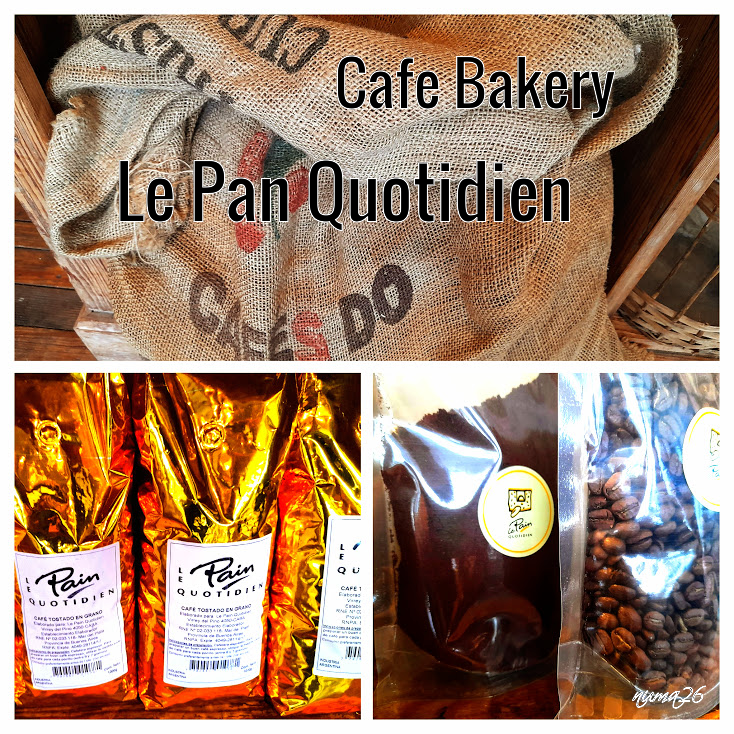 Hello, friends of "coffee and cinnamon". This time I present to you a beautiful French-style café, which I had the pleasure of visiting on my recent trip to the city of Mar del Plata, in Argentina. A city of real fascination, for its beaches and houses, whose structures preserve the European style, by the way. But I will talk about that in another post and another community.
What occupies me now is the presentation of the café, which I enjoyed in the company of my son, I would like to repeat the experience, also with friends, for an exquisite get-together, and to tell our stories would be great, it would only be enough to visit it.
When we arrived at the hotel where we would be staying, we noticed that there was a large shopping centre opposite. So we decided to visit it that same afternoon, remembering that we should not waste time when we are tourists in any place.
Coffee Starter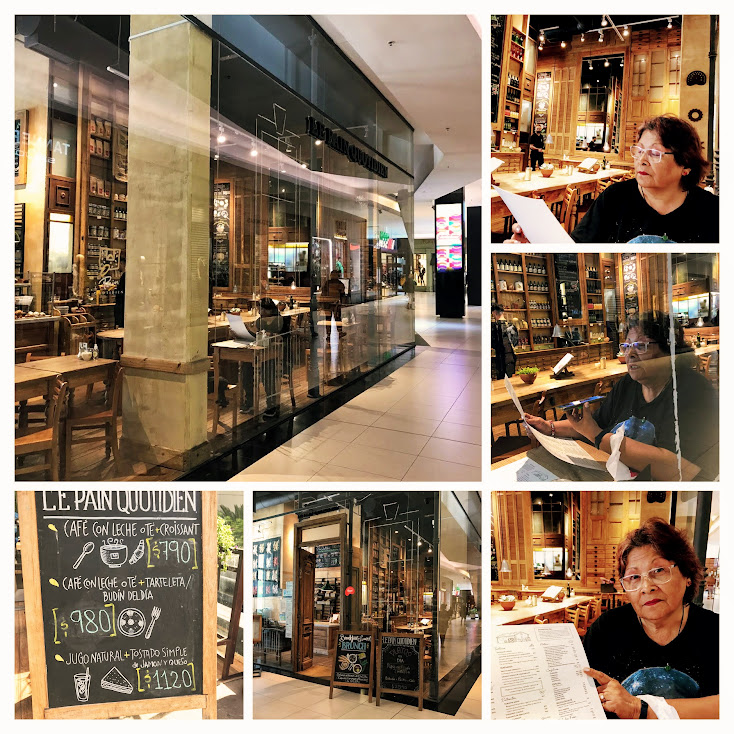 After walking around it and visiting several beautiful shops, we decided to look for a place to take a break and have a coffee. We discovered a café called XXXXX, which caught our attention because of its beauty and decoration as well as what it had to offer, so we decided to go in.
FACILITIES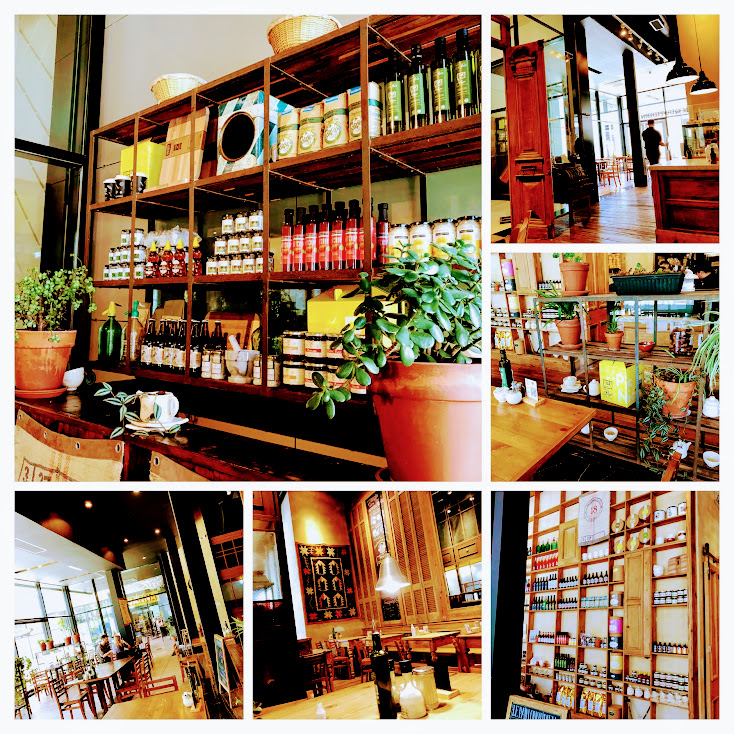 The nice thing about this XXX is that as soon as you enter you find the menu with a great variety of delicacies, on good sized posters and on a big blackboard, they offer the breakfast and snack menu every day. There is a bar whose shelves are full of nice and diverse products.
Products and shelves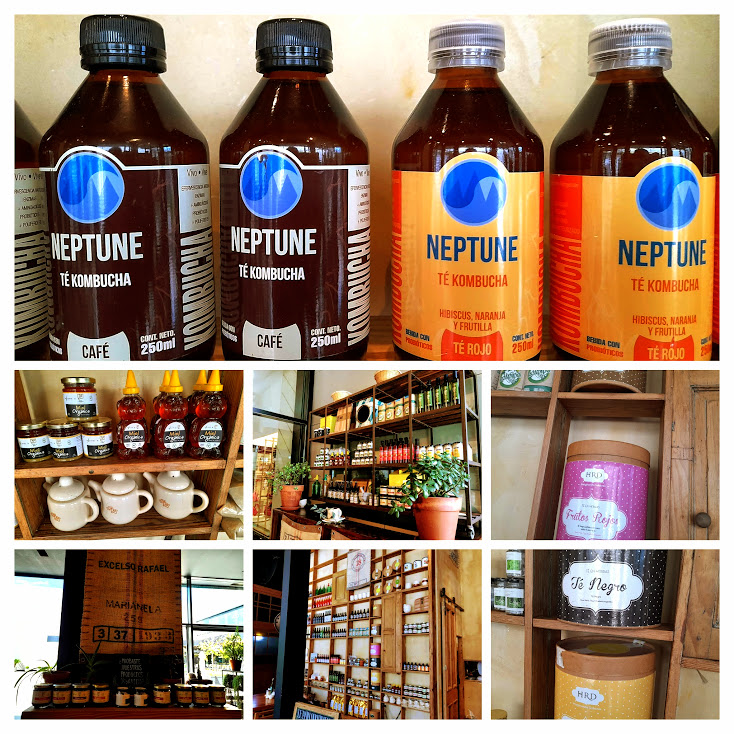 When we asked for the menu, the waiter was very friendly and explained to us that coffee beans from Colombia and Brazil are consumed in the establishment because of their quality. Both are producers of excellent coffee. He explained that Colombia produces one of the smoothest coffees in the world, as well as its aromatic fruity taste, which makes it special.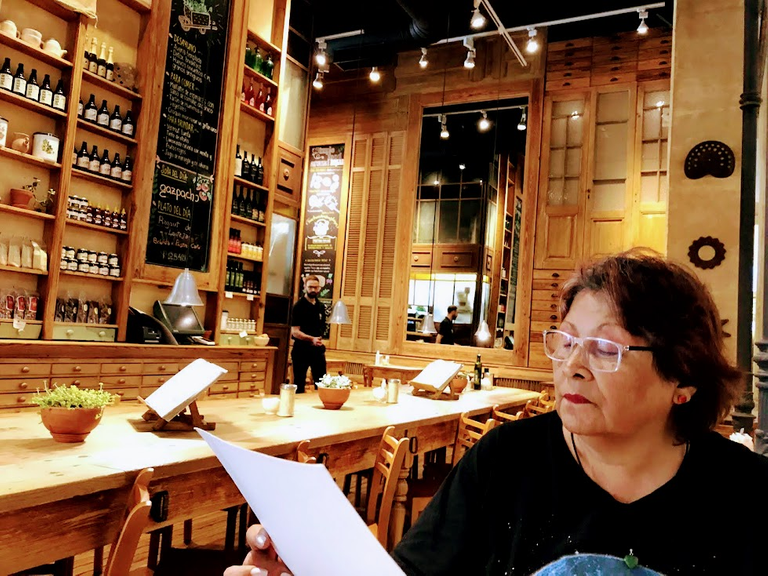 He also stated that Brazil is ranked as the world's leading producer and exporter of coffee and is characterised by its sweet taste, mild aroma and full body. He added that they also offer jams, drinks and other products made exclusively for them. He concluded by saying that Argentina does not export coffee because of its climate, which is an impediment to planting and the care it requires.
Almond Flute With Sultanas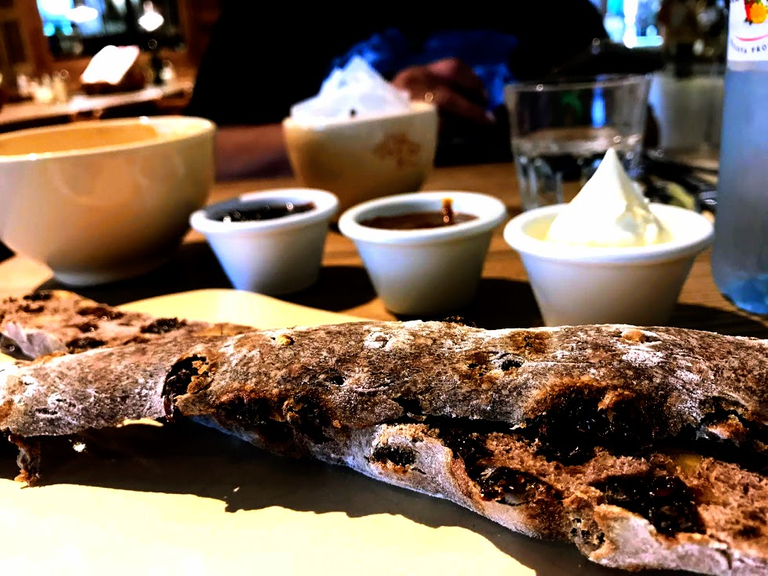 The menu offers a wide variety of hot and cold drinks.
As for coffee, there is the Café Cortado, Americano, espresso, tear, latte and, among the house specialties, the Golden latte, cappuccino, mocha and turmeric latte.
---
Turmeric Latte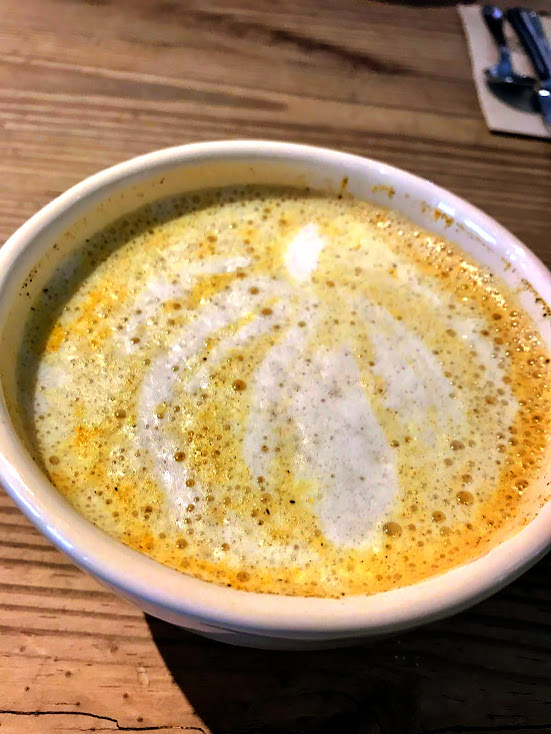 ---
I chose one I had never tried before, the turmeric latte. It contains coffee, black pepper, turmeric, cinnamon and soy milk.
---
Tasting
---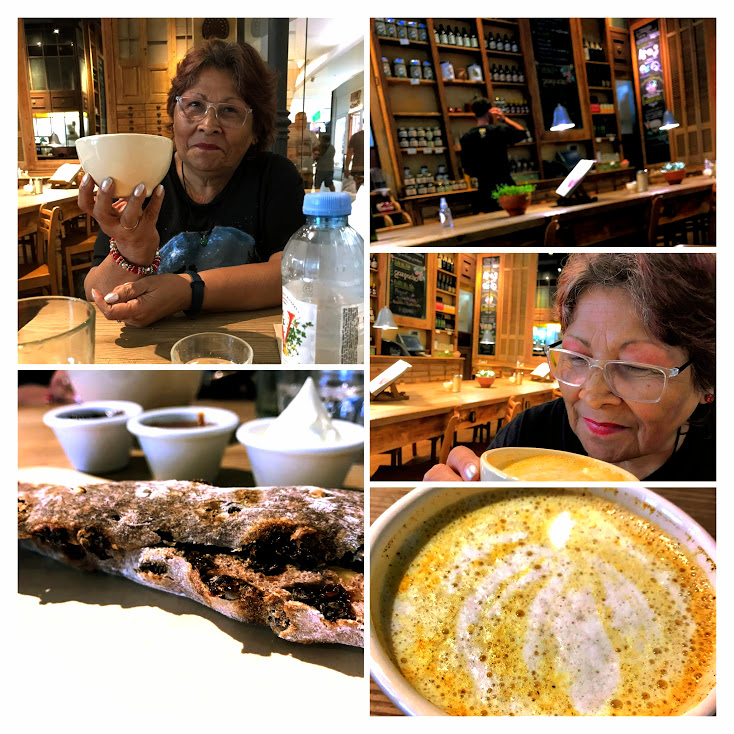 En le sentant, je pouvais sentir l'arôme de chaque ingrédient, mais une fois mélangés, dans la bouche, les différents arômes se distinguaient moins les uns des autres. Bien que le curcuma apporte quelque chose d'épicé et de floral à la fois, il donne aussi cette couleur dorée qui contraste avec le lait de soja, qui lui donne une touche sucrée, et la cannelle caresse doucement le nez.
I will now give you a brief overview of Le Pan Quotidien, so that you are somewhat aware of its origins.
"Le Pain Quotidien (French for "daily bread") is a bakery-restaurant group founded in Brussels in 1990 by Alain Coumont. As a young chef dissatisfied with the quality of bread available in Brussels, Coumont started making his own organic sourdough bread with only four ingredients: water, flour, salt and time. Le Pain Quotidien now has more than 210 bakeries in 21 countries on three continents. Our mission is to create meaningful connections in a home away from home, with simple yet delicious and authentic homemade organic and local cuisine"
So I can only recommend the bakery café: Le Pan Quotidien, when you go to Mar del Plata in Argentina.
Here is their contact
---
Handleless Mugs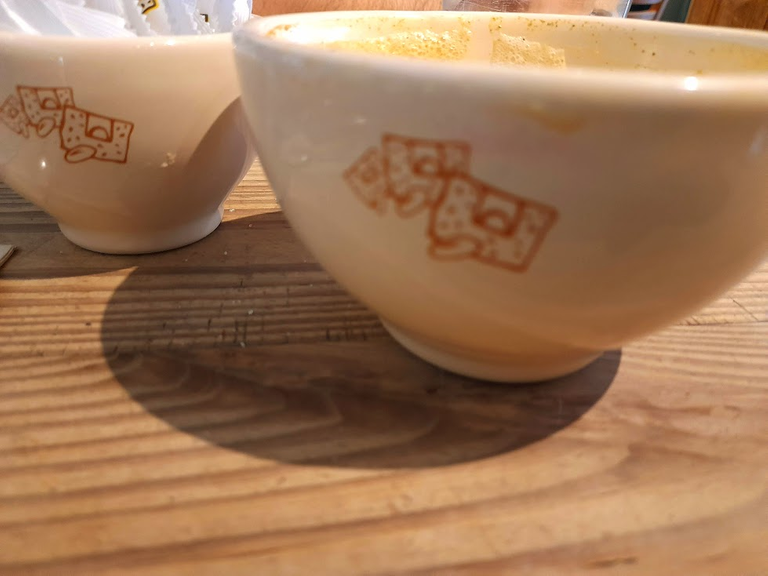 Teapot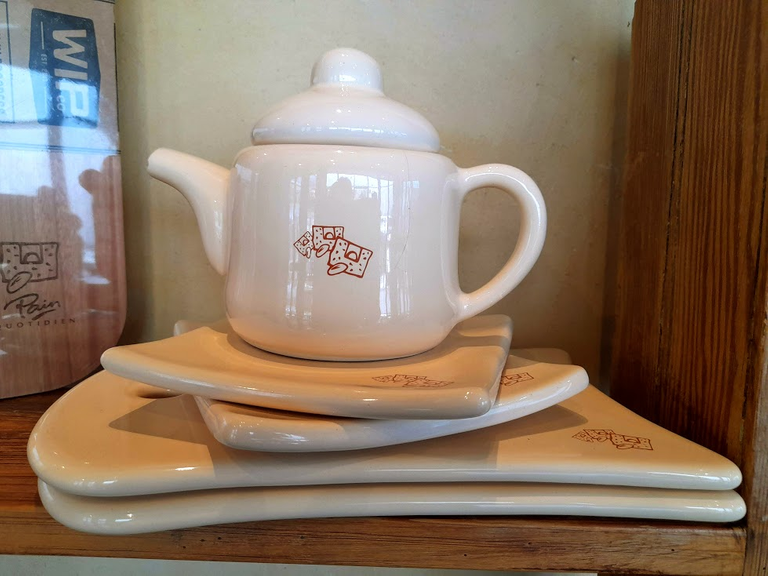 Menu of the day
---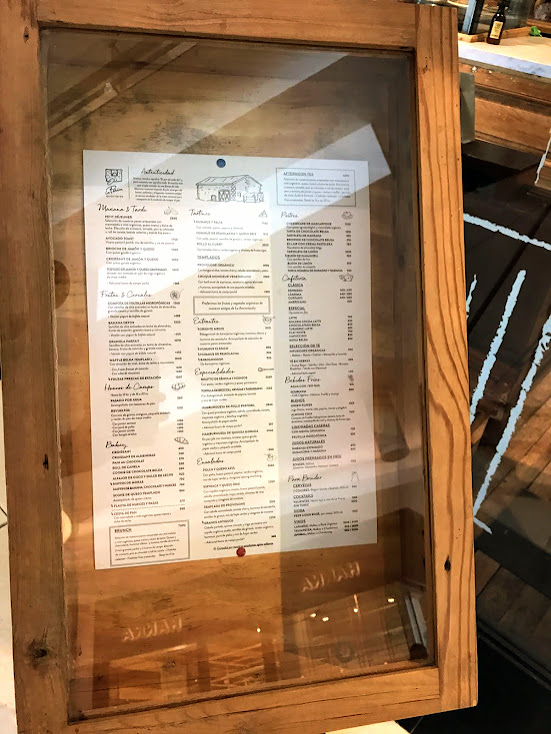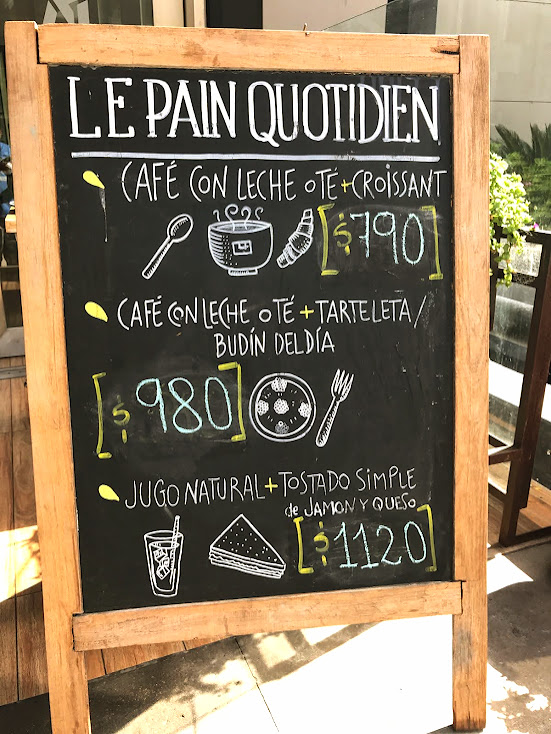 ---
---
Finally, the exit of the beautiful bakery café "Le Pan Quotidien". As you can see in the following picture, we are already at the exit of the café, but from the back. That is to say, it is spacious and cosy.
---
Rear exit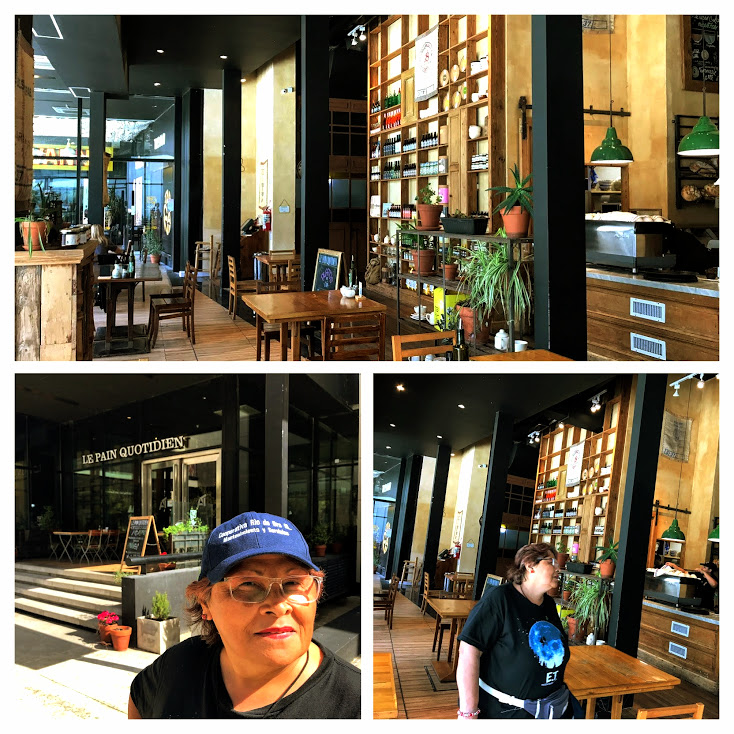 ---
☕️☕️☕️☕️☕️☕️☕️☕️☕️☕️☕️☕️☕️☕️☕️☕️☕️☕️☕️☕️☕️☕️☕️☕️☕️
So much for my visit to this beautiful community, Cinnamon Cup Cofee dedicated to promoting the drink of the gods. Coffee, which I love and without it I am nothing. I can't go a day without drinking at least one good cup, because I even get a headache. I tell you that coffee must run through my veins instead of blood. Greetings and love to all this great coffee team
☕️☕️☕️☕️☕️☕️☕️☕️☕️☕️☕️☕️☕️☕️☕️☕️☕️☕️☕️☕️☕️☕️☕️☕️☕️
Traductor
Editor
Twitter
Threads,leofinace
☕️☕️☕️☕️☕️☕️☕️☕️☕️☕️☕️☕️☕️☕️☕️☕️☕️☕️☕️☕️☕️☕️☕️☕️☕️
---
---
---