La Passiflora Caerulea, ¿Por qué , Fruta de la Pasión? //[ESP-ENG]
Durante mi paseo habitual por el parque, la semana pasada, y me di cuenta de que había una enredadera entre un arbusto con una flor hermosa y muy pequeña. ¡! Lo que me llamó la atención fue la flor, porque me dije: __¡No puede ser! Ese fruto es igual a la parchita o maracuyá. Procedí a tomar algunas fotos, pero no fueron muy nítidas, porque había mucha brisa y la planta se movía mucho.
---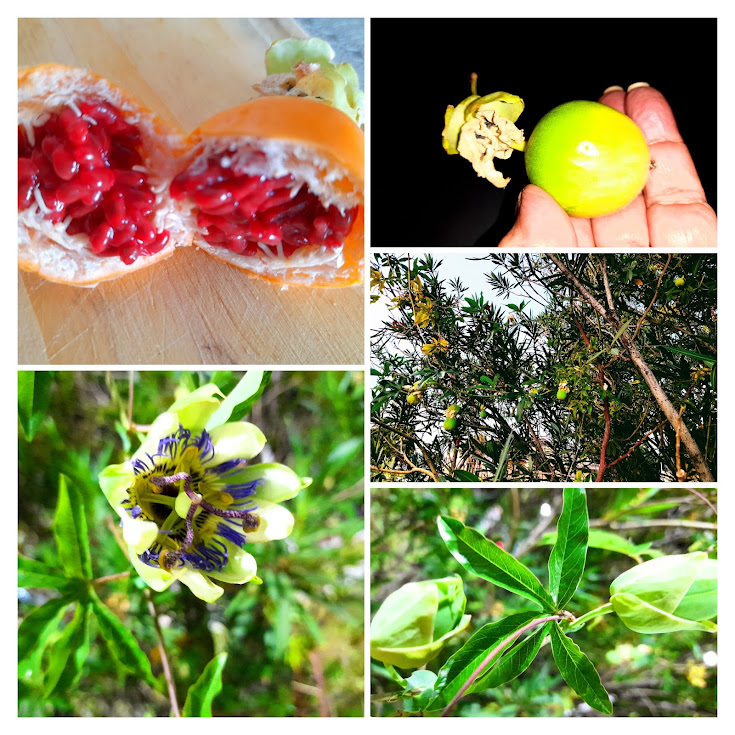 ---
Este es un descubrimiento para mí, porque no sabía que existía esta especie de fruta. Es similar a la fruta de la pasión por sus flores, hoja y fruto, pues la piel es idéntica a la del Maracuyá o Parchita. Sin embargo, lo raro para mí no fue exactamente la fruta, sino su tamaño. Me parecía demasiado pequeña comparándola con las que yo conozco. Además, cuando observo minuciosamente su flor y la textura de su piel, confirmo mi teoría de la similitud.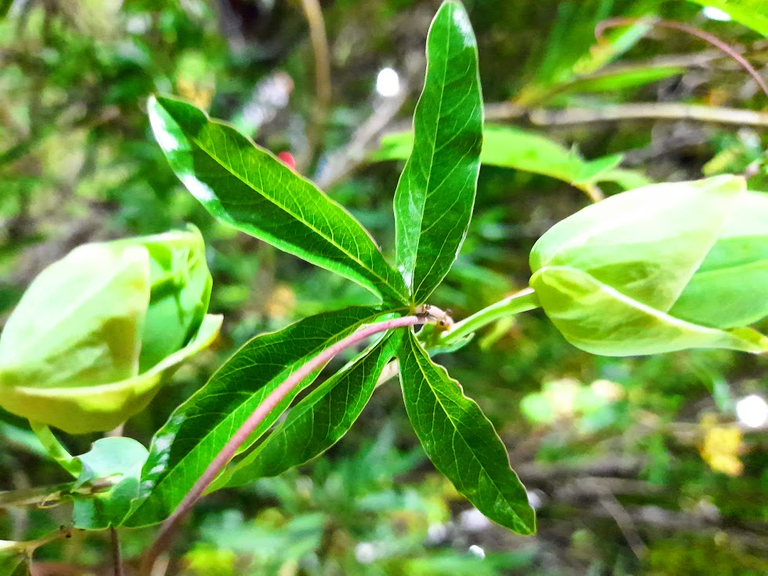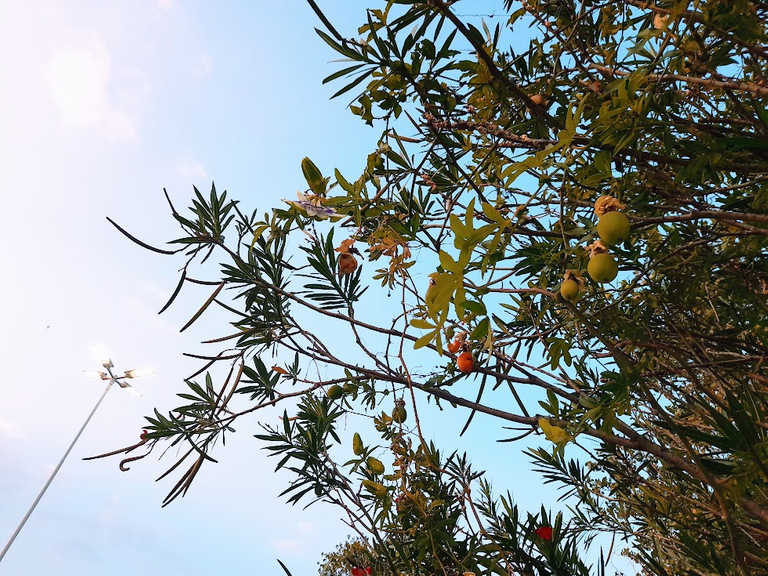 Me llevé una a casa, para esperar su total maduración. Solo 24 horas y ya estaba su cáscara amarilla. Decidí abrirla y mi sorpresa fue mayor, pues no imaginaba encontrarme con un maracuyá roja por dentro. Por todo ello, me dediqué a investigar, ya que me provocaba probar esa extraña fruta. Al saber que no era venenosa, lo hice y la verdad sabe amarga, por lo cual solo las aves la podrían comer.
---
La fruta ya madura
La fruta aún verde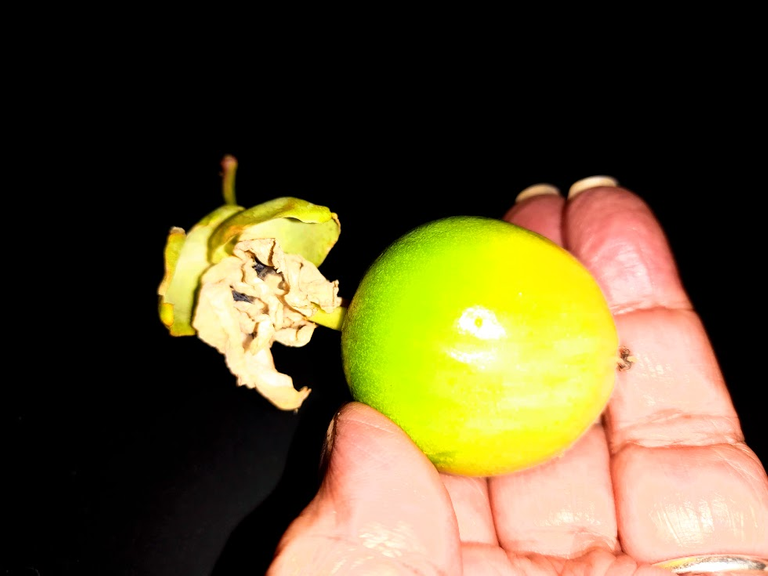 ---
Entonces me hice varias preguntas:
¿Por qué la llaman la Fruta de la pasión?
Sintetizando mis respuestas, la llaman Fruta de la Pasión, debido a que en su flor existen, según las creencias Cristianas, muchas similitudes con la Pasión de Jesús. Dicen que en su flor, están representados los tres clavos usados para clavar a Jesús en la Cruz. El ovario de la flor y su base se parece al Cáliz usado en la Última Cena. Las cinco heridas de Jesús, estarían representadas en las cinco anteras. Los diez pétalos serían diez de los doce apóstoles, restando a Pedro quien lo negó y a Judas que lo traicionó. Las hojas secas representan las manos de sus perseguidores y las hojas nuevas, en forma de punta de lanza usada para punzarlo; Zarcillo y látigos con lo que lo azotaron. Finalmente, la corola, representa la Corona de espinas. Fuente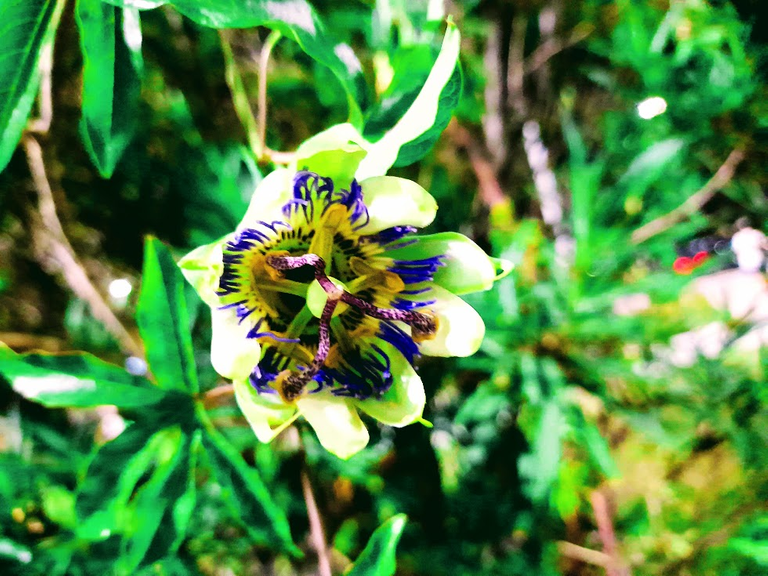 En cuanto a su origen, la fruta de la pasión en general es originaria de países tropicales, en Brasil, le asignaron el nombre de maracuyá (maracujá azedo o agrio, y maracujá doce, o dulce) Paraguay, Argentina y otros, donde el clima les permite desarrollarse.
---
Nombre científico: Passiflora caerulea
Clasificación superior: Passiflora
Categoría: Especie
Familia: Passifloraceae
Clase: Magnoliopsida
Especie: Passiflora caerulea; L.
Orden: Violales
Fuente:
---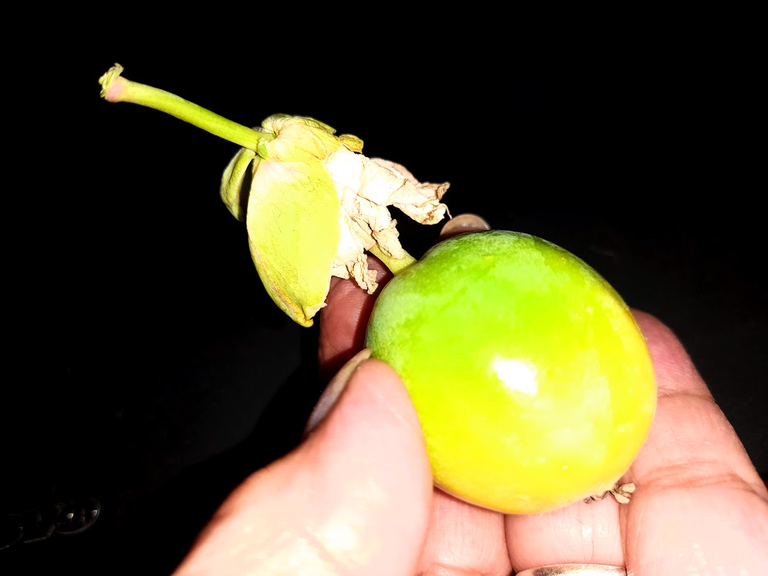 ---
En cuanto a las propiedades, certifico que el jugo de esta fruta, en especial la que yo conozco y he probado, es muy refrescante. He preparado manjares y dulces que dejan un delicioso sabor en boca. Asimismo, le adjudican propiedades medicinales, que aunque no las doy como recomendación por no estar autorizada para ello, la describen como una fruta que sirve para controlar en pequeña medida el insomnio, para la presión y actúa como antiespasmódico, muy usado en los dolores menstruales. (Repito, no se recomienda su uso sin ser autorizado o comprobado)
---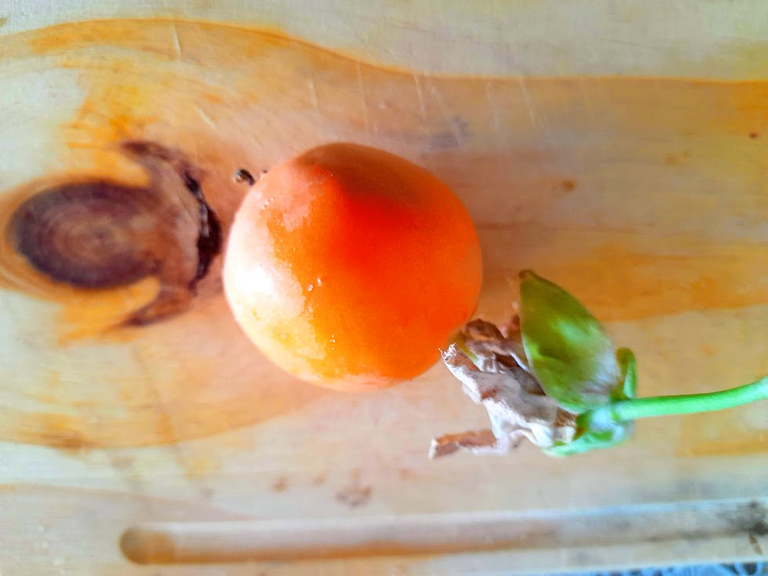 ---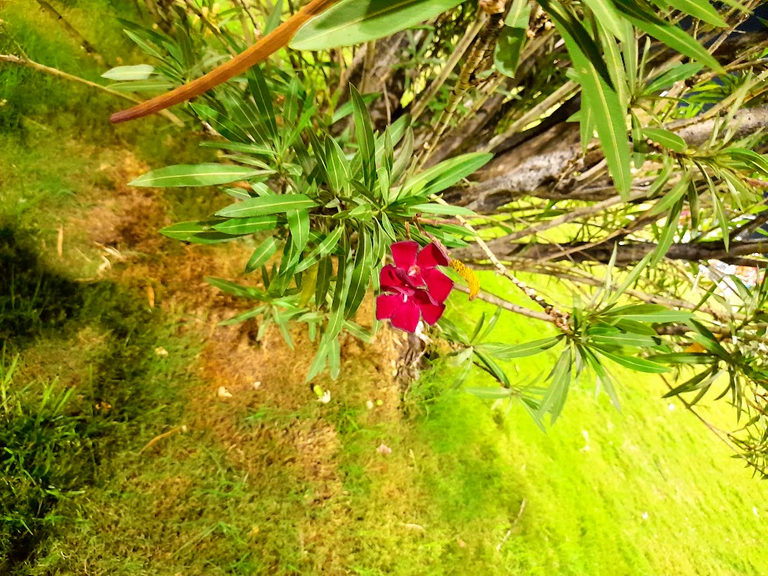 ---
Esta es la planta donde estaba enredada nuestra pasiflora. Allí se observa, el tamaño del arbusto. Es una hermosa especie "Nerium oleander" conocida comúnmente como Adelfa. Por cierto, es una planta muy tóxica. Se debe tener especial cuidado al manipularla. Quedaría esta especie, para una próxima publicación.
---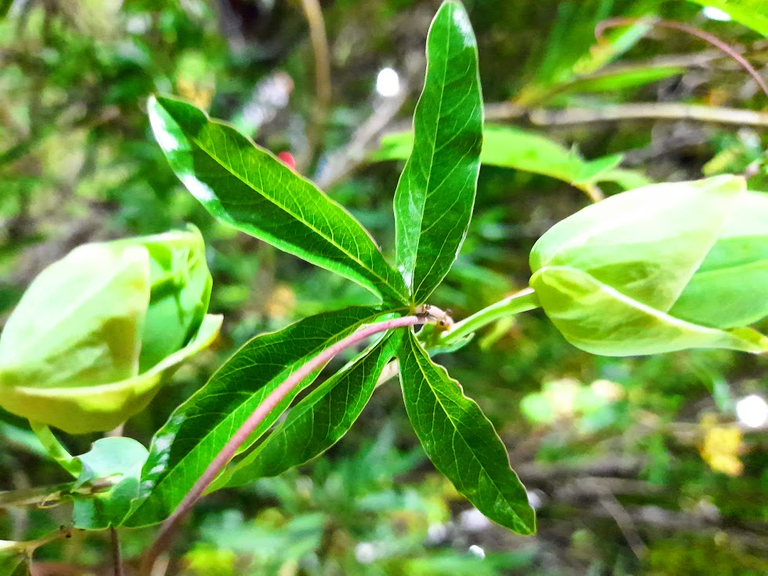 ---
En la foto superior se observan las pasifloras trepadoras. Lista para abrir paso a la famosa, Maracuyá, o Parchita, o como la llaman, según las creencias Cristianas, "La fruta de la pasión".
En la imagen inferior, notarán que el arbusto está totalmente cargado, sirviendo de apoyo a la pasiflora.
---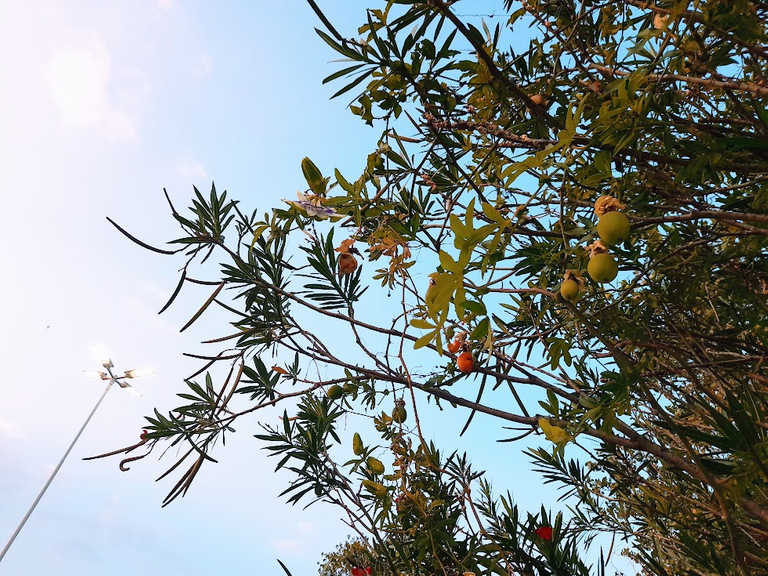 ---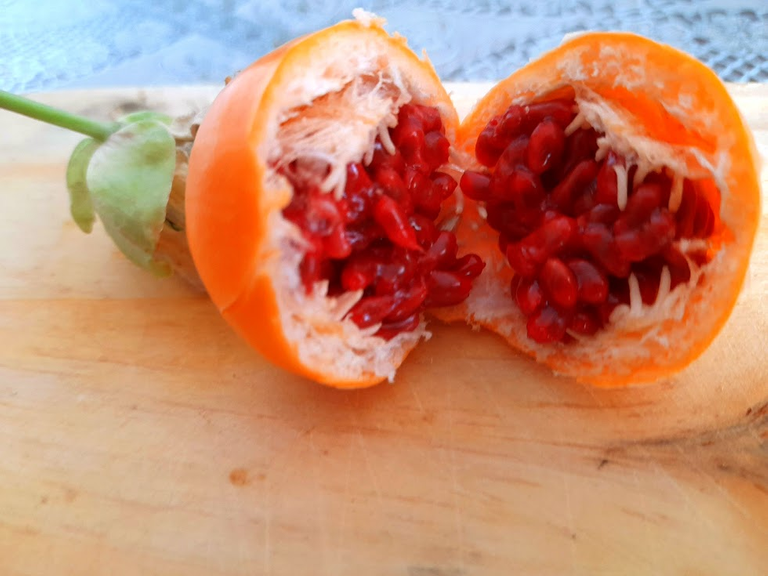 ---
En la imagen, ya un poco más de cerca, se nota el color provocativo de sus semillas pulposas, como les comenté, yo la probé con reservas, pero si percibí en boca un poco de acidez y amargor. No me pareció como para consumirla, como lo haría con una de las grandes y muy maduras Parchitas. Esas son muy jugosas, y con una acidez, que hace que las papilas se derritan con su delicioso néctar.
---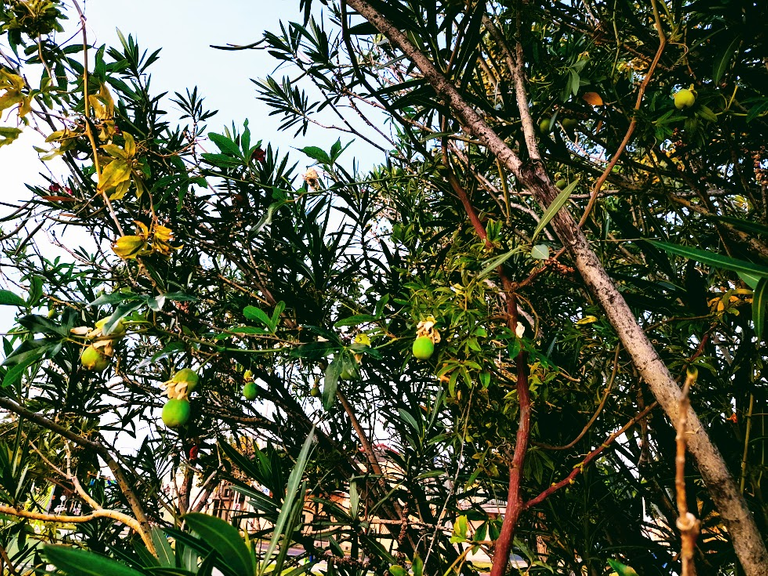 During my usual walk in the park last week, and I noticed that there was a creeper among a bush with a beautiful and very small flower. ! What caught my attention was the flower, because I said to myself; It can't be! That fruit is just like the parchita or passion fruit. I proceeded to take some pictures, but they were not very clear, because there was a lot of breeze and the plant was moving a lot.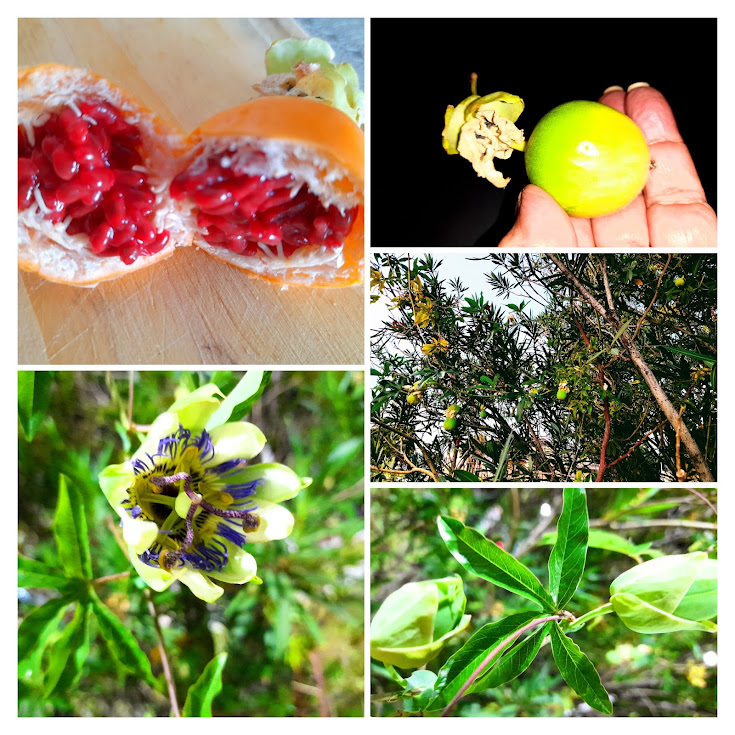 ---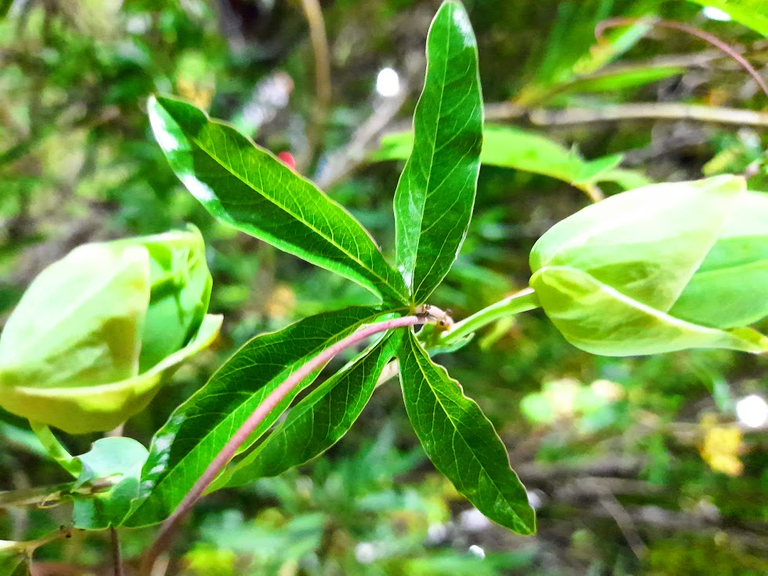 This is a discovery for me, because I did not know that this kind of fruit existed. It is similar to passion fruit because of its flowers, leaf and fruit, as the skin is identical to that of the passion fruit or Parchita. However, the strange thing for me was not exactly the fruit, but its size. It seemed too small compared to the ones I know. Moreover, when I closely observed its flower and the texture of its skin, I confirmed my theory of similarity.
---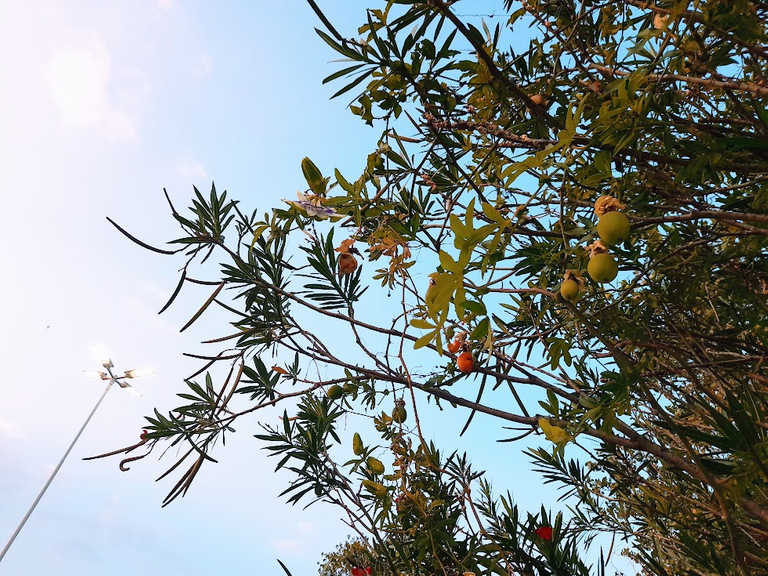 I took one home to wait for it to fully ripen. Only 24 hours and its shell was already yellow. I decided to open it and my surprise was even greater, because I did not imagine I would find a red passion fruit inside. For all these reasons, I started to investigate, since I wanted to taste this strange fruit. Knowing that it was not poisonous, I did it and the truth is that it tastes bitter, so only birds could eat it.
---
Ripe cute fruit
The fruit is still green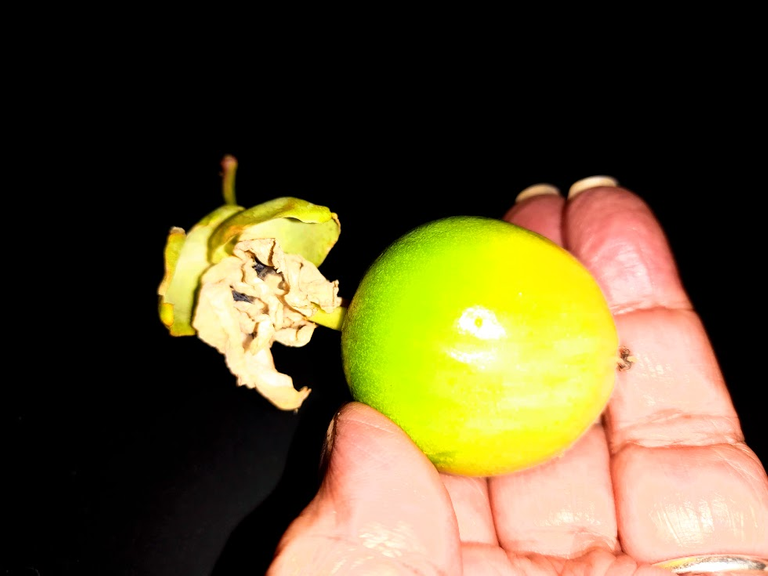 ---
Then I asked myself several questions:
Why do they call it the Passion Fruit?
What is its origin?
What are its properties?
Synthesizing my answers, they call it the Passion Fruit, because in its flower there are, according to Christian beliefs, many similarities with the Passion of Jesus. They say that in its flower, the three nails used to nail Jesus to the Cross are represented. The ovary of the flower and its base resembles the Calyx used at the Last Supper. The five wounds of Jesus would be represented in the five anthers. The ten petals would be ten of the twelve apostles, subtracting Peter who denied him and Judas who betrayed him. The dry leaves represent the hands of his persecutors and the new leaves, in the form of spear points used to puncture him; Zarcillo and whips with which they whipped him. Finally, the corolla, represents the Crown of thorns. Source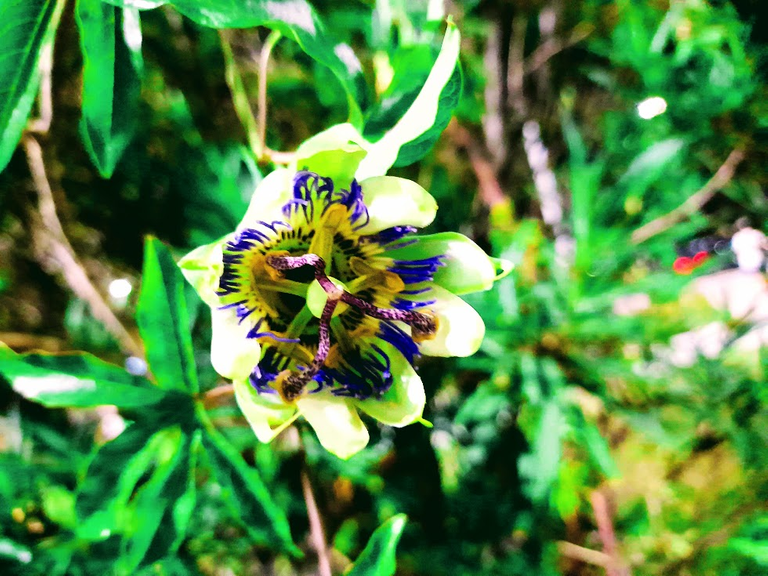 As for its origin, passion fruit in general is native to tropical countries, in Brazil, it was given the name of passion fruit (maracuja azedo or sour, and maracuja doce, or sweet) Paraguay, Argentina and others, where the climate allows them to develop.
---
Scientific name: Passiflora caerulea
Higher classification: Passiflora
Category: Species
Family: Passifloraceae
Class: Magnoliopsida
Species: Passiflora caerulea; L.
Order: Violales
Source:
---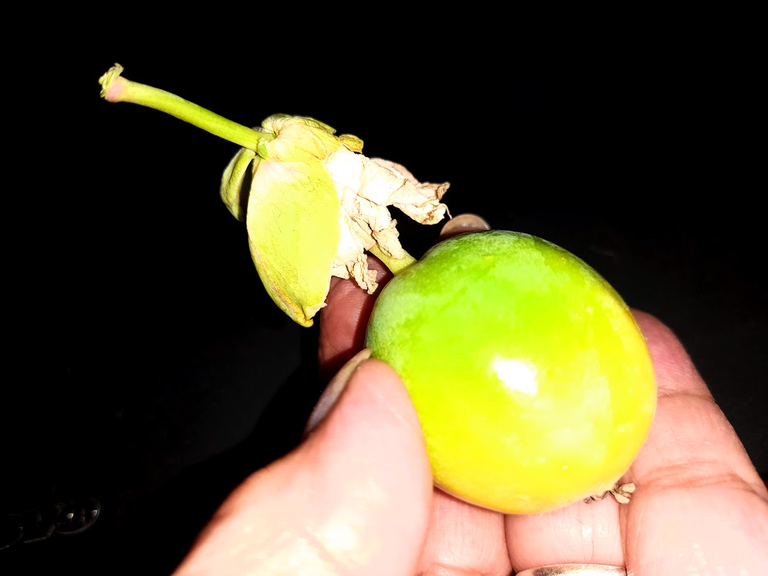 ---
As for the properties, I certify that the juice of this fruit, especially the one I know and have tasted, is very refreshing. I have prepared delicacies and sweets that leave a delicious taste in the mouth. Also, it has medicinal properties, although I do not give them as a recommendation for not being authorized for it, they describe it as a fruit that serves to control insomnia to a small extent, for the pressure and acts as an antispasmodic, widely used in menstrual cramps. (I repeat, its use is not recommended without being authorized or verified).
---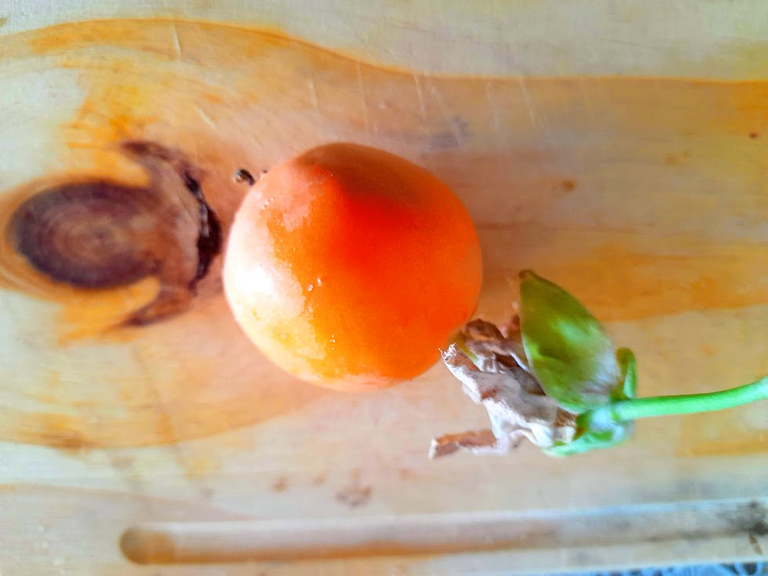 ---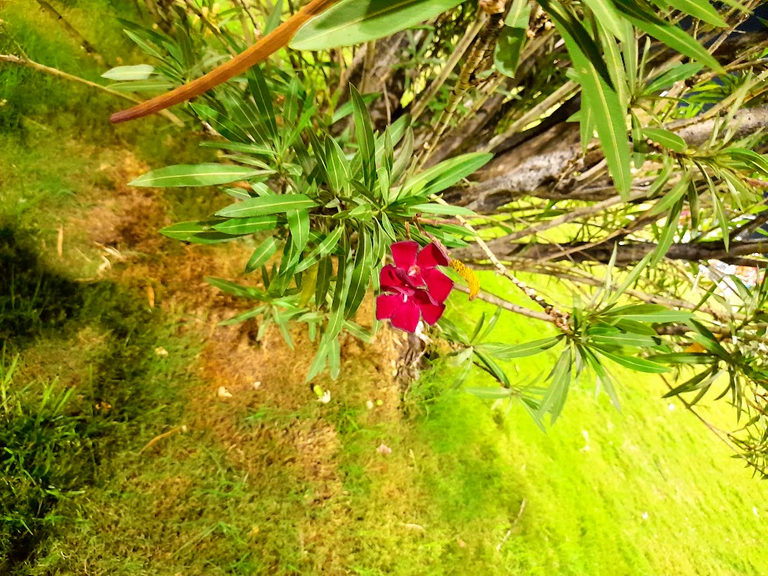 This is the plant where our passionflower was entangled. There you can see the size of the bush. It is a beautiful species "Nerium oleander" commonly known as Adelfa. By the way, it is a very toxic plant. Special care should be taken when handling it. This species will remain for a future publication.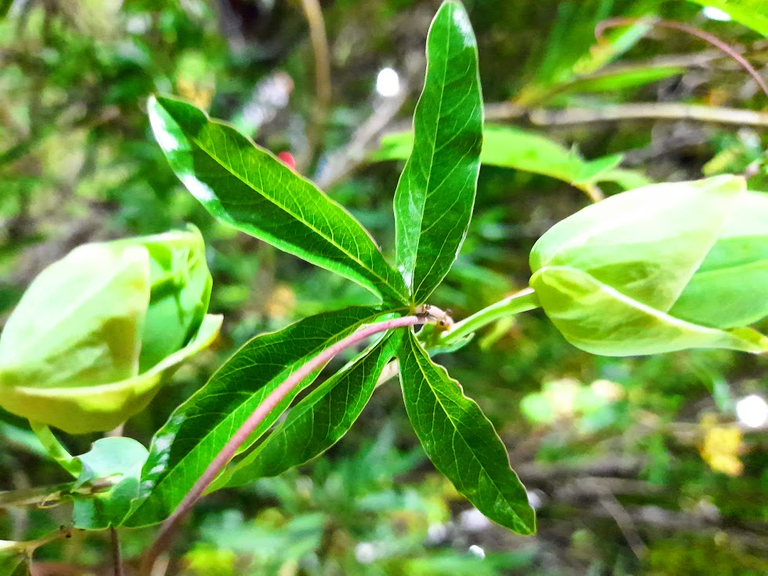 The photo above shows the climbing passion flowers. Ready to make way for the famous, Passion Fruit, or Parchita, or as it is called, according to Christian beliefs, "The Passion Fruit".
In the image below, you will notice that the bush is fully loaded, supporting the passionflower.
---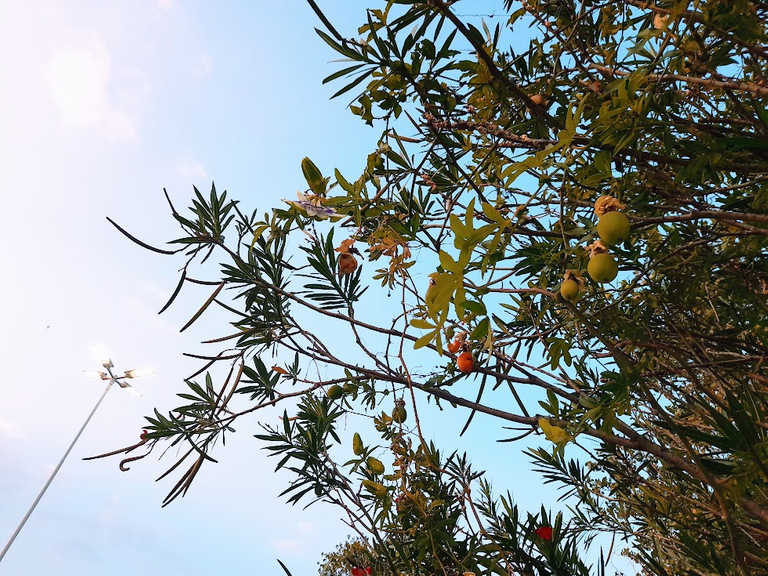 ---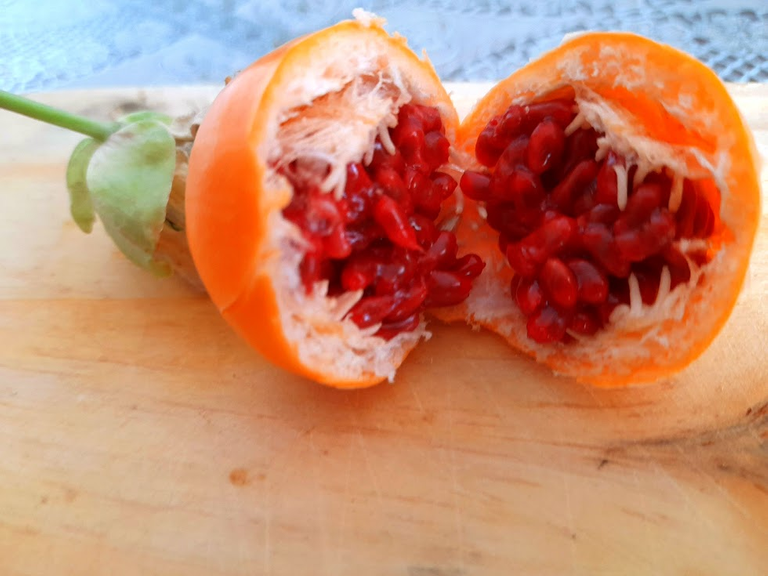 In the image, a little closer, you can notice the provocative color of its pulpy seeds, as I mentioned, I tasted it with reservations, but I did perceive a bit of acidity and bitterness in the mouth. It did not seem to me to be consumed, as I would do with one of the large and very ripe Parchitas. Those are very juicy, and with an acidity that makes the taste buds melt with its delicious nectar.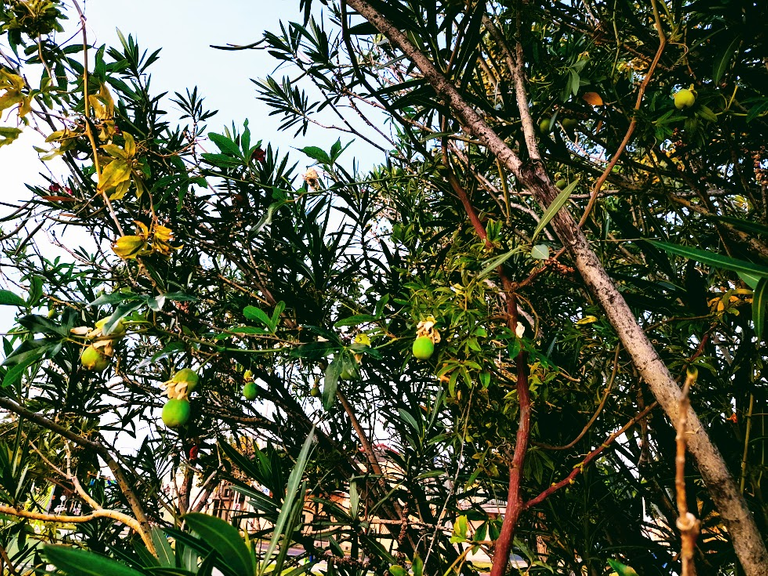 ---
Translated
Editor G.
Twitter
Alpha.leofinance.io/threads
---
---