Easy Way to Make Super Fried Noodle Pizza
Fried Noodle Pizza
---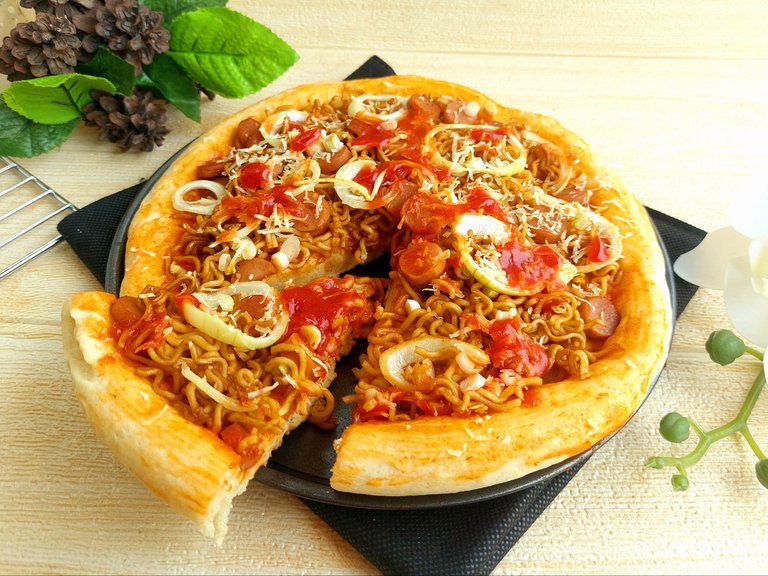 ---
---
Pizza is one of the favorite dishes for many people, but what if today's pizza topping is different than usual. Fried noodle pizza, is a way to enjoy pizza with modern toppings, of course with a taste that suits your tongue!.
---
---
Who of you doesn't know pizza, b it's impossible for pizza to become very popular all over the world. My country is no exception, there are many pizza variants on offer, but what if today I invite you to make something extraordinary, namely pizza topped with fried noodles. Noodles are indeed the most favorite food in my area, various preparations of noodles are now a very extraordinary alternative. We can find various types of noodles here, from the fried ones to the soup, all of which are unmatched. At first I was hesitant to bring this recipe in my pizza pan, but after thinking about the recipe combination I'm sure it will be very delicious.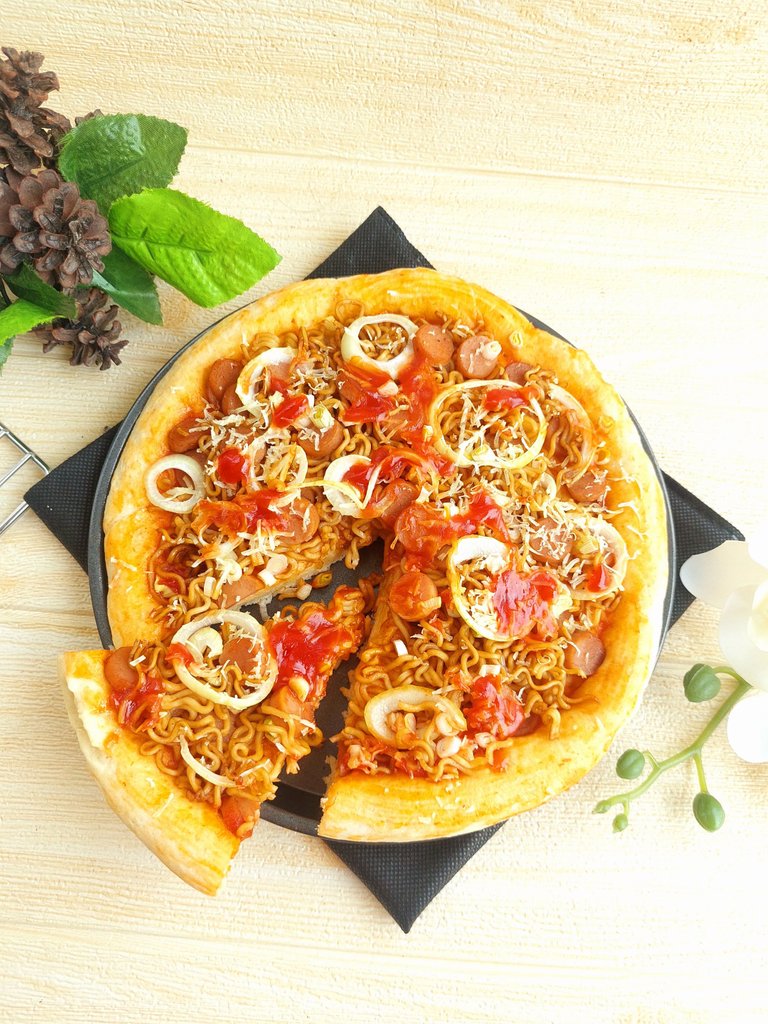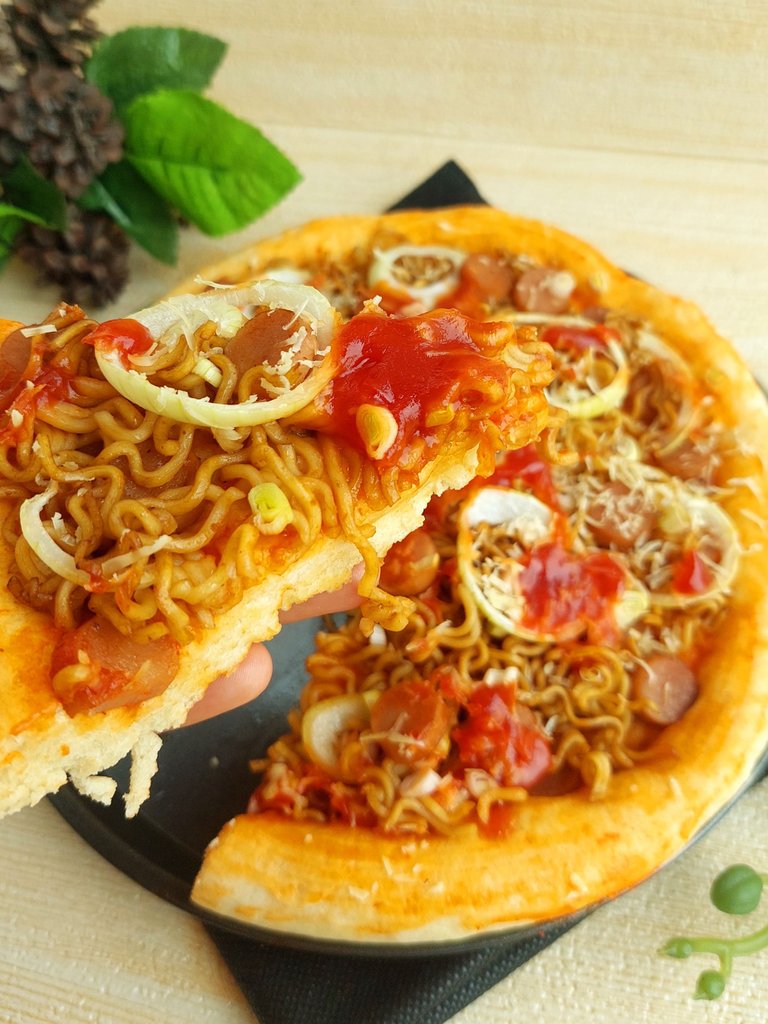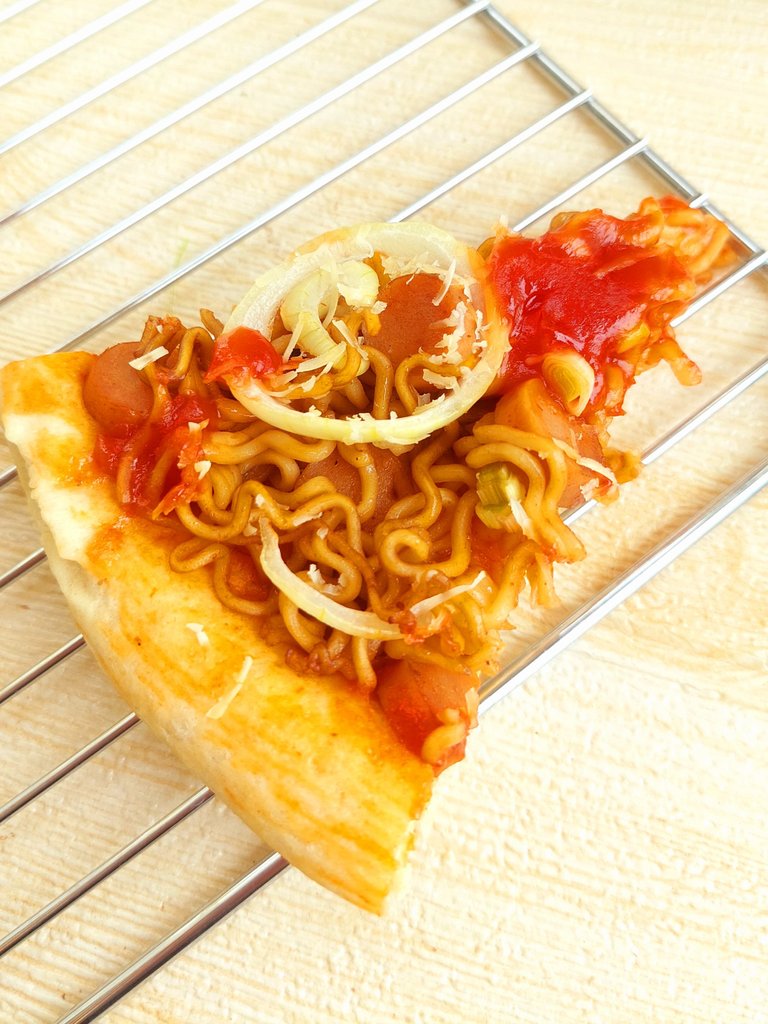 ---
Fried noodle pizza is one of the inspirations that really tempts the tongue, I think this is the first recipe for making pizza with a different topping variant than usual. If I've previously brought a vegan recipe with a spicy and sweet pizza topping, there's nothing wrong with giving new inspiration for any celebration in your home with a surprising pizza. Here are the steps in preparing a special noodle pizza for you!
---
---
---
Materials Used
---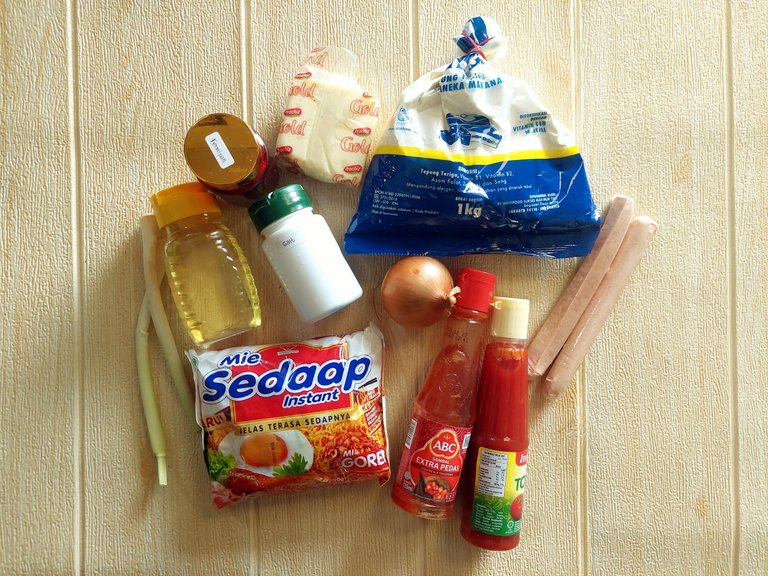 Flour Dough Ingredients
250 grams of wheat flour
1 teaspoon of salt
2 tablespoons of granulated sugar
2 tablespoons fermipan
To taste cooking oil (optional)
---
Toppings Ingredients
1 pack of instant fried noodles
1 small onion
To taste tomato sauce
To taste chili sauce
2 pieces of sausage
1 stalk of green onion
Cheese (optional)
---
---
---
Procedure Cooking
---
Step 1
When making pizza for the first time, I definitely made bread dough, I started by preparing fermipan, soaking fermipan in warm water, then adding granulated sugar, then letting it sit for about 10 minutes in the closed position.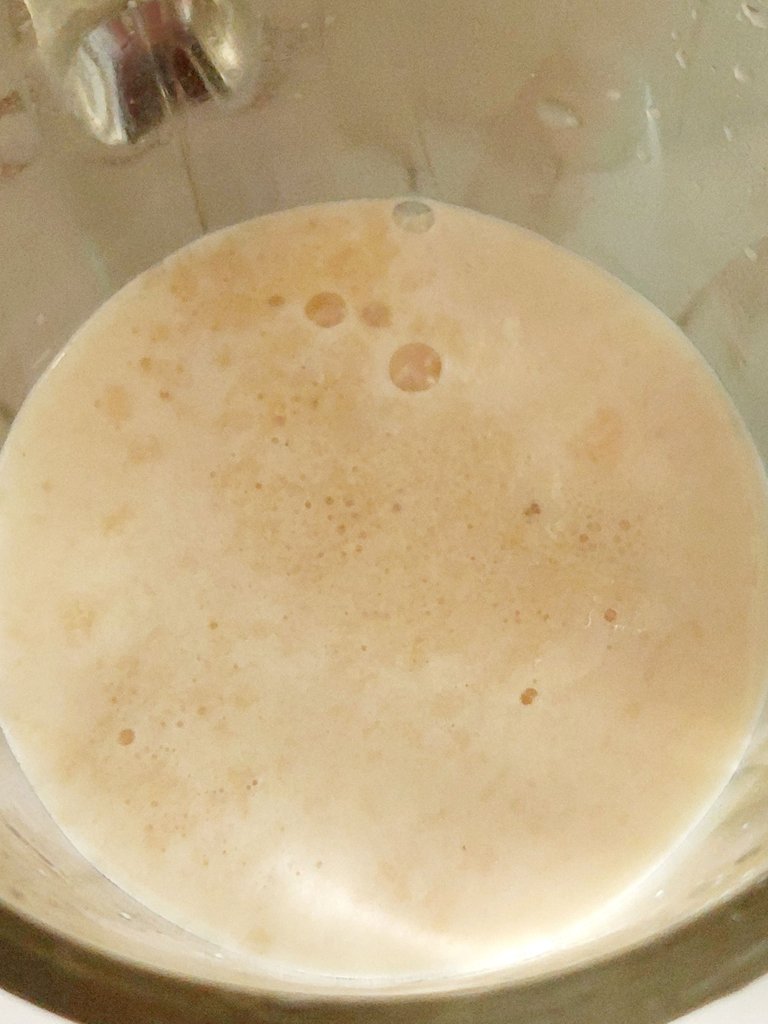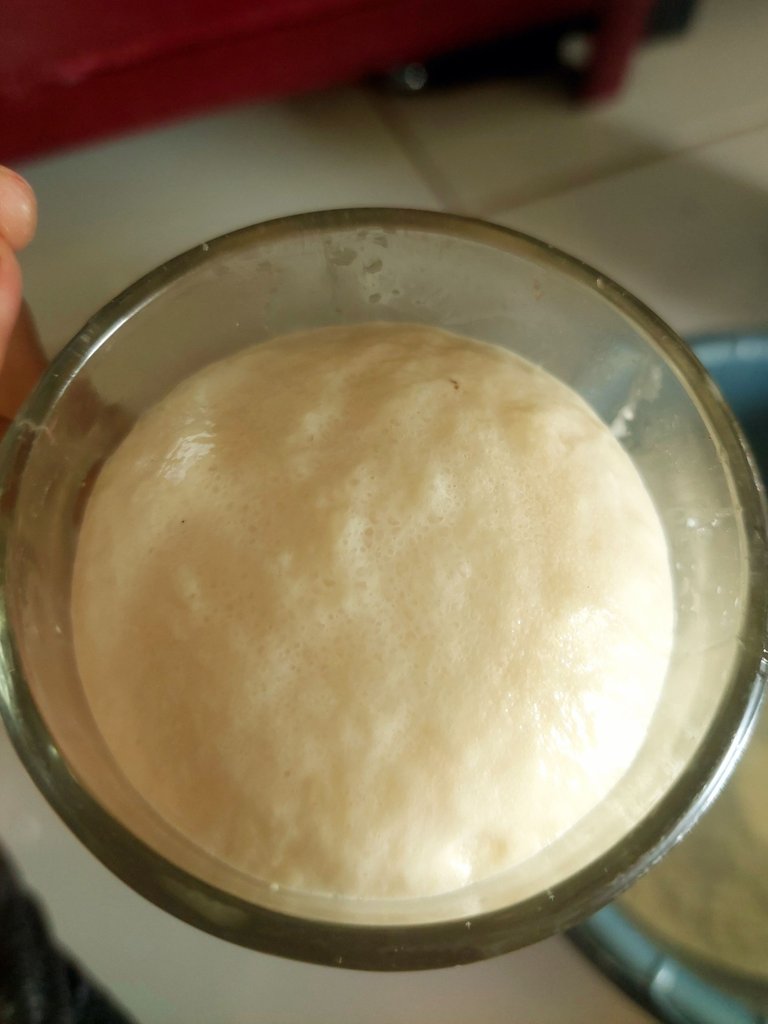 ---
Step 2
Next prepare the flour, then add the salt and fermipan or yeast that has expanded, stir and knead.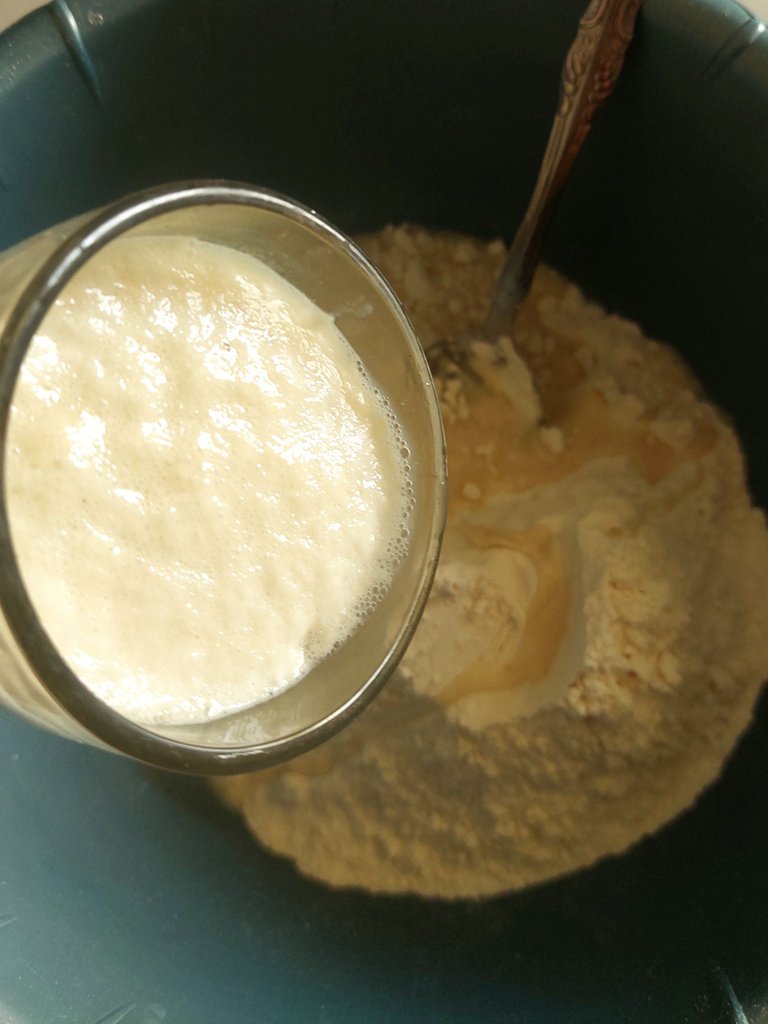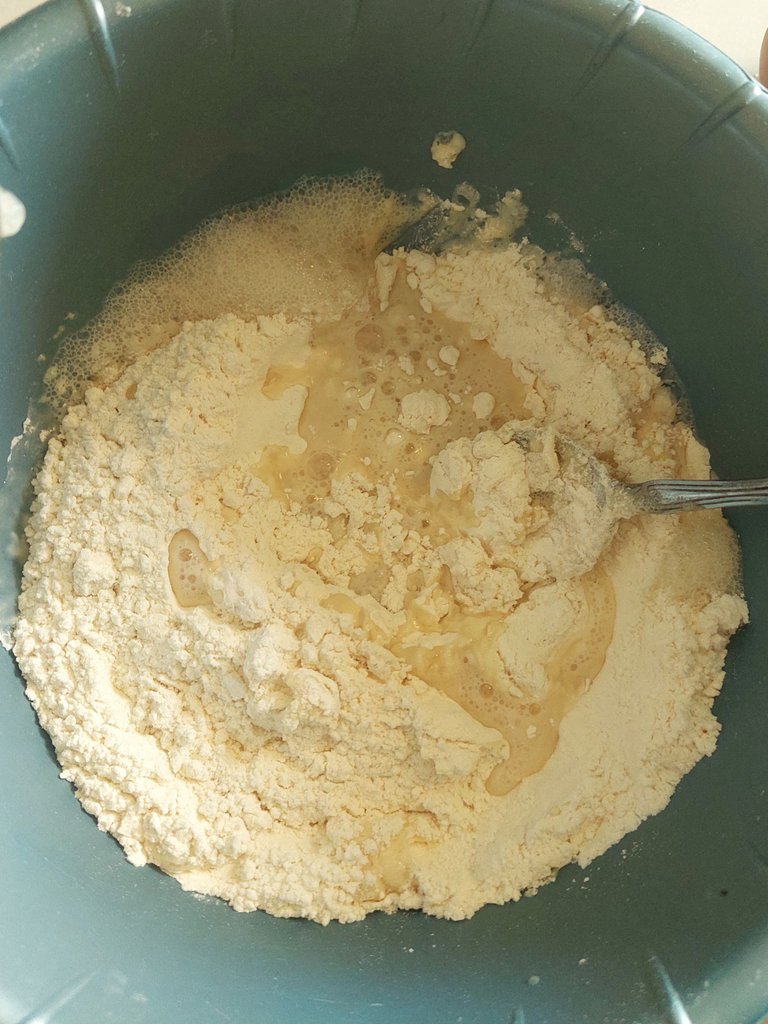 ---
Step 3
Knead until smooth, then put a little cooking oil on the surface of the dough then cover with a cloth and leave for 30 minutes.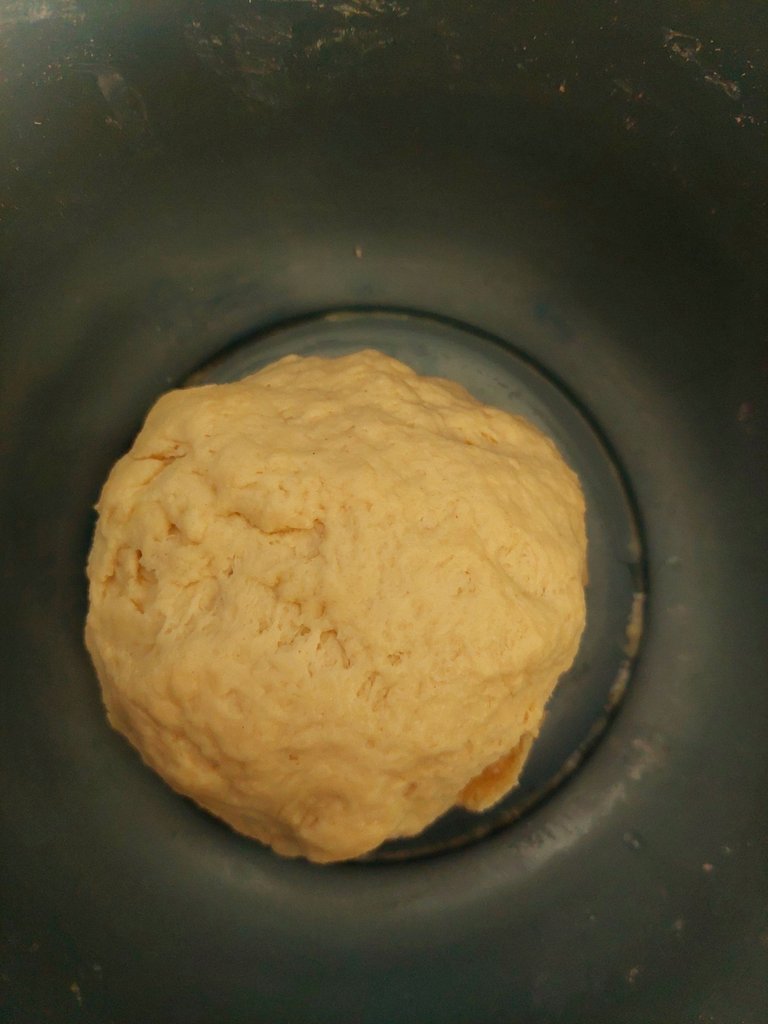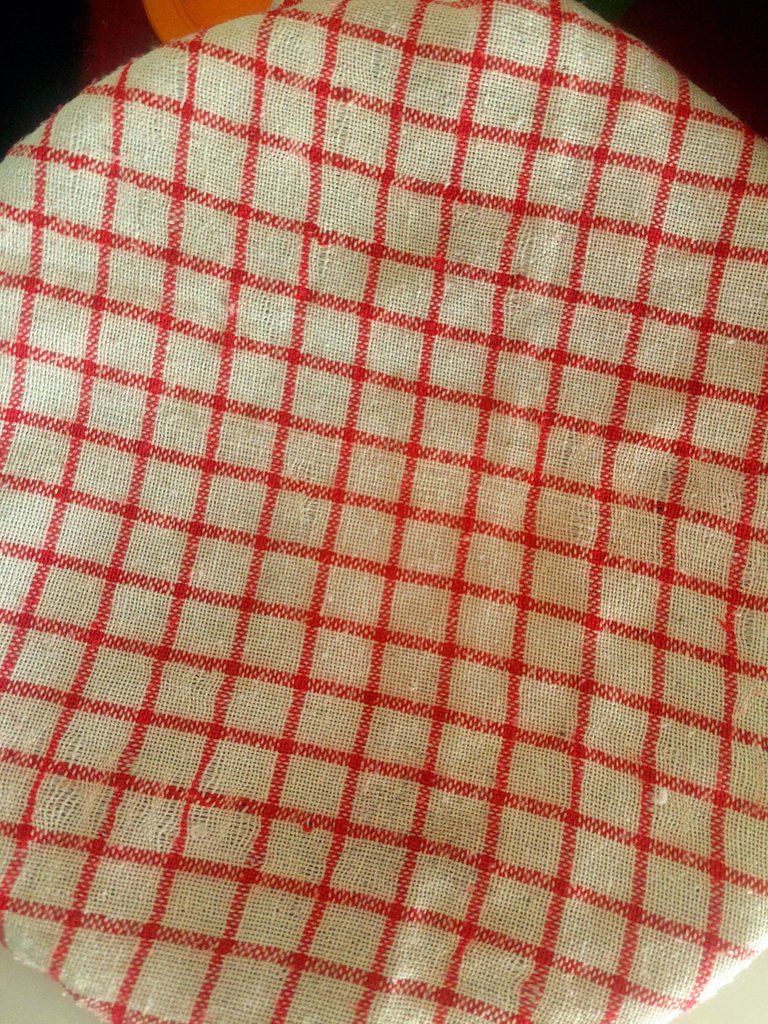 ---
Step 4
After the dough is finished while waiting, let's prepare the noodle topping filling. Cut the sausage according to taste, here I cut the size of a thin round.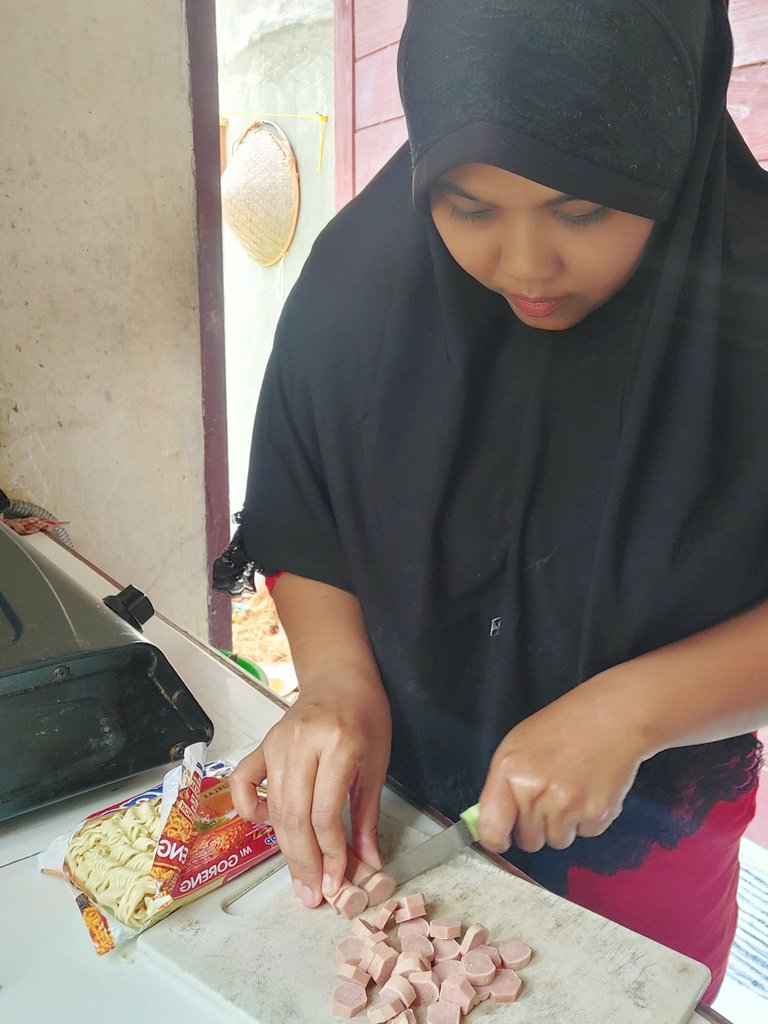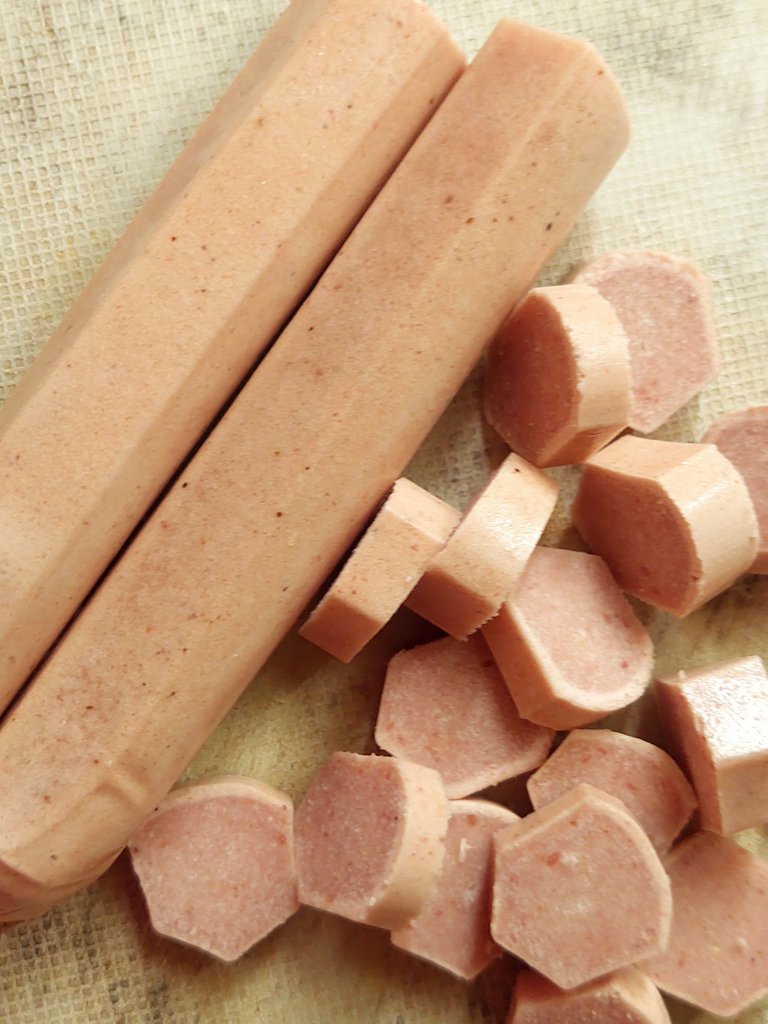 ---
Step 5
Next, boil indomie and sausages with boiling water, until perfectly cooked.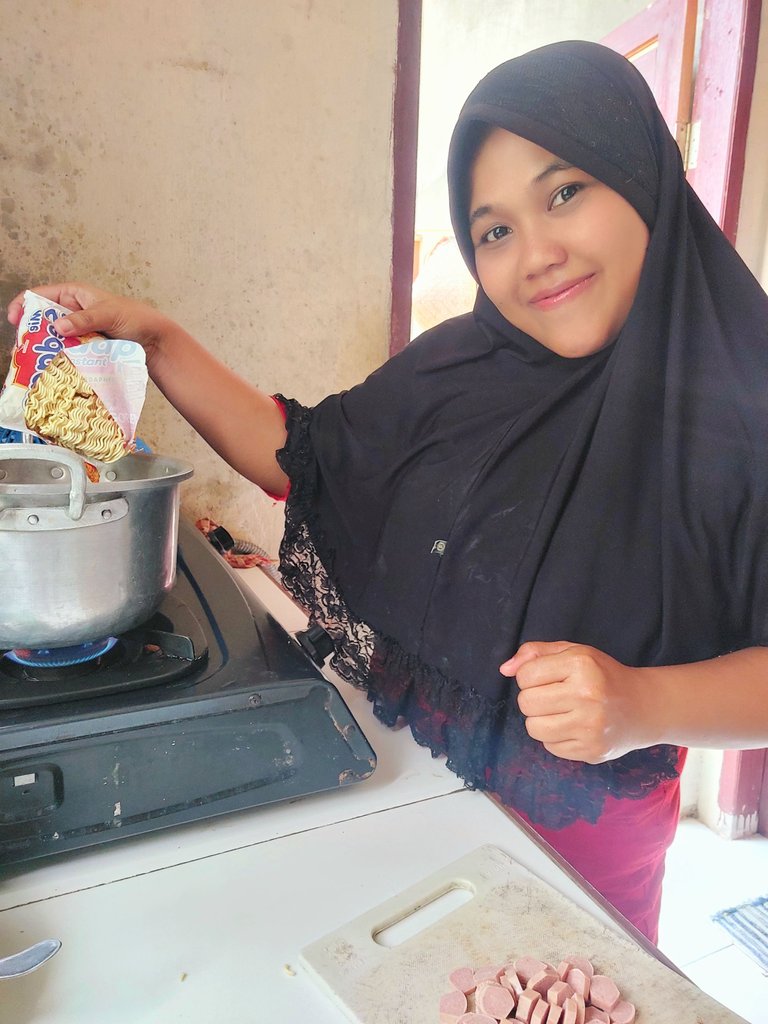 ---
Step 6
While boiling, pour the instant noodle seasoning into a plate, then remove the cooked noodles and sausages, stir with the spices until evenly distributed.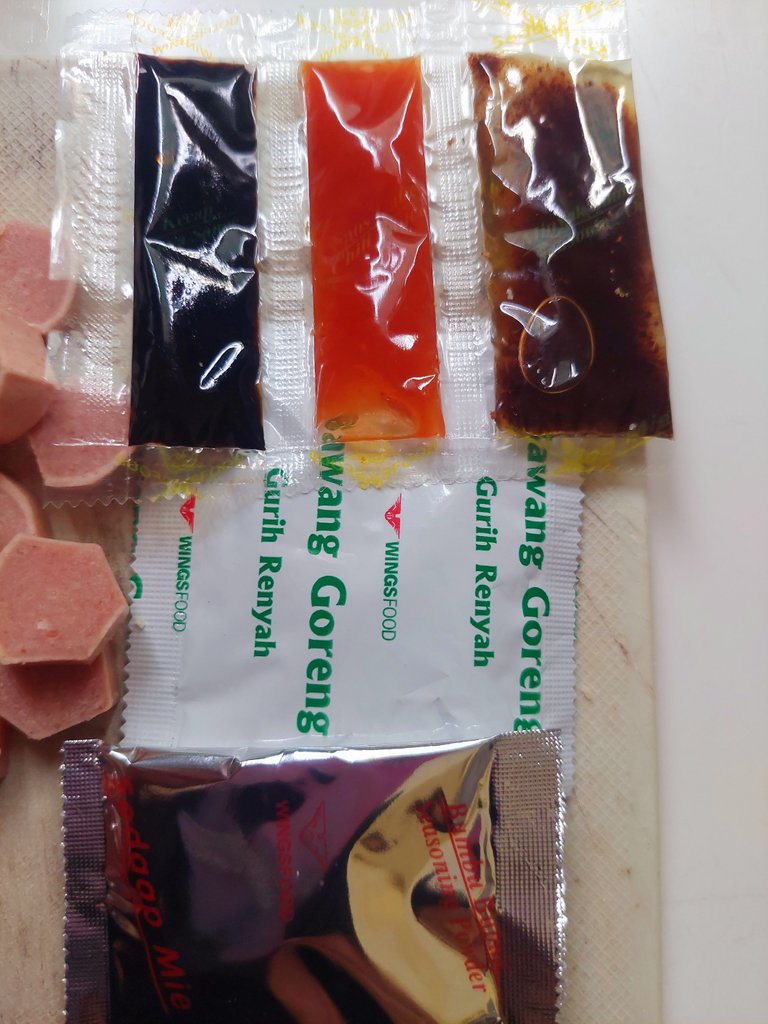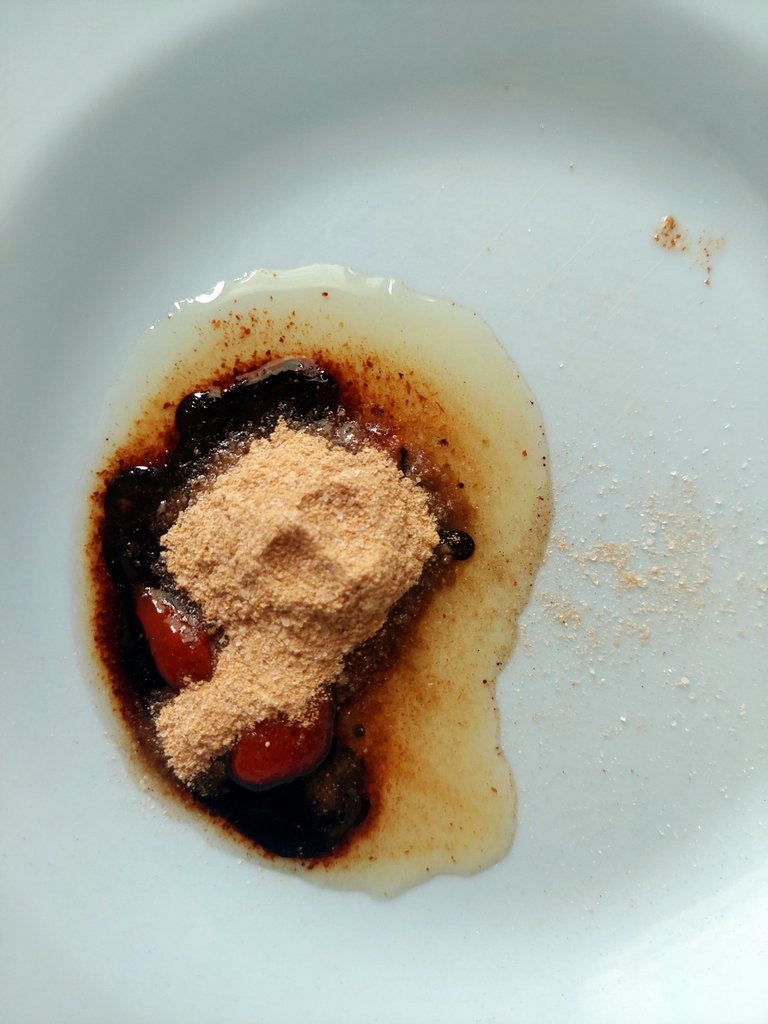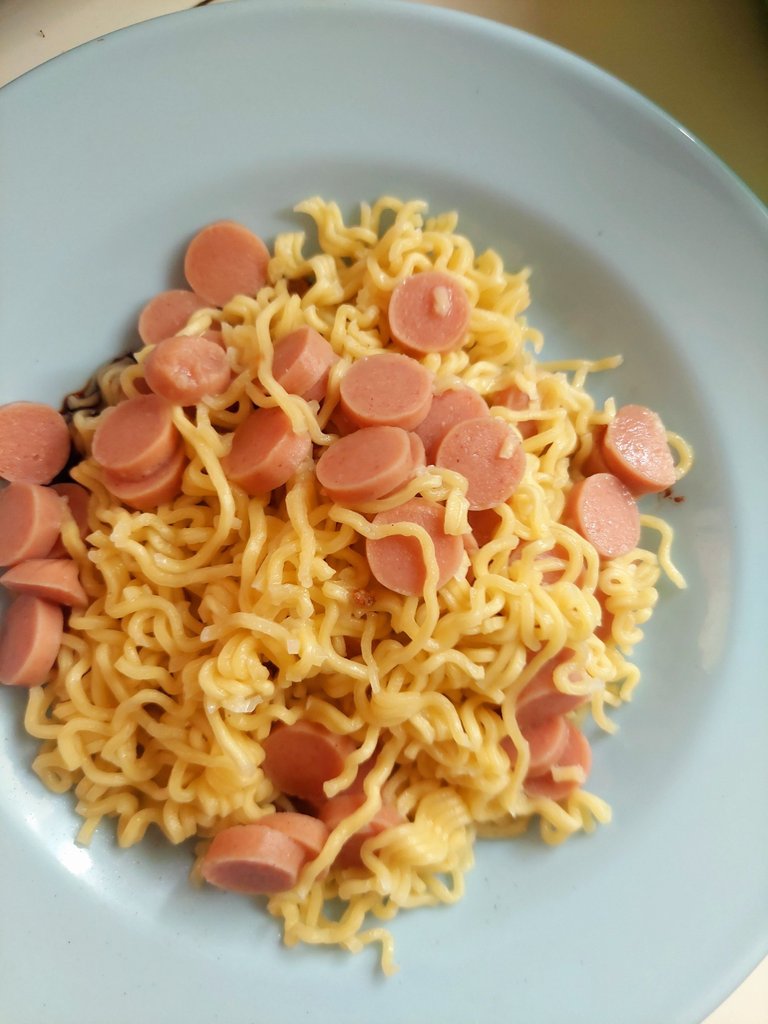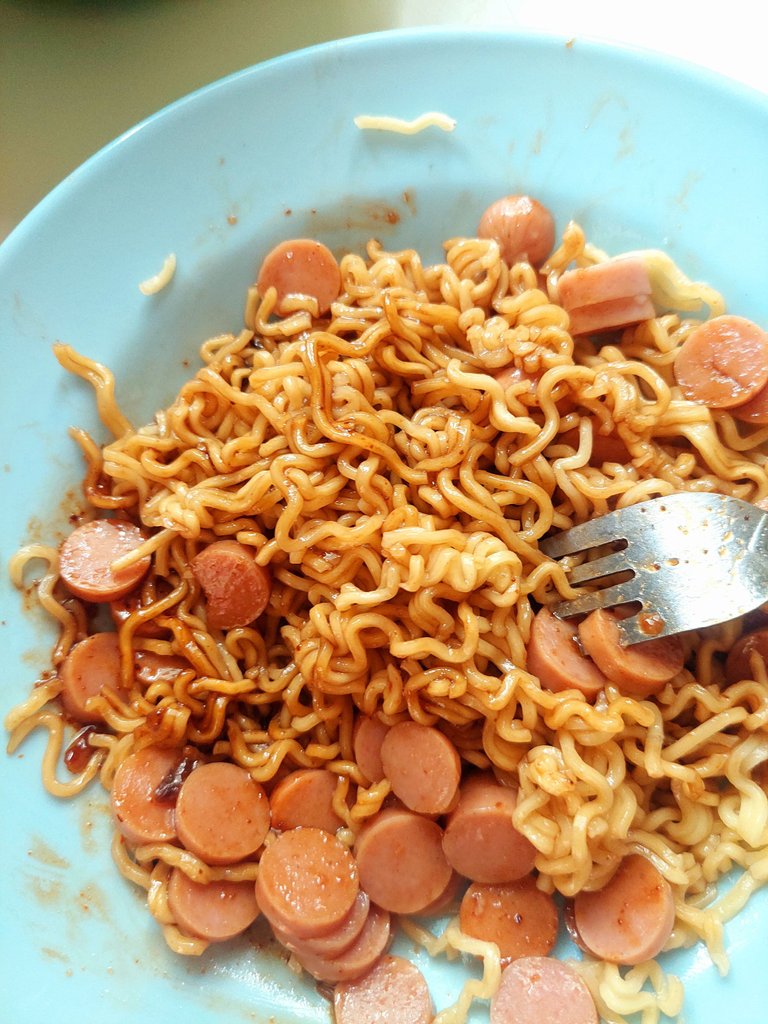 ---
Step 7
Now that everything is ready, take a pizza pan and brush it with a little oil, then flatten the pizza dough on the tin as usual, don't forget to stab it.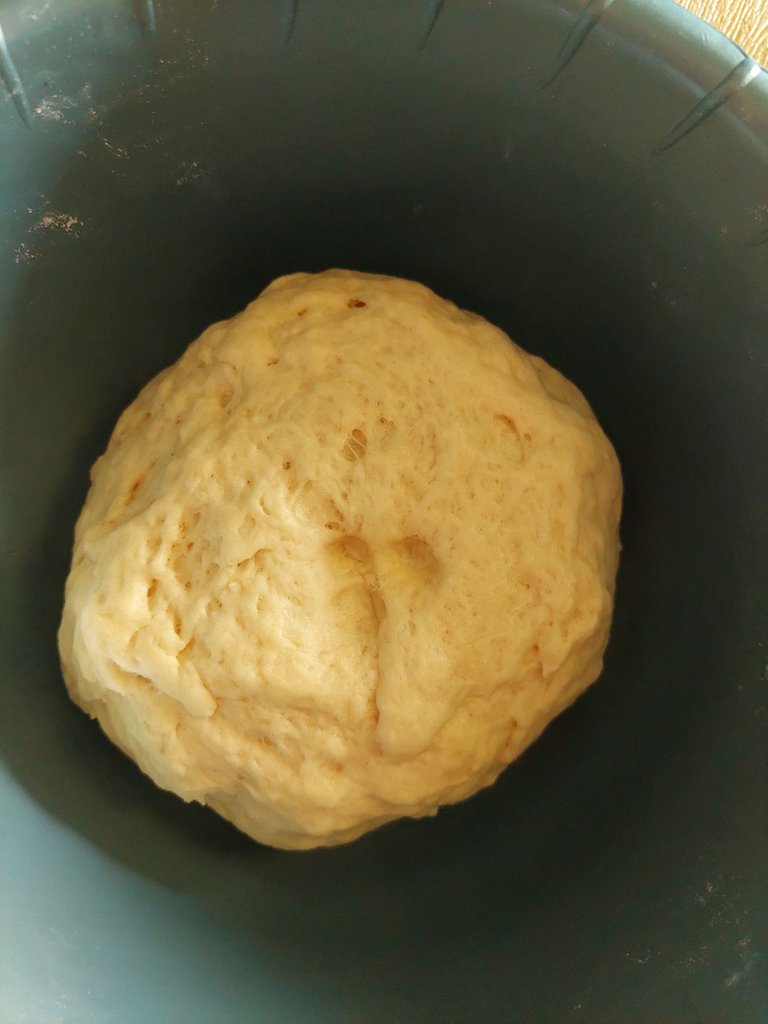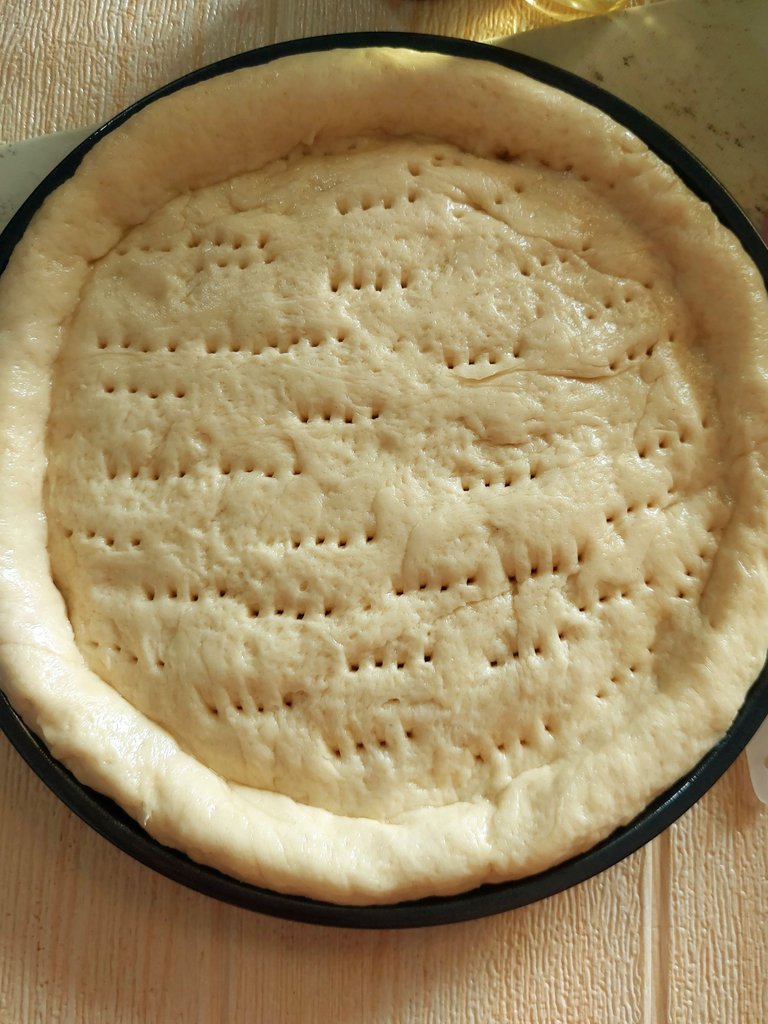 ---
Step 8
Next, spread the tomato sauce and chili sauce over the entire surface of the dough, let it rise briefly for 5 minutes.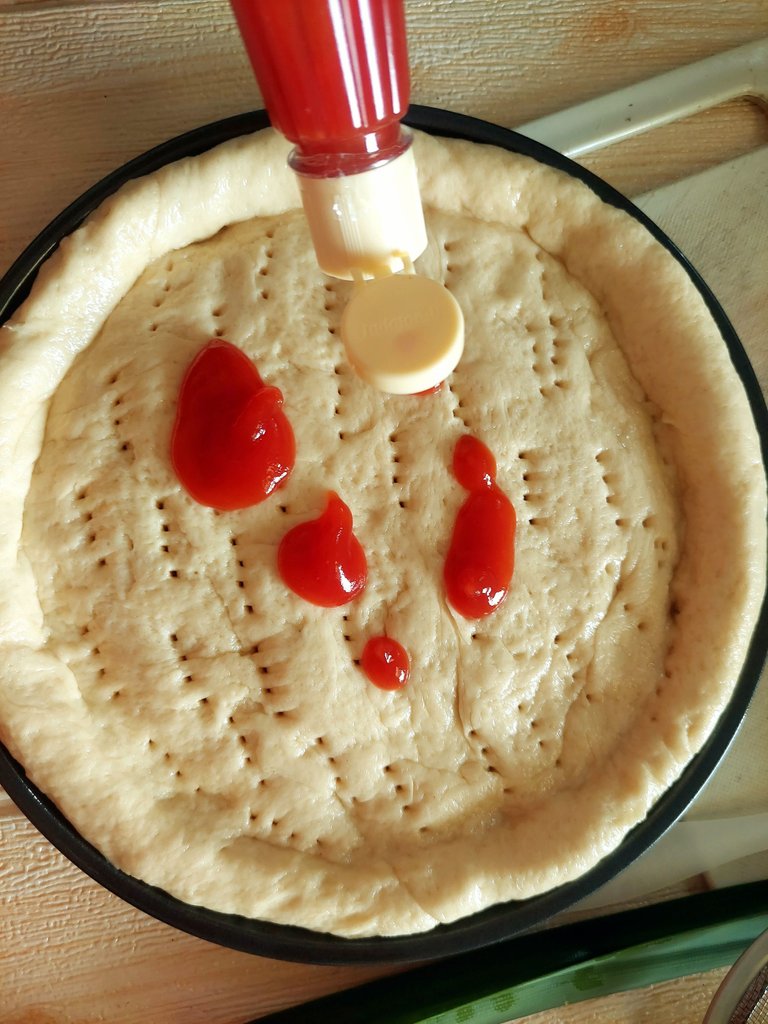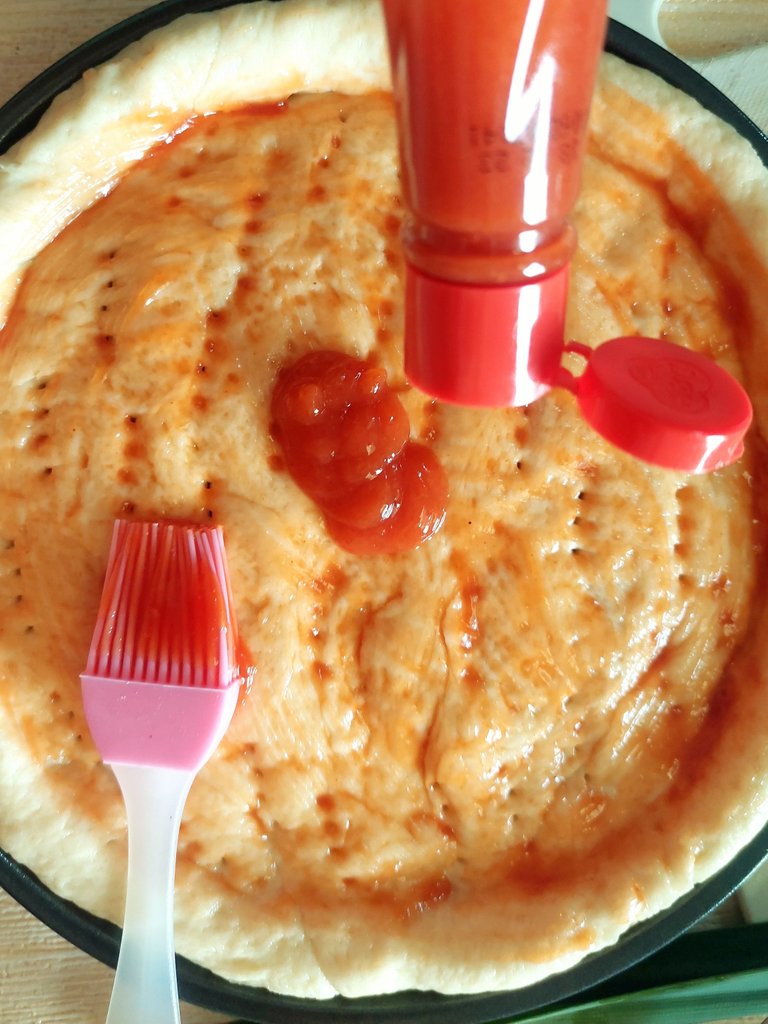 ---
Step 9
Next, add the noodles that he has stirred with the spices until they are evenly distributed on the surface of the pizza.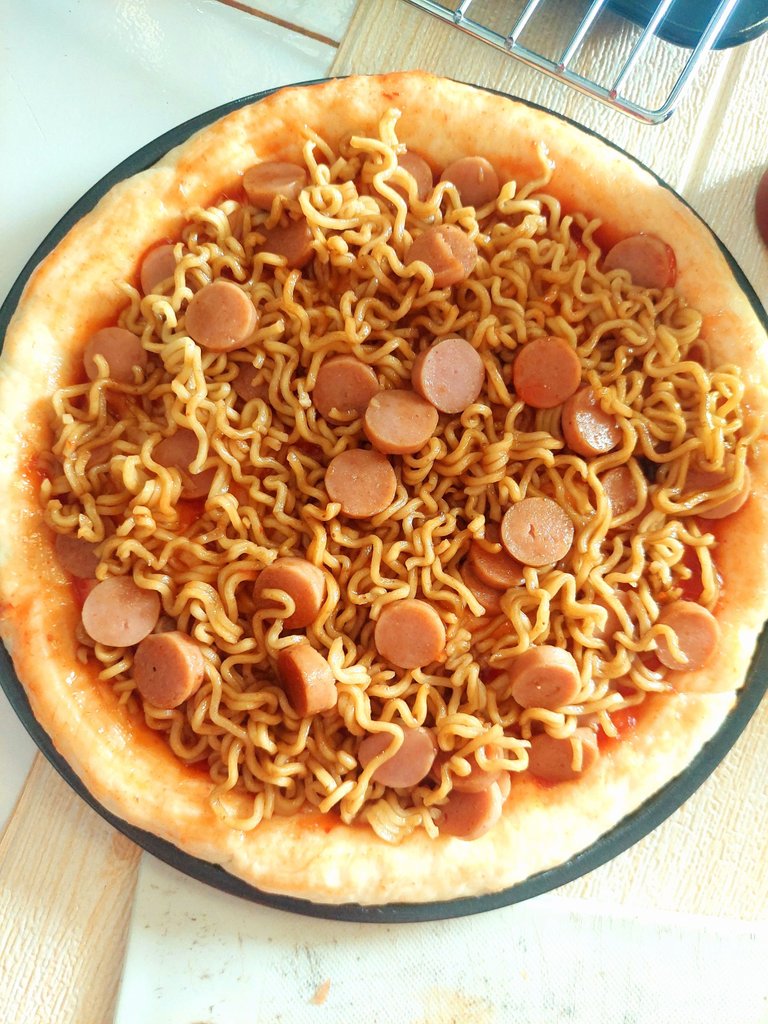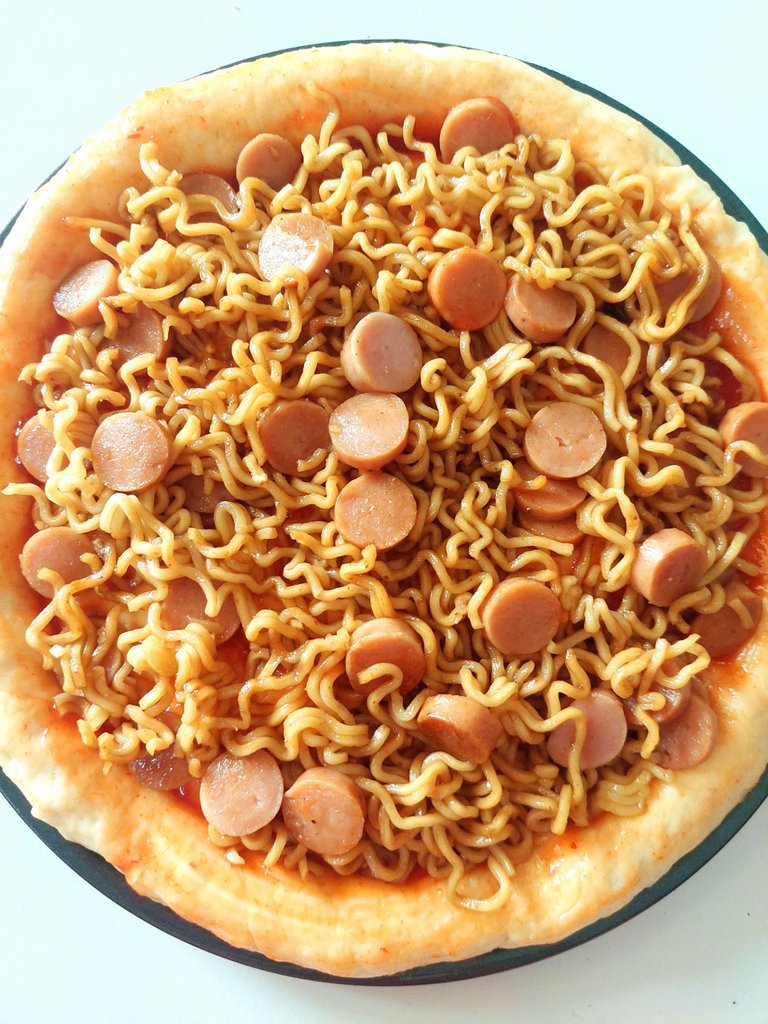 ---
Step 10
Then add chopped green onions and chopped onions.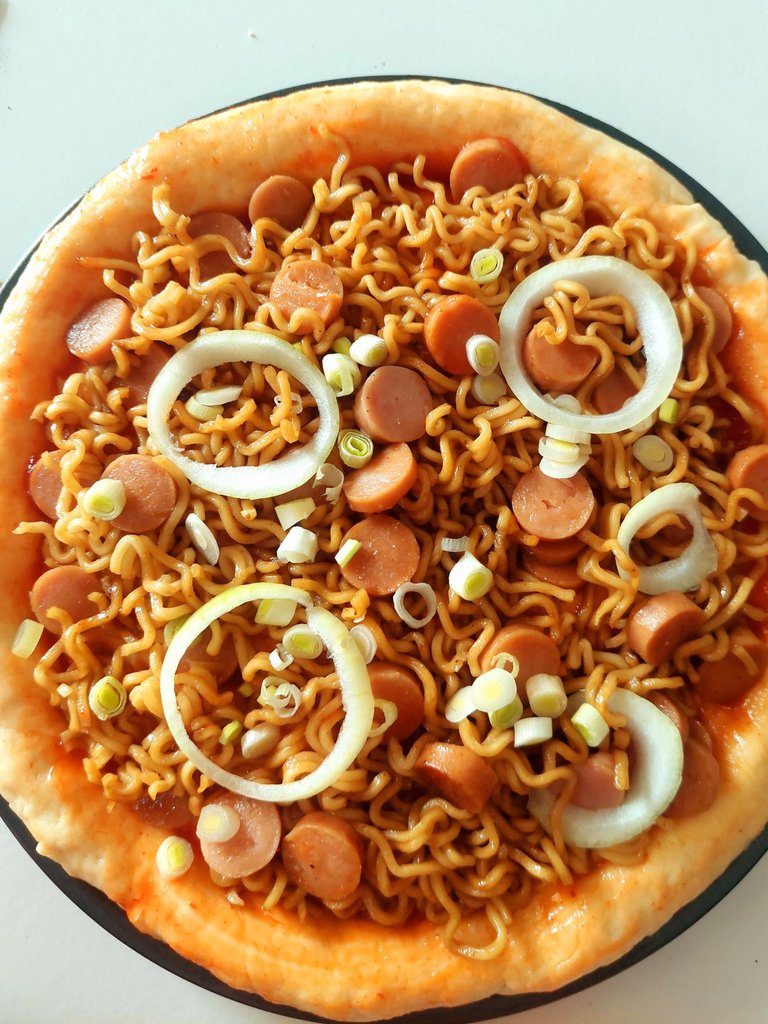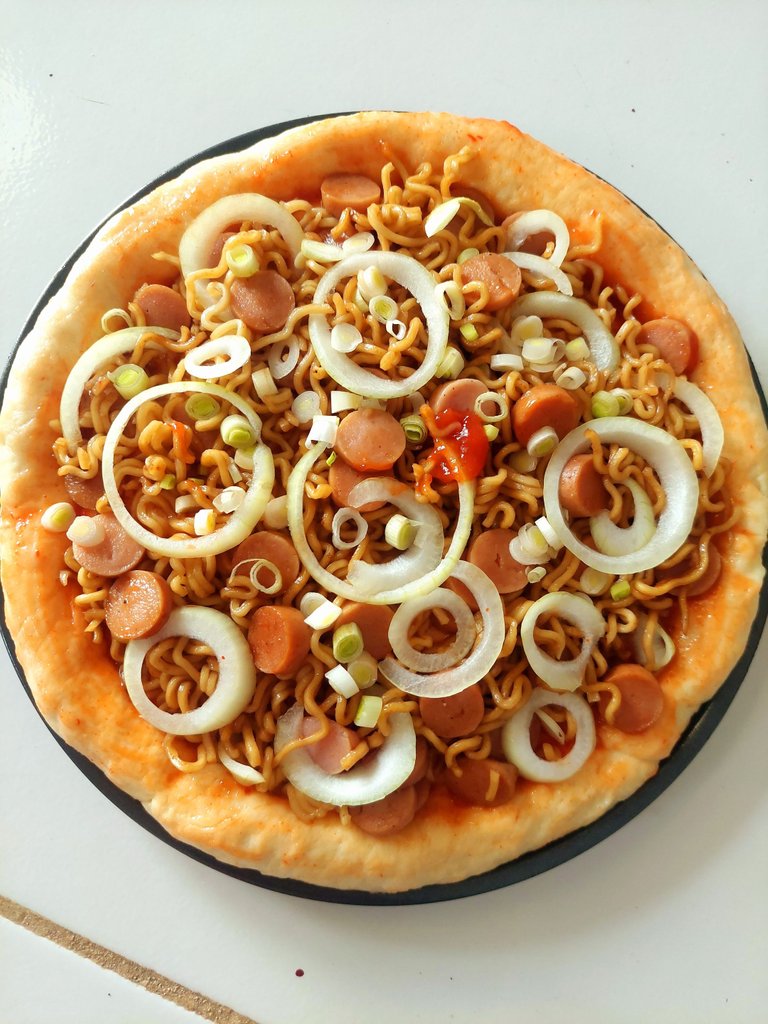 ---
Step 11
Add the grated cheese, then add the tomato and chili sauce on top, then bake in the oven at 180 degrees Celsius with fire up and down for about 30 minutes so that it is cooked to the maximum.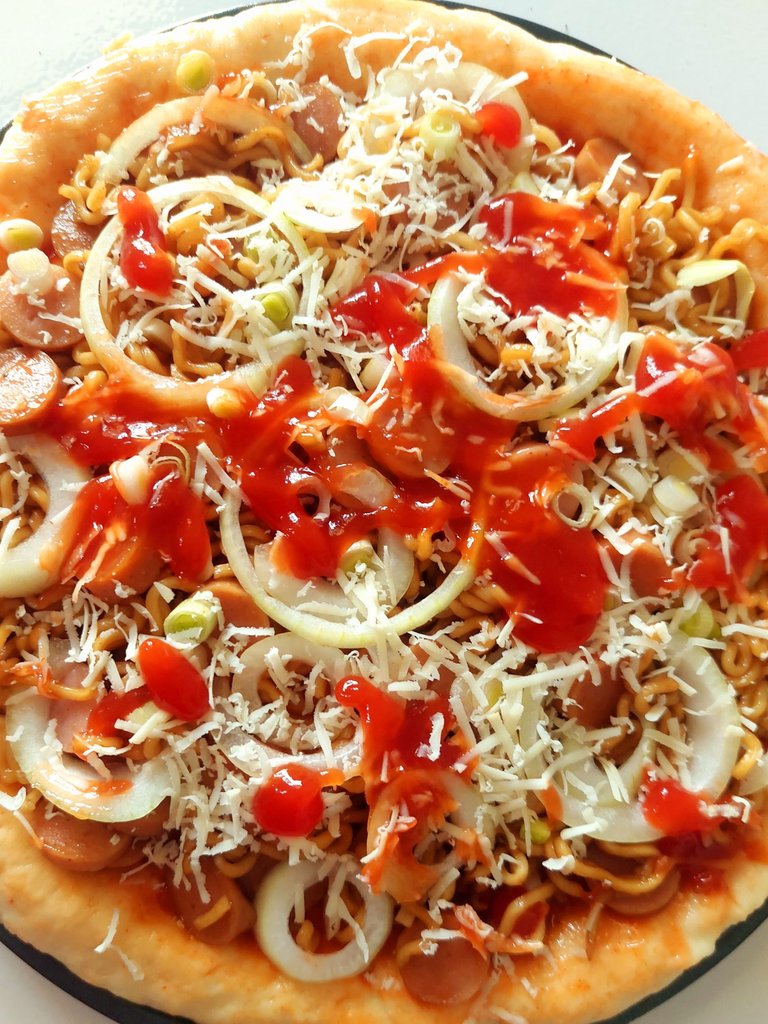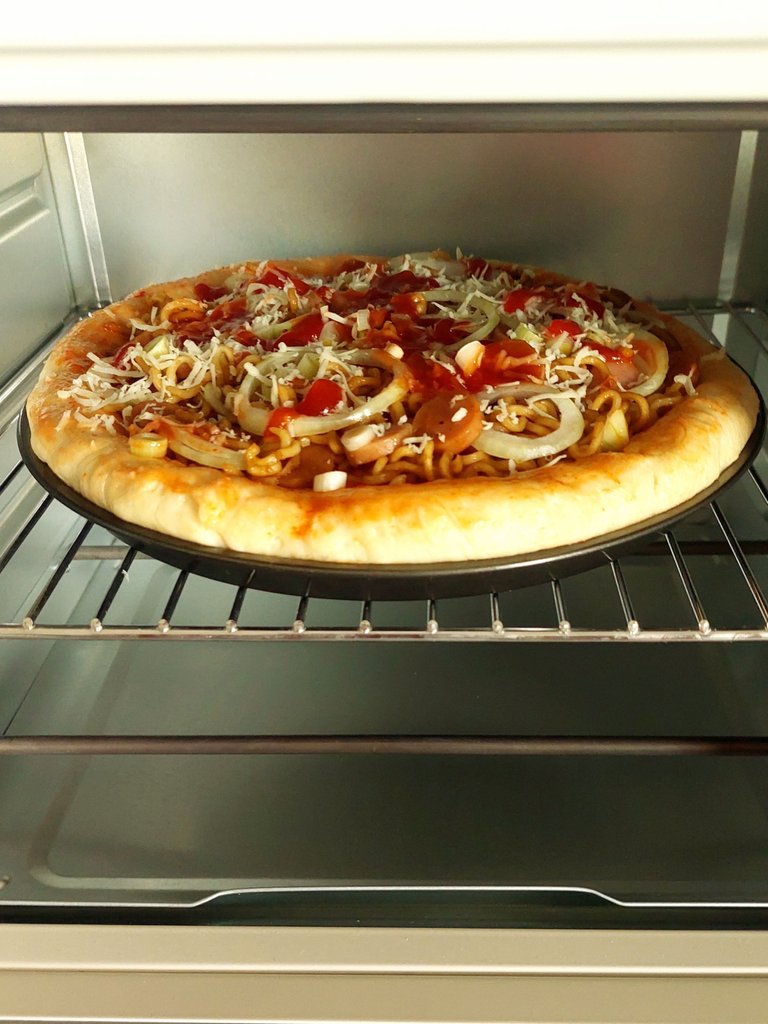 ---
---
---
---
Results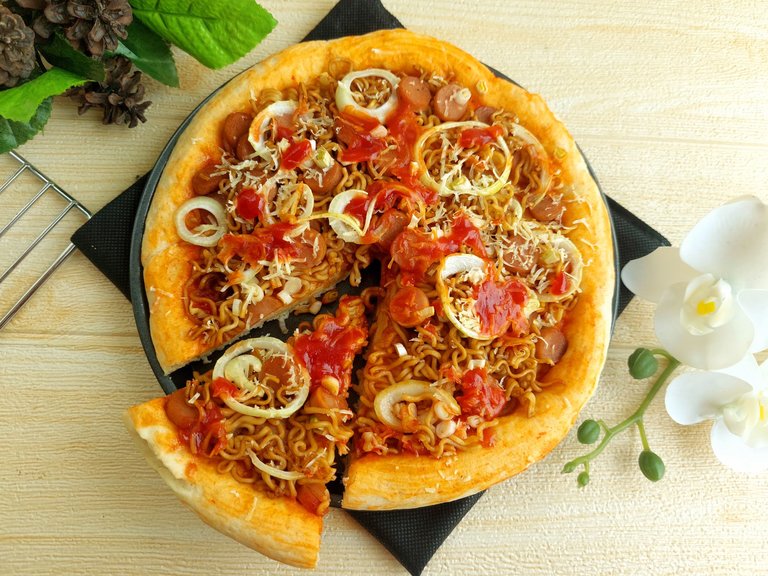 Frieds noodle pizza is ready to be enjoyed, enjoy it while it's warm it will be more delicious. For the taste, don't hesitate, it's perfect for family events, the combination of noodles with pizza bread will give you a different impression. If you are one noodle lover you have to try this different pizza. Guaranteed to make you not forget it!.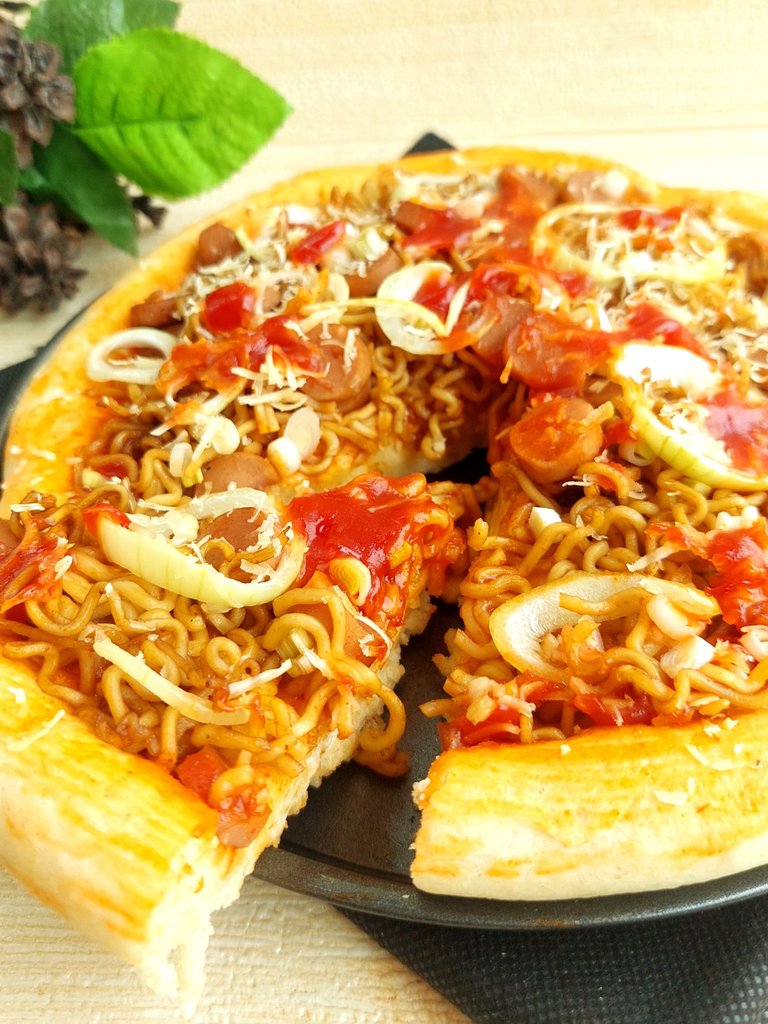 ---
---
---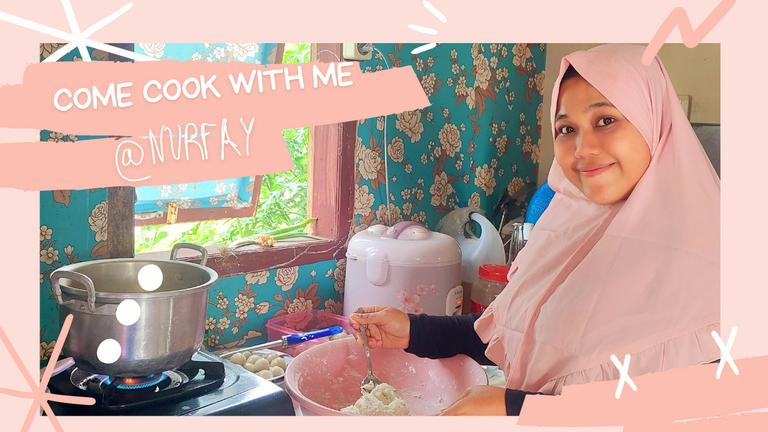 ---
---
Hi Readers and Hivers, Thank you for reading and visiting my posts which are 100% copyrighted by myself, my own content, writings and photos, taken with the Samsung Galaxy A72 Smartphone.
---
---
---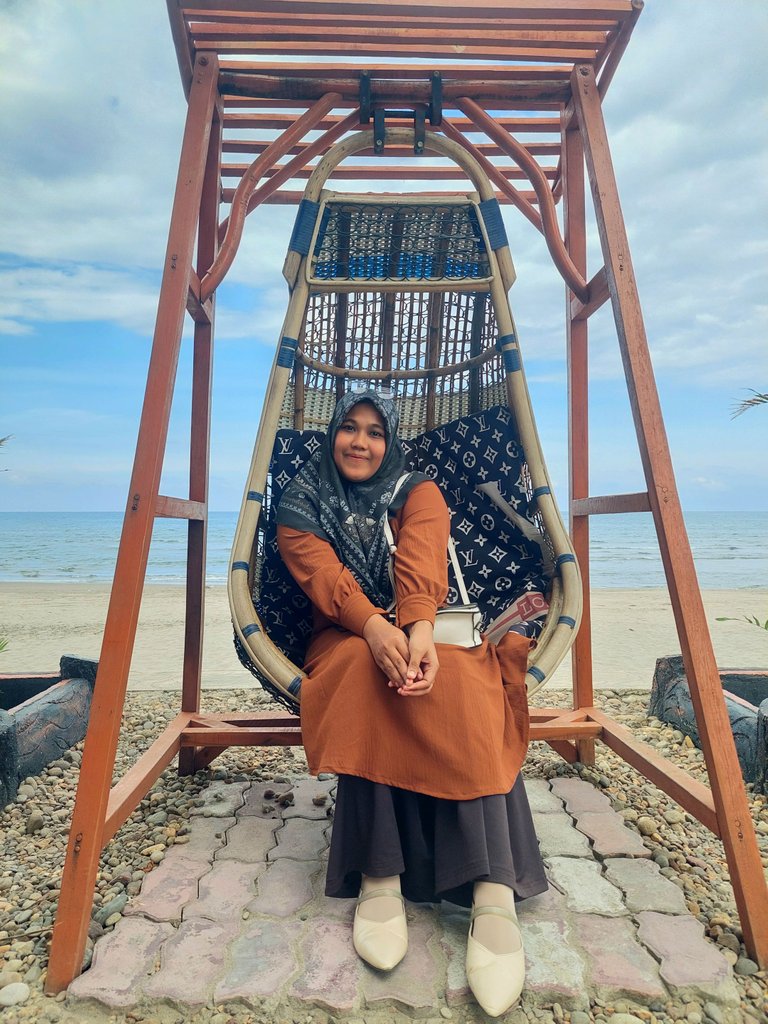 About The Author
A woman, firm and stubborn who is called "Nurul", born in July 1993, comes from Indonesia, Aceh province. My daily activity is work.
Besides working, I have several hobbies, namely reading, writing, cooking, gardening, making crafts, and traveling. From this hobby of mine, I will develop some inspiring content for all of you. I am also very happy to discuss positive new things with all of you.
---
---
---
---
---