We Designed and Built a Marvel Climbing Wall

A Fun Project For the Little One
This is a project that we've been talking about building for over a year now, but have only just gotten to it in the last few weeks. Last year put it out there to friends that we wanted to build a climbing wall for @little-ricky and would love some hand holds if anyone wanted to buy him a present. We were lucky enough to be gifted the holds, but they remained in the garage for over a year while we hummed and hawed about how and where we should build the wall.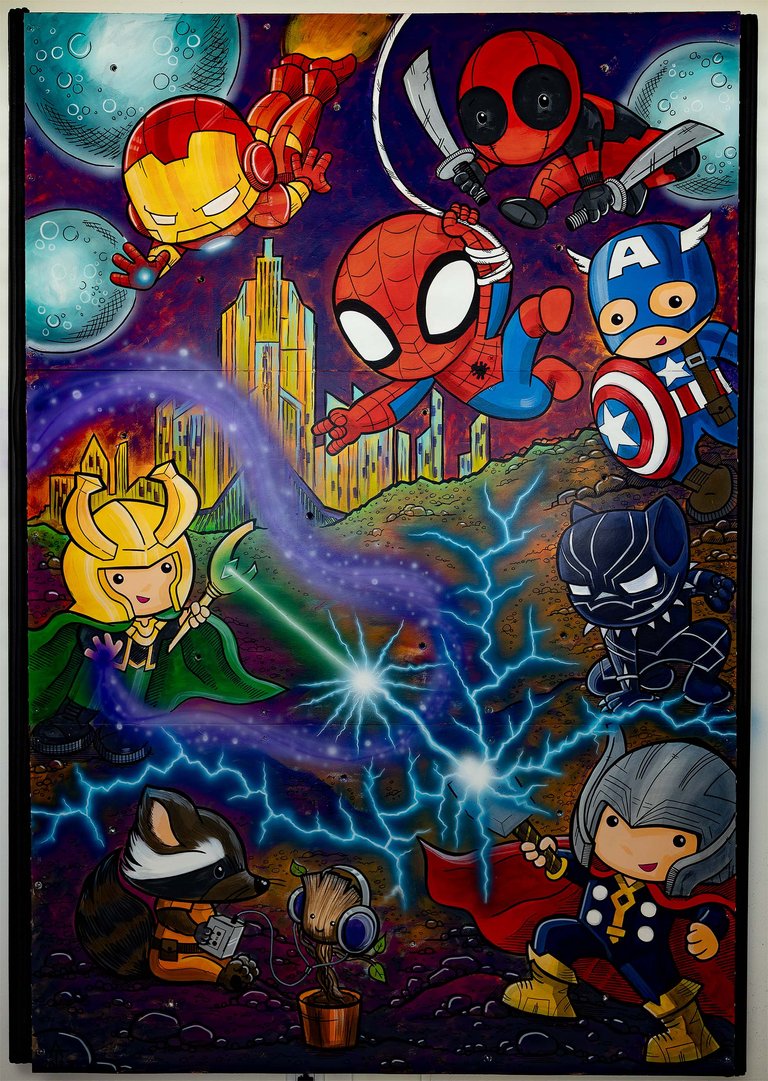 At first we were going to build it in the garage under my pull-up bar, but then Amanda came up with the idea to build it in his room. We went back and forth on what should be painted on it, and ended up landing on toddler versions of Marvel characters.
The Process
First, @afturner began drawing out the characters and coming up with a style. Meanwhile, I ran over to Home Depot and got all of the necessary materials. I went with 3 pieces of plywood, 2 x 4' and quite thick to support the weight of a hanging toddler. I also got a large box of lag screws and some boards to hang against the drywall.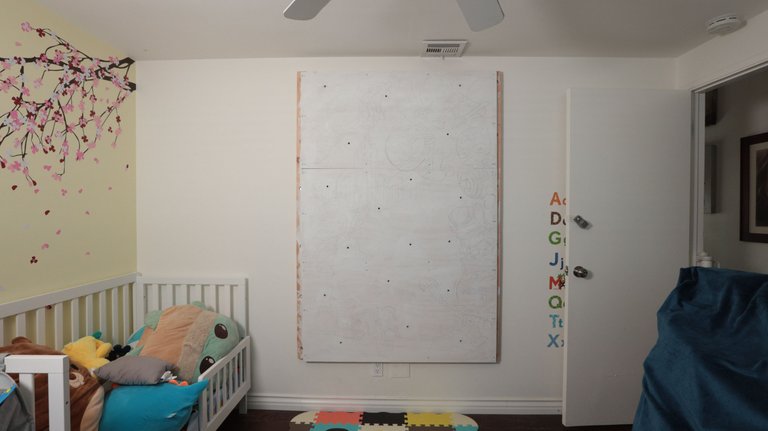 After finding the studs, I hung up four six foot boards, attaching them to the studs across the wall. Next, we got on the computer and figured out good places to drill the holes for both climbing and aesthetic appeal. We certainly wouldn't want to put a hand-hold right over a character's face!
Once the hole positions were decided, I drilled out holes for the holds and the lag screws. Next, it was just a simple matter of hanging the boards and getting started on the painting!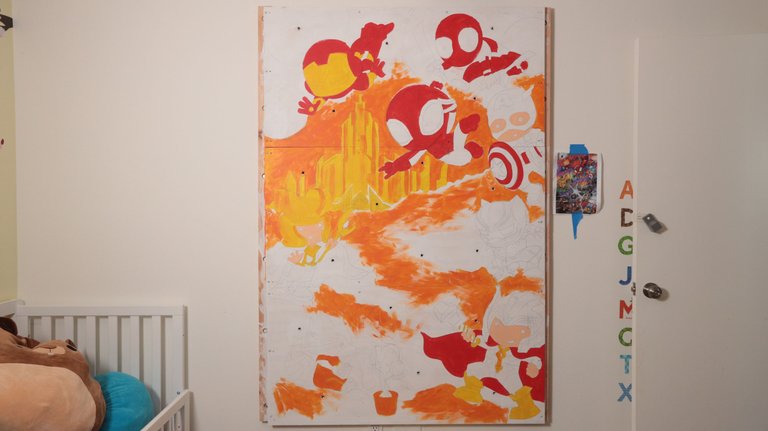 Initially, @afturner was hoping to do the whole painting job during one day of daycare for @little-ricky, but it didn't work out that way. Between paying gigs and other tasks she only ended up getting a couple of hours in. However, it still got finished in 3 sessions.
The fist day, she got the canvas primed, a pencil sketch and a good amount of underpainting done. I always love this part, because it looks like it's not much but there is always a surprise when everything comes together in the end.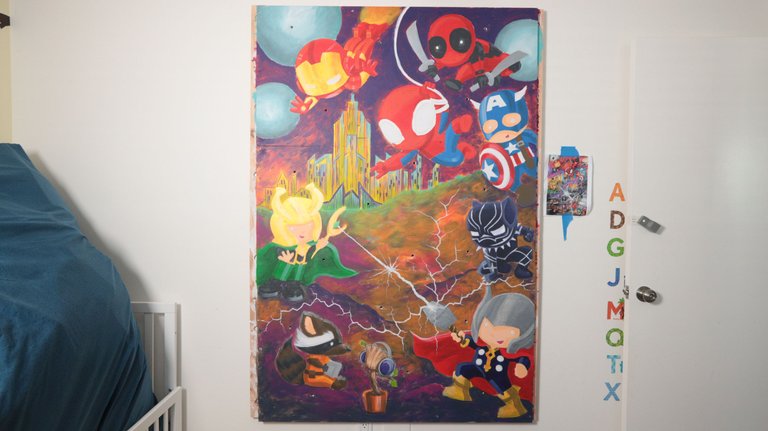 By the end of the second day, all of the underpainting was done, and it was time to add the black outlines and white highlights to really make it pop. It is crazy how much this improves the entire look and feel.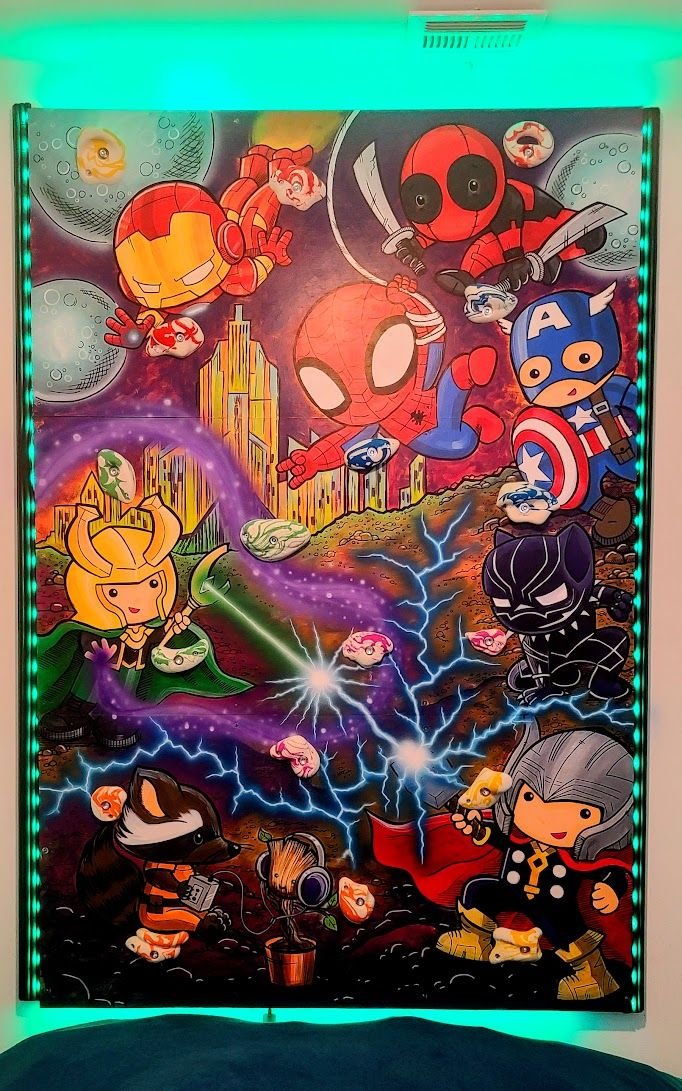 On the final day, we added a light strip around the outside, added the outlines and highlights, polyurethane coated the surface, added the hand holds and installed a protective bumper around the outside of wood to keep little one from getting splinters or banged up. Of course a crash mat was added as well because, well he will certainly be crashing a lot.
A Happy Camper!
When little Ricky got home from school he was super excited! That really made the whole thing worthwhile. I don't have a photo of him climbing it yet because he is a little nervous doing it on his own. It's hard to hold onto him and take photos.
This has turned out to be a very worthwhile project that I believe he will enjoy for years to come. We have talked about later adding another board to the top that has an overhang to the ceiling, but that will be a couple of years out. I am sure he will master this wall quickly, though!
---
---