We Made a Star Trek Commercial for Playmates Toys

This was the most fun project yet
A month ago, @afturner and I had the opportunity to work on a really fun project for Playmates toys. Playmates makes a lot of great toys, most notably (in my opinion) the Ninja Turtles and Star Trek figures. With the new release of some classic TNG characters, we were tasked with making a short one minute clip stop motion animation.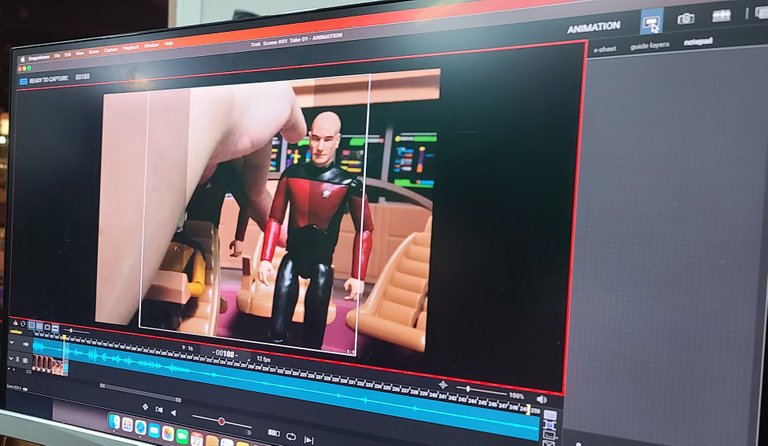 For some of the shots that we needed, I had to get in a bit closer. In previous projects that I've worked on since I got the Canon EOS R a few years ago I mostly used the RF 35MM lens as I have really been impressed with the sharpness of the new RF mount lenses, at least compared to the EF lenses that I owned and used with my old 7D. For this project we bought the 85mm f2 macro RF lens.
Also, for the last few projects we've been using a piece of software called Dragonframe which makes stop motion insanely more streamlined. Just by chance, it turns out that they are partnered with Canon and have made a special firmware for my exact camera. It does some really helpful things such as making the Live View a much higher resolution so that you can see what you're doing a bit better while connected to the computer. However, it comes at a cost to some other features.
I haven't had the firmware installed myself, because it isn't a simple matter to remove it if I don't want it anymore. The catch is, you have to pay $100 and send in the camera to a Canon repair center to have it installed. I presume this is so that the firmware doesn't leak, since they are charging for it.
For now, I am happy just using it as it is, even though I don't get the sharpest preview image. I must admit, it is a little frustrating, but I don't want to tie my camera down to being just a stop motion device; at least until I can manage to buy an upgrade. I am waiting to see what the next line of mirrorless cameras will be like that Canon comes out with. Perhaps that will be the time that I install the firmware! It will likely be worth it since we are starting to get a lot of these projects.
Here is the video (it is a slightly shortened version from the original)
Working with Trek Royalty
All of the voices that you hear in the video are done by me... Well, except for John DeLancie. He recorded a ton of clips for us on a green screen, so there was a lot to work with. I guess you could say that I technically worked/acted with John DeLancie? Is this Star Trek canon? I don't know, but I am going to imagine that it is. Hey guys, I've been on Star Trek! Hehe, well, not exactly but sort of.
I am looking forward to doing a lot more of these types of videos. It is starting to get crazy trying to figure out how to explain what it is exactly that our company does, because it is hard to pin down. We do so many things things days. I guess you could call us a multimedia company that works primarily in the toy and entertainment industries, but that is a bit vague. We often get calls from clients who simply say "Can you do X" and we are able to say yes 9x out of ten. Not a bad position to be in!
I think 2023 is going to be a great year all around and am looking forward to the future and awesome things to come. I know I say this every year, but I also am keeping my fingers crossed that this will also be the year for Hive! So much is happening and I swear, all it's going to take is the right people seeing the value in Hive and things are going to get crazy around here. Here's to a bright future!
---
---