"ILLUSION - AN ORIGINAL PIECE || RECORDED BY D4MUSIC @obaro [ENG-ESP]"

---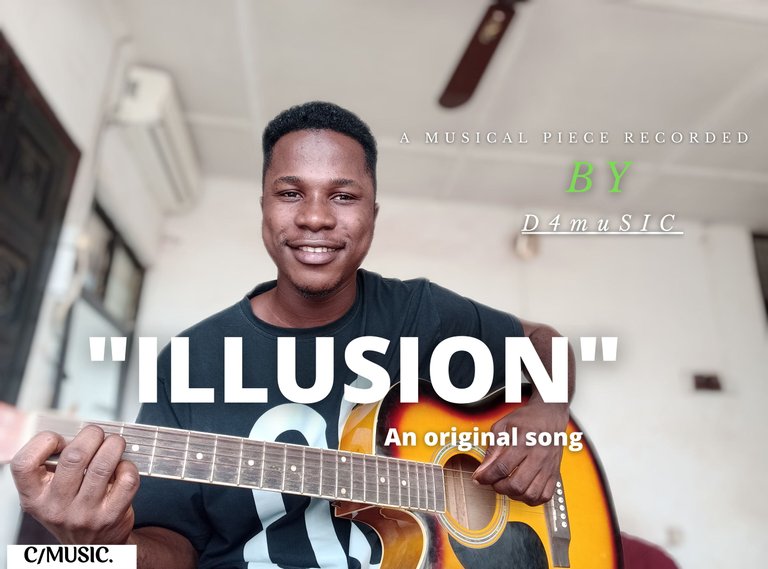 Many have an illusion of who they want you to be in their heads.
They just assume you to be what they want you to be in their mind and also want to make it a reality.
An illusion is somewhat a false or deceptive idea of something!
This is where I got the inspiration to compose this particular song in the sense that many people have never wanted to know what you ever wanted or what you really desire to do.
They just create an illusion and force it onto you.
However, it is left to us to break the illusion like a mirror and face the reality of life, hereby enforcing the reality of what we will like to become by believing we can achieve it.
Whatever you feel is not you might have been an illusion that was imposed on you!
Come out of it!
Kindly enjoy this piece!
LYRICS
Oh oh oh
Oh oh oh
Oh oh
It is weird at times
When someone wants
To decide your fate
For you
People only see
What they wanna see about you
They don't care
About what you have in mind of becoming
All they wann hear or see
Is what suits their sight or hearing
They don't care about the reality
Of life.
That is why I go steady
Without anybody
Misleading me
Or redirecting my dreams and goals
I don't care about what you think about me
What I care about right now is my goal and dreams
I don't really think
Anyone is gonna be able to stop me.
You can't stop me (4x)
Oh oh oh
Oh oh oh
Oh oh
Oh oh
You cannot stop me from what I'm chasing
It's so bright from what I see right now
That is why I'm still focused and consistent
It's is shining so bright
The future is so bright
Like the sun
When it's about to rise
I'm gonna rise
We are gonna shine.
All is just an illusion!
---
SPANISH🇪🇸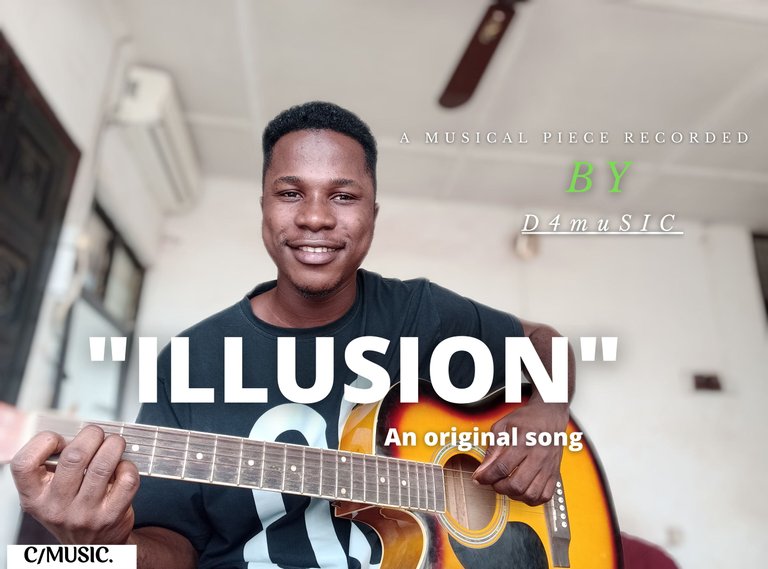 Muchos tienen la ilusión de quién quieren que seas en sus cabezas.
Simplemente asumen que eres lo que quieren que seas en su mente y también quieren hacerlo realidad.
¡Una ilusión es algo así como una idea falsa o engañosa de algo!
Aquí es donde obtuve la inspiración para componer esta canción en particular en el sentido de que muchas personas nunca han querido saber lo que alguna vez quisiste o lo que realmente deseas hacer.
Simplemente crean una ilusión y te la fuerzan.
Sin embargo, nos queda a nosotros romper la ilusión como un espejo y enfrentar la realidad de la vida, haciendo cumplir la realidad de lo que nos gustaría llegar a ser al creer que podemos lograrlo.
¡Lo que sea que sientas no es posible que haya sido una ilusión que se te impuso!
¡Sal de ahí!
¡Disfruta de esta pieza!
LETRA
oh oh oh
oh oh oh
ay ay
Es raro a veces
cuando alguien quiere
Para decidir tu destino
Para ti
La gente solo ve
Lo que quieren ver de ti
no les importa
Sobre lo que tienes en mente convertirte
Todo lo que quieren escuchar o ver
Es lo que se adapta a su vista u oído
No les importa la realidad.
De vida.
Por eso voy firme
sin nadie
engañándome
O redirigir mis sueños y metas
No me importa lo que pienses de mi
Lo que me importa en este momento es mi meta y mis sueños.
realmente no creo
Cualquiera será capaz de detenerme.
No puedes detenerme (4x)
oh oh oh
oh oh oh
ay ay
ay ay
No puedes detenerme de lo que estoy persiguiendo
Es tan brillante por lo que veo ahora
Es por eso que todavía estoy enfocado y consistente.
Está brillando tan brillante
El futuro es tan brillante
Como el sol
Cuando está a punto de subir
me voy a levantar
vamos a brillar.
¡Todo es sólo una ilusión!
---
▶️ 3Speak
---
---