Wednesday Walk under the Clouds
We have had a very long hot summer this year. And now towards the end of summer, it is still very hot and very humid. A lot of times this makes for wonderful cloudscapes.
When I did my jiggy-jog on Tuesday last week I thought about it twice and checked the local weather forecast too. The radar showed that the band of clouds should pass by and not hit us.
Trust the weatherman?
Not really, right? But what did I have to lose? Worst case - I'd get wet which isn't as bad as it sounds because it still was easily 30 °C i.e. tropical.
First photo stop - the schoolyard surrounded by trees and looking up - a lot of different layers of clouds looming. Not too bad I thought, they're far enough away and when I get closer it'll be time for me to turn around anyhow. So I kept going.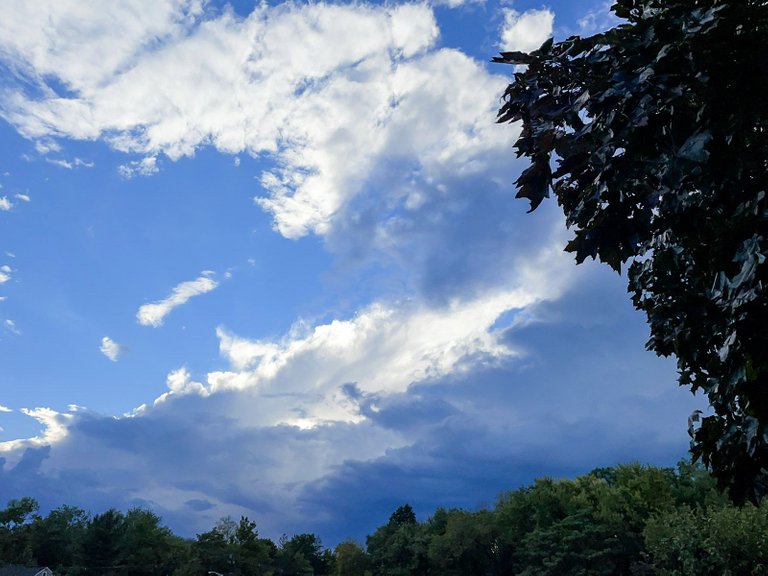 My next photo stop - on my way back here - is the newer church adjacent to the school and schoolyard. Looking pretty menacing but - there's a little hole in the cloud ceiling - see it?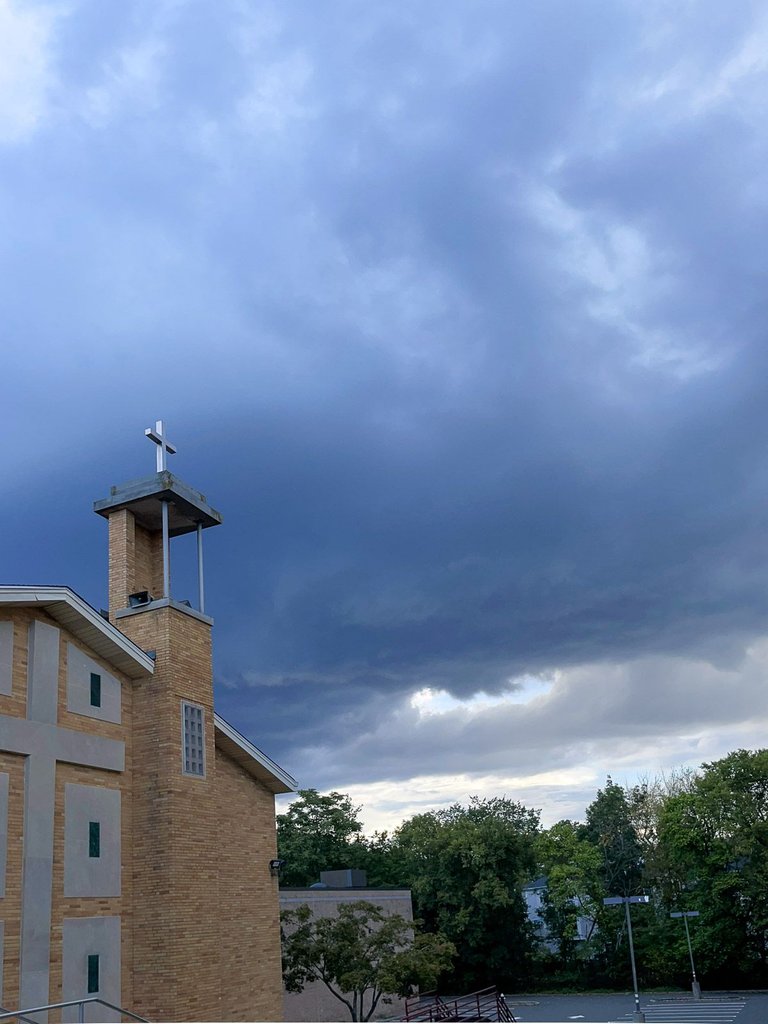 Hmm, but I'd really like to walk for a bit longer. So I continued walking, didn't turn into our street to go back to our house but continued on. Pretty much parallel to those clouds you see here.
Just a little bit further and it is the older church in our little town. No matter which season of the year it always looks so pretty. Especially when there are a bunch of threatening clouds or some that are lit up by the setting sun, amazing!
Btw - the bright (ahem, blown out) piece of the sky behind the church in the first picture? That's the hole in the sky from the previous picture.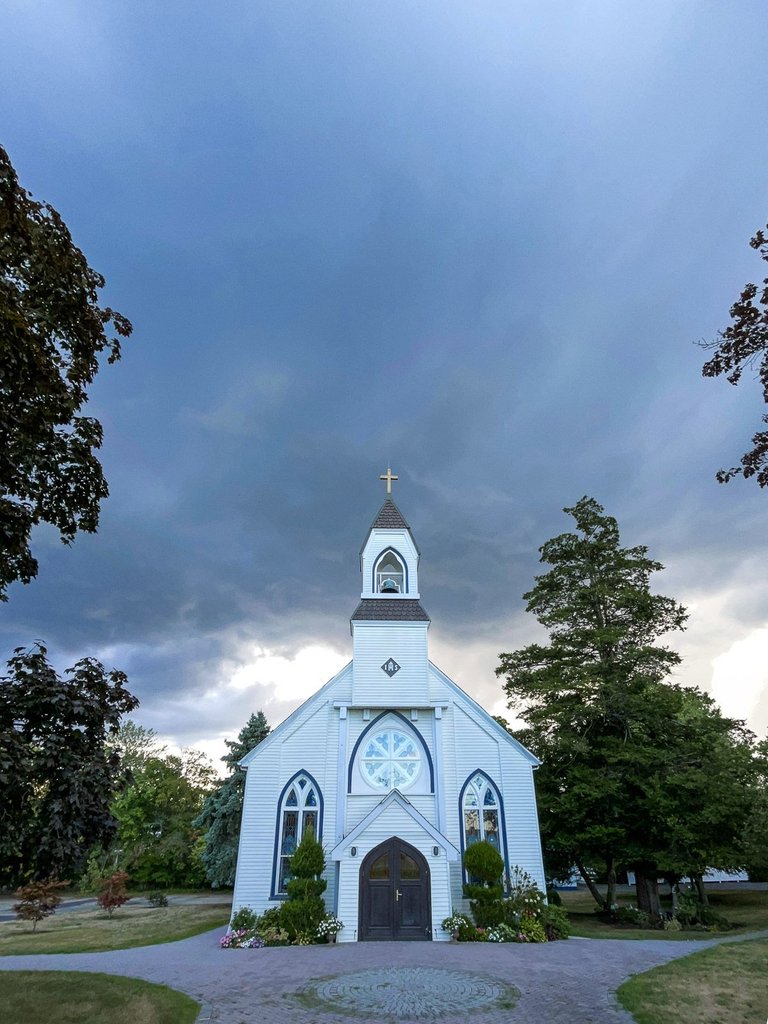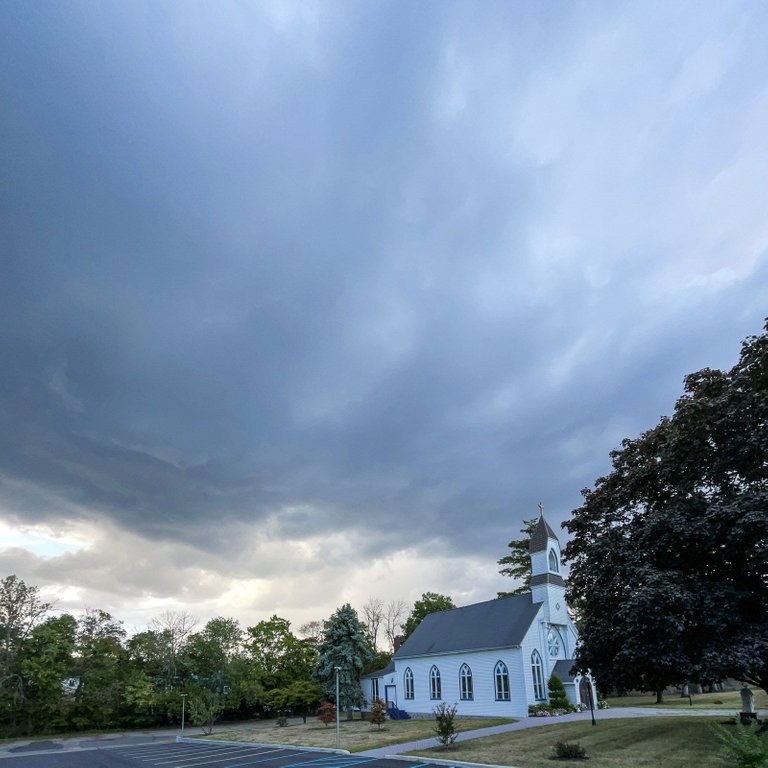 Now I thought I'd really be better heading home. The wind had picked up blowing in gusts and it had gotten a little dark since the clouds covered the sun. So I only walked past the church and then headed back home. A path that always leads me past the construction site that I have shown you pictures of previously on my #WednesdayWalk posts.
They are really making progress in this development. But this time my eyes were less on the growing buildings and much more on the spectacle in the sky. The band of clouds the weather app's radar showed was very clearly visible. Very menacing looking with those twirly clouds.
Okay, that's it - I'm out of here!
Snap - snap - snap the photos and jiggy-jogging home quickly I went. But I was very happy that I did this evening walk. And I didn't even get wet, just a little bit blown away.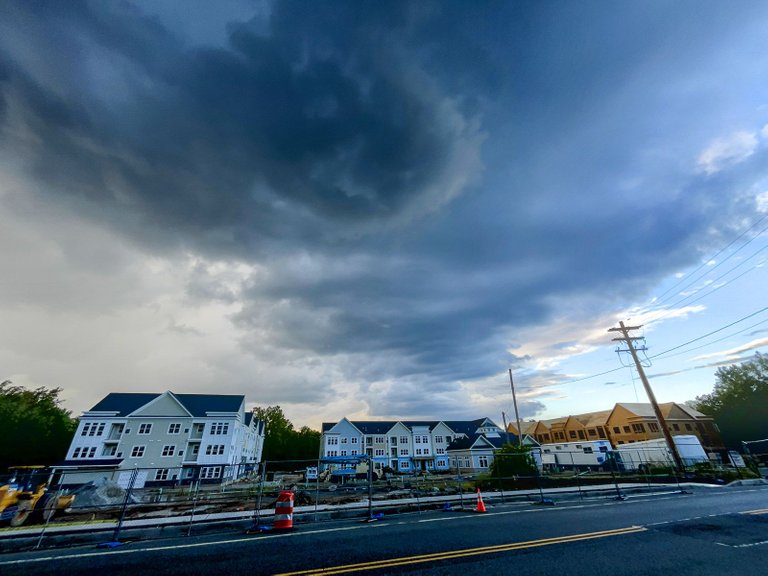 Have a great rest of your day!
Cheers,
(Ocean)Bee

Unless otherwise noted, copyright for all photos, dividers and gifs ©Oceanbee|ImagesByCW

---
---