Splinterlands Art Contest Week 199 // Soul Recorder (My original character)
Hello dear hivers and Splinterlands lovers, this is OCOJOCO!
Despite being fed up with the very hot summer, I managed to complete the following art. This is my second attempt at creating an original character.
親愛なるハイバーのみなさん、Splinterlands愛好家のみなさん、こんにちは!OCOJOCOです!
非常に暑い夏にうんざりしながらも、なんとか次のアートを完成させることができました。今回は2度目のオリジナルキャラクター創作に挑戦です!

She is a "Soul Recorder″
As the name implies, she records the history of souls unleashed by the lifespan of their physical bodies; she does not exist in any place in Splinterlands, but lives between our dimension and Splinterlands' dimension. Nevertheless, she was once an early inhabitant of Splinterlands and a human being. She was born with a brain of a special structure, and instead of lacking emotions, she was given a nervous system that never fatigued. And since she was picked up by her Creator at the age of 18, she has continued to perform her current tasks throughout the ages. When another suitable person eventually comes along, she will be released from her duties, and the Creator will give her human emotions and she will return to being human.
彼女は″Soul Recorder″
その名の通り、肉体が寿命を迎えて解き放たれた魂の履歴を記録しています。Splinterlandsのどの場所にも存在せず、私たちの次元とSplinterlandsの次元の狭間に住んでいます。とはいえ彼女もかつてSplinterlandsの早い時代の住人であり、人間でした。彼女は特殊な構造の脳を持って生まれ、感情を欠く代わりに疲労することのない神経系を授かりました。そして18歳で創造主にピックアップされてからは悠久の時の中、今の仕事をこなし続けています。いずれ別の相応しい人材が現れた時、彼女はその任から解放され、創造主から人としての感情を授かり人間に戻るでしょう。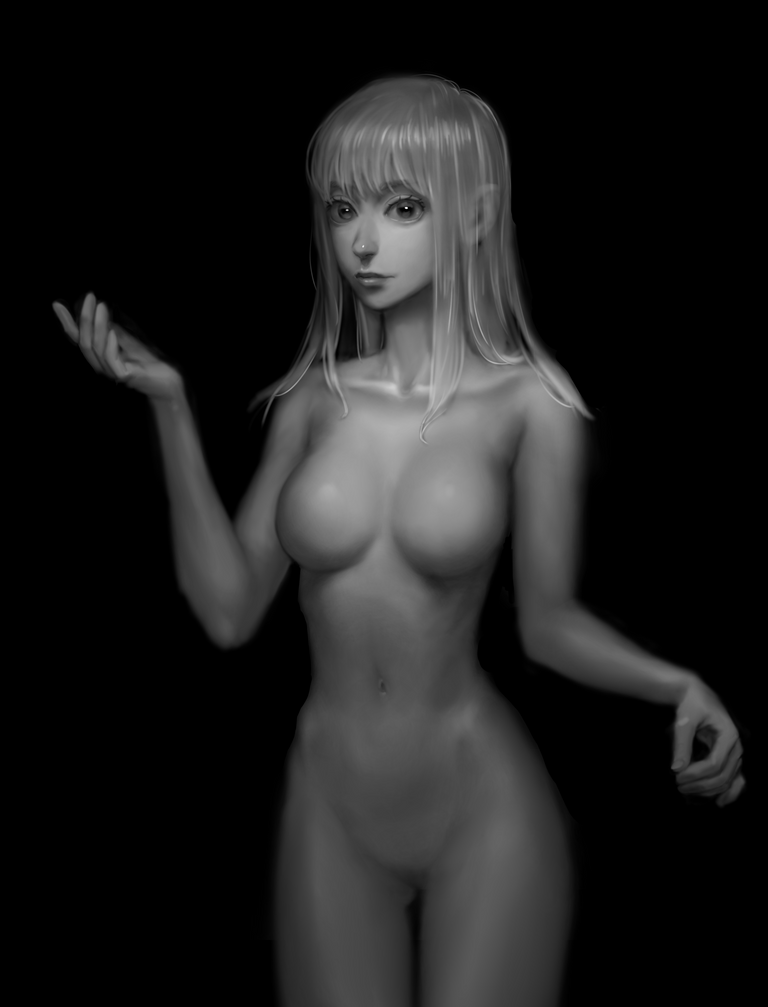 This time, instead of using line drawings, we used a white brush to create the three-dimensional effect of the figures directly from the black background. After that, I would draw a rough image of clothing and items. Since I had the spirit world in mind, I wanted the figure to look like a ghost in a thin white robe, but in the end I wanted to clothe it with a sacred impression.
今回は線画を用いず、黒い背景から白いブラシで直接人物の立体感を描き起こしていきました。その後、衣服やアイテムなどの大まかなイメージを描いてみます。霊界を意識していたので白い薄衣で幽霊のようですが、最終的には神聖な印象を纏わせたいと考えていました。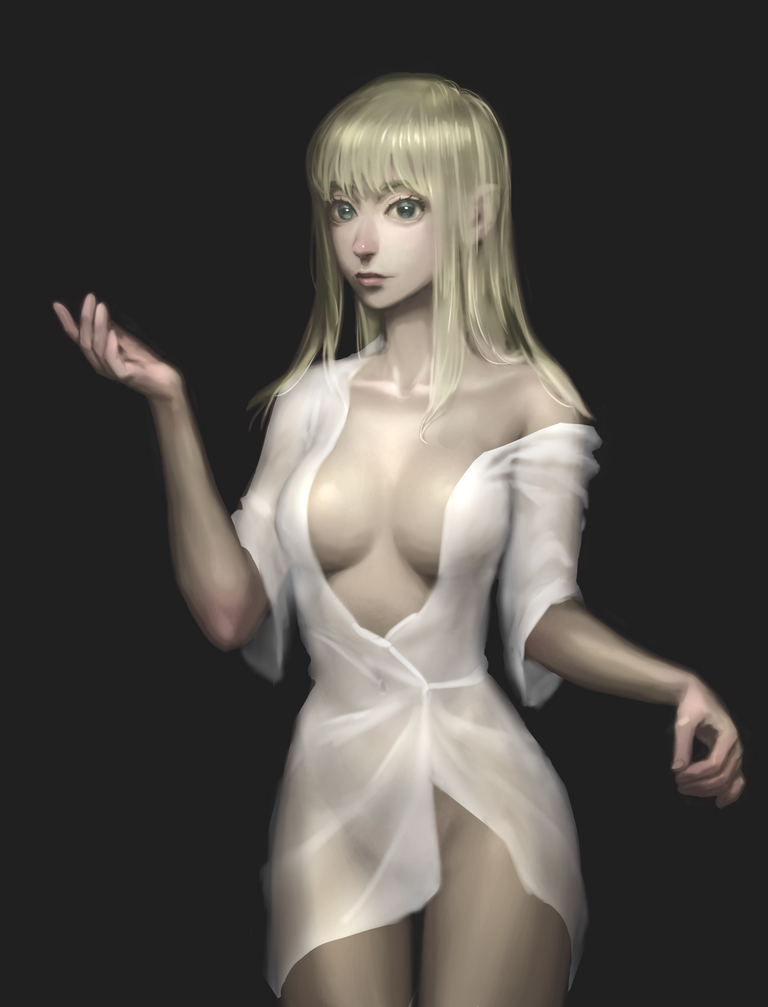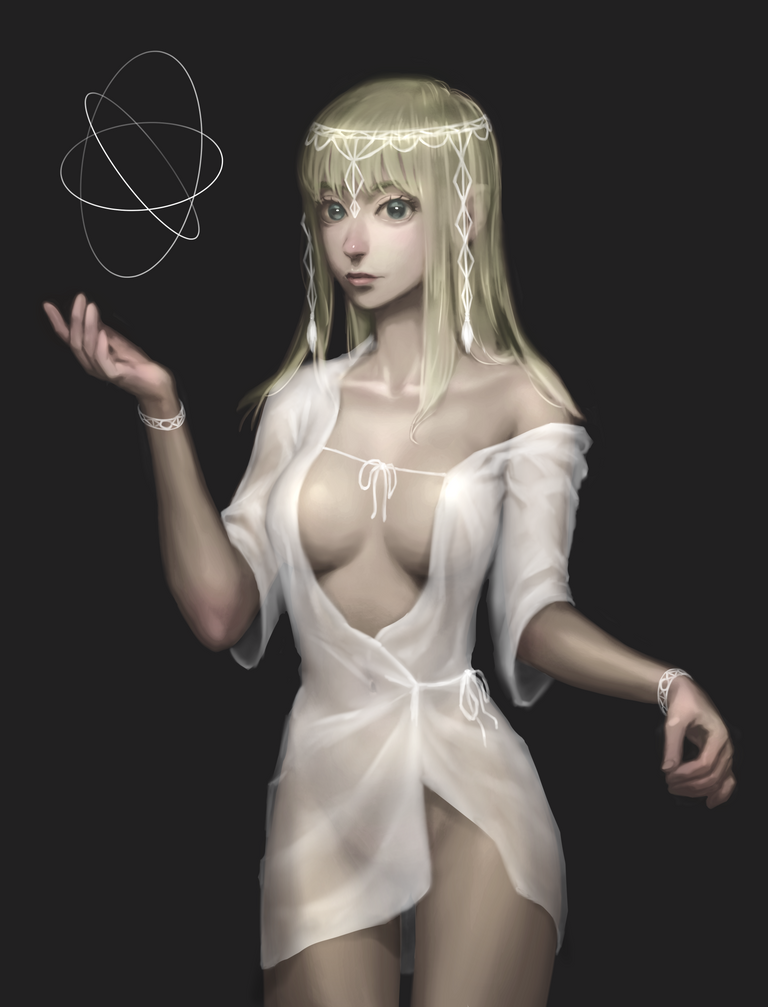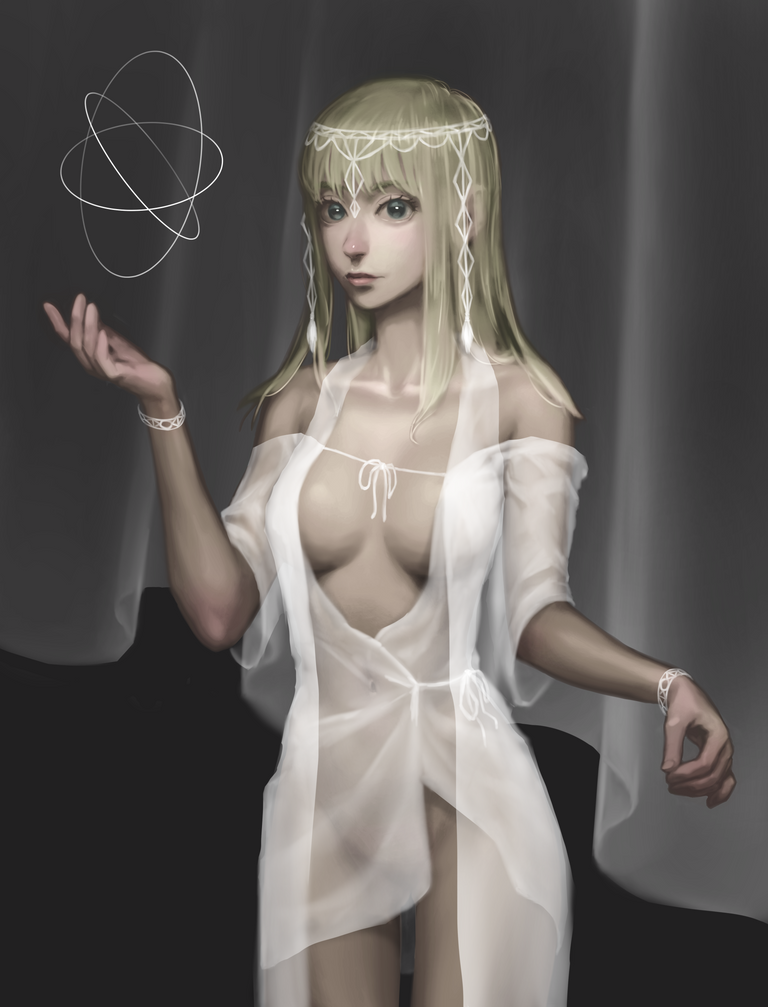 I added color to the skin and hair, and painted more clothes, ornaments, and curtains in the background. I still need to add more layers of clothing because it is a little too sexy as it is, lol.
肌と髪に色味をつけ、服、装飾品、背景のカーテンなどを描き足しました。このままでは少しセクシー過ぎるため、まだ服を重ねる必要がありますよね笑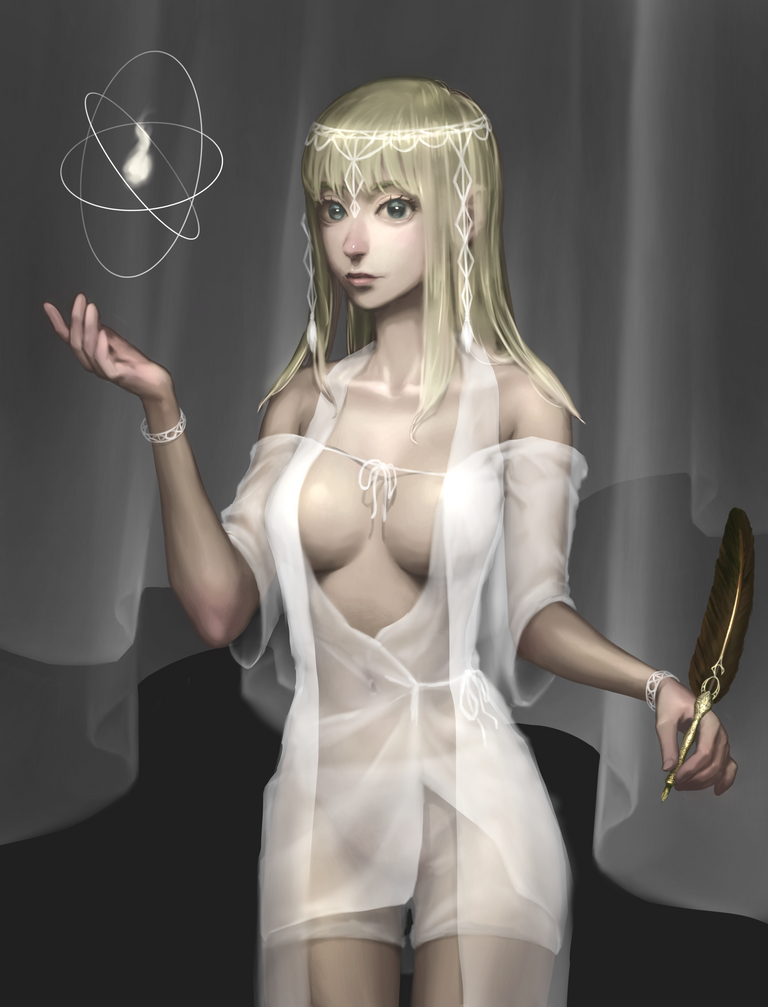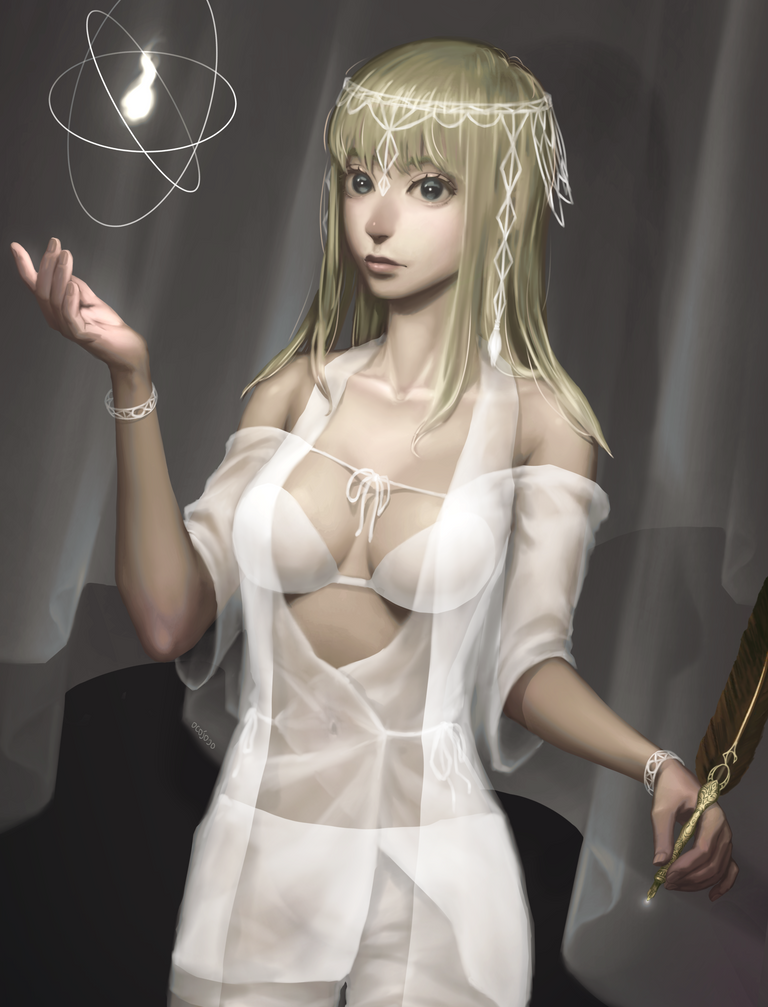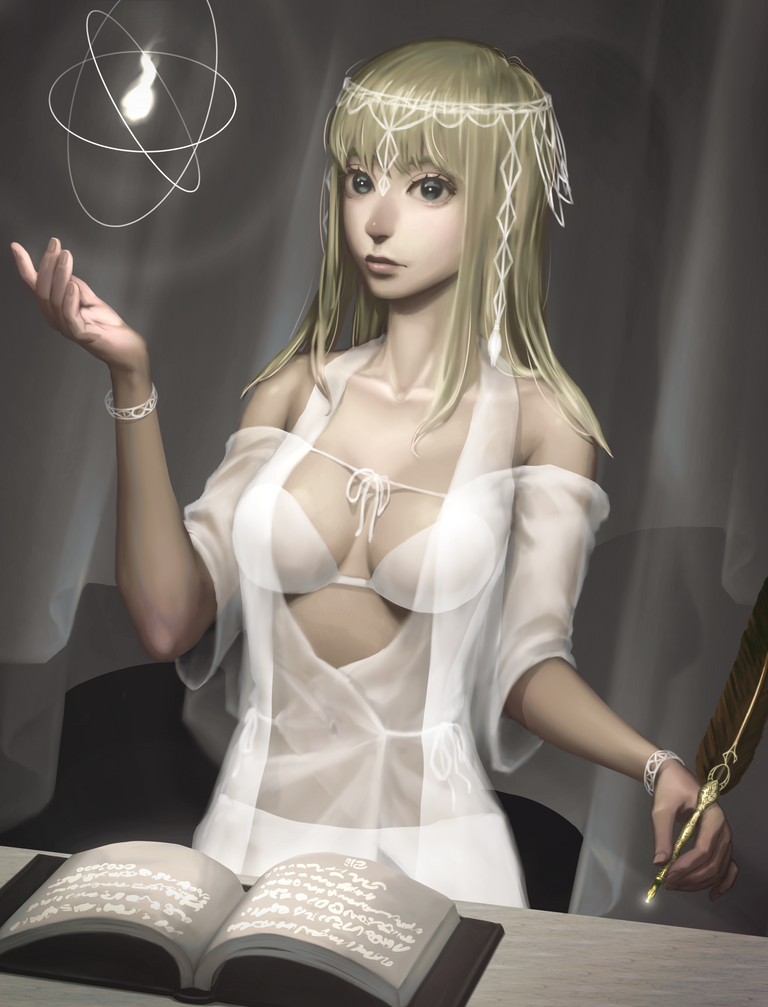 I added a quill pen and inner drawing.
I was conscious of the concept of this painting to create a sacred atmosphere, so I had chosen a standing figure in the center of the screen like a religious painting. However, I still felt the composition was too simple, so I tilted the picture slightly. I then proceeded to paint the soul, the desk, and the book. Lighting and colors were added as needed.
羽根ペン、インナーを描き足しました。
私はこの絵のコンセプトとして神聖な雰囲気を出すことを意識していたため、宗教画のような画面中央の立ち姿を選択していました。しかしやはり構図がシンプル過ぎると感じたため、少し画面を傾けました。それから魂と机、書物と描き進めていきました。照明や色味は適宜追加しています。

It is one step in the process image, but it has gone through so many adjustments from one previous image above to this finished form. The placement of the spiral lines that extract the soul's history information took many attempts before settling on this shape, and the lighting, facial details, transparency of the clothing, and subtle color tones took a lot of time. My wife even told me that you are forever playing with an almost finished painting😂😂😂 I will try to complete it more quickly.
プロセスの画像としては一段階ですが、上の一つ前の画像からこの完成形に至るまで、実に多くの調整を経ています。魂の履歴情報を抽出する螺旋ラインの配置はいくつも試したのちこの形に落ち着き、照明の加減、顔のディティール、衣服の透け感、微妙な色味など、かなりの時間を要しました。妻から、ほとんど完成した絵をいつまでも弄っているねと言われたほどです😂😂😂もっと手早く完成させられるよう努力します。
Anyway, this is how the Soul Recorder was completed. Very pretty (and sexy), a little divine, and well painted, I think! I am dying from the summer heat wave and may soon be recorded by her😇 just an ocojoke lol!
Please take care of yourselves, everyone.
Well, that's all for this time. See you in the next art!
ともあれSoul Recorderはこうして完成しました。とても可愛く(かつセクシーに)、少し神々しく、よく描けたのではないでしょうか!夏の猛暑で死にかけの私は、彼女に記録される日が近いかもしれません😇ほんのocojokeです笑
みなさんも気を付けて過ごしてください。
では今回はこの辺で。また次のアートで会いましょう!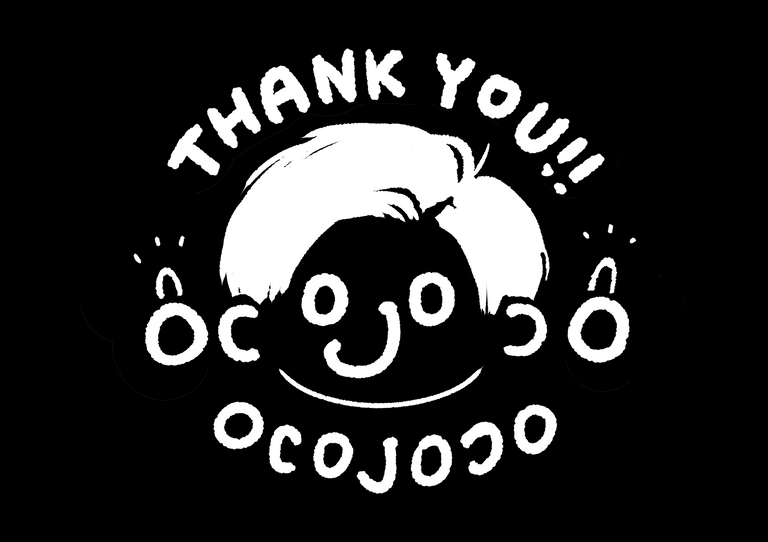 ---
---