The majesty of QUORA /// Splinterlands Art Contest Week 192!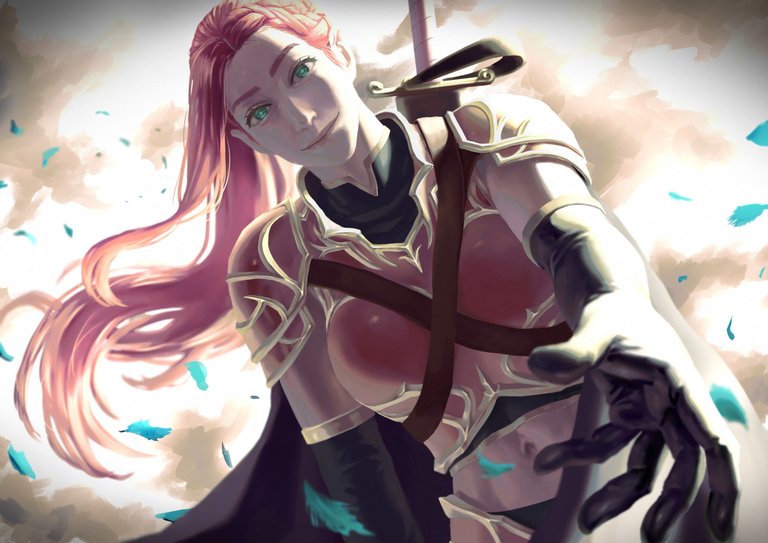 She casually dispatches the attacking ruffians. This is the power of QUORA TOWERSHEAD, the gladiator of Mount Mox...!
After confirming that the threat was over, she walked over to me, still on my buttocks, and smiled, extending her hand to me.
He asked, "Can you stand up? Let's move on."
My head was dizzy, was it because I had been hit by the enemy, or was it due to the majesty of this goddess?
             From OCOJOCO Ramblings
Hello dear Hivers and Splinterlands lovers!
The gladiator QUORA TOWERSHEAD served as my art model for this issue. She is very reliable in Brawl, so the first image that popped into my brain was a scene where she saves me in a crisis. Sorry for my poor essay!😂
襲ってきたならず者たちを彼女は事も無げに打ち払った。これがモックス山の剣闘士QUORA TOWERSHEADの力・・・!
脅威が去った事を確認すると、まだ尻餅をついたままの私に歩み寄り、手を差し伸べて彼女は微笑んだ。
「立てますか?先を急ぎましょう。」
私の頭がくらくらしたのは敵に殴られたせいか、それともこの女神の威風によるものか。
             OCOJOCO放浪記より
親愛なるHiversのみなさん、Splinterlands愛好家のみなさん、こんにちは!
今回の私のアートモデルを務めてくれたのは、グラディエーターのQUORA TOWERSHEADです。彼女はBrawlにおいて非常に頼りになる存在なので、私の脳内にまず浮かんだイメージは、彼女に危機を助けられるというシーンです。稚拙な作文失礼しました😂
The process is described below.
以下でプロセスを紹介します。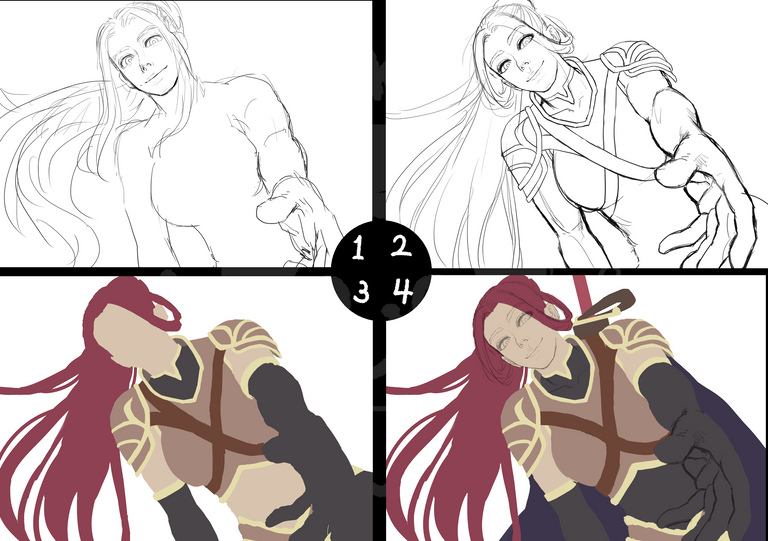 rough sketch. At first, I wanted to focus on a robust and dependable atmosphere.
I changed her face and drew her equipment.
Base color.
4.Drew the sword and cloak, and overlaid a half-transparent line drawing of her face.
1.ラフ画です。はじめは逞しく頼りがいがある雰囲気を重視しようと思いました。
2.彼女の顔を変更し、装備を描いていきます。
3.ベースカラー
4.剣とクロークを描き、半分透明にした顔の線画を重ねます。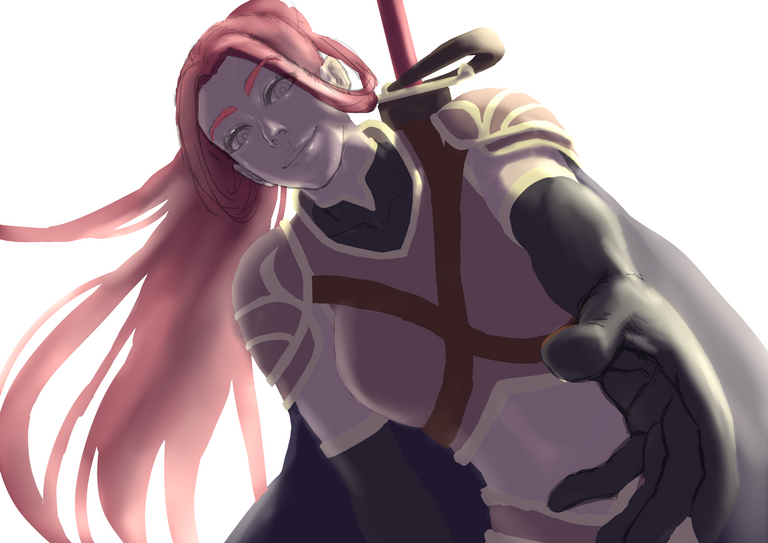 Blue shadows and yellow light added a three-dimensional effect.
青い影と黄色い光で立体感を加えます。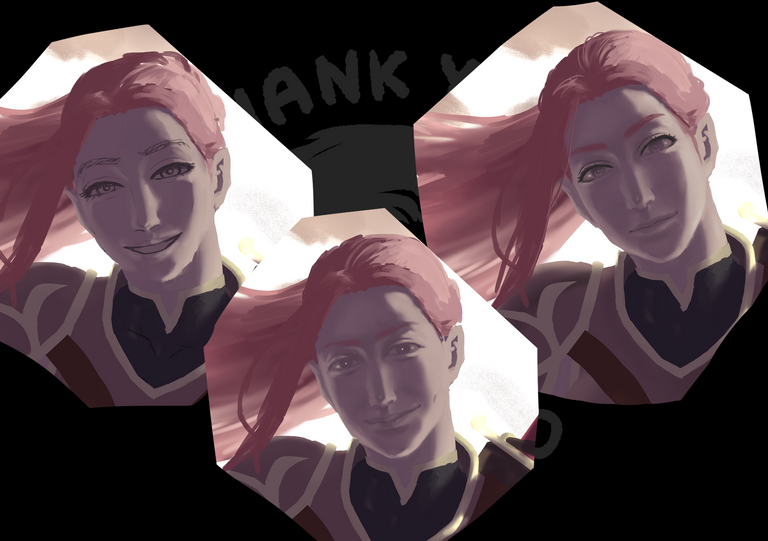 Here I wanted to make her face more like the image in my brain, so I redrew some of them.
I tried to emphasize the motherly tenderness on the left and the youthfulness in the middle, but it didn't feel right. I was satisfied with the face on the right, which looks dependable with both gentleness and strength.
ここで彼女の顔をより私の脳内のイメージに近付けたくなったのでいくつか描き直しました。
左は母性のような優しさ、真ん中は若さを強調してみたがイマイチしっくりと来ず。
優しさと強さを兼ね備えて頼りがいがありそうな右の顔を採用します。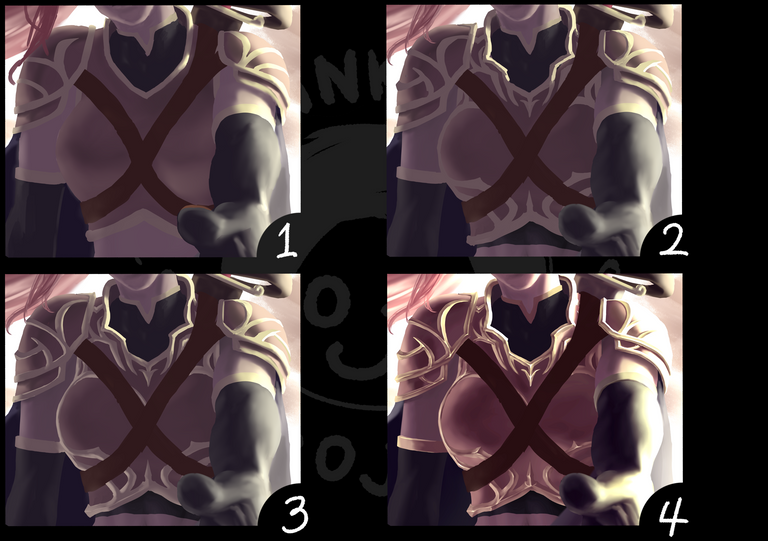 the armor was a bit lonely in its official design as it is. Since the Towershead family is said to be a simple family, perhaps a simple design for the equipment would be appropriate.
However, in my art, I would make the decorations a little flashy.
I add a three-dimensional effect.
change the colors and emphasize light and dark.
1.鎧は公式のままのデザインだと少し寂しい。タワーズヘッド家はシンプルな一族とのことなので、装備品もシンプルなデザインが相応しいのかもしれません。
2.しかし私のアートでは装飾を少し派手にします。
3.立体感を加えて
4.色味を変え、明暗を強調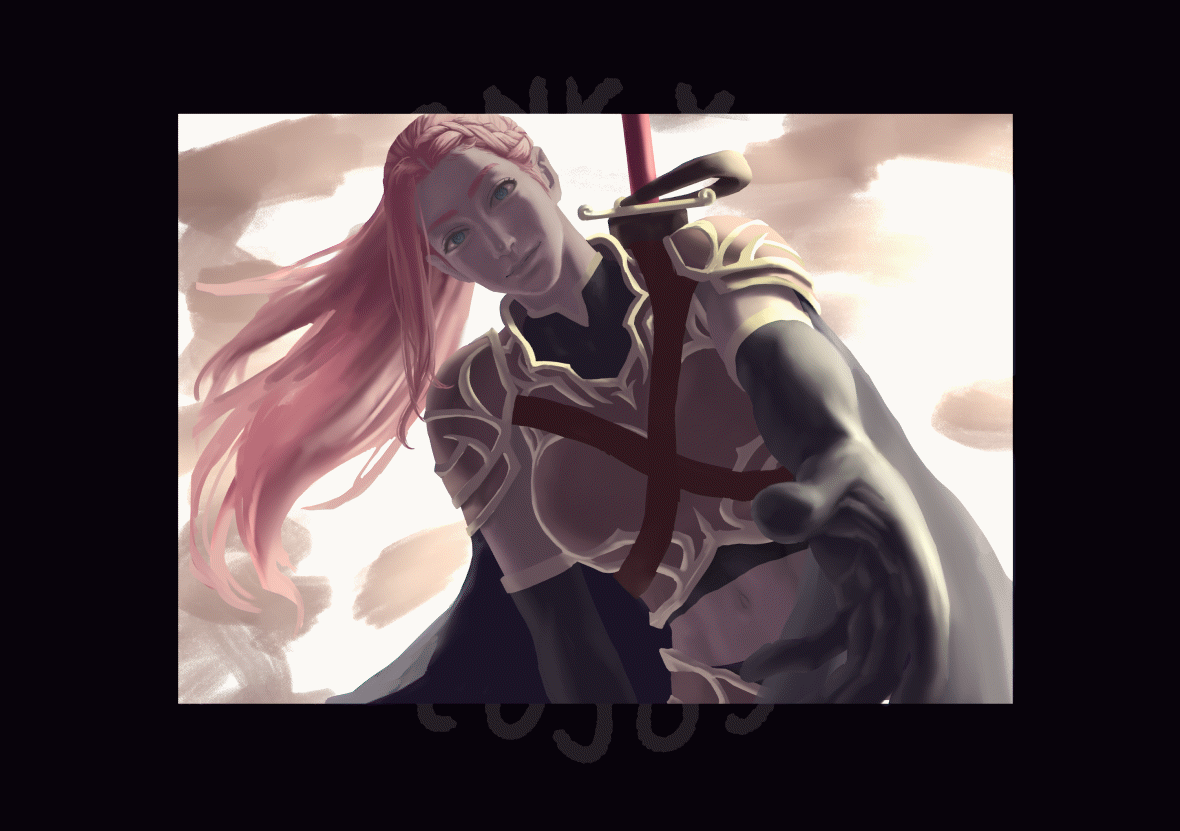 I drew in more and more of the reaching out hands, hair (also arranged in hairstyles), face and skin, clothing, etc.
I also adjusted the size of the face and the angle of the hands along the way.The background clouds and light were drawn and the color mood was adjusted.
差し伸べた手、髪の毛(ヘアスタイルもアレンジ)、顔と肌、衣服などをどんどん描き込んでいきます。また、顔の大きさや手の角度を途中で調整しています。
背景の雲と光を描き、色の雰囲気も調整。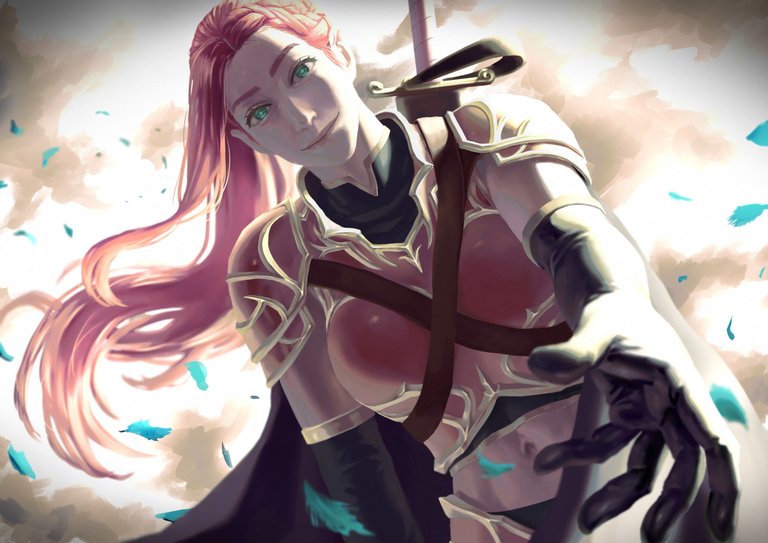 The wind shaking her hair is emphasized by the feathers and dust dancing in the air.
Since armor, hair, skin, and clouds are all approximately the same color, we chose a blue color for the feathers and dust, which is close to the complementary color.
In this art, I feel I have succeeded in choosing colors and creating mood!
To finish, I added blur to match the perspective and added shadows to the edges of the image to represent visibility.
Can you see where the signature is this time?😁
彼女の髪を揺らす風を、舞う羽や塵で強調します。
鎧、髪の毛、肌、雲、これらがおよそ同系の色味であることから、羽や塵は補色に近い青い色を選択しました。
このアートにおいて、私は色の選択や雰囲気作りに成功したと感じています!
仕上げに遠近感に合わせてぼかしを加え、画面の端に視界を表現するため影を加えました。
今回のサインはどこにあるかわかりますか?😁
Thanks again for coming back to see my post! I hope you like my own take on Quora Towers Head.
See you in the next art!
今回も私の投稿を見に来てくれてありがとうございます!私なりのクオラ タワーズヘッドを気に入ってくれたら嬉しく思います。
ではまた次のアートでお会いしましょう!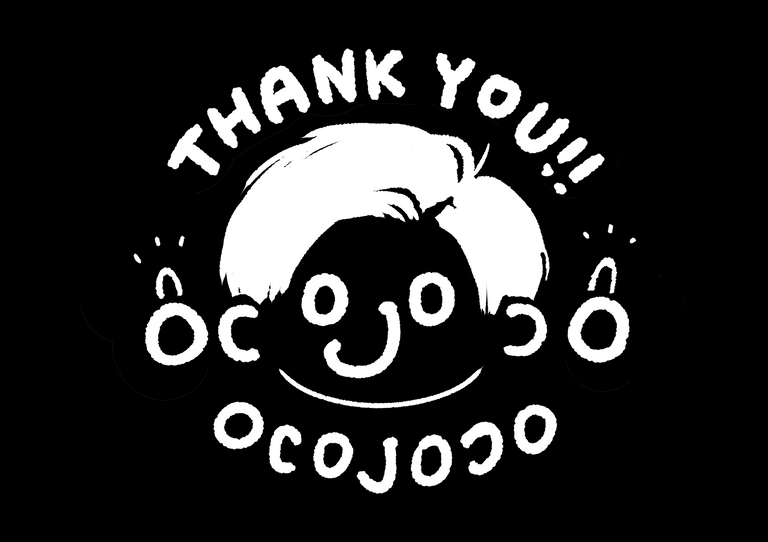 ---
---