Esp-Eng Preparando pechuga de pollo salteado con zanahoria / Esp-Eng Preparing sauteed chicken breast with carrot
Buenas mis estimados amigos Hivers espero se encuentren bien y que hayan tenido un excelente día, una vez mas estoy con ustedes para dejarles una receta muy sencilla y de rápida preparación. Pechuga de pollo salteado con zanahoria y pastas tipo plumitas, le comento mis queridos amigos que la preparación de este plato tuve que madrugar levantándose a las cinco de la mañana para dejar el almuerzo listo y así no llegar cocinando, como les he comentado antes me gusta la cocina y más aún colaborar con los quehaceres de la casa y así no darle mucho trabajo a mis esposa ya que ambos nos ayudamos en esta compañía llamada matrimonio, he estado un poco ausente por tantos inconvenientes, esto es para mí algo muy especial estar compartiendo con usted porque de esta manera conozco personas que con su granito de arena enseñan sus conocimientos y cultura de todo corazón para podamos tomar de ellos esos conocimientos, sin mas preámbulos les dejo como fue está experiencia de madrugar y preparar el almuerzo para mí esposa y mi persona.
Good morning, my dear Hivers friends, I hope you are well and that you have had an excellent day, once again I am with you to leave you with a very simple and quick recipe. Chicken breast sautéed with carrot and feather-type pasta, I tell you my dear friends that to prepare this dish I had to get up early, getting up at five in the morning to leave lunch ready and thus not arrive cooking, as I have told you before, I like it the kitchen and even more so collaborate with the housework and thus not give my wife a lot of work since we both help each other in this company called marriage, I have been a bit absent due to so many inconveniences, this is something very special for me to be sharing with you because in this way I meet people who with their grain of sand teach their knowledge and culture wholeheartedly so that we can take that knowledge from them, without further ado I will leave you with how this experience was of getting up early and preparing lunch for my wife and my person.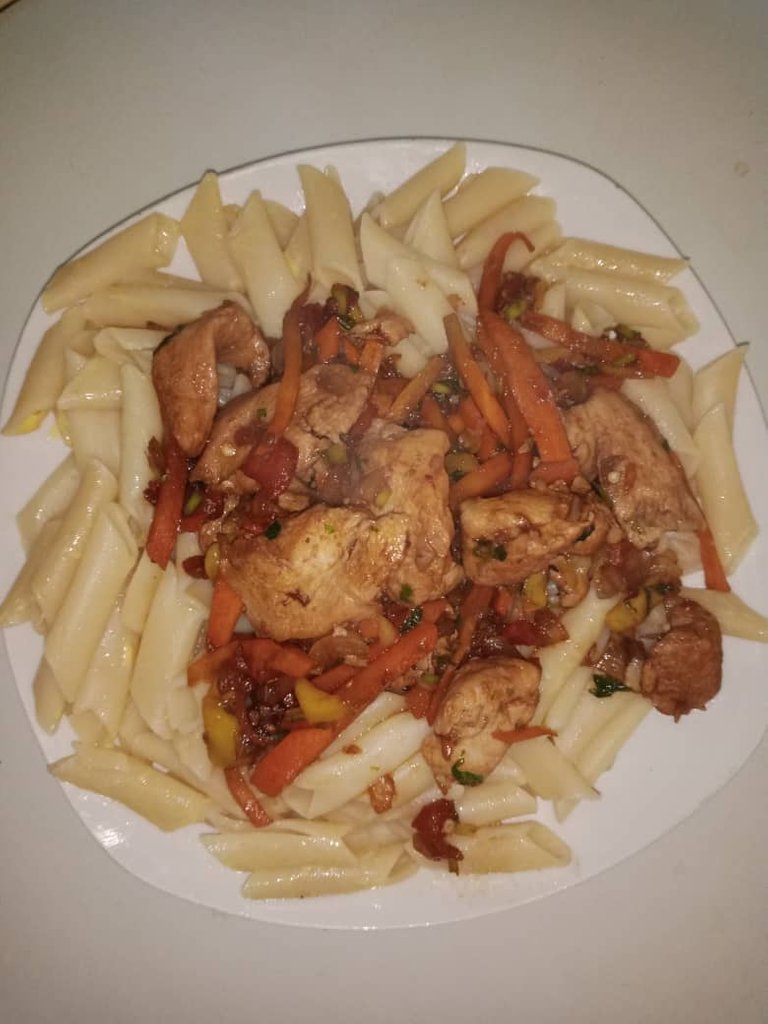 @odanmeina
Ingredientes que utilice para este rico almuerzo:
✔️ 1/2 Pechuga de pollo.
✔️ 1 Cebolla y media.
✔️ 5 Dientes de ajo chino
✔️ 5 Ajies.
✔️ 1 Zanahoria.
✔️ 1 Tomate.
✔️ 1 Rama de cilantro.
✔️ Opcional un chorrito de salsa de soja.
✔️ 500 De pasta tipo plumitas.
Ingredients that I use for this delicious lunch:
✔️ 1/2 Chicken Breast.
✔️ 1 Onion and a half.
✔️ 5 Chinese garlic cloves
✔️ 5 Peppers.
✔️ 1 Carrot.
✔️ 1 Tomato.
✔️ 1 Branch of coriander.
✔️ Optional a splash of soy sauce.
✔️ 500 Feather-type pasta.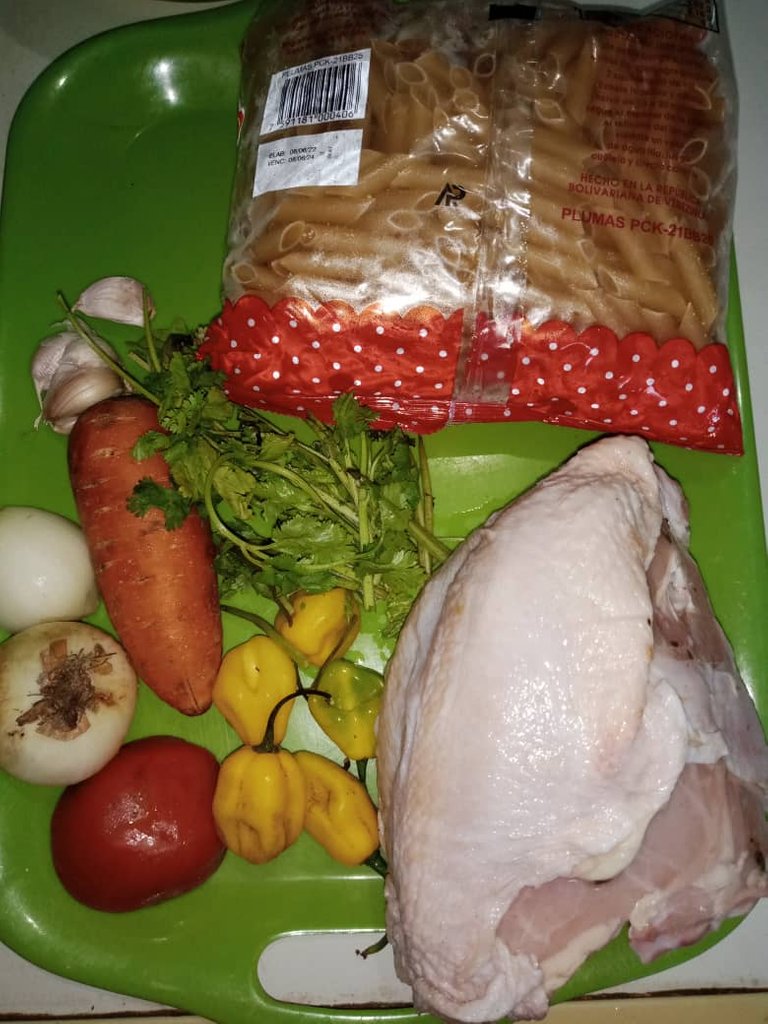 @odanmeina
Paso 1 👣
Con la pechuga de pollo ya cortada trozos tipo juliana la lleve al fuego en un caldero con aceite y el toque especial que tanto me gusta y es costumbre, una cucharada de azúcar para celular el pollo y darle el toque dulce .
Step 1 👣
With the chicken breast already cut into julienne pieces, I took it to the fire in a cauldron with oil and the special touch that I like so much and is customary, a tablespoon of sugar to cellularize the chicken and give it a sweet touch.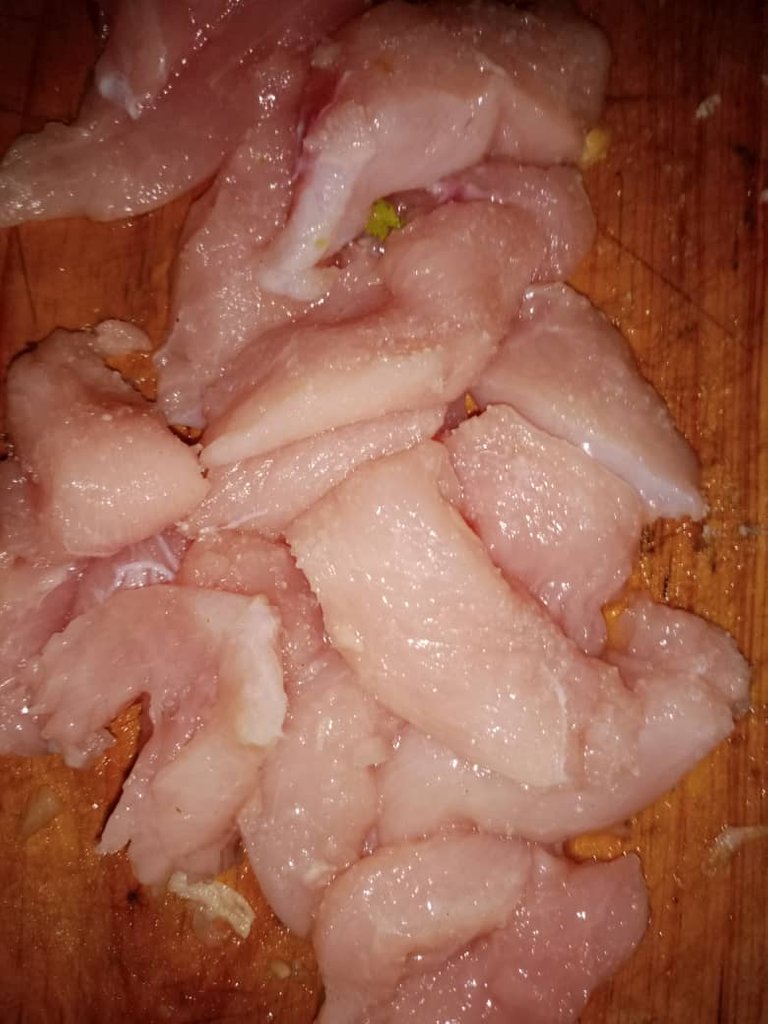 @odanmeina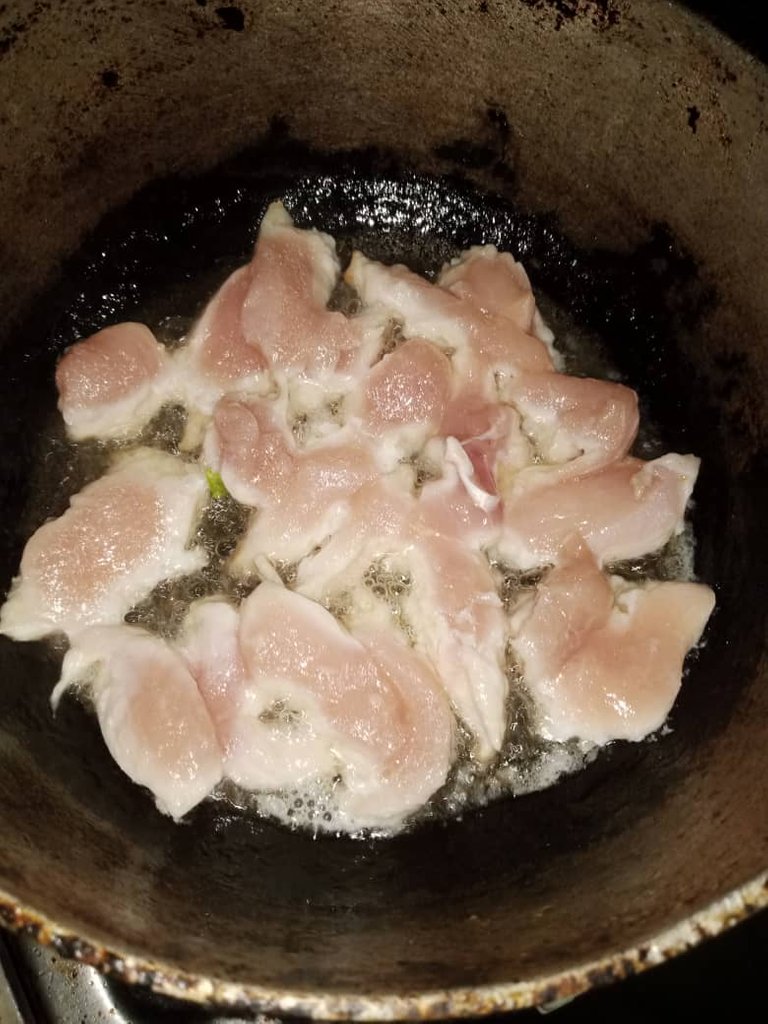 @odanmeina
Paso 2 👣
Luego le agregué un chorrito de salsa de soja para completar el sellado del pollo y oscurecerlo más y darle ese sabor asiático.
Step 2 👣
Then I added a splash of soy sauce to complete the searing of the chicken and give it a little more color or darken it more.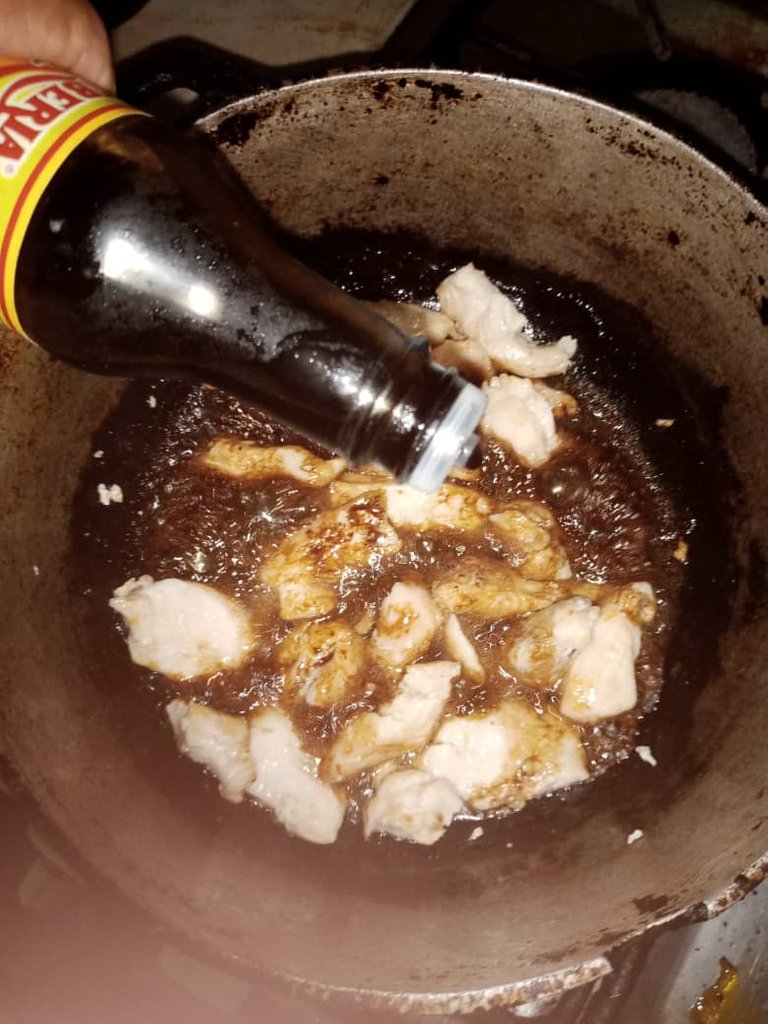 @odanmedina
Paso 3 👣
Mientras se estaba sellado el pollo corte la cebolla, cilantro, ají y tomate en pequeños trozos, la zanahoria en tiritas o juliana y machaque los dientes de ajo.
Step 3 👣
While the chicken was searing, cut the onion, coriander, chili and tomato into small pieces, the carrot into strips or julienne strips and crush the garlic cloves.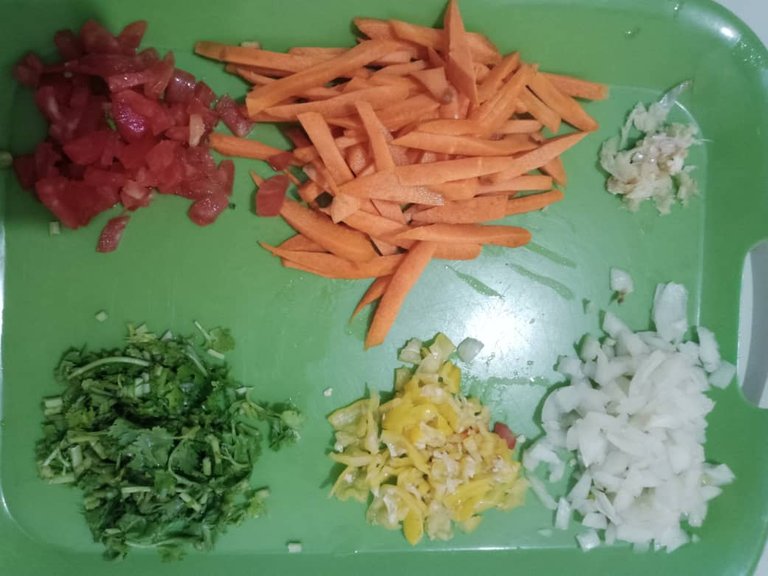 @odanmedina
Paso 4 👣
Ya teniendo el pollo sellado y los aliños cortados le agregué la zanahoria y el resto de los aliños fui moviendo hasta integrarse todos, lo dejé cocer por quince minutos hasta ablandarse la zanahoria o estar al dente lista para degustar.
Step 4 👣
Having the chicken sealed and the seasonings cut, I added the carrot and the rest of the seasonings, stirring until they were all integrated, I let it cook for fifteen minutes until the carrot softened or was al dente ready to be eaten.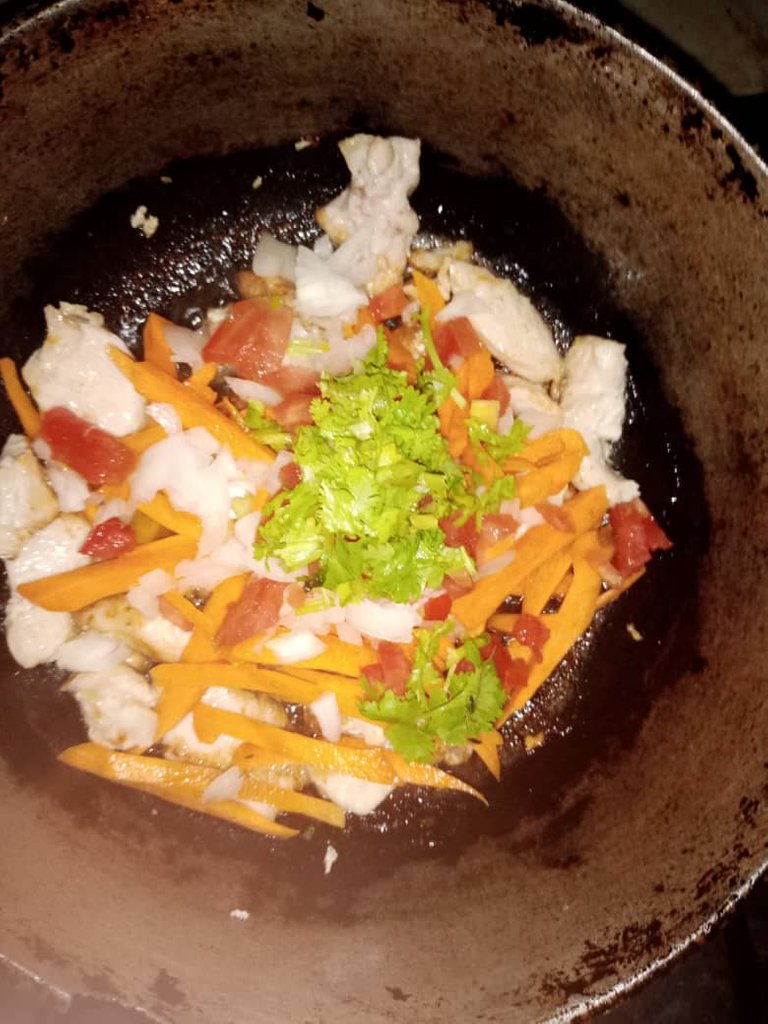 @odanmedina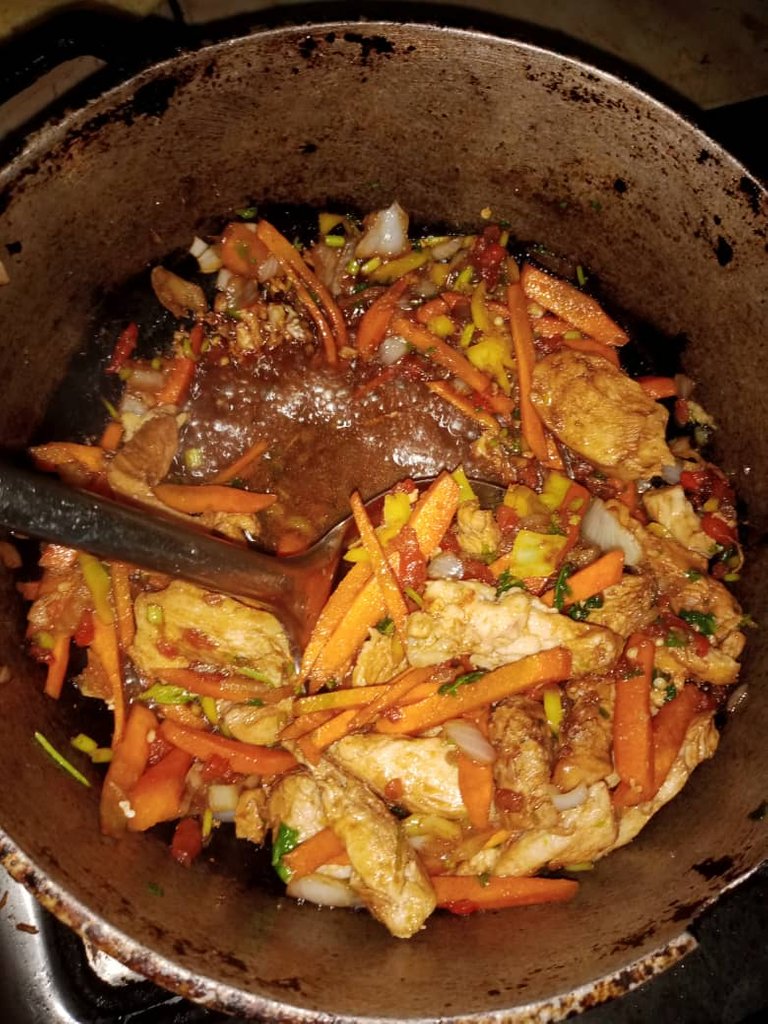 @odanmedina
Mis queridos amigos Hivers de esta forma quedo el pollo salteado con zanahoria listo para degustar, espero les guste y puedan preparar en casa.
My dear Hivers friends, in this way the sautéed chicken with carrot is ready to taste, I hope you like it and can prepare it at home.

@odanmedina
Mis estimados amigos lectores gracias por visitar y comentar, hasta la próxima oportunidad.
My dear reader friends, thank you for visiting and commenting, until the next opportunity.
Utilice la app google para la traducción de Español e Ingles .
Use the google app for Spanish and English translation.
Las fotos son de mi autoría tomadas con mi teléfono celular.
The photos are my own, taken with my cell phone.
Modelo. Umidigi A5PRO.
Model. Umidigi A5PRO.
Mí ubicación los llanos centrales de Venezuela.
My location is the central plains of Venezuela.
---
---