Forced out of my comfort zone.
Hello, everyone.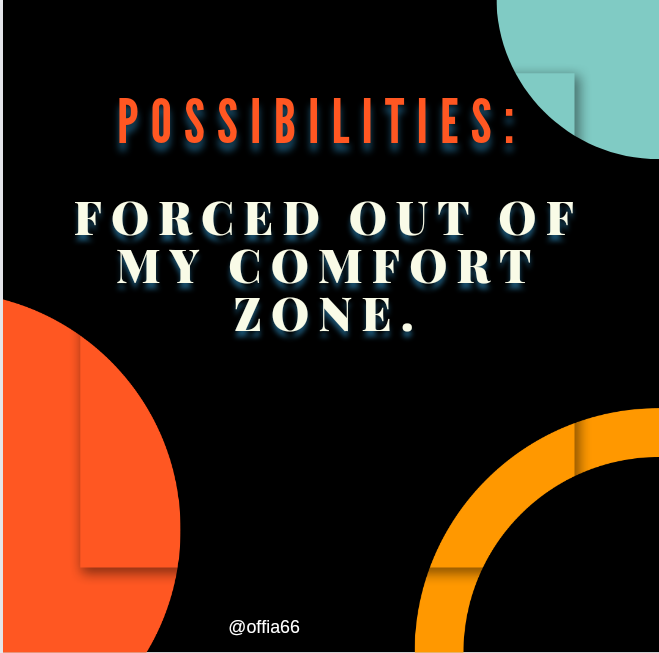 designed on canva.
I welcome you all to my blog. Shout out to the moderators of the Hive Naija community; they keep giving us interesting topics to talk about and share our opinions. This week is another one, and they are at it again.
Life does not always go as planned, but our ability to overcome the pain that comes with the disappointments of life is what keeps us going. Life is quite difficult, which makes it look like achieving dreams is impossible, but one has to learn that if they don't leave their comfort zones, achieving their dreams becomes impossible. You cannot fold your hands and do nothing and expect your dreams to become a reality.
At some point in our lives, we were forced out of our comfort zones—that zone where we had everything provided for us and we had to do little or nothing to get it done. We had to leave not because we wished to but because we just had to. Growing up means you become responsible for your needs, and you cannot do that if you remain in your comfort zone.
I was born into a family of seven; we don't have much, but my parents loved us so much that they tried as much as possible to see to it that our needs were met and catered for. We did nothing but get everything we needed. In 2018, I wrote that it was time to leave my comfort zone.
I left home for my uncle's house, who lives close to the institution I applied for. This is where my story started, and I was made to believe that indeed, there's no place like home. My uncle was a reverend and was never around, so it was just his wife, three kids, and me that were always at home.
My uncle welcomed me like family, while his wife thought I was a slave and I came to serve. I saw hell. In my comfort zone, I eat at least three times a day, but this woman feeds me once a day, and some days I go a whole day without having anything to eat, but I still do all the chores in the house.
Her kids were like princes and princesses while I was the maid; they had water problems when I came, so I had to go downstairs every morning to bring water up the stairs, and she would mercilessly use the water to do laundry instead of just going downstairs to do the laundry. She made it a habit; every morning, once I am done fetching water, she starts her laundry, and sometimes I have to fetch water twice in a day.
People around me started calling me water boy." I was always busy from one chore to the next. I had no phone then and had no way to reach home and tell them about my ordeal with my uncle's wife. I continued to endure until I got a friend that sells provisions right in front of the house. I used his phone to call my dad, and I told him everything with tears running down my face and how hungry I was.
I wrote my post-UTME exams, which was the major reason I was living with them, and two days later I left. I learned a lot about how to value and be grateful for the little I have. There are many out there who wish to be where you currently are; don't ever feel like your situation is the worst.
Thanks for reading.
---
---