NOT AS GREAT AS YOU THINK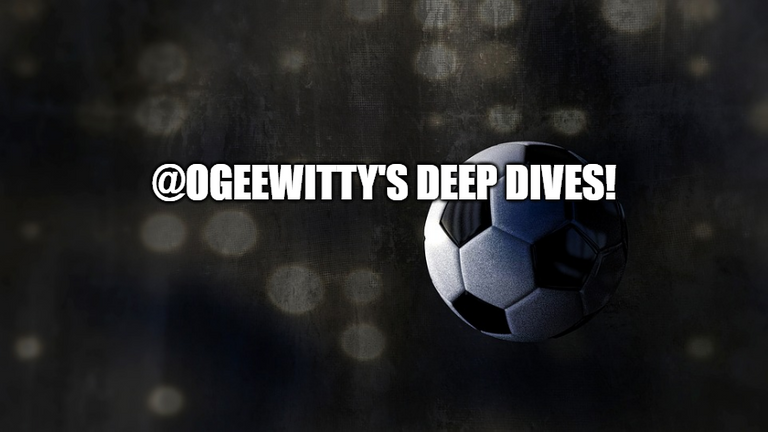 What an "obscene" blog title, someone will say. "How dare you say that?", may be blurted out by another reader. Well, I'm a tennis player for over 25yrs, I think you should hear me out. But as a tennis writer, I must pay homage to someone like senior @erikah, he's the one I often notice doing justice to tennis.
Roger Federer recently quit the sport and ecomiums upon ecomiums have and is still been showered on him. In this vein our very own @diikaan wrote,OUT WITH THE OLD.. to add his own voice in honour of this sporting(not just tennis) legend.
Does he deserve all the numerous accolade? I would say, yes, even playing at a very top level till his late thirties and retiring at the age of forty-one is a record in itself. That's 25 years of professional tennis!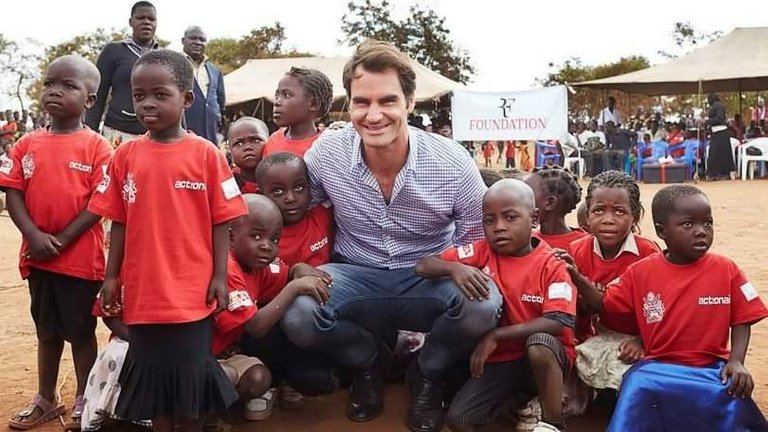 source
There is a reason why I think he's the most loved tennis player. I call his style poetry, elegance and near miraculous. Others call it balletic, graceful and fluent. You see how we are all in sync with our description. Again some of us are also attracted to his humble demeanour, his calm, a certain charm about him. He absolutely dominated the singles tennis world for years,staying 310 weeks as world number 1, that even non-tennis followers associated Lawn-tennis with his name, alone.
However,when we talk of matters of titles and laurels, "2 boys" came onboard and "spoilt" everything. But it was first a Rafael Nadal,that appeared and yeah I felt the way you felt @mckane in your post, What a Start. He was like an irritation, that I felt will go away much like the mammoth Pete Samparas–Andre Agassi tussle, where Pete overall got the better of Andre. By the way,Samparas was my love,before Federer came in and stole my heart. A tennis person will understand why I connect with both players.
Back to the Spaniard, Nadal, the top-spin guru with an awkward swing mechanism(much like how awkward Tyson Fury's style is in boxing), Nadal refused to fit into the Agassi mould(as per in relation to Samparas) and he lingered,causing Federer more and more problems as the years wore on.
Then a certain Novak Djokovic(a mentality monster with that cute back-hand gift of his) came from nowhere and it became something else. Federer was pushed to the limits and his body caved in eventually.
These guys(I may call "the boys" henceforth) have taken down a lot of Federer's records and created some themselves. Nowhere near as talented as Fed, but they perfected what they were good at and demystified him a lot in the past decade.
It's painful for me to say, but I have to be truthful. Federer will not be regarded as the greatest ever in terms of laurels won or records set. It's just not gonna happen. He has created and broke lots of records including staying a record 237 consecutive weeks as the number 1 ranked singles player and an all-time best of 19 grass court(his best surface) titles in the Open Era.
So I can't list all his records here, but here is a list of Federer's major records. He has:
1◇ won 20 Grand Slam singles titles
2◇ stayed 310 weeks as world number one
3◇ won 103 ATP titles
4◇ won 28 Masters 1,000 titles
5◇ won 6 ATP Finals victories
6◇ won 31 Grand Slam finals
7◇ 1 Davis Cup triumph
Grand Slam Singles Title
To be fair to Roger, it's only recently that this huge feat was overtaken by who else? Rafael Nadal. Rafael Nadal has now won 22 and you would think Roger is next. Oh no,the other guy has squeezed through too. Novak has won a 21 grand slam singles titles,to place second and confine Roger to 3rd in the all-time ranking.
Weeks as World Number 1
This record has to do with non-consecutive weeks and it belongs to Djokovic who has stayed a massive 373 weeks as ATP world number 1. Federer is next with 310 weeks. Nadal is quite behind on this all-time list with 209 weeks,placing him 8th on the list. Even so,Nadal is the only male singles player to be ATP world Number 1 in 3 decades(2000s,2010s and 2020s)
ATP Titles
With 103 ATP titles no one except the legendary American,Jimmy Connors has more–109. Yet the other boys are not far off. Nadal and Djokovic are 4th and 5th in the all-time list with 92 and 88 ATP titles respectively.
ATP Masters 1,000
As for the ATP Masters 1,000 titles, 28 isn't enough for Federer. The boys have something to say about that. Djokovic has won a massive 38 and Nadal following closing with 36. Meaning Djokovic is 1st in the all-time list,Nadal next,before Federer.
ATP FINALS
After the Grand Slams(which are a combo of 4 tournaments) the season ending ATP finals is the next prestigious, some call it the "fifth Slam" even. Federer is tied with the legend,Ivan Lendl, as the all-time best, yet Djokovic is not far behind in a tie for 2nd place with 5 victories. Nadal is absent here with no victory.
Grand Slam Singles Final Appearance
31 is massive for the most Grand Slam finals, but the boys have other idea. Djokovic is now first on the all-time list with 32, whilst Nadal is 3rd with 30.
For every record of 8 Wimbledon titles he(Roger) has(an all-time record), there is a 14 French open titles that Nadal has. It is not just an all-time record, he is the only man that has won a Grand slam by a double digit value. There is also a Djokovic who has won a whooping record 9 Australian open titles. He is also the first in the Open Era to complete multiple Career Grand Slams. Our very own @sadfish says more- Djokovic Writes His Story
It's Clear
You can see from the above, Mr. Federer can not be regarded as the greatest ever if we want to zero into victories, records and the like, which many will say is the true essence of sports. The scary thing is that, those two boys keep trudging on.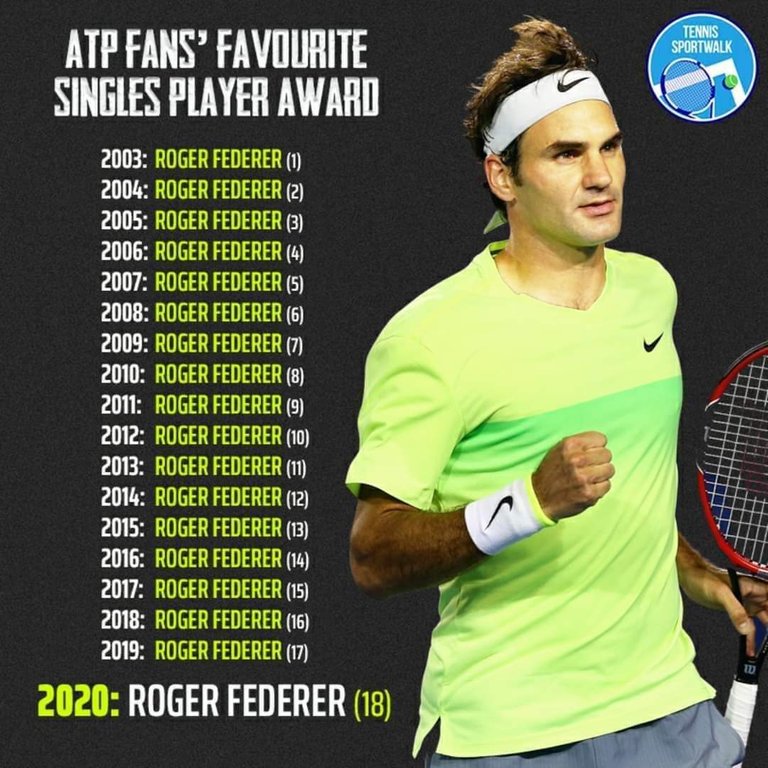 source
However, Roger will continue to be regarded as the best ever by many people. You can't blame them. He pushed the game to heights never reached before. It was like a Pep Guardiola of football becoming Barca's coach and it revolutionised football world over. Thus, opponents had to evolve a whole new way of playing to try to beat him. The effect was that the football sport improved in quality.
That's the kind of thing Federer did to tennis. Quite frankly,if there was no Federer, there would be no Nadal or Djokovic. Afterall, Nadal said Federer quitting will mean an important part of him(Nadal) is leaving.
It is a fact that majority of the tennis audience today will easily pick Federer as the greatest, afterall it is for a reason that fans voted for him in 2020 to receive the ATPWorldTour.com Fans' Favourite Award. Now, that was the 18th straight year(yes 18) he had won it. So he began winning it since 2003, when he made his Grand slam debut. Who does that?! The players were not left out as they kept voting Federer above others to win the Stefan Edberg Sportsmanship Award. He won it 13 times (2004–2009, 2011–2017) in all. That's the Federer appeal,his elegance on court like a beautiful choreographer,his desire for perfection and calm demeanour.
I Repeat
However, records or proofs don't lie. In the actual sense, Roger is not out of reach, infact he has been surpassed in major areas by these stubborn boys.
More Proofs
Even head-to-head they conquered Roger.
Nadal has met Federer 40 times on the ATP Tour. Nadal won 24 times, while Federer 16 times.
Their first match on the tour was in 2004 in the Miami Open,third round. A 17-year-old Nadal out-fought Federer with a 6-3, 6-3 score, setting the tone for the rivalry. Federer was then a two-time Grand Slam champion and world number 1.
The Spaniard, also tops Federer in Grand Slam matches– winning 10 to Federer's 4. He also trumped Federer in head-to-head meetings in Grand Slam finals, winning six to Federer's three.
Djokovic and Federer have faced each other 50 times, with Djokovic winning 27 matches,whilst Federer winning 23.Djokovic won 13 times in 19 finals where he has faced Federer. Also in 17 matches where they met eachother at majors, Djokovic won 11 of them,Federer winning 6.
Djokovic is the only player to defeat Federer at all four majors, and vice versa.
They met for the first time in in 2006,with Federer winning it and even winning their first four meetings. This gave birth to the rivalry.
So you see, these guys have upstaged Federer in many ways.
I Conclude
On a concluding note, I guess it's fitting for Federer to have played his last career match in the Laver Cup, a tournament named after a tennis legend,Rod Laver– a man fittingly considered by a section of tennis fans as the greatest ever men's Singles player citing one major point.
https://twitter.com/rodlaver/status/1573583200881971200?cxt=HHwWgMC8kbDlvtYrAAAA
source
He remains,the only player,till date, that has completed the Calendar Slam twice in the history of the sport. He even did it seven years apart– that speaks volumes about his amazing class. Of those 7 years,he was banned for 5 years from competing in the Grand Slam because he turned pro after winning his first Calendar Slam in 1962. That was before the open era where the Grand Slams were only for Amateurs.By the way, he also amassed a respectable 11 Grand Slam titles.
Special mention must go the efficient German female legend Steffi Graf. The greatest player(not just female please) of her generation, winning 22 Grand Slam singles titles. She is the only player in all tennis history(male or female) to have won all four Majors four times or more.
1988 was without doubt the best year of her awe-inspiring illustrious career, as she won all four Majors along with Olympic gold, thus completing what is called, the Golden Slam. No other singles player(male or female) has done this!
Farewell Mr. Roger Federer,the Swiss genius and the people's champion. I think it's hard to see a person who possesses his tennis ideology- how he makes difficult things look easy(just like Lionel Messi does in the game of football). Federer indeed raised the sport to a whole new level.
---
---