OH MBAPPE, WHAT'S GOING ON?
Mbappe: I told you since July 2022, that I wasn't renewing. So as it says in the contract, 2024 is the expiration date.
PSG: Urm, but we thought you didn't want to bother your mind then[due to the pressure around you during the renewal], so you just gave us a rough sketch.
Mbappe: Nope I actually said what I meant and meant what I said. The recent letter I sent in, is just to remind you of what I already said.
PSG: Okay then Mbappe, well it's now we understand that you were serious.
Mbappe: Yes sirs, I was.
PSG: Hmmn okay, well we can't allow you leave on a free in 2024, if you say you won't do anything about your contract now, you will have to do something about it.
Mbappe: Pardon.
PSG: We mean we can't wait, this summer we will have to put you up for sale. Capisce?
Mbappe: 😶‍🌫
Ladies and gentlemen with this, I welcome you to the unfolding Kylian Mbappe saga. The above discourse is my construct, which is actually based on pure facts.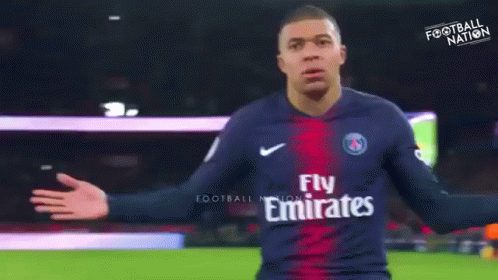 It's no secret that Mbappe has decided to stay rigidly true to his contract terms and wait for 2024 to decide his future.
https://twitter.com/FabrizioRomano/status/1668588078829543424?s=20
source
This doesn't go down well with the PSG heirarchy, who actually want him to commit to the club. They were already planning a summer transfer that will suit Mbappe – who has not hidden his discomfort playing as a striker( the way PSG uses him)– putting him on the wing and bringing in a proper striker.
https://twitter.com/PSG_Report/status/1668380890722975744?s=20
source
Now, the heirarchy for whatever reason don't have the patience to wait on Mbappe and the are saying something like, "if we must loose him, then it can't be for free!"
https://twitter.com/PSG_Report/status/1668577558391029762?s=20
source
This looks like war. "What's happening to Mbappe?" someone might ask.
Well, firstly, lots of folks have been taunting him, saying, how has he decided to remain in a club that is only sure of winning a farmer's league title.
Ok he has acted, let nobody complain please. Who doesn't like a better life?🙂
Is Madrid calling Mbappe?
But PSG didn't help matters. I have said it severally, that I don't understand the kind of coach that they chose for last season. Infact it was a surprise to me that they won the league title. The coach has been sacked now.
Mbappe had complained about Neymar's attitude to work and made recommendation to the heirachy that Neymar be sold. Ofcourse some people will say, this is only a rumour, a hoax. It isn't!
I think the boy has considered everything, Messi is gone, I'm probably stuck with Neymar, who is the coach coming in?🤷‍♂️ See Haaland shinning,🙈etc
https://twitter.com/FabrizioRomano/status/1668795620943962113?s=20
source
We can only blame him for the timing. It's just not fair on PSG, at all. However, I guess it's why the Holy Bible says, right after saying, children should honour their father, it also says fathers shud not provoke their children to wrath.
I think Mbappe(like a child) has been pushed to the limits here. People should not forget how ambitious he is, as a person!
It's possible a Madrid very recently whispered something into his ears as Benzema is gone and the boy's agent says to him, hey don't be emotional, tell PSG you have no decision to make right now.🙂
Interesting, how football can be.
Now let's peep a little into Madrid.
Spain's star player and hero in Thursday's semi-final of the just concluded UEFA Nations League, Joselu, has signed for Madrid.
Madrid's President, has declared that Joselu, is their last signing. Joselu, 33, is a loan signing. You smell a certain Mbappe is cooking right?
Then PSG not to be outdone followed that up by putting up Mbappe for sale. Talk about toiling with Mbappe's emotions.
What will Mbappe do now? Maybe Madrid's President, announced that quickly, to discourage PSG from having hopes of thinking a buyer would come for Mbappe. Conversely, PSG became bolder and have fired this troublesome arrow. This is some Real cause for concern for Mbappe now.
Then just few days back PSG sorted out the coaching vacancy by employing the mercurial Luis Enrique. Personally, I have been waiting for this man to come back to club football. I think Guardiola is in serious trouble! In brain-power, Enrique is a true Guardiola equal or even slightly better. Nice to see this Professor of a coach back in business.
This appointment is part of the PSG war on Mbappe, only it is a more subtle one. It's a kind of appointment that can indeed lure Mbappe into renewing his contract now.
We watch as things unfold, as the situation looks murky for Kylian Mbappe right now.
My regards to all my readers, sorry I've been away lately.
Cheers
---
---