Join me in the Ape Mining Club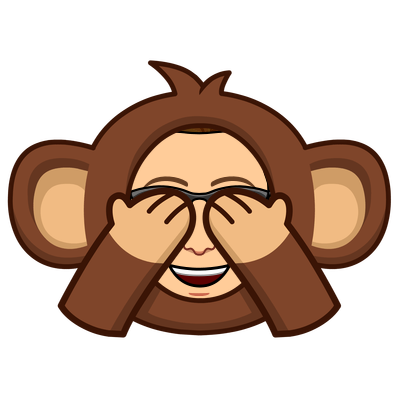 Today's talk is about the @ApeMiningClub. There is not much to say yet, BUT there is a SICK APR (Annual Percentage Rate), and it is actually pretty cool to watch your mining contribution every day – it's somewhat addictive, I am checking in for pending rewards every now and then! The Ape token in circulation also have a stable bid and ask price so if you do not like stacking the tokens it can be easily sold second hand. Worth mention that this is an illiquid token, but if you have patience and do not need to sell APE asap this is a great way to stack some APEs. In time of writing this is one of the most profitable games out there, and I have tested a lot.
Let's have a look at the APR rate from the Ape Mining Club. There is absolutely no one near the same APR as you get from the mining simulation. If you mainly focus on the GPUs, it gives you an APR of 1,247 % now. So, if you were to buy one GPU you would "get your money back" by 29 days and then the GPU is there forever, working for you forever, or at least till the game ends. This is the main reason why I am all stoked about this game. There is not much to do, yet, but seeing your assets grow from day to day in that insane phase is pleasure for the eye and the mind. Below statistics taken from ape mining club blog and it shows the APR and days to break even in this awesome simulation game:
APRs and days to break even.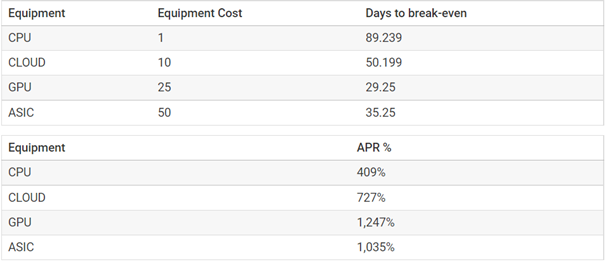 Source
My simulation!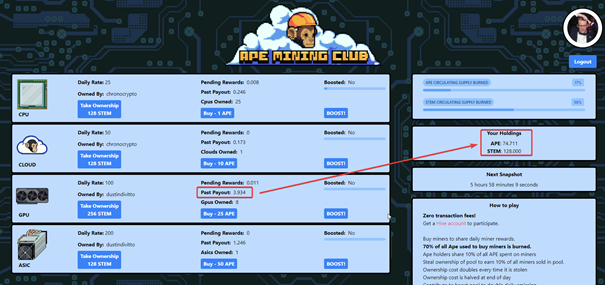 So the above image is my temporarily gaming board of the simulation. It's a small investment but it actually generates a decent amount of APEs during the day. And if you do not know the price of the APE token in time of writing it is priced to approx. $1.43 - no joke! Let's investigate my investment for a bit.
I have 25 CPUs, 1 Cloud, 8 GPUs and 1 ASIC. The main reason I stack GPUs is because this has the highest APR at the moment and are breaking even faster than the other mining equipment. In this calculation I will focus only on what my 8 GPUs will generate. With the 8 GPUs I would get my investment back within a month. That means that if 8 GPUs cost me 200 APEs, I will get 6.67 (200/30) APE tokens a day as long as the APR rate stays at 1,247%. Now, let us convert that into passive income:
[1 day] 6.67 APE Tokens a day converted into dollars is A6.67 x $1.43 = $9.5381
[30 days / a month] $9.5381 x 30 = $286.143
[1 year] $286.143 x 12 = $3433.716
And guys… this is only my GPUs, if you add my cloud, my CPUs and the ASIC the number will be much higher!
Ye... $3433.716 in a year with an investment of $200! That is absurd! If I multiply this number again with 10, meaning investing $2000, I will almost be financially free – lol! It is cool to play with the numbers and see that if you just put a little money here and there on the HIVE blockchain and do some simple math you suddenly see that that you could become financially free in a much faster phase than you thought initially (if financial freedom are your goal). As you also can see in my second picture above, I owning one of the GPU pool, meaning I get 10% of miners sold in that specific pool. If you look closely I have already earned 35 APE tokens by owning the pool, and that is only after a couple of hours (128 STEM investment). This is nothing else than lucrative at the moment and I have been testing it for a month ++.
However, the numbers above is of course far from reality in the long term. The APR rate won't last forever. Probably already lower as I am writing this post. But anyways, when you see APRs like this why not jump? Could be quite profitable, done correctly. In the Ape mining club scenario, I would have these miners forever. So, if the games decide to stay on forever this little wallet could turn into a superman wallet. Me in my wedding: "What if I told you that this wedding was funded by APEs"! (lol)
In time of writing, I have bought what you see in the screenshots above and that is my target at the moment. You see my numbers of APEs to the right and when I hit 200 I am break even. Then I got nothing more to lose and every APE token that I mine I will reinvest and over time this will sum up to be; still, a unknow number (but maybe a high one, haha). Then, we will see how the game develops and the features that will arrive. I am pretty sure that @themarkymark will create some cool stuff mowing forward - and if it's cool enough I will probably end up investing more. BUT! I will NEVER GO FULL APE!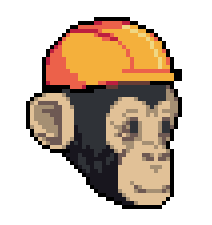 Join me in the Ape Mining Club. The rules are simple, but used cleaver you are more profitable: https://apemining.club/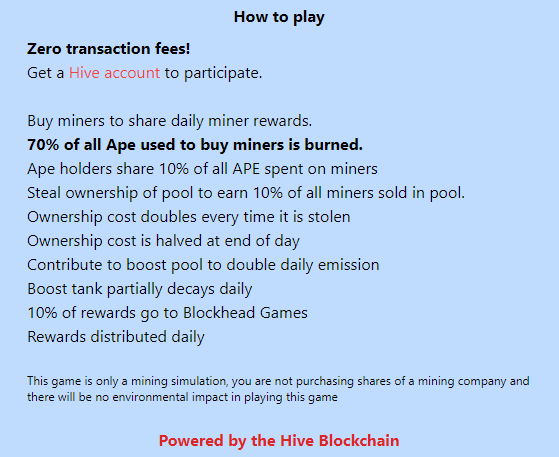 Cheers!
-Olebulls
---
---