Book Review: Atomic Habits

It is much easier to set goals than to achieve them. The energy and motivation are high in the beginning, but somehow and somewhere along the line, the energy may dissipate as quickly as it came. Everyone can relate to this, but dealing with it isn't exactly the easiest thing. This book, Atomic Habits, delves into concepts that teach one how to handle that energy better, and here's a review of it.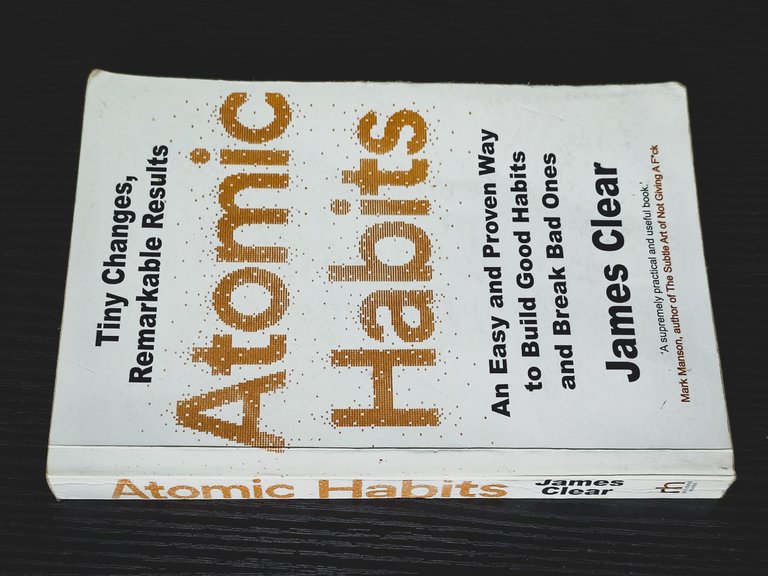 In my early days at the university, I struggled a lot with getting the right routine of studying and adequately attending to academic matters locked in. I would always need motivation to do what I needed to do, and I would spend hopeless hours waiting or searching for one, like watching those motivational talks on YouTube.
What I do realize now is that, damn, motivation is overrated and that I had the wrong approach to achieving my desired results. This book, Atomic Habits, explains a better approach to achieving results.
In this book alone, Atomic Habits, I have come to learn and understand a lot more about human behavior and how to effectively achieve behavior change. Apparently, as the title implies, tiny changes can bring remarkable results if done right.
For a little more context as to why I chose to read this book, I am on a journey of becoming a reader, and a major part of it includes reading a lot more books. I carefully picked 12 books I would like to read this year, and this one happens to be the second. I chose it, well, because I had heard so much about it and figured I should include it in the list. You can find my list here if you'd like.
---
Summary of the book...
Atomic Habits is a self-help book by James Clear that teaches much easier and more truly applicable ways to build good habits and bid bad ones good riddance.
It starts with how and why the book was written by giving a glimpse of the writer's story, which, I must say, has some effect on inspiring one to continue reading.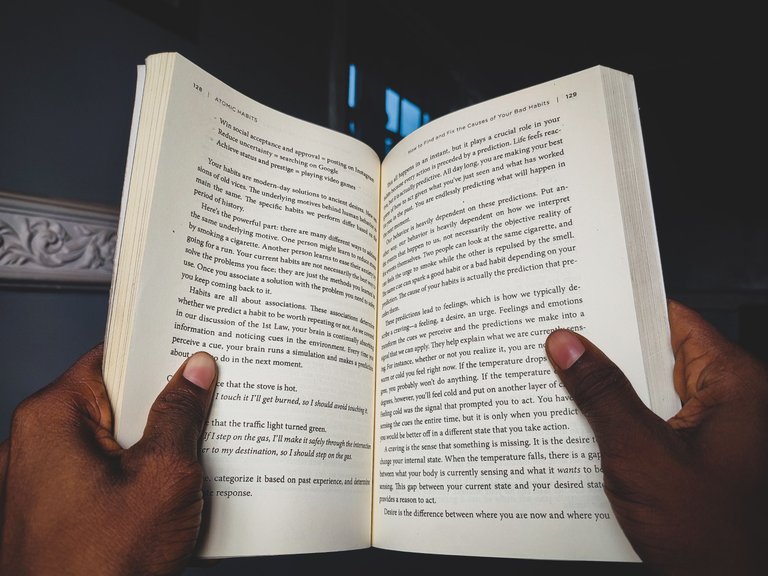 The book discusses behavioral change in different ways, such as the effect of identity on developing habits (good or bad), the actual picture of progress and how it works, how habits are formed, and the four laws of behavior change. The four laws are "make it obvious, make it attractive, make it easy, and make it satisfying," all of which are about the cycle of habit formation (cue, craving, response, reward).
Big Takeaways for Me
The intuitive thing people do when they are trying to achieve desired results is to set goals and, you know, try to attain them. And this is when we would see things like, "My goal is to read at least 12 books this year." Sounds familiar? Yes, of course. That's me. This is really a much less effective way to develop the habit of reading. It is termed the "object-based approach." Rather than focus on what I want to achieve by reading 12 books, I should focus on who I wish to become, and that would be a person who reads books—a reader.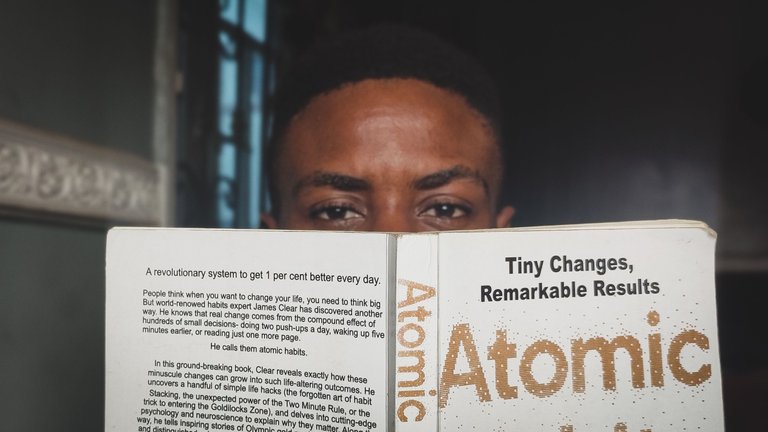 Assuming that "identity" would help me reason in manners like, "What would a reader do?" or "A reader wouldn't slouch with being regular." And that would help one develop better systems. In the words of James Clear, "You do not rise to the level of your goals. You fall to the level of your systems."
Progress is often mistaken for being linear when, in fact, it is a curve. What we naturally think is that the results should be directly proportional to the time spent, but the reality is that the results are way less than expected for most of the beginning of the journey—called the valley of disappointment—until a critical point when the results begin to surpass expectations.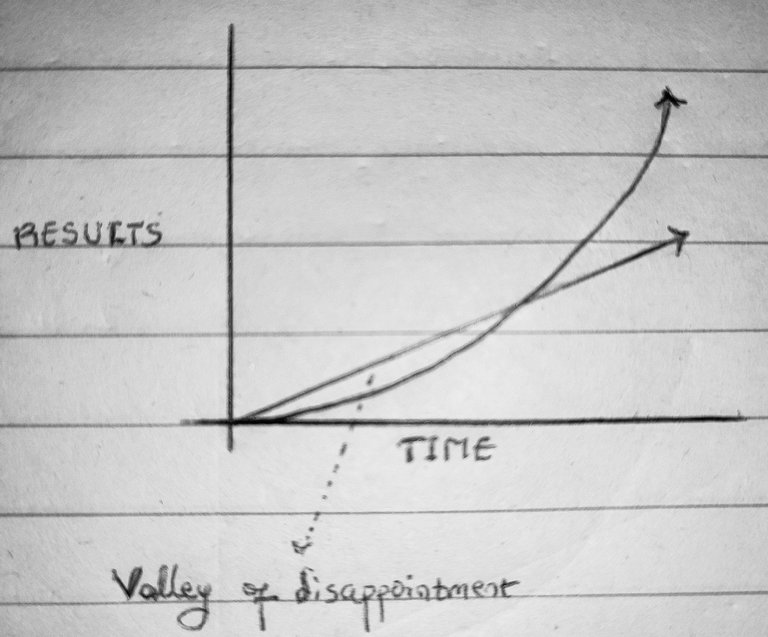 Motivation is overrated; one's environment matters a lot more. Rather than wait for the miracle that you will feel pumped to do something, getting one's environment redesigned to suit and facilitate good habit formation goes a long way. An example is rearranging my bedroom into sections for specific actions. Here, where I am writing, is different from the space where I practice guitar. Oh, and there's a newly mounted whiteboard where I track my habits now.
The human mind always prefers the path of least effort. We are driven to do what is easy. In forming new habits, the two-minute rule is advised. Scale down whatever new habit you are trying to pick up in two minutes. "Read a chapter before bed every night" becomes "read a page before bed." It would be much easier to accomplish if "made easier."
The Experience
I would consider this book a manual. And this is because of the practical approach it uses. I have a much better understanding of just how to do better to achieve the results that I desire by following the teachings in this book.
There are a lot of chapters in this book, all of which don't exactly have a few pages (to me), so one would have to brace themselves for quite a depth in its teachings.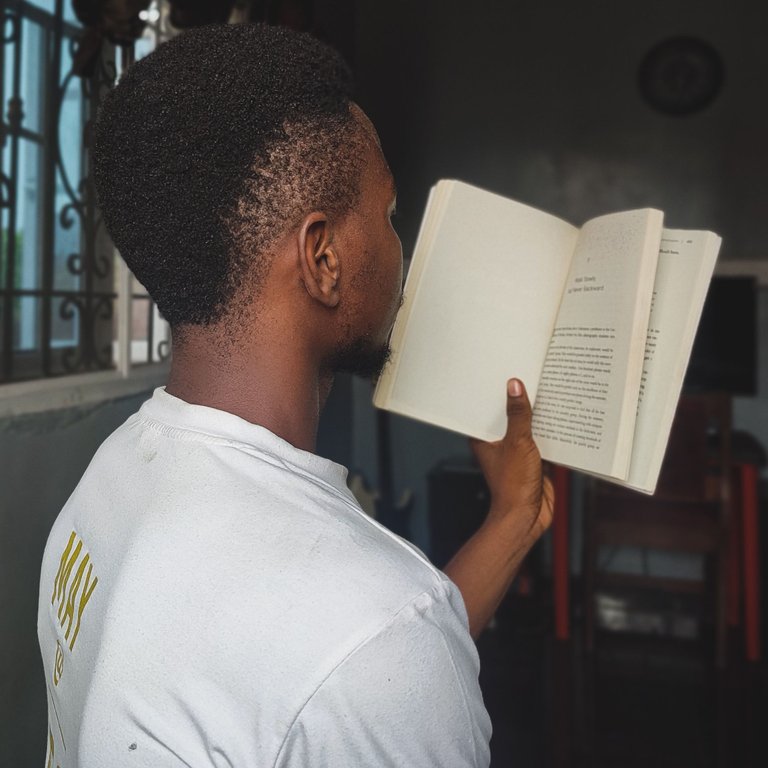 James Clear's writing is something to admire, really. His clear-cut and concise yet enlightening walkthrough on this behavioral change topic allowed for quite an easy understanding of his concepts.
Like I said, I consider it a manual, so I would find myself going back to it to remind myself of certain things and all that.
---
In Short...
I wish I had found this book and read it much earlier, like in my early days at the university. I surely would have known better to do better. Either way, I know better and can do better now.
I would recommend this book to anyone who is looking to learn more about, you know, developing better habits and how to effectively do that.
---
The book I read before this one is How to Win Friends and Influence People by Dale Carnegie. Find my review here.
---
Original images
...shot on Redmi Note 10 Pro
---
---