How I Spent $40 To Fix a $66 Cake || What I Ordered Is Not What I Got
If only simple agreements could be met, especially in the details, this cubicle we call life would not be as overcomplicated as it already is. I, for one, would like to believe that there would be no wars, scams, or even centralized exchanges being disappointing, if we could all just do what we agreed to do.
---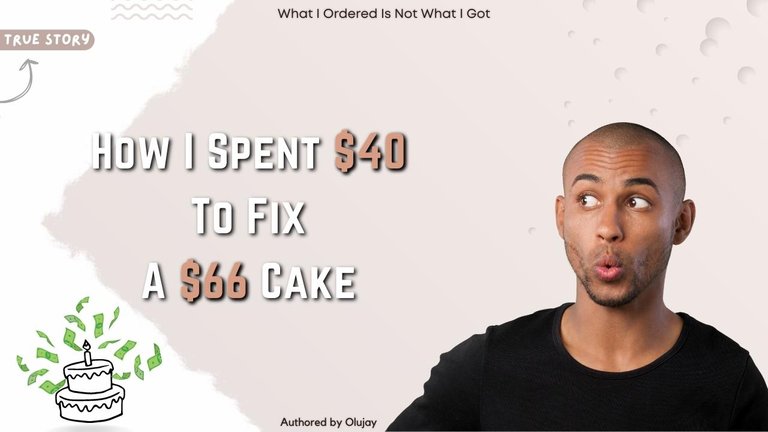 ---
One thing about having a loving and wonderful mother like mine is that you want to celebrate her at every opportunity.Why? Because mothers like mine are simply amazing, and they deserve to be showered with praise, period.
My mother was born on Christmas Day. Yes, the 25th of December. And every year, since many years ago, we always try to celebrate her, my brother, and me.
As kids, we could only get her cards, and they were always handmade. Now that we are older and are not as imaginative as we once were, we just use money to do the things we need to do in order to celebrate her.
---
Now, whenever her birthday comes up, like about a month from now, we'll have thoughts and plans on how we'd like to celebrate her. And she's well-known and well-loved by many because she's a woman of virtue, a wonderful mother for many years, even before my birth (I'm the firstborn). This makes the house unable to contain all of us around this time of the year because many people come around—and trust me, the house is quite big.
You know how it is: with birthdays to be celebrated, there are usually cakes present. I think it's kind of the norm; there just has to be cake.
My mother was turning 50 last year, and she wanted her birthday party to be a little bigger this time. And so she wanted a much bigger cake. She told us about it, and, considering that she already knew that surprises would have already been planned for her, she just suggested that whatever money we had for cake should be invested in a particular cake she had in mind.
She had reached out to her friend about it, and that friend reached out to another, and that one too reached out to another, and then we finally got a cake vendor (or is it baker?) with good recommendations.
The vendor, of course, presented previous works on elaborate cakes within our budget. She sent a few photographs of the kinds of designs, shapes, and flavors she could make for our budget. And then, after a while, we arrived at the desired conclusion.
"You have picked a lovely design, ma." She responded to my mother.
"Your bill is 50 thousand naira for this design you have chosen." She continued.
That's quite a lot for just a cake. I mean, it's a big cake, and it has three layers. One layer is roughly five times less expensive. I then realized that the older one gets, the more expensive the cakes get. This means that those turning 70 are likely to be charged ₦100,000 for cakes—how fascinating!
Well, it's not like there are no other options. There sure were other options, but I just did not think cakes would be that expensive. Anyway, I digress... We agreed to get the cake and asked the cake vendor to proceed with making it, but after making some deposits first.
---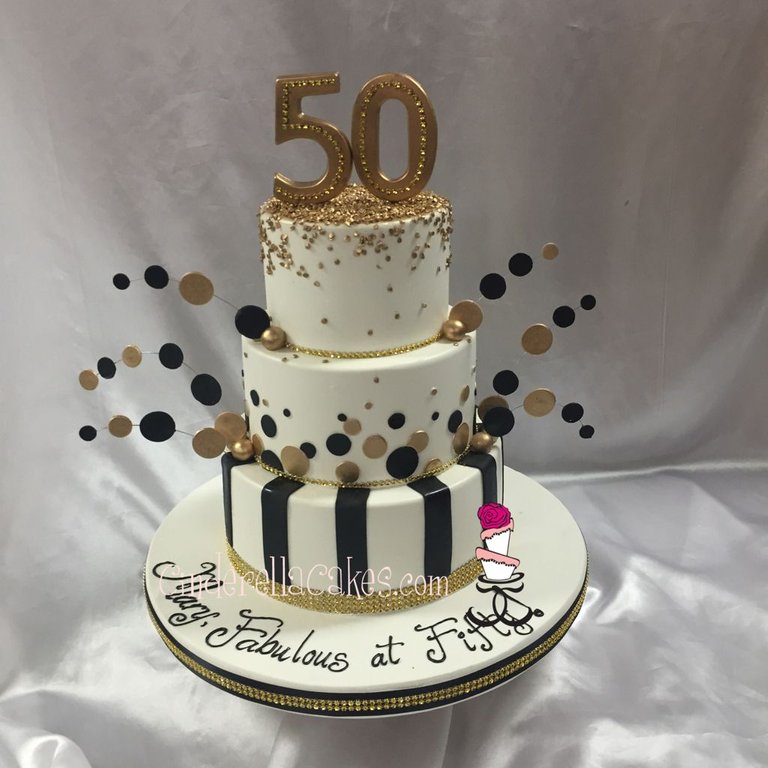 What we ordered...
---
You see, one would think that with such a price for the cake, some benefits would come with it. But the first thing that struck me was that this cake was not going to be delivered to us. We were going to travel quite a distance to the baker's house to get it.
"Uhhh, okayy. We'll go get it then." I thought to myself.
I mean, that wasn't going to be much of a problem.
The Day of Unveiling
After so long on the road, dealing with traffic, and then struggling to get the address right, we get there. We are now at the baker's house, and our cake was sitting on a cake stand on the floor.
I tell you, what we saw with our eyes made us question if our cake was still on the way, and this is just a preview. What we were looking at was so not what was ordered, and the birthday party was the next day.
The first thing wrong with the cake is that it was not standing straight. Apparently, as we learned, there was no "stick" to hold the cake in place. when a few should be there to hold the cake in place and make it firm.
Another thing about the cake is that it looks like someone just poured milk on it, and that was all. The icing was so off and mediocre. And how about the decor? There were biscuits on the cake—actual biscuits!—and some other nonsensical jargon.
Worse, we weren't even at the baker's house, so we didn't get to meet them in person. It was some sort of apprentice we met, which made it clear that it was done by the apprentice and not the actual baker. How on earth do you give a ₦50,000 cake to an apprentice to make, even without supervision?
We tried to express our dissatisfaction with the baker and make her understand that she did poorly by delivering something far different than what she had promised and that she wasn't even there to properly hand it to us. Heck, the box we were given couldn't even contain the cake—it wasn't the right size!
---
---
With anger in our hearts, we left with the cake. The cake was so unpresentable before the crowds of people we were expecting the next day. And we just could not afford to "not" have a cake on such an important day like that. So we had to make emergency arrangements.
First off, we thought of revamping the cake. It's not something common, but something that could be done, especially in such a situation as the one we found ourselves in.
We took the cake to a friend who knew a thing or two about cakes and where to get the necessary supplies. We had not thought about how the cake would taste, and so we were all about how it looked. Imagine spending so much money on a cake only to spend even more money on it.
We tried our best to make it look better. We changed the mediocre "50" to something much better and more presentable... and added some more things, just to make this stupid cake look better. But no matter how much we tried, we knew we just could not present what we had. Meanwhile, we had spent another $10 (₦7,500).
Oh, did I mention that they got the name on the cake all wrong? My mother's name is "Yetunde," but "Mary" was written instead. What's even crazier is that "Mary" was what was written on the sample. I wondered how such a mistake could be made. How many times is Mary going to be fifty before she needs another cake?
We resorted to getting another cake. Not one that costly, but one good enough and affordable. The "tomorrow" was the due date, and if we were going to get any baker, they would at least have to work all night to get something for us.
We did get one baker. She was recommended by another of my mother's friends (let's call her Aunt B). However, at this point, we were already tired of referrals, but we didn't have much choice.
Because we had spent so much money on just cakes, we tried to get a really good cake for a very good price. We were able to get this new baker on our side, and she accepted to do us this favor. But, because baking a new cake from scratch would be prohibitively expensive, she suggested she do the revamping herself for $27 (₦20,000).
We left that night for home with the cake in the hands of this angel baker—and truly, she was, for what she was capable of.
The next morning, not so early, she arrived at the door with our new cake, much to our surprise. And my, oh my, what we did see was so not the trash we received and gave her to work on. It was a brand new cake, dear reader. With the little amount that we could afford, she was still able to deliver something grand.
---
The Cake Re-vamped...
| | |
| --- | --- |
| This is more like it... | |
---
It actually took a lot of effort by my mother's friend, Aunt B, to convince this new baker to do us this demanding job. Aunt B used points like "You can pull this off, and when you do, they'll never forget you." That is, we would always consult her and be able to vouch for her whenever we wanted to recommend her if she did something spectacular, which she did.
That mantra, "The Customer is King" or "The Customer is Always Right," is one that is often misconstrued by many, and many do have their own subjective meanings and approaches to it, but I think the main idea here is not to take it literally. What that mantra means, to me, is that customer satisfaction is what a business will thrive on, whatever kind it may be.
One thing's for sure: I will never recommend the first baker. As a matter of fact, I'd try to rescue anyone I discover is trying to transact business with them by letting them know about my review, which isn't good. The other baker, on the other hand, will receive as much support and love from me for just this thing she did for us. I believe the latter understood the mantra much better than the former.
---
Now, we could smile...
---
This post is in response to the Hive Learners topic, "The Customer Is Always Right!". If you'd like to know more about the community, click here.
---
ᴀʟʟ ɪᴍᴀɢᴇs ɴᴏᴛ sᴏᴜʀᴄᴇᴅ ᴀʀᴇ ᴍɪɴᴇ

ℍ𝕖𝕪, 𝕚𝕗 𝕪𝕠𝕦 𝕖𝕟𝕛𝕠𝕪𝕖𝕕 𝕥𝕙𝕚𝕤 𝕡𝕠𝕤𝕥, 𝕜𝕚𝕟𝕕𝕝𝕪 𝕝𝕖𝕒𝕧𝕖 𝕒 𝕔𝕠𝕞𝕞𝕖𝕟𝕥, 𝕣𝕖𝕓𝕝𝕠𝕘, 𝕠𝕣 𝕦𝕡𝕧𝕠𝕥𝕖. 𝕀𝕥'𝕝𝕝 𝕤𝕦𝕣𝕖 𝕓𝕖 𝕒𝕡𝕡𝕣𝕖𝕔𝕚𝕒𝕥𝕖𝕕.

𝒮𝑒𝑒 𝓎𝑜𝓊 𝒾𝓃 𝓉𝒽𝑒 𝓃𝑒𝓍𝓉 . . .
---
---