Movie Review: Enola Holmes 2 || You Can't Handle The Sleuth [ENG-ESP]

---
I'd always heard about Sherlock Holmes and how he's a master of deduction, but I'd never looked into the character or the film based on him. I just never cared much about him. But then, the narrative changed when I stumbled through the three interestingly engaging seasons available with a friend.
I guess there's this thing about digging out truths (or facts), especially in places one would never think to find them; it often is such an exhilarating experience for me. The intrigue and thrills are what I often long for.
The Holmes family—Sherlock, Mycroft, and Enola—are known to have brains far more intelligent than average minds, allowing them to be excellent with deductions—the ability to infer from facts obtained.
In the Sherlock series, we find Sherlock to be the last child, Mycroft to be the first, and Enola to be in-between them, with the film centering on Sherlock and his witty adventures.
Being that the Holmes family drew some attention, it made sense to make a film centered on the Holmes family still, but on a different character, Enola. And what we find here are drastic differences between the Enola in the Sherlock series and the one in this spin-off, which was necessary—we'll get there soon enough.
The sequel to Enola Holmes is finally released, and after two years of anticipation, we have a continuation to the film that once ennobled the Sherlock Holmes type of story—deduction, puzzles, and mysteries.

𝔸𝔹𝕆𝕌𝕋 𝕋ℍ𝔼 𝕄𝕆𝕍𝕀𝔼
Since the previous adventures, in which Enola found herself searching for and rescuing Lord Tewkesbury, everything has been well and settled. Tewkesbury has now taken his place in politics and is now actively participating in it, more like an activist. Enola Holmes, on the other hand, now takes her detective work further and opens a business.
Enola, however, finds it difficult to get her next case as many underestimate her. She is young in age and also a lady. And in her field, her brother, Sherlock, sits high at the top, and every person would rather seek his service than that of his puny-looking sister.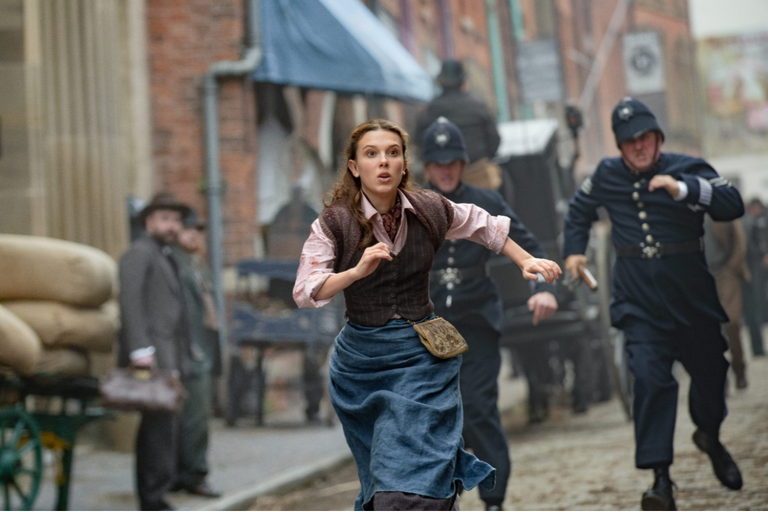 At the very last minute, as she is closing up her business, she gets her first case. A girl has been missing for months, and her disappearance seems to concern the police department, but not for the reason we'd expect.
Sarah Chapman, apparently, seems to have stolen confidential information from the match factory where she worked and has been accused of blackmailing the same factory. The information, however, may as well be connected to the typhus plaguing the young ladies in the community.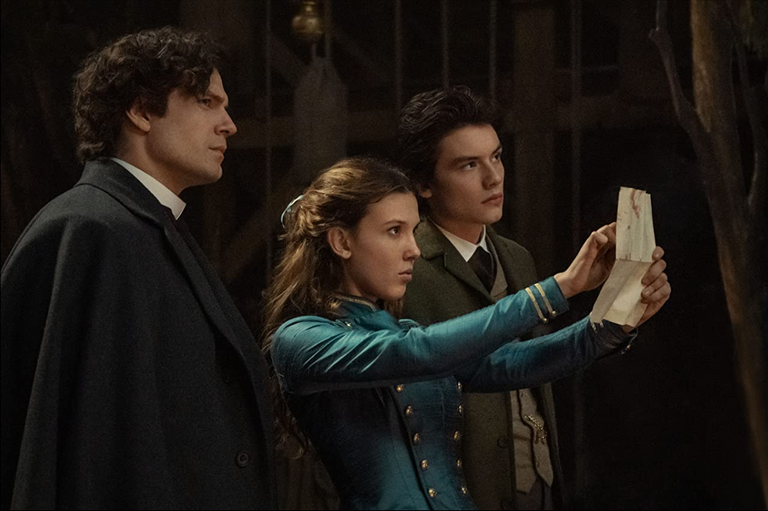 Sherlock, on the other hand, is on a case that involves the mysterious flow of money between banks tied to an anonymous money launderer. In some manner, Sarah Chapman may be the answer to this mind-boggling case of Sherlock's.
In the middle of trying to unravel the shenanigans, Enola struggles with confronting her affections for Lord Tewkesbury that she has always had from when they first met.

𝕄𝕐 𝕋ℍ𝕆𝕌𝔾ℍ𝕋𝕊 & 𝕆ℙ𝕀ℕ𝕀𝕆ℕ
I had actually forgotten that there was going to be a sequel to the first film. I guess that's what happens when sequels take so long—you just move on with life. But when I logged on to the streaming service, Netflix, and saw it waiting for me to click "play," I didn't even hesitate one bit to download it first.
I was pumped to see another intriguing story of mystries, riddles, and seemingly dissonant yet intricately linked events all come together once again to deliver thrills and keep me on edge with its development.
The first film had been successful, despite the high standards that the Sherlock Holmes series had set, and so I didn't have any doubt that its sequel would be great, maybe even better.

Enola Holmes, of course, presents deductions that are not practical in reality but somehow seem rational enough to keep the story entertaining and intriguing. However, unlike the first part, where the story was centered more on Enola and her beginnings, the story stretches out its branches into the life of Sherlock, along with introducing new characters.
---
sᴛᴏʀʏʟɪɴᴇ
---
Firstly, it should be established that this film has a runtime of about 129 minutes (2 Hrs +), just like the first one which is about 123 minutes. This gives it a whole lot of room to sufficiently develop the story.
With the film beginning with short recap on what had happened before now, considering how spaced they are in time, and then develops rather slowly till we, you know, begin to get the whole idea. I found this a little over-stretched as with time, I began to feel a loss of the grasp on where exactly it was we were headed.
Of course, it's a deduction-themed film and may as well take time to have all the pieces put together, and I did not forget that. But to an average viewer, or shall I say viewers that are not so given to inferencing, mystery solving, and the like, they may very well excuse themselves too early.
This is not to say that there were mundane elements in the film. As a matter of fact, there were a lot of engaging aspects, which we're getting into, but the sense of direction of the film seemed rather a little vague, unlike the first film.
However, it all is worth the wait in the end. From about half-way into the film, things began to add up nicely and it was at that point that I began feel on edge. Worth the wait indeed as the film, or the story of Enola, was unlike what one would have expected in comparism with the Enola we had in the Sherlock. There are more interesting intricacies to this personality of the character of Enola Holmes.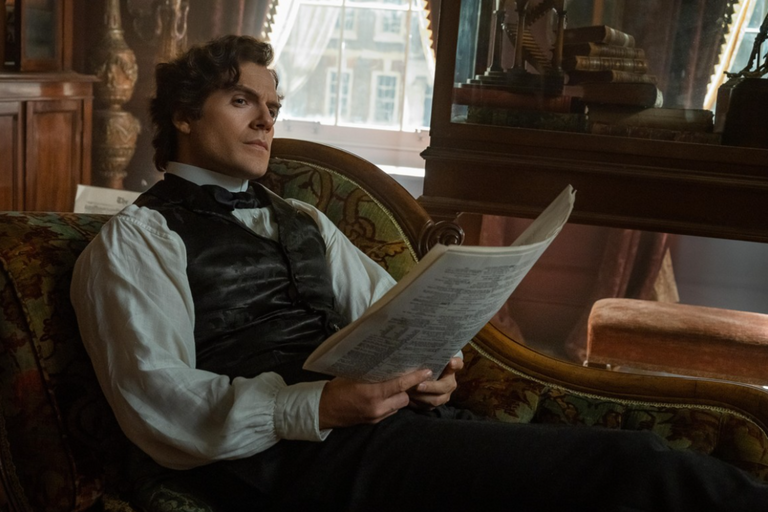 Another matter of concern for me is that the Sherlock we see here, played by Henry Cavill, is in no way like what we have in the Sherlock series. Unlike the eccentric and spontaneous personalities we had before, we have a more collected kind. The sense of humor somehow remains, however. This is most likely done because there can only be one spontaneous Holmes to focus attention on the actual protagonist, in this case Enola.
We'd often find an actor soliloquizing—when we'd hear their thoughts out loud. Many of them gave more details to the story as they were giving different perspectives on the story from certain characters, mostly the protagonist, Enola. They were frequently amusing to watch.
Some similarities were drawn from the Sherlock series, which was really nice to see, but it was the portrayal of those similarities in a manner that was new and somewhat different that I found brilliant.
And also, action was not far from this film, as it was duly served and constructed intelligently.
---
ᴄɪɴᴇᴍᴀᴛᴏɢʀᴀᴘʜʏ & ᴍᴜsɪᴄ
---
There is a concept in this film that isn't new, but it makes the film very engaging. You see, in this film, as well as the prequel, Enola Holmes tells some of the stories to the audience. It makes, in some way, the viewer feel carried along—at least, that's how I felt. In these types of scenes, we often see the camera come up so close to the protagonist, providing more avenues for involvement with the actor's expressions.
When the actor is soliloquizing, we often see a visual representation of their thoughts. Some of them could be moving sketches, which I found appealing to see. Others could be objects moving, mimicking the characters' imaginations. These made the sillioquies quite enjoyable.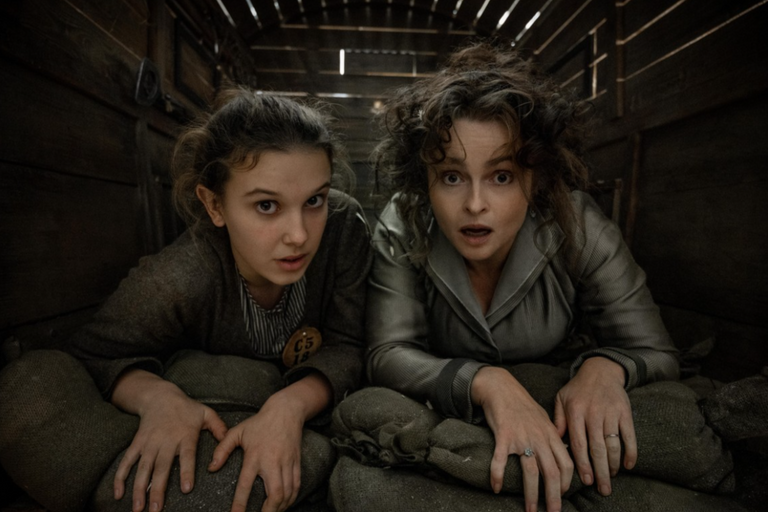 Another aspect of interest for me is the music. I couldn't help but notice how perfectly timed the pieces (songs) were throughout the majority, if not all, of the film. And they not only came promptly, but they were also brilliantly selected.
I especially loved the scene when Enola and two much older women were fighting the police in the woods. Here they played the Hallelujah From Messiah song. It was impressive to hear that such a song was chosen. It made the fight much more entertaining to watch.
---
ᴀᴄᴛɪɴɢ
---
Millie Bobby Brown (Enola) is a young actress, and yet she manages to sweep her audience away with her performances. I personally have found her to be one of the most exceptional rising stars in the film industry.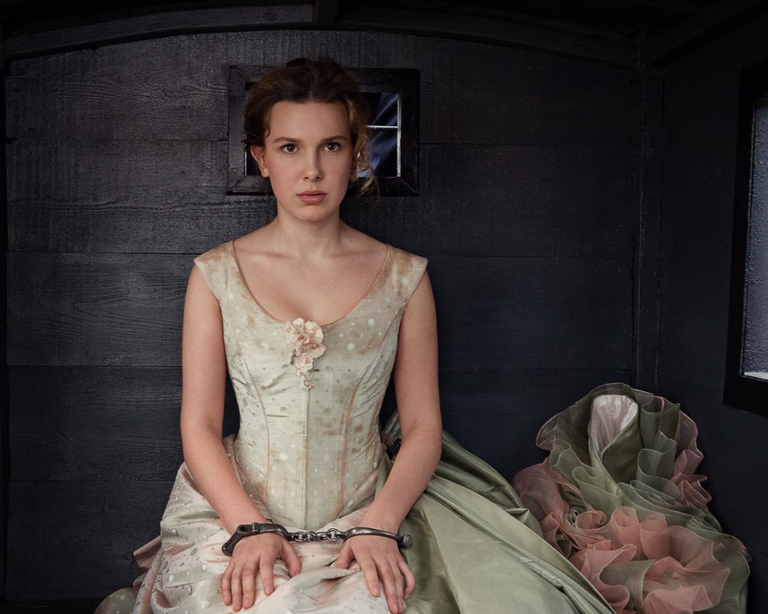 I have seen her play a certain lead role in Stranger Things where she does such an impeccable job with her parts. Her role in Stranger Things is in so much contrast to the one here as Enola Holmes; a rather eccentric and more verbal one as Enola. Find my review of Stranger things here.
In Enola Holmes, she is the flame that torches us down the tunnel from which the story of Holmes flows, as depicted by the filmmakers. Her charismatic energy in her performances did a lot to make the film engrossing for me.
A few things that I found golden in this film are her expressions (mostly facial), reactions to certain events, and also her delivery of humor in her dialogue.
It's amazing to see how much she is able to do, even with the fact that she is still pretty young. It makes me want to always look forward to what she'd do in the future.

𝕄𝕐 𝔽𝕀ℕ𝔸𝕃 𝕋ℍ𝕆𝕌𝔾ℍ𝕋𝕊...
Enola Holmes 2 is the kind of film that I could choose to go back to watch again, which I never really do, to enjoy the brialliancy poured into it. It encapsulates a lot of intricacies to deductive thinking, although some of them are unreal and just for entertaining purposes, which fits into to the types of films that can help one escape from reality a bit.
Although this is a Netflix film, it was refreshing to see that the social discrepancies that they often try to imbibe for the purpose of appealing to the world, dismissing the essence of quality filmmaking were not construed in this film. It is a film that could be seen by just any age and they'd find it enjoyable.
It is a film that I could recommend to anyone at any time and place.
I will give it a rating of 𝟠/𝟙𝟘.
---

SPANISH
---
Siempre había oído hablar de Sherlock Holmes y de que es un maestro de la deducción, pero nunca me había fijado en el personaje ni en la película basada en él. Nunca me había interesado mucho por él. Pero entonces, la narrativa cambió cuando me tropecé con las tres interesantes temporadas disponibles con un amigo.
Supongo que existe esa cosa de desenterrar verdades (o hechos), especialmente en lugares donde uno nunca pensaría encontrarlas; a menudo es una experiencia tan estimulante para mí. La intriga y la emoción son lo que a menudo anhelo.
Se sabe que la familia Holmes -Sherlock, Mycroft y Enola- tiene un cerebro mucho más inteligente que las mentes promedio, lo que les permite ser excelentes con las deducciones -la capacidad de inferir a partir de los hechos obtenidos-.
En la serie de Sherlock, encontramos que Sherlock es el último hijo, Mycroft el primero y Enola se encuentra entre ellos, centrándose la película en Sherlock y sus ingeniosas aventuras.
Dado que la familia Holmes llamó la atención, tenía sentido hacer una película centrada en la familia Holmes todavía, pero en un personaje diferente, Enola. Y lo que encontramos aquí son diferencias drásticas entre la Enola de la serie de Sherlock y la de este spin-off, lo cual era necesario, ya lo veremos.
La secuela de Enola Holmes se estrena por fin, y tras dos años de expectación, tenemos una continuación de la película que en su día ennobleció el tipo de historia de Sherlock Holmes -deducción, puzles y misterios.

𝕊𝕆𝔹ℝ𝔼 𝕃𝔸 ℙ𝔼𝕃𝕀́ℂ𝕌𝕃𝔸
Desde las aventuras anteriores, en las que Enola se encontró buscando y rescatando a Lord Tewkesbury, todo ha ido bien y se ha asentado. Tewkesbury ha tomado su lugar en la política y ahora participa activamente en ella, más como un activista. Enola Holmes, por su parte, lleva ahora su trabajo de detective más allá y abre un negocio.
Sin embargo, a Enola le resulta difícil conseguir su próximo caso, ya que muchos la subestiman. Es joven y además es una dama. Y en su campo, su hermano, Sherlock, se encuentra en la cima, y toda persona prefiere buscar su servicio que el de su hermana de aspecto insignificante.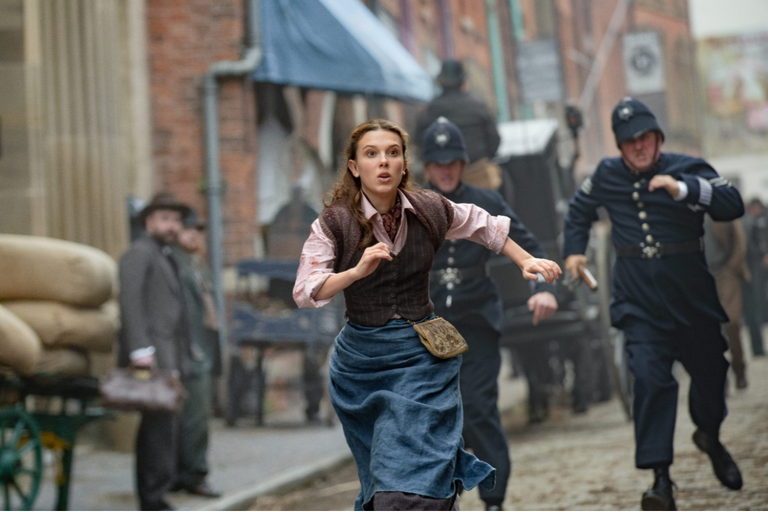 En el último momento, cuando está cerrando su negocio, le llega su primer caso. Una chica lleva meses desaparecida y su desaparición parece preocupar al departamento de policía, pero no por el motivo que cabría esperar.
Al parecer, Sarah Chapman ha robado información confidencial de la fábrica de cerillas donde trabajaba y ha sido acusada de chantajear a la misma fábrica. La información, sin embargo, podría estar relacionada con el tifus que azota a las jóvenes de la comunidad.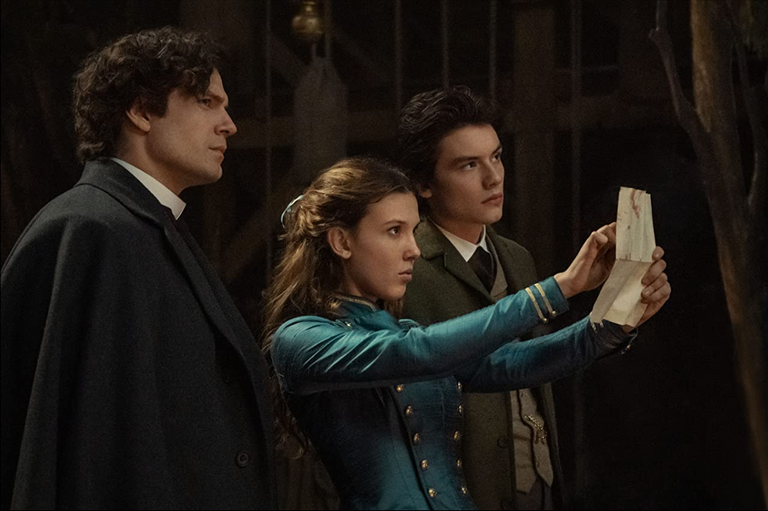 Sherlock, por su parte, está en un caso que implica el misterioso flujo de dinero entre bancos vinculados a un blanqueador de dinero anónimo. En cierto modo, Sarah Chapman puede ser la respuesta a este alucinante caso de Sherlock.
En medio de los intentos por desentrañar los tejemanejes, Enola lucha por enfrentarse a su afecto por Lord Tewkesbury que siempre ha tenido desde que se conocieron.

𝕄𝕐 𝕋ℍ𝕆𝕌𝔾ℍ𝕋𝕊 & 𝕆ℙ𝕀ℕ𝕀𝕆ℕ
De hecho, había olvidado que iba a haber una secuela de la primera película. Supongo que eso es lo que pasa cuando las secuelas tardan tanto en llegar: sigues adelante con tu vida. Pero cuando me conecté al servicio de streaming, Netflix, y la vi esperando que le diera al "play", no dudé ni un poco en descargarla primero.
Estaba entusiasmado por ver otra intrigante historia de misterios, enigmas y acontecimientos aparentemente disonantes pero intrincadamente relacionados, que se unen una vez más para ofrecer emociones y mantenerme en vilo con su desarrollo.
La primera película había tenido éxito, a pesar del alto nivel de exigencia que la serie de Sherlock Holmes había establecido, por lo que no tenía ninguna duda de que su secuela sería estupenda, quizá incluso mejor.

Enola Holmes, por supuesto, presenta deducciones que no son prácticas en la realidad, pero que de alguna manera parecen lo suficientemente racionales como para mantener la historia entretenida e intrigante. Sin embargo, a diferencia de la primera parte, en la que la historia se centraba más en Enola y sus inicios, la historia extiende sus ramas hacia la vida de Sherlock, además de introducir nuevos personajes.
---
ʜɪsᴛᴏʀɪᴀ
---
En primer lugar, hay que establecer que esta película tiene una duración de unos 129 minutos (2 Hrs +), al igual que la primera que es de unos 123 minutos. Esto le da mucho margen para desarrollar suficientemente la historia.
La película comienza con una breve recapitulación de lo que ha sucedido hasta ahora, teniendo en cuenta lo espaciados que están en el tiempo, y luego se desarrolla con bastante lentitud hasta que, ya sabes, empezamos a entender la idea completa. Encontré esto un poco exagerado, ya que con el tiempo, empecé a sentir una pérdida de la comprensión de hacia dónde nos dirigíamos exactamente.
Por supuesto, es una película de temática de deducción y bien puede llevar tiempo tener todas las piezas encajadas, y eso no lo olvidé. Pero para un espectador medio, o digamos que no es tan dado a la deducción, a la resolución de misterios y demás, es muy posible que se excuse demasiado pronto.
Esto no quiere decir que haya elementos mundanos en la película. De hecho, había muchos aspectos atractivos, en los que vamos a entrar, pero el sentido de la dirección de la película parecía un poco vago, a diferencia de la primera película.
Sin embargo, al final la espera merece la pena. A partir de la mitad de la película, las cosas empezaron a encajar bien y fue entonces cuando empecé a sentirme en tensión. La espera ha merecido la pena, ya que la película, o la historia de Enola, no es lo que cabría esperar en comparación con la Enola de Sherlock. La personalidad del personaje de Enola Holmes presenta más complejidades interesantes.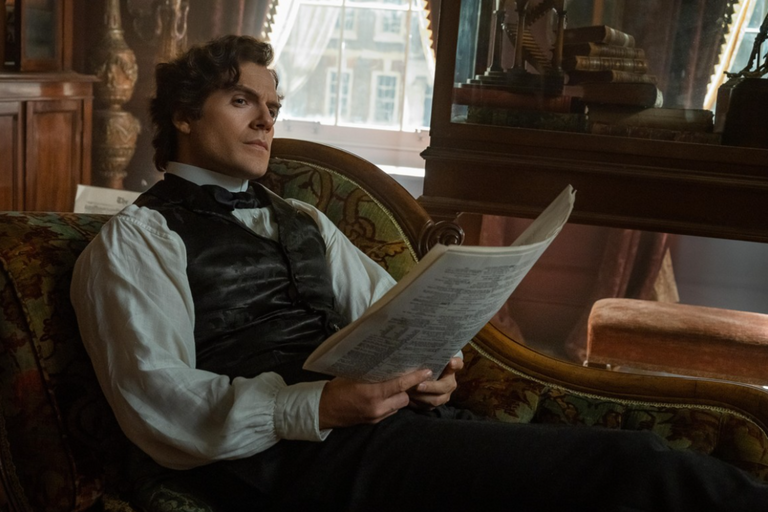 Otra cuestión que me preocupa es que el Sherlock que vemos aquí, interpretado por Henry Cavill, no se parece en nada al que tenemos en la serie Sherlock. A diferencia de las personalidades excéntricas y espontáneas que teníamos antes, tenemos un tipo más recogido. Sin embargo, el sentido del humor se mantiene de alguna manera. Lo más probable es que esto se haga porque sólo puede haber un Holmes espontáneo para centrar la atención en el protagonista real, en este caso Enola.
A menudo encontramos a un actor soliloquizando, cuando escuchamos sus pensamientos en voz alta. Muchos de ellos aportaban más detalles a la historia, ya que daban diferentes perspectivas de la historia de ciertos personajes, sobre todo de la protagonista, Enola. A menudo resultaba divertido verlos.
Se han extraído algunas similitudes de la serie Sherlock, lo cual fue muy agradable de ver, pero fue la representación de esas similitudes de una manera nueva y algo diferente lo que me pareció brillante.
Y además, la acción no estaba lejos de esta película, ya que estaba debidamente servida y construida de forma inteligente.
---
ᴄɪɴᴇᴍᴀᴛᴏɢʀᴀғɪ́ᴀ ʏ ᴍᴜ́sɪᴄᴀ
---
Hay un concepto en esta película que no es nuevo, pero que hace que la película sea muy atractiva. En esta película, así como en la precuela, Enola Holmes cuenta algunas de las historias al público. Esto hace que, en cierto modo, el espectador se sienta arrastrado; al menos, así me sentí yo. En este tipo de escenas, a menudo vemos que la cámara se acerca mucho al protagonista, lo que proporciona más vías de implicación con las expresiones del actor.
Cuando el actor está soliloquio, a menudo vemos una representación visual de sus pensamientos. Algunos de ellos podrían ser bocetos en movimiento, lo que me resultaba atractivo de ver. Otros podían ser objetos en movimiento, imitando la imaginación de los personajes. Esto hacía que los sillioquios fueran bastante agradables.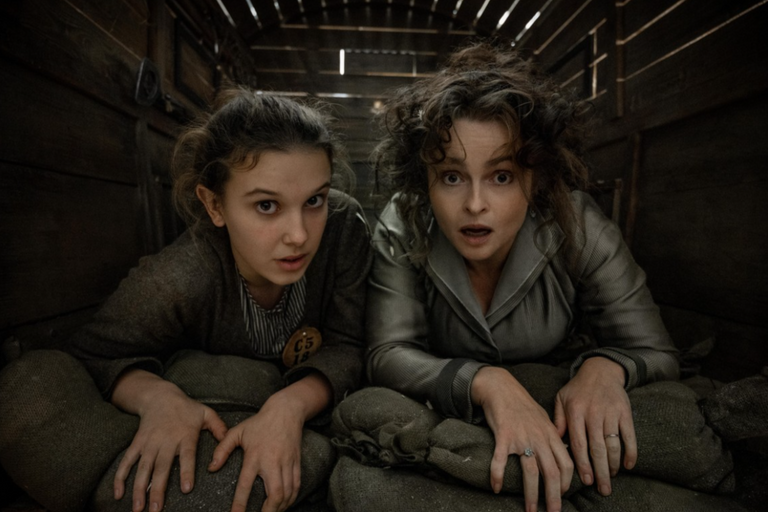 Otro aspecto de interés para mí es la música. No pude evitar notar lo perfectamente sincronizadas que estaban las piezas (canciones) a lo largo de la mayor parte, si no de toda la película. Y no sólo llegaban puntualmente, sino que estaban brillantemente seleccionadas.
Me encantó especialmente la escena en la que Enola y dos mujeres mucho más mayores luchaban contra la policía en el bosque. Aquí tocaron la canción Hallelujah From Messiah. Fue impresionante la elección de esa canción. Hizo que la pelea fuera mucho más entretenida de ver.
---
ᴀᴄᴛᴜᴀᴄɪᴏ́ɴ
---
Millie Bobby Brown (Enola) es una actriz joven y, sin embargo, se las arregla para arrastrar al público con sus interpretaciones. Personalmente, me parece una de las estrellas emergentes más excepcionales de la industria cinematográfica.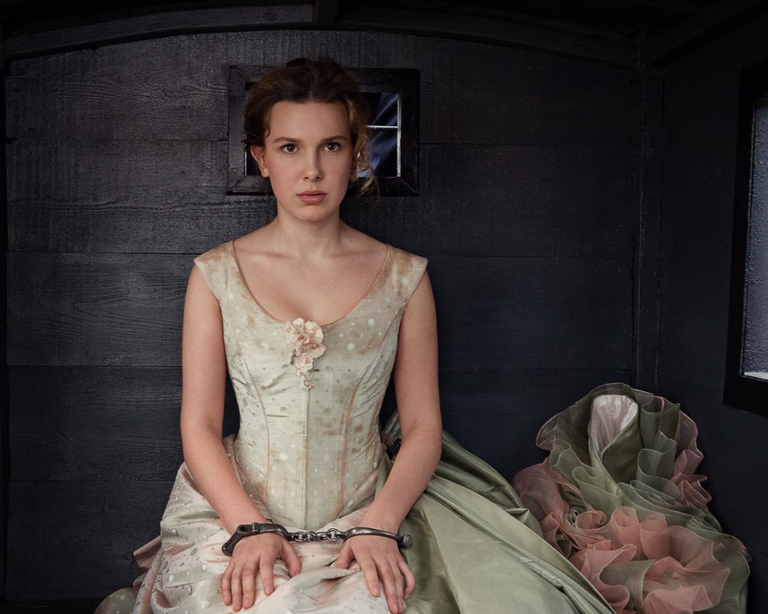 La he visto interpretar un papel principal en Stranger Things donde hace un trabajo tan impecable con sus partes. Su papel en Stranger Things contrasta mucho con el que hace aquí como Enola Holmes; uno bastante excéntrico y más verbal. Encuentra mi crítica de Stranger things aquí.
En Enola Holmes, ella es la llama que nos hace descender por el túnel del que brota la historia de Holmes, tal y como la describen los cineastas. Su energía carismática en sus interpretaciones contribuyó en gran medida a que la película fuera absorbente para mí.
Algunas cosas que me parecieron de oro en esta película son sus expresiones (sobre todo faciales), sus reacciones ante ciertos acontecimientos y también su entrega de humor en sus diálogos.
Es asombroso ver todo lo que es capaz de hacer, a pesar de ser todavía muy joven. Me hace desear siempre lo que hará en el futuro.

𝕄𝕀𝕊 ℙ𝔼ℕ𝕊𝔸𝕄𝕀𝔼ℕ𝕋𝕆𝕊 𝔽𝕀ℕ𝔸𝕃𝔼𝕊...
Enola Holmes 2 es el tipo de película que podría elegir para volver a ver, cosa que nunca hago, para disfrutar del brialismo vertido en ella. Encierra muchos entresijos del pensamiento deductivo, aunque algunos de ellos son irreales y sólo con fines de entretenimiento, lo que encaja en el tipo de películas que pueden ayudar a escapar un poco de la realidad.
Aunque se trata de una película de Netflix, fue refrescante ver que las discrepancias sociales que a menudo tratan de imbuir con el fin de apelar al mundo, desestimando la esencia del cine de calidad no fueron interpretadas en esta película. Es una película que podría ser vista por cualquier edad y la encontrarían agradable.
Es una película que podría recomendar a cualquier persona en cualquier momento y lugar.
Le daré una calificación de 𝟠/𝟙𝟘.
---
---
Interested in more of my reviews? There's a truck-load, but here are a few.
:)
---
---
ɪ ɪɴᴠɪᴛᴇ ʏᴏᴜ ᴛᴏ ᴊᴏɪɴ ᴛʜᴇ ᴄᴏᴍᴍᴜɴɪᴛʏ ɪғ ʏᴏᴜ ᴡᴏᴜʟᴅ ʟɪᴋᴇ ᴛᴏ sᴇᴇ ᴍᴏʀᴇ ғɪʟᴍ ʀᴇᴠɪᴇᴡs ʙʏ ᴀᴡᴇsᴏᴍᴇ ᴀᴜᴛʜᴏʀs.
---

ℍ𝕖𝕪, 𝕚𝕗 𝕪𝕠𝕦 𝕖𝕟𝕛𝕠𝕪𝕖𝕕 𝕥𝕙𝕚𝕤 𝕡𝕠𝕤𝕥, 𝕜𝕚𝕟𝕕𝕝𝕪 𝕝𝕖𝕒𝕧𝕖 𝕒 𝕔𝕠𝕞𝕞𝕖𝕟𝕥, 𝕣𝕖𝕓𝕝𝕠𝕘, 𝕠𝕣 𝕦𝕡𝕧𝕠𝕥𝕖. 𝕀𝕥'𝕝𝕝 𝕤𝕦𝕣𝕖 𝕓𝕖 𝕒𝕡𝕡𝕣𝕖𝕔𝕚𝕒𝕥𝕖𝕕.

𝒮𝑒𝑒 𝓎𝑜𝓊 𝒾𝓃 𝓉𝒽𝑒 𝓃𝑒𝓍𝓉 . . .
---
---