New Year, New Health || Prioritizing Wellbeing And Setting Goals

"It's the most wonderful time of the year." Why? Well, it's not just because it is the holiday season, but because it is that time when most of us grab our journals and begin to put together our plans, aspirations, and ambitions for the new year.
---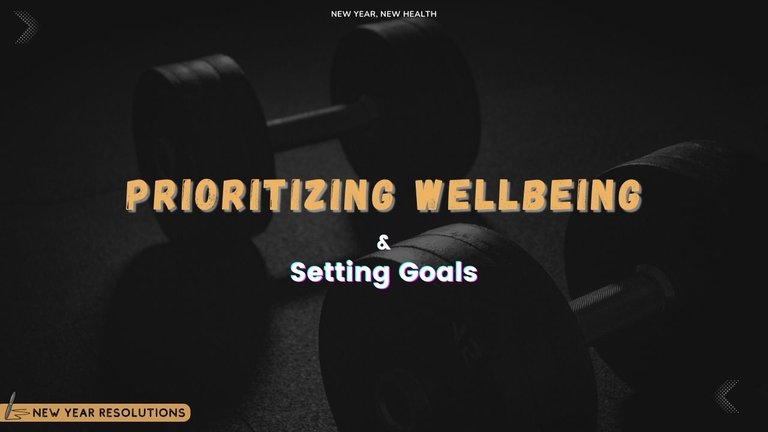 ---
In other words, I am making a list and checking it twice on how I'd like to be a much better version of myself in this new year. But rather than the whole conglomerate of plans and goals here, I'll be focusing on my goals for my health this year, thanks to the MED-Hive Community and their prompt.
I have very short and simple goals this year, and I am making them mainly because of "performance and efficiency." This is because how much I can get from this body and mind of mine without breaking is very crucial for me. And just like machines, maintenance and proper care are important and should be imperative for anyone looking to always have 100% on the table. And "sleep" is at the top of the list.

Sleep deprivation is probably my number one issue when it comes to my health. I don't take sleeping adequately very seriously in my life. I've always been that way, since I was a child. Heck, I used to consider sleeping a total waste of time. I often wondered as a kid how one could be completely inactive for hours when there were many things to do. All I ever did then was just watch cartoons all day, actually.

Now, I have heard a lot of good things about sleeping well and how efficient it could make one's day-to-day activities. I have even tried it once, sleeping adequately, I mean, and I did feel that boost in my performance.
The question, however, is how many hours of sleep can be defined as "adequate sleep?" Well, I have read that this varies from person to person, but I am sticking with a culminative of eight every day. That could be about seven at night and maybe a 1-hour nap during the day. It may not always be regular, but the goal is to sleep better this year.
---
Anything that makes me dispel the feeling of hunger is a "go" for me. It could be a chocolate bar, some sausage rolls, a bottle of soda, or some quick food in the kitchen. I could just get anything to eat to get rid of the hunger.
I know, I know, that is the definition of unhealthy eating. And I know that, but I just never seem to do much about it because I get caught up in a lot of other things that steal my attention. It's not like I am dexterous in the kitchen. I actually am not...XD
This year, I am looking into being intentional about how I eat. I'd like to be deliberate about more health options. I'd like to eat a lot of fruits and vegetables this year and go for healthier diet options.

I actually do love fruits, so much so that I could live on them. I've actually lived on fruits for a whole week before. It was an expensive experience. Why? Well, fruits are not so cheap around here, and I needed to eat so much of them to actually feel satisfied at each moment. Imagine an apple being the same price as one liter of petrol. That's crazy. Anyway, my favorites are bananas and apples. Oh, and I love plantains too.
If you love me, bring some bananas whenever you want to send a care package. I would love you even more.
But I digress...
---
In 2021, I started visiting a gym because I was in a new environment and I didn't want to be stuck at home all day. But what it eventually turned out to be was a really healthy experience. It was just for about six months, but it was awesome.
I got to do a lot of weight lifting and body exercises, and all that got me into really good shape, and best of all, I slept much better during that time. I felt much healthier that time. Unfortunately, I had to return to where I was before then.

I re-entered a nearby gym and continued with my programs for another couple of weeks, but somewhere along the way, I stopped and never returned.
I'd like to do that again in this new year. But I guess I'd have to graduate first, as I have my final exams in January. So instead, I am just going to stick with my morning jogs; that's another thing I did a lot of at some point this year.

Like I said, my resolutions are pretty simple for this new year. It most assuredly goes deeper than what you see here. There is a more defined approach, but getting into the details may just overextend. What I'll do instead is frequently share my progress as the year goes by. I guess I'd be more active in this community that way. Let's see how it goes.
---
All images were gotten from "Photos Pro" on Canva
---
ℍ𝕖𝕪, 𝕚𝕗 𝕪𝕠𝕦 𝕖𝕟𝕛𝕠𝕪𝕖𝕕 𝕥𝕙𝕚𝕤 𝕡𝕠𝕤𝕥, 𝕜𝕚𝕟𝕕𝕝𝕪 𝕝𝕖𝕒𝕧𝕖 𝕒 𝕔𝕠𝕞𝕞𝕖𝕟𝕥, 𝕣𝕖𝕓𝕝𝕠𝕘, 𝕠𝕣 𝕦𝕡𝕧𝕠𝕥𝕖. 𝕀𝕥'𝕝𝕝 𝕤𝕦𝕣𝕖 𝕓𝕖 𝕒𝕡𝕡𝕣𝕖𝕔𝕚𝕒𝕥𝕖𝕕.
𝒮𝑒𝑒 𝓎𝑜𝓊 𝒾𝓃 𝓉𝒽𝑒 𝓃𝑒𝓍𝓉 . . .
---
---