SERIES REVIEW: The Bastard Son & The Devil Himself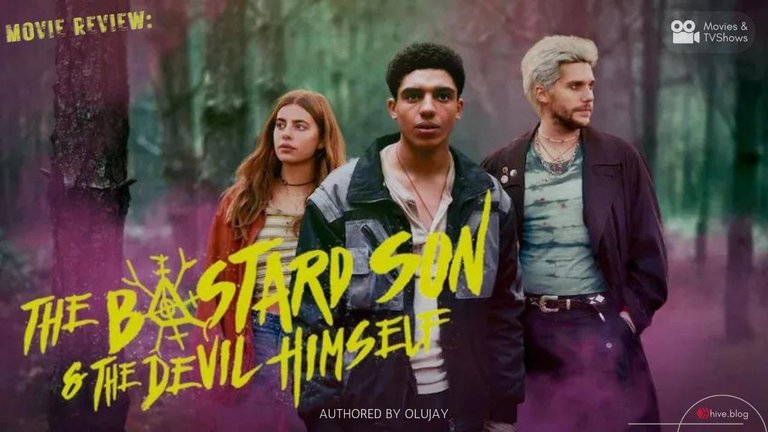 ---
The film industry will never be without witches, wizards, vampires, werewolves, elves, magic, and all that stuff. Why? Well, I believe it's because they have interesting concepts that explore creative imaginations; interesting concepts that take the audience on a ride of fantasy and escapism.
The Bastard Son & The Devil Himself is a series that was just released last week. I bumped into it when was, you know, looking to Netfilx & Chill. It's Halloween, so I guess it popped up as I had been looking for more halloween films to try lately since its #spookymonth.
To be honest, I only checked it out because I was drawn by its title; it somehow piqued my interest immediately. And when I started the firest episode, what I found was something quite unconventional for a fantasy story. I never saw the trailer, so I didn't think it was going to be a show about magic dusts, superhuman powers and all that.
The title and the description was enough to draw me closer to take a look, but what okept me binge-watching is another story entirely.

𝔸𝔹𝕆𝕌𝕋 𝕋ℍ𝔼 𝕊𝔼ℝ𝕀𝔼𝕊
Nathan, a 16-year-old who is the illegitimate son of the world's most dangerous blood witch, finds himself leading a challenging life because he lives in the shadow of his father. Although he had never met his father, he was constantly reminded of "the bad things" his father had done, and everyone feared him as he is known to be the "Most Dangerous Blood Witch."
The Fairborn council kept an eye on Nathan over the years out of concern that he would end up like his father. However, Nathan seizes the chance to flee when a fight breaks out between the Blood witches and the Fairborn witches.
As he made his escape, he joins with friends and, while learning vague aspects of himself, he tries to keep his head and as well choose a side to fight with as he is a son of both worlds.

𝕄𝕐 𝕋ℍ𝕆𝕌𝔾ℍ𝕋𝕊 & 𝕆ℙ𝕀ℕ𝕀𝕆ℕ
There are not many people that actually fancy films or ideologies relating to beliefs in the supernatural or even the mention of the phrase "the devil." But, like fantasy drama films, they cannot be taken seriously. They are merely just fantasies, but allow for the good expansion of stories with interesting progression throughout, owing to concepts like magic.

The Bastard Son & The Devil Himself centers around a boy who would have lived a normal life and most of what it should have been like, but had all that taken from him the moment he was born, simply because his father is considered "The Most Dangerous Blood Witch." What we now have is a story told from the perspective of a boy trying to find himself in the middle of the noise.
The film does well to depict humans and our natural tendency to act on our emotions. And if not properly evaluated, our emotions often cloud our judgement and then explode into undesired situations, which could lead to conflicts and long-term bitterness between people.
Although we are eventually introduced to some contentious societal subjects, the film does an excellent job of holding its own with an addictive storyline.
---
sᴛᴏʀʏʟɪɴᴇ
---
The film begins with a premise, giving a little story about how everything began. This was extremely necessary and must have been done in order to form an idea of what was to come. There were, however, some diversions in the film's story, but they somehow added up to make the film all the more intriguing.
Despite the fact that this film is about magic, witches, and transfigurations and the like, I did not feel as though I had had all that thrown at my face in the name of entertainment. There was more attention given to the scripts and the dialogues than to the whole dramatic entertainment with superpowers and action .
As a matter of fact, I did not identify most of the characters with their powers, but rather with their personalities and attributes with respect to the story. There was intricate development of the story's characters, giving better perspective to the storyline with the story being told with respect to certain characters.
---
ᴄɪɴᴇᴍᴀᴛᴏɢʀᴀᴘʜʏ
---
If a film about powers and witches is going to be made, high standards have to be met in the filmmaking. This is the aspect of the film that visually represents the film. And the cinematography of this film is something to really commend.
It crosses across the CGI effects, the camera angles, the lighting, the color grading, and the props used. I love the fact that the CGI for the superpowers was just okay and not excessively done.
Oh, might I mention that there are so many gory scenes in this film? A little spoiler would be that there are scenes that may be too graphic for many of its viewers. But then again, it's not like it always happens.
---
ᴀᴄᴛɪɴɢ
---
I will not say that I love the entire acting performance because I actually don't. I didn't enjoy some of the extras. But I guess that doesn't matter much since the main characters did really well. There may have been some excesses, but that's all okay still.
I was particularly impressed by the lead actor, Jay Lycurgo (Nathan Byrn). His performance as his character was practically the soul of this film for me. I was impressed by his charisma for the role.
Again, the main characters did great with their roles, otherwise the whole film may as well have been a flop with them being unable to adequately represent the characters and tell the stories as they should have with their performances.

𝕄𝕐 𝔽𝕀ℕ𝔸𝕃 𝕋ℍ𝕆𝕌𝔾ℍ𝕋𝕊...
The one thing I did not really like about the film was the way it ended. I had high hopes of seeing something revealed in the end, but I did not get that. It's fine, actually. It was obvious that there was going to be a sequel to the series from the way it ended.
Netflix is known to make really disappointing shows, especially these times. But this one is one that I can say that is really impressive really appealing. I do hope that's the new standard their working towards.
It didn't take long to finish the series because I found it addictive and entertaining. So yeah, if there's going to be a sequel, I'm totally down for that.
I will give it a rating of 𝟠/𝟙𝟘.
---
Interested in more of my reviews? There's a truck-load, but here are a few.
:)
---
---
/////////////////////////////////////////////////////////////

ᴏᴛʜᴇʀ ɪᴍᴀɢᴇs ɴᴏᴛ sᴏᴜʀᴄᴇᴅ ᴀʀᴇ sᴄʀᴇᴇɴsʜᴏᴛs
---
ɪ ɪɴᴠɪᴛᴇ ʏᴏᴜ ᴛᴏ ᴊᴏɪɴ ᴛʜᴇ ᴄᴏᴍᴍᴜɴɪᴛʏ ɪғ ʏᴏᴜ ᴡᴏᴜʟᴅ ʟɪᴋᴇ ᴛᴏ sᴇᴇ ᴍᴏʀᴇ ғɪʟᴍ ʀᴇᴠɪᴇᴡs ʙʏ ᴀᴡᴇsᴏᴍᴇ ᴀᴜᴛʜᴏʀs.
---

ℍ𝕖𝕪, 𝕚𝕗 𝕪𝕠𝕦 𝕖𝕟𝕛𝕠𝕪𝕖𝕕 𝕥𝕙𝕚𝕤 𝕡𝕠𝕤𝕥, 𝕜𝕚𝕟𝕕𝕝𝕪 𝕝𝕖𝕒𝕧𝕖 𝕒 𝕔𝕠𝕞𝕞𝕖𝕟𝕥, 𝕣𝕖𝕓𝕝𝕠𝕘, 𝕠𝕣 𝕦𝕡𝕧𝕠𝕥𝕖. 𝕀𝕥'𝕝𝕝 𝕤𝕦𝕣𝕖 𝕓𝕖 𝕒𝕡𝕡𝕣𝕖𝕔𝕚𝕒𝕥𝕖𝕕.

𝒮𝑒𝑒 𝓎𝑜𝓊 𝒾𝓃 𝓉𝒽𝑒 𝓃𝑒𝓍𝓉 . . .
---
---