SHALLOW (Cover) By Sekani and Olujay || Hive Open Mic [WK-130]
---
This week's theme for Hive Open Mic is "Creativity & Freestyle." And for something spicy, the thought of a duet came up. I know it's not something new, but it's something creative to try. Today, we have with us our amazing artist, @sekani. And we bring to you, Shallow.
Shallow, from the movie A Star Is Born, is a song that inspires emotion. At first, the true meaning of the lyrics might not be explicit, but it can be deduced from the movie. It's a dialog between a man and a woman in love. The "accomplished" man asks if she doesn't want more, and the "contented" woman asks him what else he could be searching for. Together they explored stardom and love, but it all ended with the girl singing a song vowing never to fall in love again.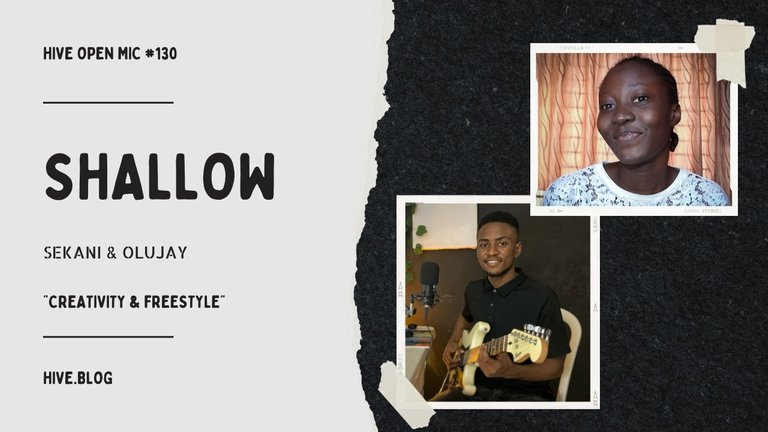 This duet had been planned way before the unveiling of the theme, "Creativity & Freestyle." It was initially meant to be for a previous theme, "Heartbreak." But things just did not work out as planned. And then we almost did not want to join in any theme for our duet as we had missed the first. But here we are...
Regardless of how challenging it was, making this duet was a lot of fun, educative, and enlightening. It really is not just about making some songs, or just a cover, but the experience that comes with doing things like this; working with people to create.
So, with a gentle note, I say to you, do enjoy the music.

ℍ𝕖𝕪, 𝕚𝕗 𝕪𝕠𝕦 𝕖𝕟𝕛𝕠𝕪𝕖𝕕 𝕥𝕙𝕚𝕤 𝕡𝕠𝕤𝕥, 𝕜𝕚𝕟𝕕𝕝𝕪 𝕝𝕖𝕒𝕧𝕖 𝕒 𝕔𝕠𝕞𝕞𝕖𝕟𝕥, 𝕣𝕖𝕓𝕝𝕠𝕘, 𝕠𝕣 𝕦𝕡𝕧𝕠𝕥𝕖. 𝕀𝕥'𝕝𝕝 𝕤𝕦𝕣𝕖 𝕓𝕖 𝕒𝕡𝕡𝕣𝕖𝕔𝕚𝕒𝕥𝕖𝕕.

T͜͡H͜͡A͜͡N͜͡K͜͡ ͜͡Y͜͡O͜͡U͜͡ ͜͡F͜͡O͜͡R͜͡ ͜͡S͜͡T͜͡O͜͡P͜͡P͜͡I͜͡N͜͡G͜͡ ͜͜͜͜͡͡͡͡B͜͡Y͜͡
---
▶️ 3Speak
---
---