Gluten and Gluten-Sensitive Enteropathy (Celiac Disease)
Celiac Disease is an autoimmune disease and is also known as Gluten-Sensitive Enteropathy (with "Entero" referring to the small intestine, and "Pathy" referring to the disease). Before we continue, let me quickly talk about Gluten because, to date, I still see a lot of Gluten free stamps or writing on packs of food items sold in the grocery store. What is Gluten? Gluten is composed of two proteins biologically known as Gliadin and Glutenin. Gluten is found in most of the grains eaten like Wheat, Barley, and Rye. There have been different papers on Gluten but first, let me talk about the negative effects of gluten. It is said to cause Celiac disease, which is the autoimmune disease we are talking about now. Another condition with gluten is having a gluten/grain allergy but this is very rare. Another condition that made the papers a lot is Gluten Intolerance where people who eat gluten-containing food experience bowel-related issues and symptoms such as Diarrhea, constipation, Bloating, and Cramping. Gluten Intolerance condition became a thing when a paper titled "[Gluten Causes gastrointestinal symptoms in subjects without celiac disease: a double-blind randomized placebo-controlled trial" was published in the American Journal of Gastroenterology (but I picked my reference from pubmed.ncbi.nlm.nih.gov) and the paper was attributing gut symptoms and tiredness to gluten but it changed again in 2013 when another paper was released by the same Peter R Gibson who published the first research then published another research which was a follow-up, and it was titled "No Effect of Gluten in Patients With Self-Reported Non-Celiac Gluten Sensitivity After Dietary Reduction of Fermentable Poorly Absorbed Short-Chain Carbohydrates." which showed that FODMAPs were responsible for these symptoms and not Gluten". So we cannot say that Gluten causes those symptoms but patients with Celiac Disease should completely avoid Gluten.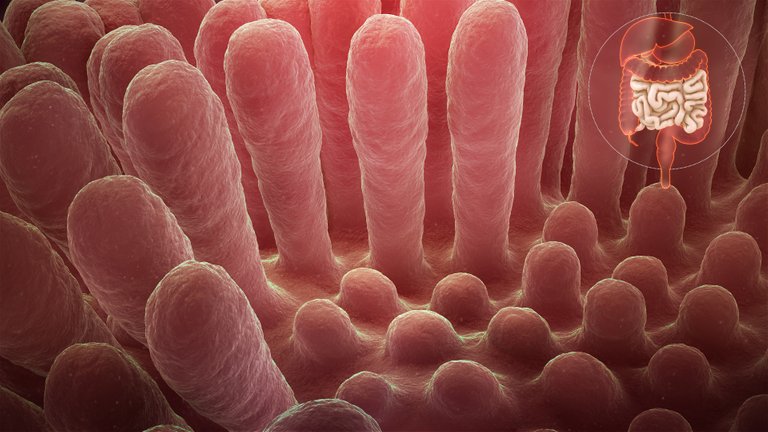 https://commons.wikimedia.org
Back to Celiac Disease. When Glutanin gets into the small intestine, the body begins to produce antibodies that fight against gliadin which then causes inflammation and damage to the wall of the small intestine. So when a person eats food containing gluten it goes to the intestine and an immune response is activated which damages the intestinal villi. The intestinal villi are important in absorbing nutrients. Celiac disease is genetic, running in people with a family history and it can happen in both adults and children. Patients with Celiac disease are advised to follow a gluten-free diet as there is no cure for celiac disease, allowing the intestinal villi to heal up, thereby increasing the absorption of nutrients into the body from the small intestine.
As I said, Gluten is made up of two proteins Glutenin and Gliadin. Gliadin is responsible for the immune response. Gliadin is a prolamin which is a plant storage protein high in Amino-acids. it is important to know that Amino acid gives the protein its structure and store nutrients. The body normally has specialized cells that break down protein into single amino acids but with Gluten in the body, the amino acid in Gliadin is not broken down properly. It is broken down into peptides which then pass through the gut cell, causing the immune system to read it as an invader into the body. This causes the production of antibodies that will attack the protein. In the process of attacking the protein, it attacks the villi of the small intestine as a result of the Gliadin reacting with the Tissue Transglutaminase Enzyme (TTE). The antibodies produced to attack Gliadin are Antibody IgA, Tissue transglutaminase, antibody TTG, and Endomysial antibodies (EMAs).
Patients with Celiac disease are unable to absorb nutrients since the fingerlike projections in the intestine known as the villi have been destroyed. This villus is surrounded by blood vessels and they have enterocytes which aid in absorption and digestion. Patients with Celiac disease will show certain signs and symptoms which would include mouth ulcer, anemia which would occur as a result of the body being unable to absorb the vitamins needed in creating RBC, lactose intolerance, Nausea and Vomiting, Osteo Changes, Slow Growth, Rashes (Dermatitis Herpetiformis), Irregular menstrual period, irritability, Greasy and Odourous Stool, Hair loss, Enamel changes showing brown or yellow spots or deformed enamel, and Diarrhea.
Diagnosis of Celiac will include a blood test to check for the antibodies produced to fight the Gliadin. These tests would include an IgA Serum test, Anti TTG or EMA to check for the antibodies. An Endoscopy can be done, and a Biopsy of the Villi can be done. Patients with Celiac disease are prone to other forms of autoimmune diseases such as autoimmune hepatitis, thyroid disease, type 1 diabetes, primary biliary cirrhosis, and primary sclerosis cholangitis. Patients with Celiac disease can also have complications such as Lymphoma, and they can have refractory celiac disease. The investigation should be carried out when the patient still has gluten content in their intestine or it might be impossible to detect the antibodies being activated to fight Gliadin. Treatment of Celiac disease is basically quitting Gluten food and following a lifelong Gluten-free diet.
Conclusion
Patients with Celiac disease that begin to eat gluten food after beginning treatment will experience a relapse. Celiac doesn't really have a cure gut rather patients just have to stop eating gluten food. Celiac disease can be genetic but that doesn't mean that people who do not have a family history of celiac disease can't get Celiac. Once the antibodies are released to tackle Gliadin, then patients have a high risk of Celiac disease.
---
---
Reference
https://pubmed.ncbi.nlm.nih.gov/23648697/
https://pubmed.ncbi.nlm.nih.gov/21224837/
https://celiac.org/about-celiac-disease/what-is-celiac-disease/
https://www.hopkinsmedicine.org/health/conditions-and-diseases/celiac-disease
https://www.ncbi.nlm.nih.gov/pmc/articles/PMC6647104/
https://www.ncbi.nlm.nih.gov/pmc/articles/PMC5437500/
https://www.jacionline.org/article/S0091-6749(15)00230-4/fulltext
---
---
---
---