Acción en Banco... Creatividad con Poder / Bank Action... Creativity with Power
---
Aja mi gente deportiva, todos activos para adentrarnos en esta nueva rutina que promete un mundo. Venimos con las pilas super cargadas, y si te hace falta ánimo aquí veras que lograrás todos tus propósitos. Por el ello, en esta oportunidad vamos a realizar movimientos en un banco plano ejecutando ejercicios para pecho, bíceps, tríceps y hombros; además que activaremos la región abdominal y el núcleo en su totalidad. Es válido mencionar que nuestra creatividad no tiene límites, y es que por hacerlos feliz a todos ustedes es que hacemos lo que hacemos. En tal sentido, nuestro banco fue armado con cajas de cervezas y sobre ellas una manta; para el soporte de la barra se utilizó el esqueleto de una mesa; la barra fue confeccionada con desechos de vehículos, y no podrían faltar las famosas pesas rusas caseras. Ya con todo el material, el cual no es limitante ya que si no tienen barra, pueden tomar cualquier palo o tubo que resista y en los extremos colocar botellas rellenas, bolsos, lo que ustedes deseen. Pongan a volar su imaginación. Recuerden comer sanamente, hidratarse y descansar. Vamos a la acción.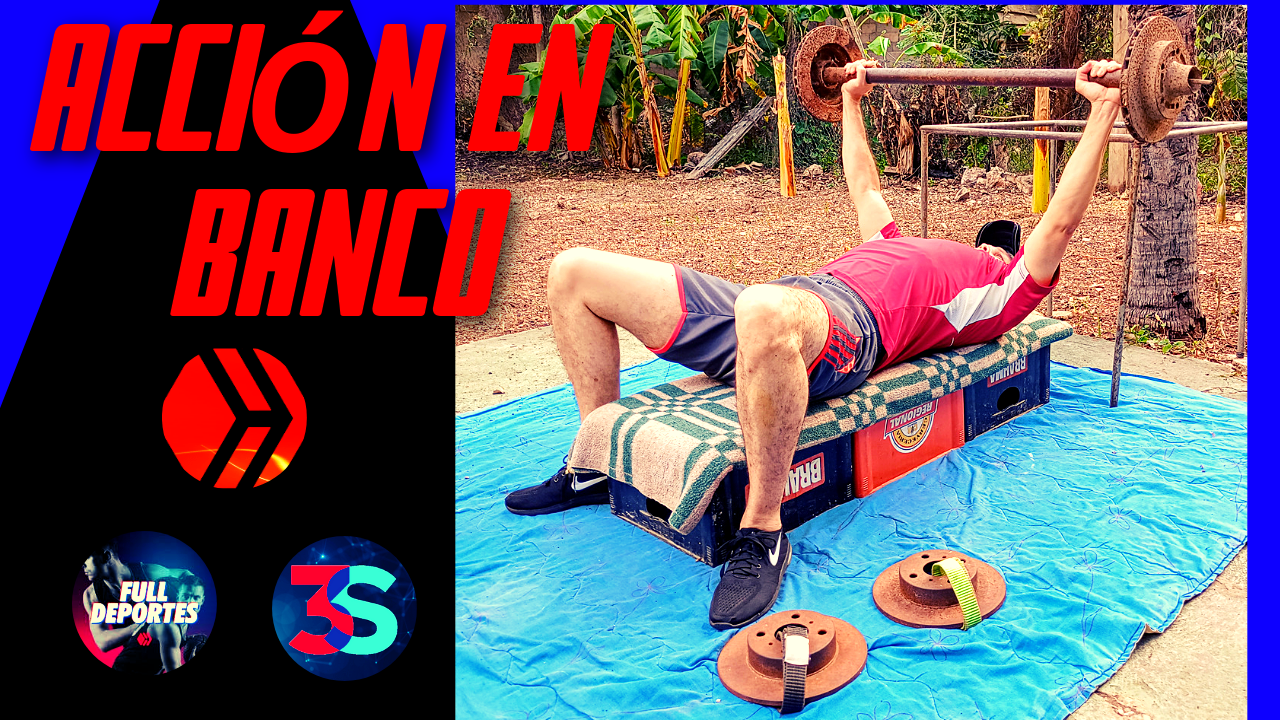 Imagen de mi Autoría Editada en/Image of my Authorship Edited in Canva
Video Editado en/Video Edited in FilmoraGo
Gif creado en la aplicación/Gif created in the application HD Video To Gif Converter
Visita mi canal de/Visit my chanel 3speak
Logos propiedad de/ logos owned by @hiveio, @fulldeportes, @threespeak
Aja my sports people, all active to get into this new routine that promises a world. We come with super charged batteries, and if you need courage here you will see that you will achieve all your purposes. Therefore, this time we are going to perform movements on a flat bench executing exercises for chest, biceps, triceps and shoulders; In addition, we will activate the abdominal region and the nucleus in its entirety. It is valid to mention that our creativity has no limits, and it is to make you all happy that we do what we do. In this sense, our bank was armed with cases of beers and on them a blanket; for the support of the bar the skeleton of a table was used; the bar was made from vehicle scraps, and the famous homemade kettlebells could not be missing. Already with all the material, which is not limiting since if you do not have a bar, you can take any stick or tube that resists and at the ends place filled bottles, bags, whatever you want. Let your imagination run wild. Remember to eat healthy, hydrate and rest. Let's go to action.

Como siempre, iniciamos con dos ejercicios de calentamiento de 3 minutos cada uno. Una recomendación, si sienten que su cuerpo aun no está en condiciones de avanzar, calienten un poco más. Recordar descansar de 1 a 2 minutos entre series. Nuestro primer ejercicio central de la rutina. Presión de pecho en banco plano. Con este ejercicio ponemos a trabajar los pectorales, bíceps, tríceps, hombros y abdomen, ya que al momento de subir la barra el abdomen debe estar contraído para tomar fuerza de empuje. Nos acostamos boca arriba sobre el banco. Flexionamos rodillas y anclamos los pies en el suelo. Con ambas manos separadas a la anchura de hombros tomamos la barra, flexionamos codos, bajamos controladamente tomamos aire, y ubicamos la barra sobre el pecho en su zona media. Ya en posición extendemos los codos, exhalamos dejando la barra por lo menos 2 segundos arriba, recuerda bajar de forma controlada para mantener tensión en los músculos. Usa un peso adecuado, es recomendable ir de menos a más. 20 repeticiones en 4 series.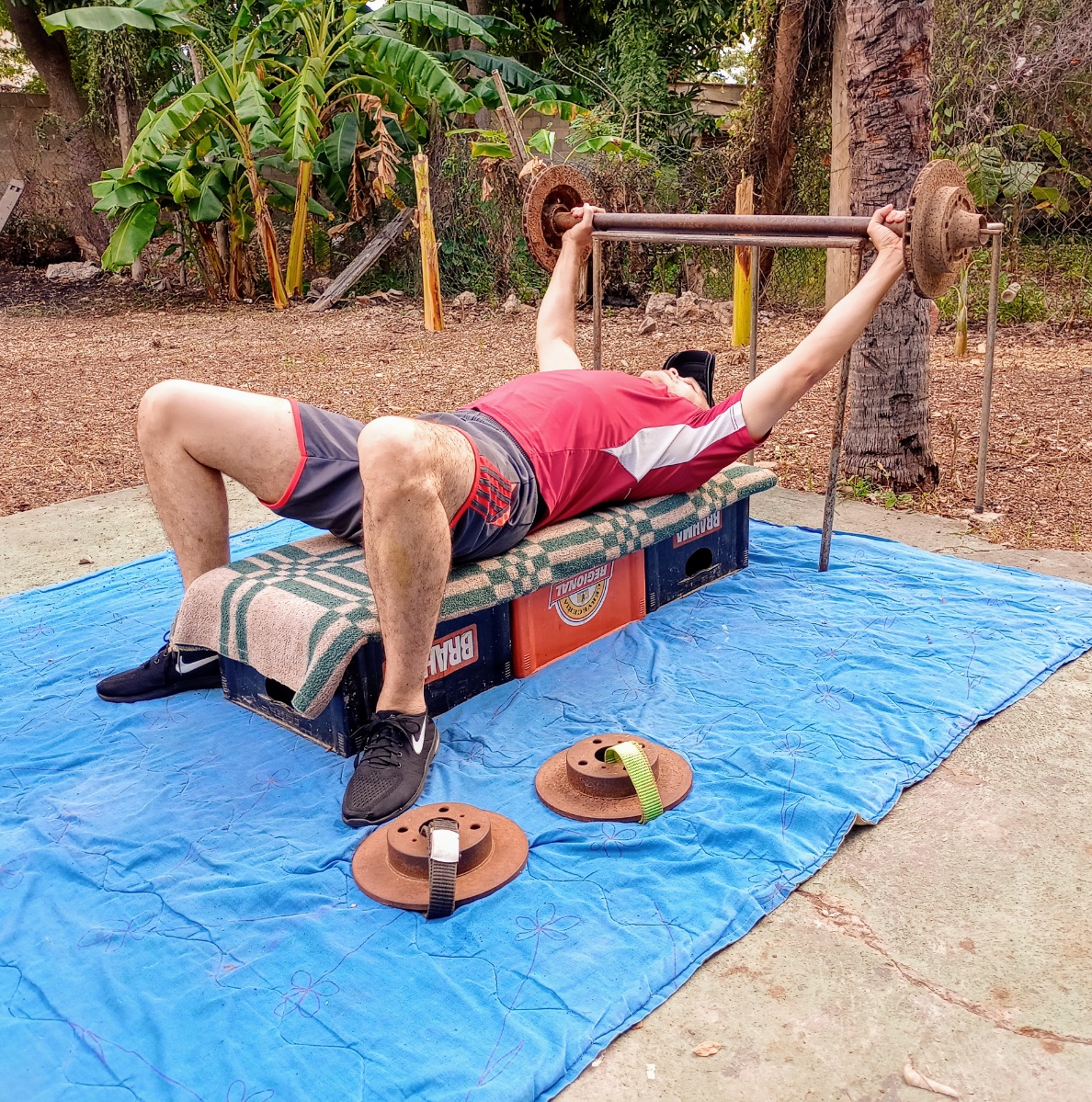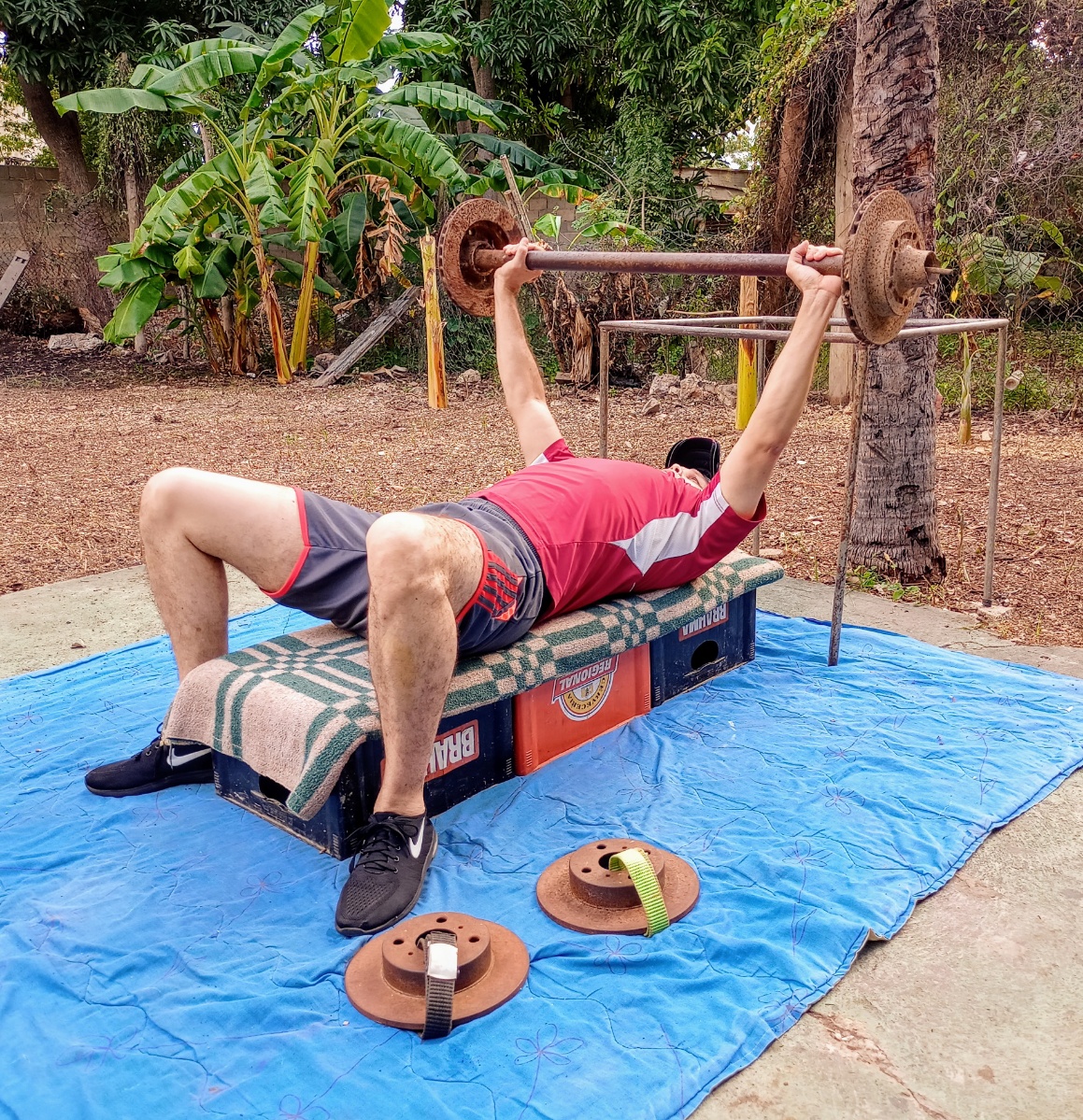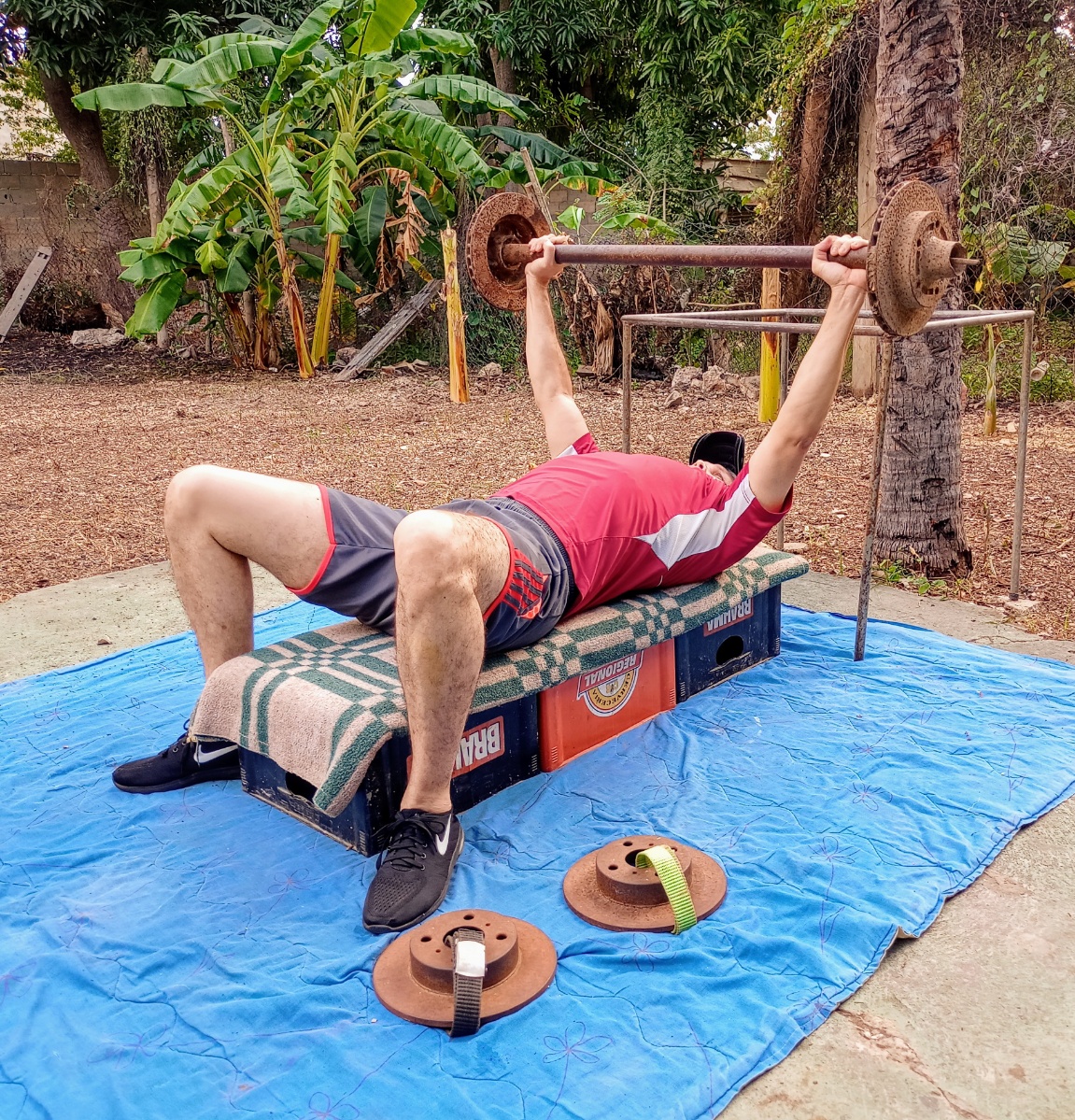 As always, we started with two warm-up exercises of 3 minutes each. A recommendation, if you feel that your body is not yet in a position to move forward, warm up a little more. Remember to rest for 1 to 2 minutes between sets. Our first core exercise in the routine. Chest press on a flat bench. With this exercise we put the pectorals, biceps, triceps, shoulders and abdomen to work, since at the time of raising the bar the abdomen must be contracted to gain thrust. We lie on our backs on the bench. We bend our knees and anchor our feet on the ground. With both hands shoulder-width apart, we take the bar, bend the elbows, descend in a controlled way, take a breath, and place the bar on the chest in its midsection. Once in position we extend the elbows, exhale leaving the bar up for at least 2 seconds, remember to lower in a controlled way to maintain tension in the muscles. Use an adequate weight, it is advisable to go from less to more. 20 repetitions in 4 series.

Segunda estación. Abdominales en banco con rodillas al abdomen. Acostados boca arriba sobre el banco, extendemos las piernas y las mantenemos suspendidas. Ya en posición, elevamos el torso haciendo el abdominal, mientras al mismo tiempo flexionamos las rodillas y las llevamos contra el abdomen. 20 repeticiones en 4 series.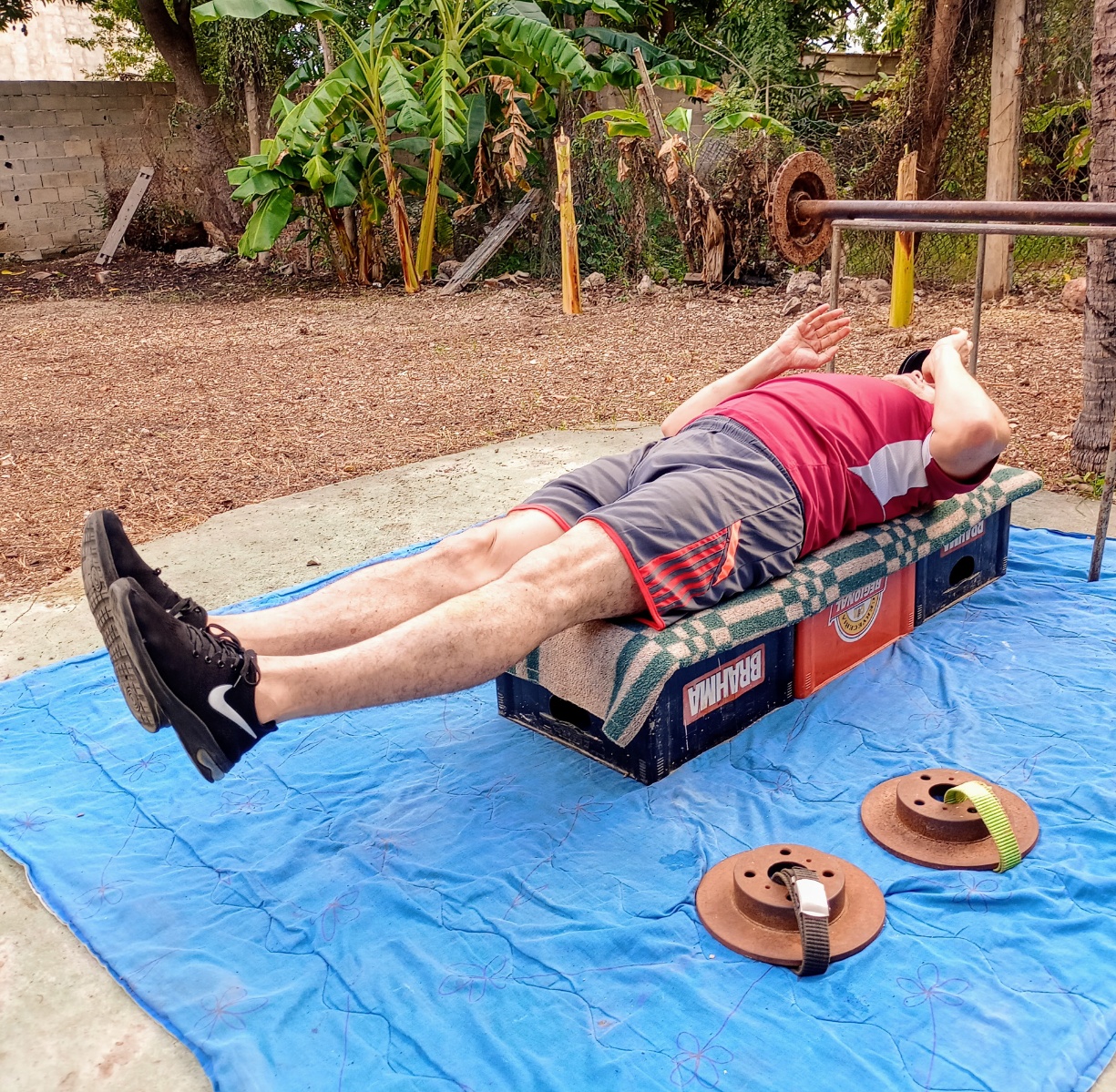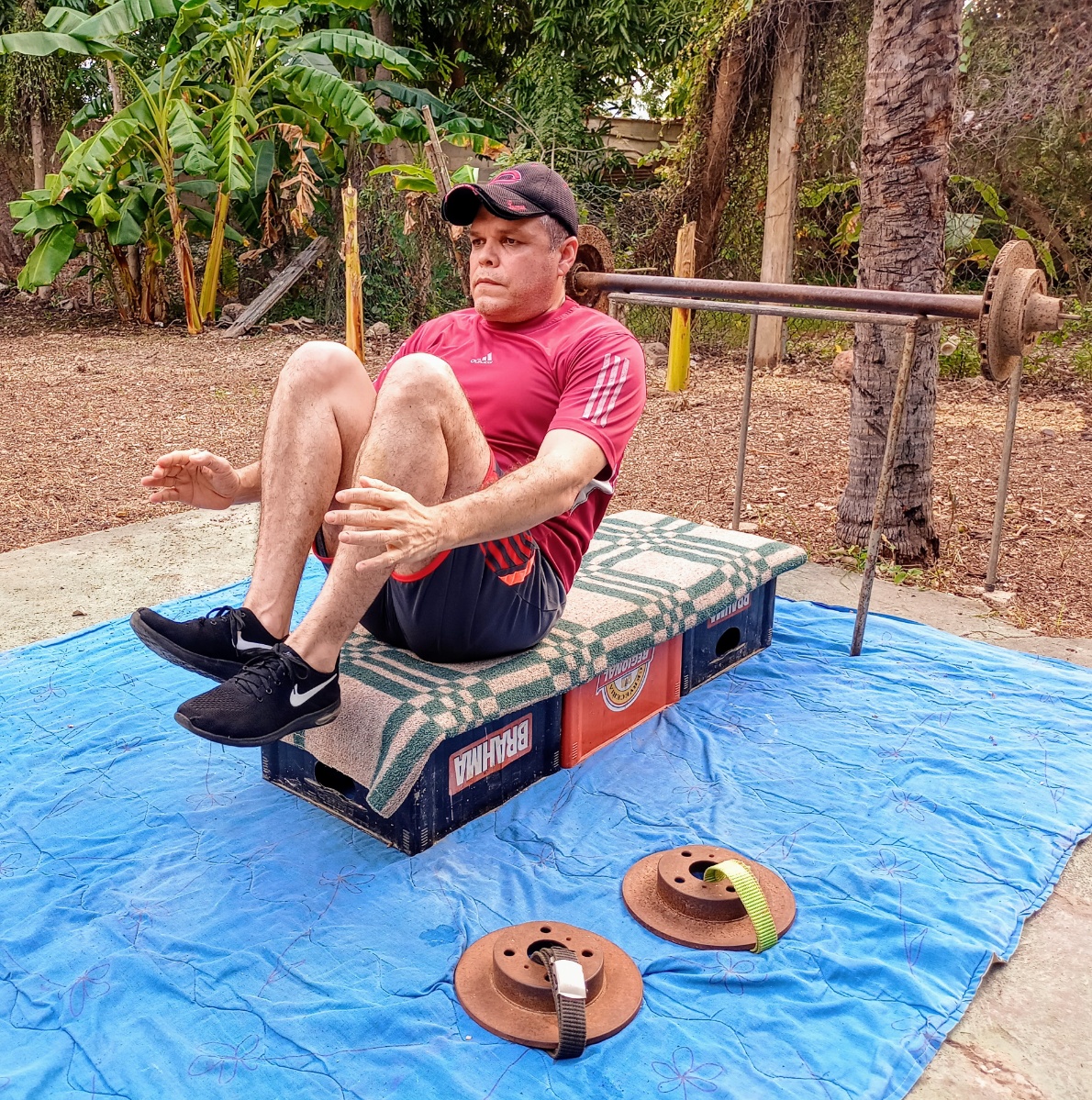 Second station. Sit-ups on the bench with knees to the abdomen. Lying face up on the bench, we extend our legs and keep them suspended. Already in position, we raise the torso doing the abdominal, while at the same time we flex the knees and bring them against the abdomen. 20 repetitions in 4 series.

Tercera estación. Apertura con mancuernas en banco plano. Nuevamente nos acostamos boca arriba flexionando las rodillas ubicando los pies en el suelo. En cada mano sostenemos una mancuerna. Ubicamos cada mancuerna a los lados de los hombros. Una vez en posición, primero elevamos una mancuerna, luego elevamos la otra hasta que estén juntas, para luego ejecutar la apertura. Volvemos a cerrar brazos, bajando las mancuernas hasta su posición inicial. 20 repeticiones en 4 series. Desarrollo de pectorales y hombros. Finalizamos con el momento de relajación por 3 minutos. #Deportes en vivo y directo solo por @fulldeportes, y lógicamente los #videos son gracias a @threespeak. Nos vemos; luces, cámara, acción.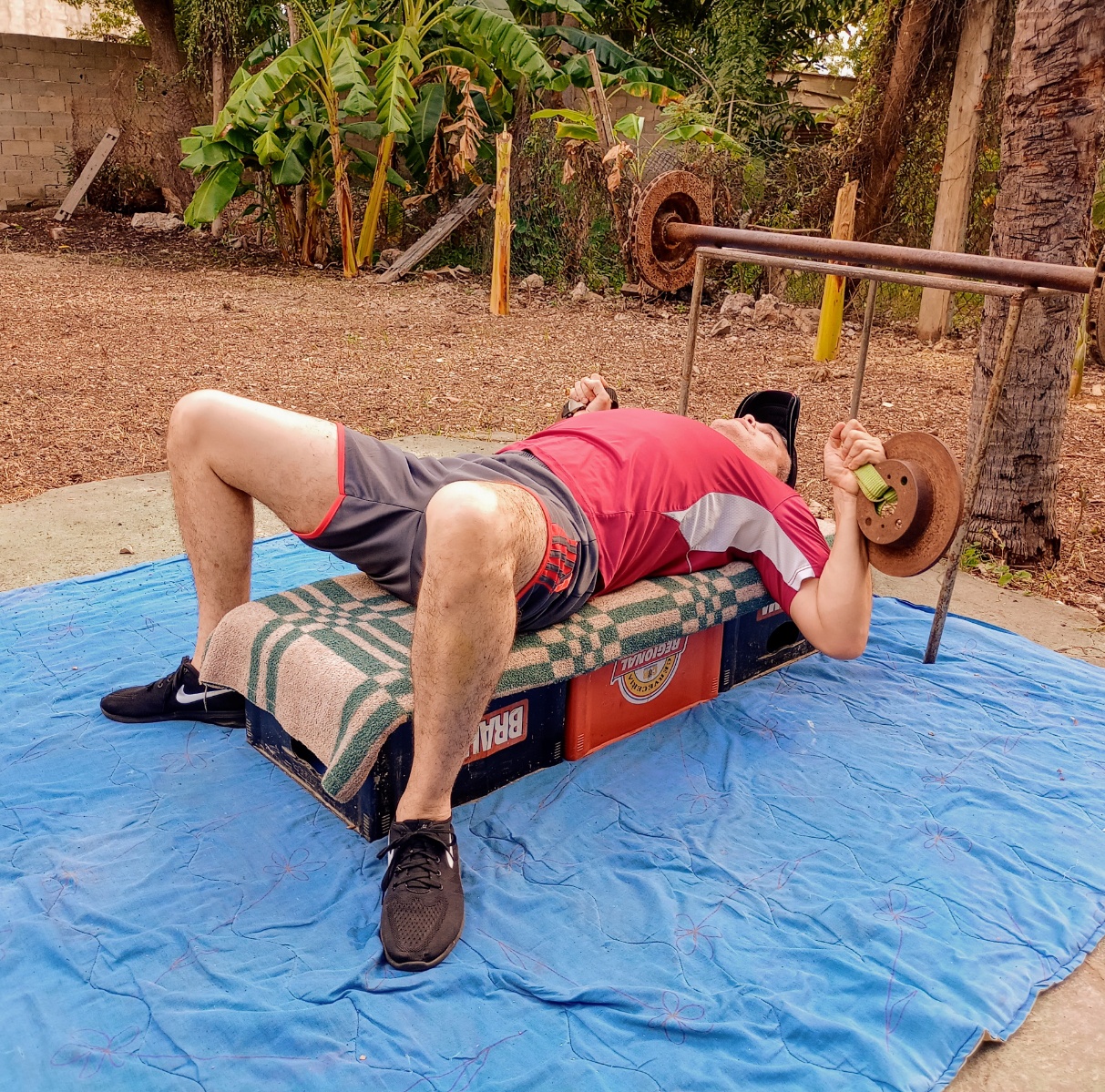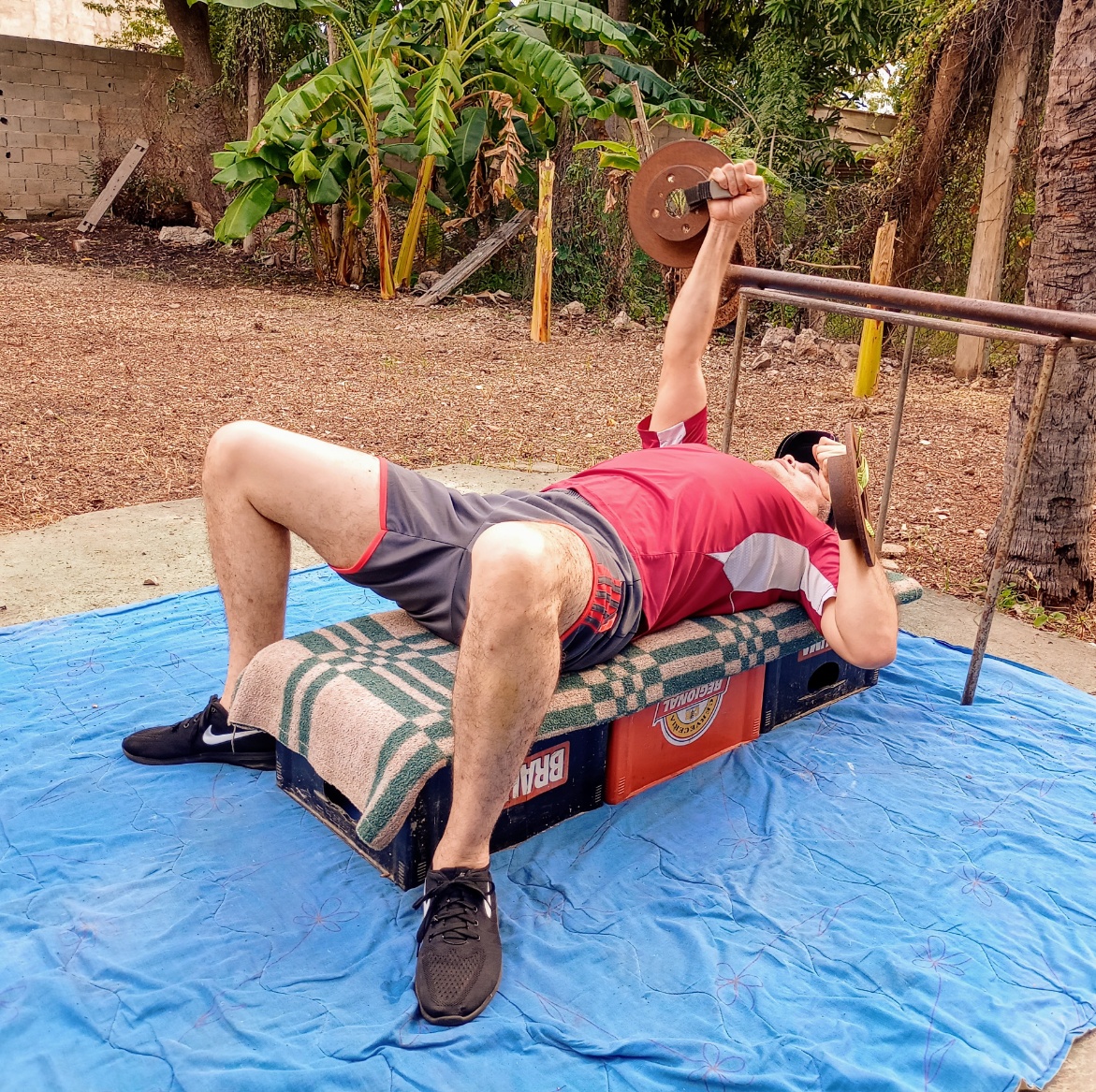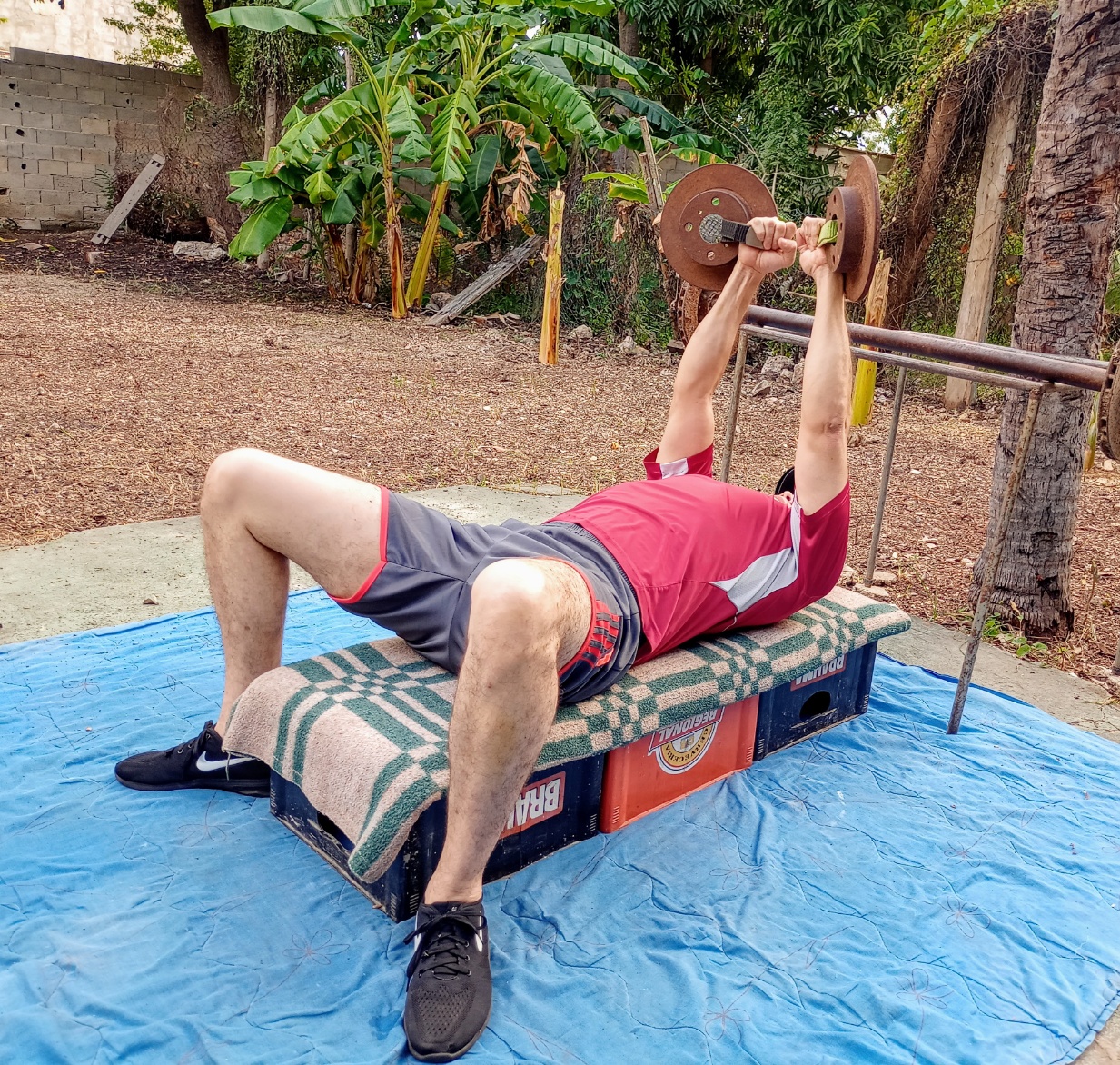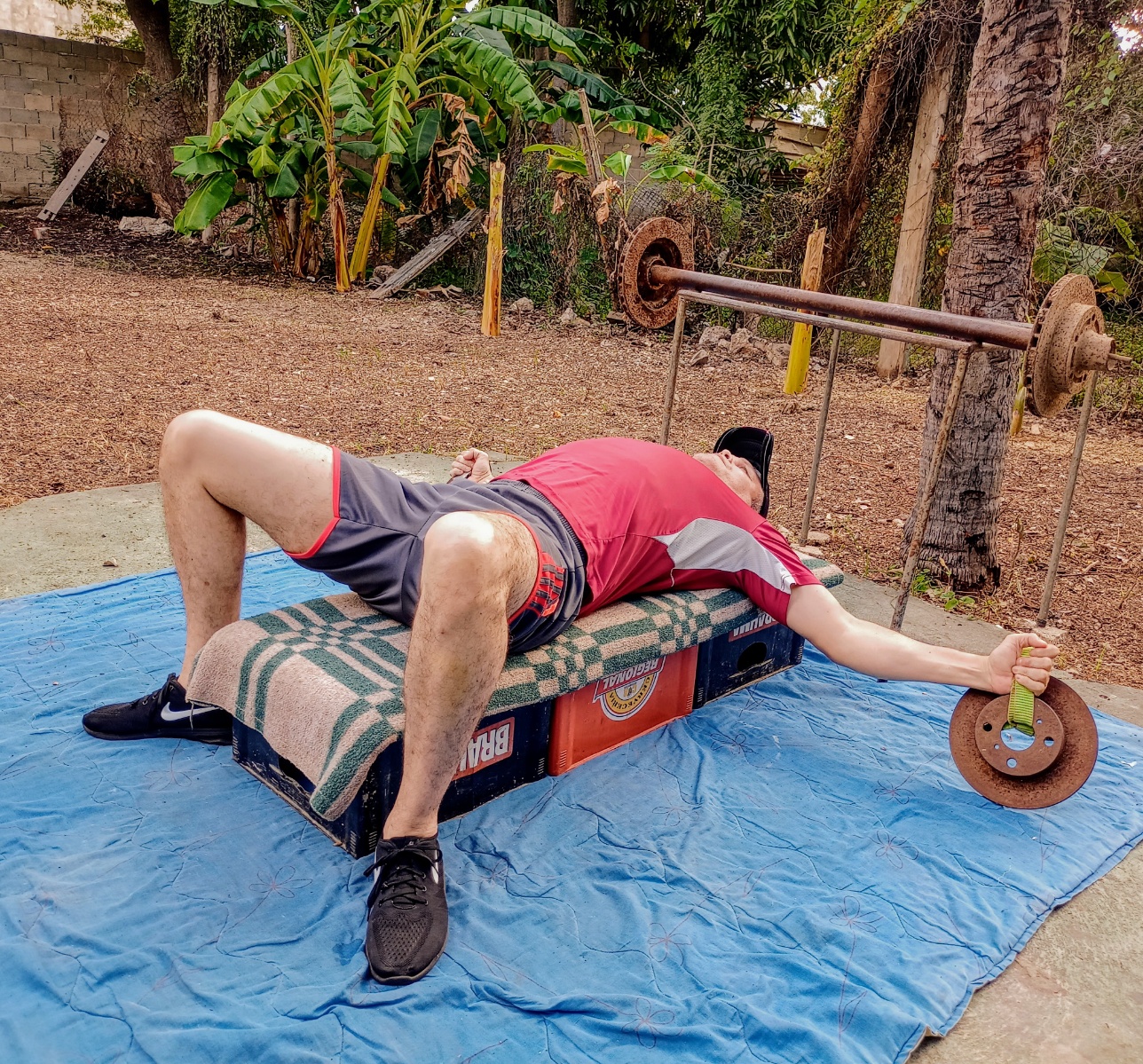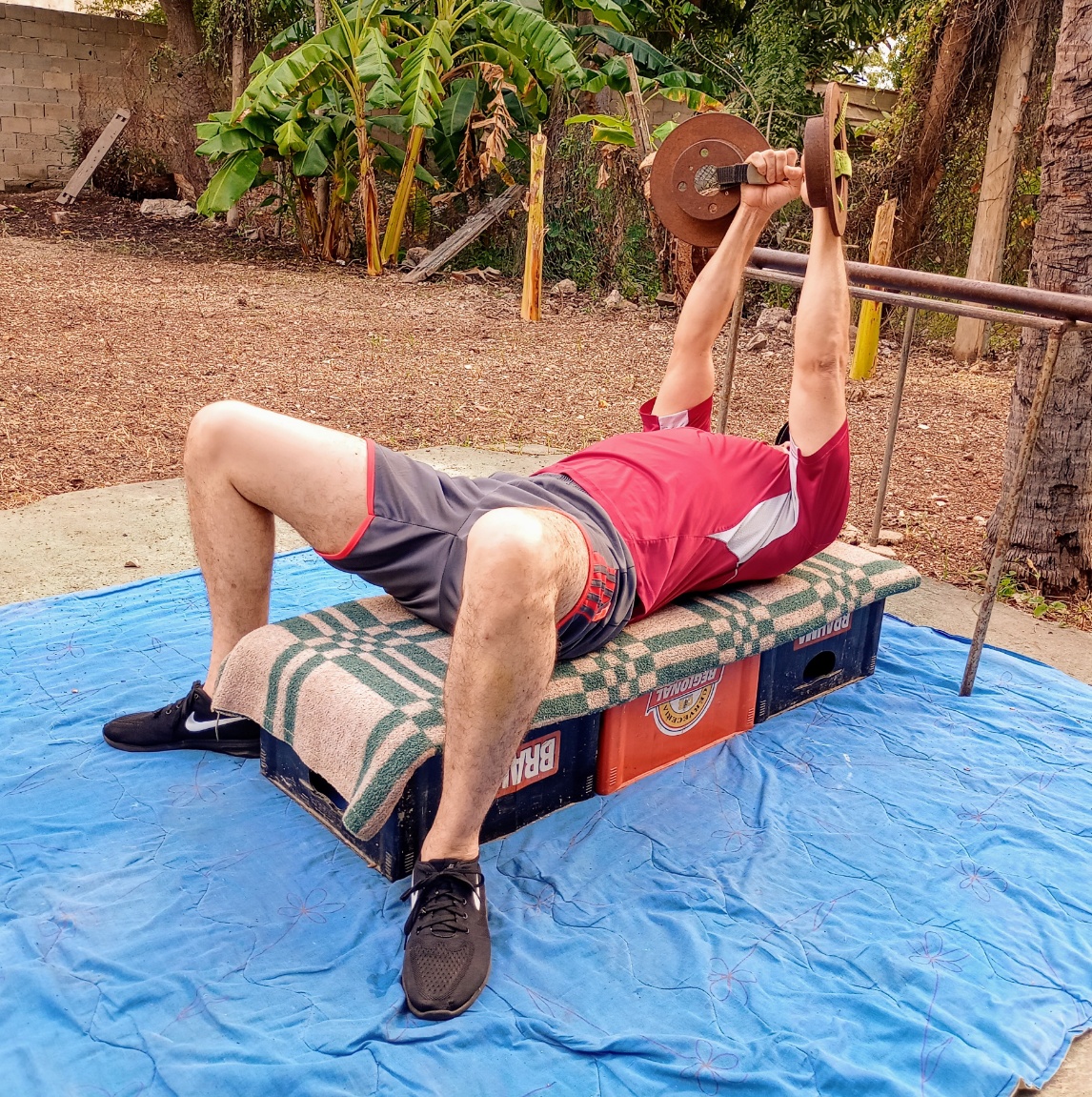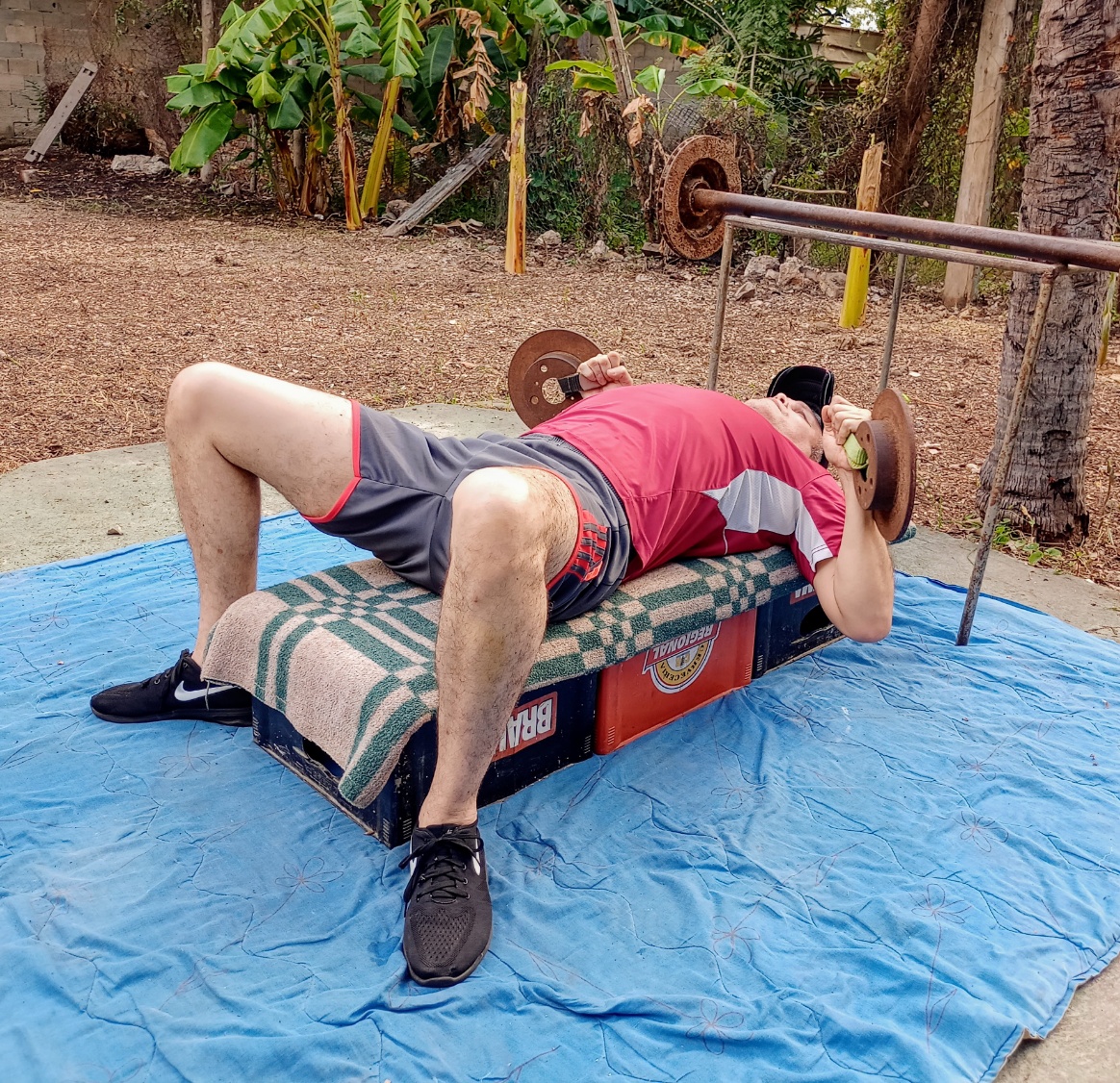 Third station. Flat bench dumbbell fly. Again we lie on our back bending our knees placing our feet on the ground. In each hand we hold a dumbbell. We place each dumbbell on the sides of the shoulders. Once in position, we first raise one dumbbell, then raise the other until they are together, and then execute the opening. We close arms again, lowering the dumbbells to their starting position. 20 repetitions in 4 series. Pectoral and shoulder development. We end with the moment of relaxation for 3 minutes. #Sports live and direct only by @fulldeportes, and logically the #videos are thanks to @threespeak. See ya; lights Camera action.

...Gracias Por Visitar...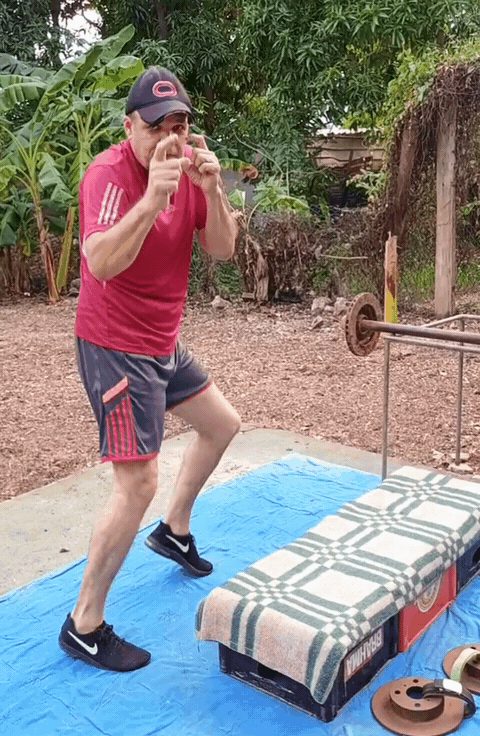 ...Thanks for visiting...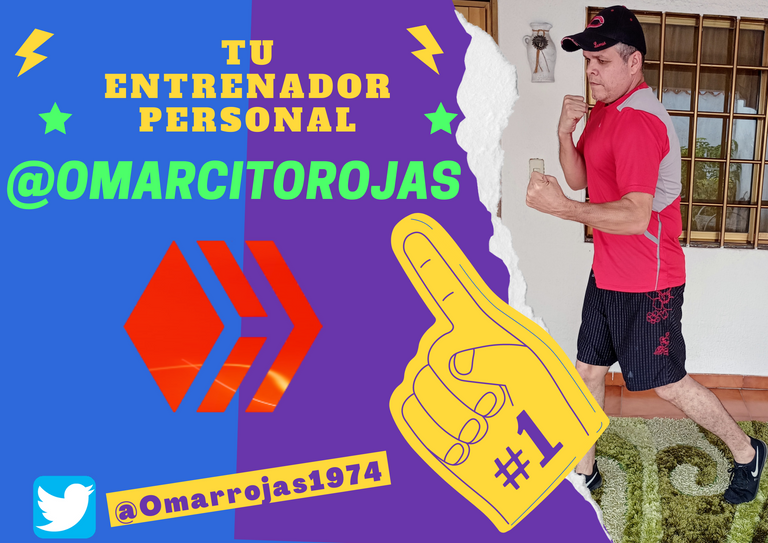 Imágenes Fotográficas y video, tomadas por mi hijo Miguel Núñez.
Photographic images and video, taken by my son Miguel Nuñez
Fondo Musical Michael Sembello - Maniac
Musical Background Michael Sembello - Maniac
Sorry. English is not our native language. Therefore, a web translator is used for texts in English. (Spanishdict)
---
▶️ 3Speak
---
---