[Eng-Esp]Tasty and nutritious papaya and apple smoothie

ENGLISH VERSION
Consuming fruit-based drinks corresponds to the tasting of a very tasty and nutritious smoothie, being papaya and apple, the fruits selected for this publication. In the case of lechoza or papaya, it is a fruit with a high content of vitamin A and C, it is digestive and very effective to avoid constipation and abdominal problems. As for the apple or pome, in addition to its vitamin A and C content, its consumption improves brain function, relieves intestinal problems and stomach ailments, and also prevents high cholesterol, that is, both products combined in the smoothie that is presented below, it is a very tasty and nutritious drink for our health.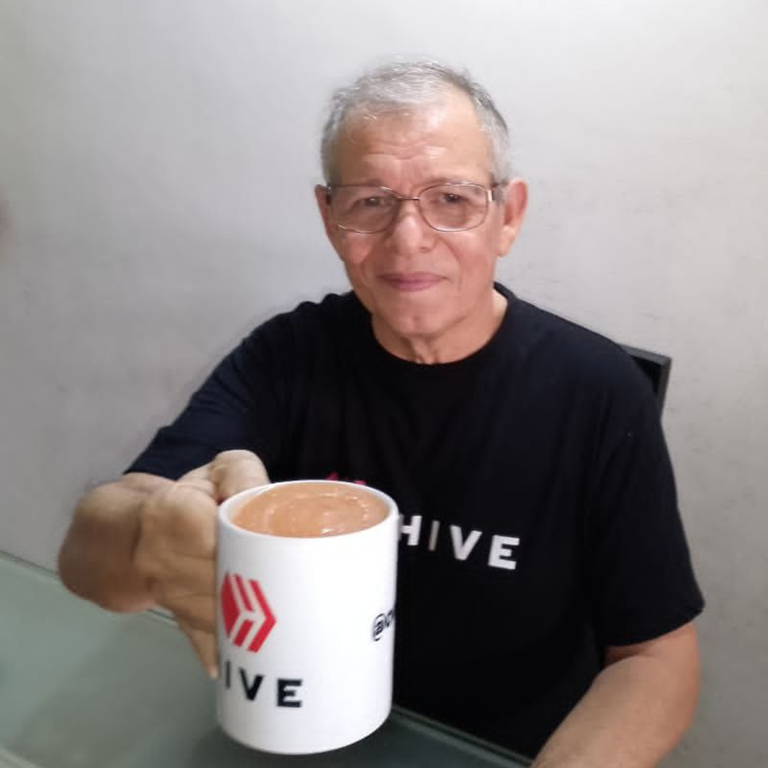 Ingredients for the preparation of papaya and apple smoothie
300 grams of papaya.
A small apple.
1/2 cup with water.
Sugar to taste.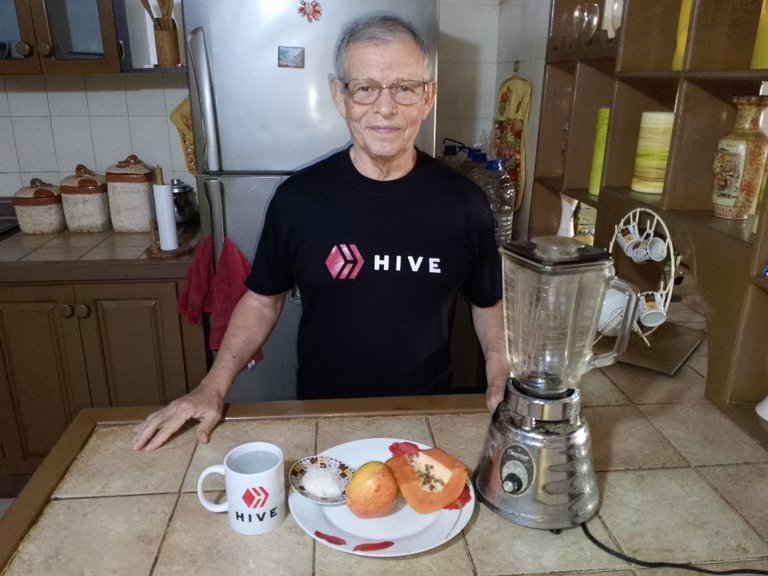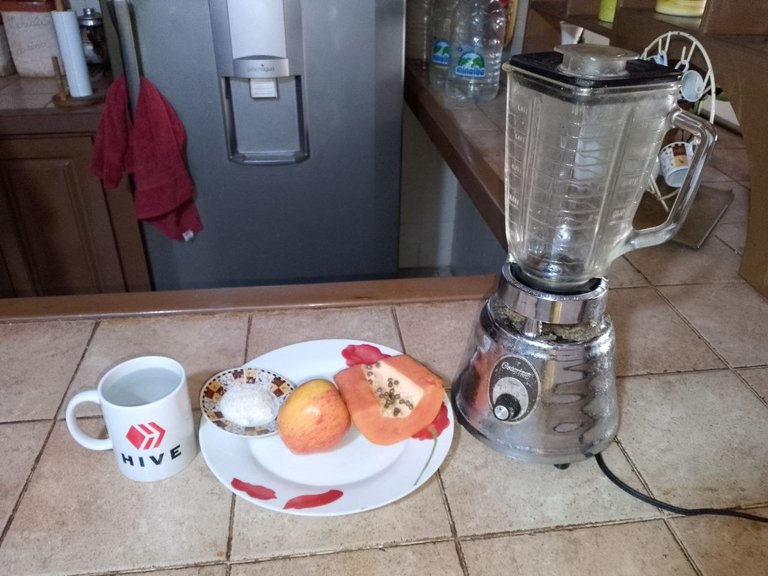 Procedures for preparing papaya and apple milkshake
After washing the selected fruits, that is, the papaya and apple, we initially cut the lechoza into small pieces, placing them on a plate.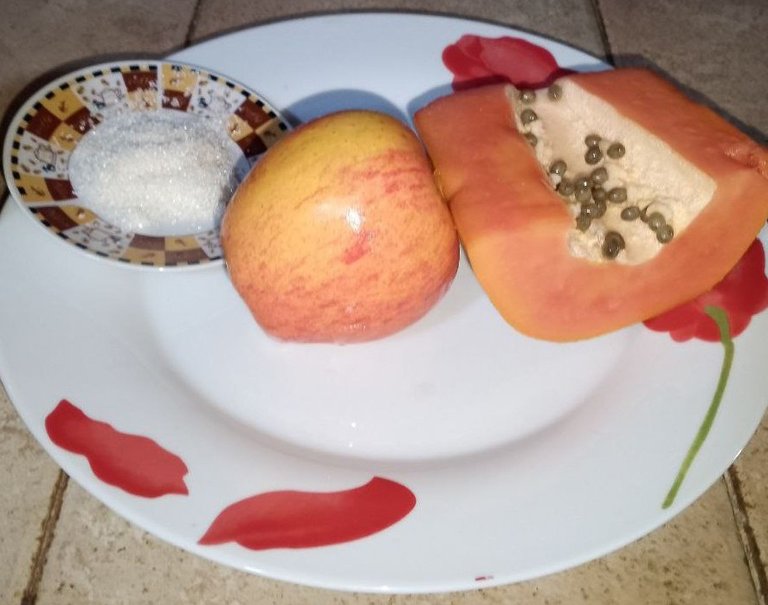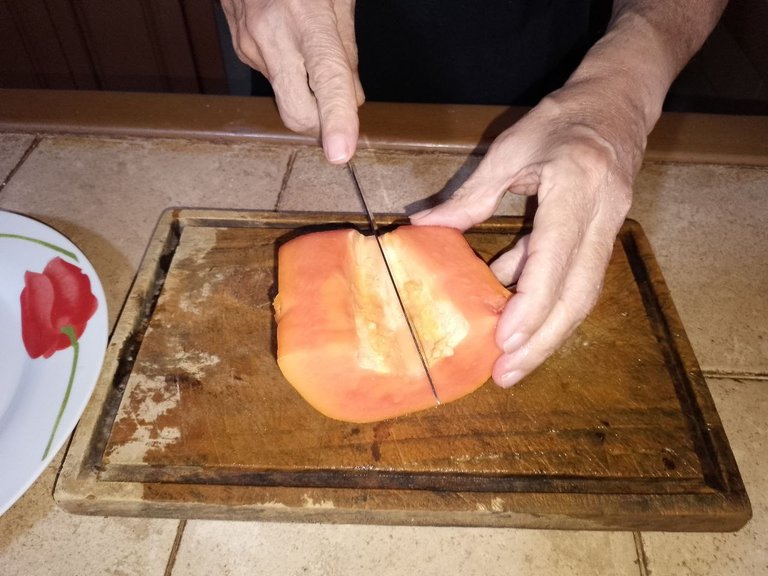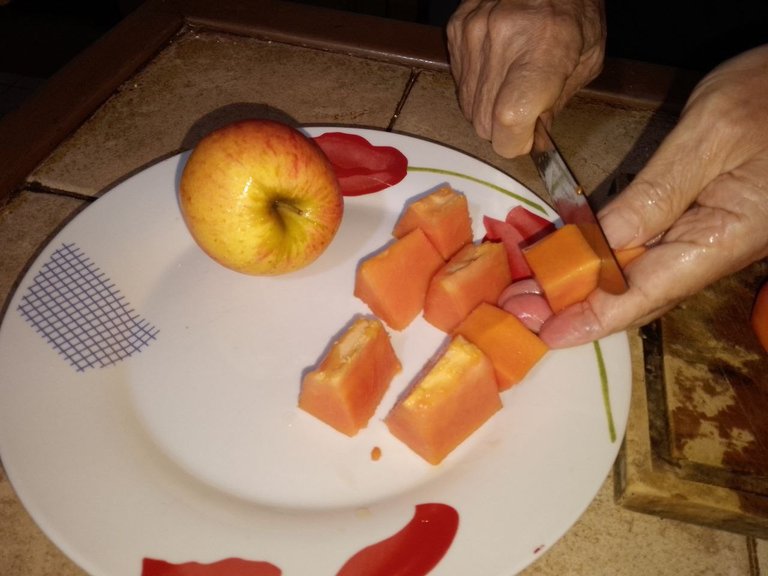 Next we proceed to cut the apple into small pieces, also placing them on said plate, next to the lechoza.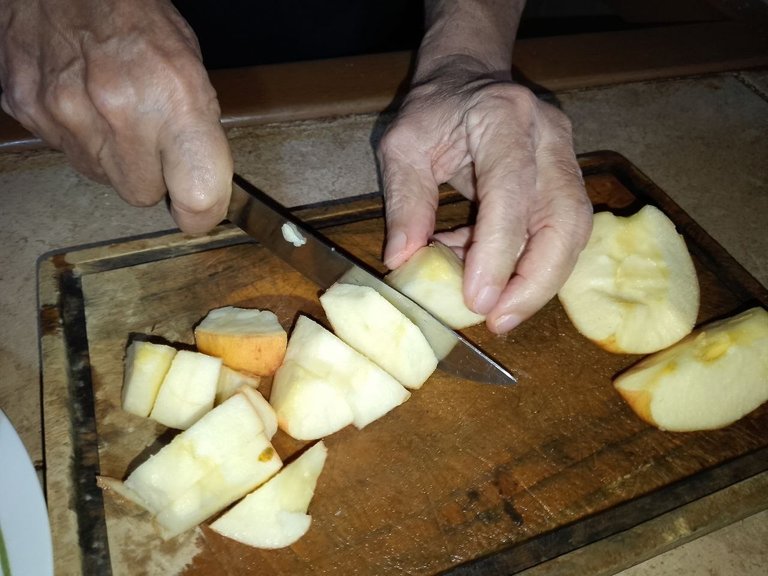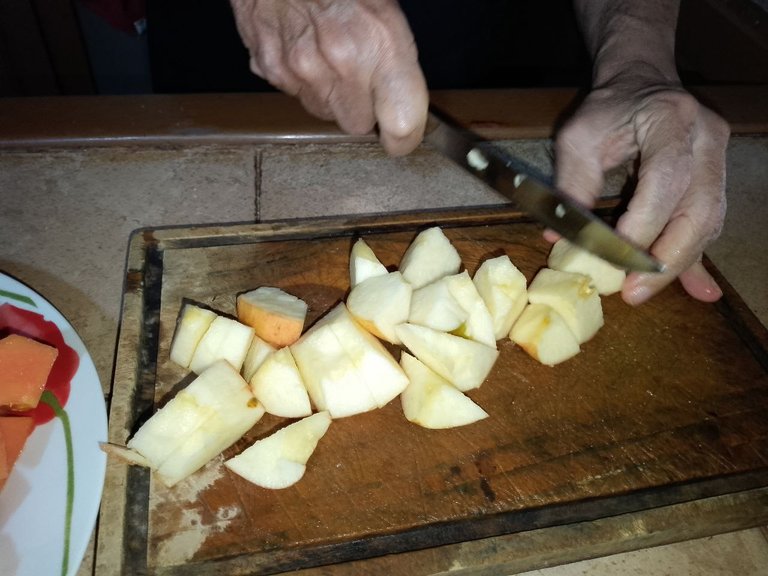 Having the assigned grams of papaya and the apple, cut into small pieces, we add them to the blender container.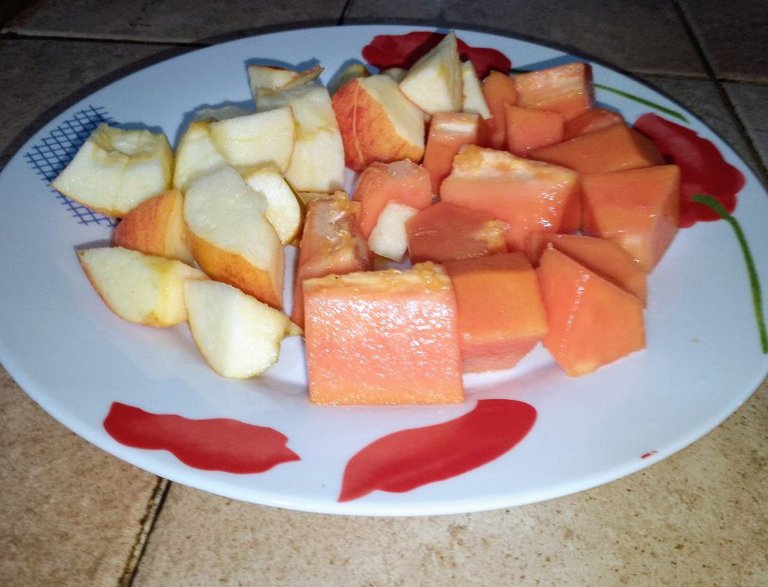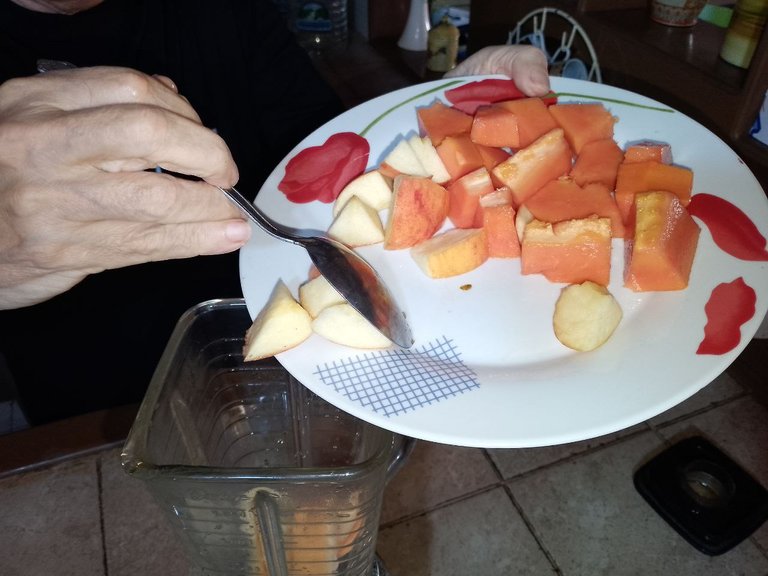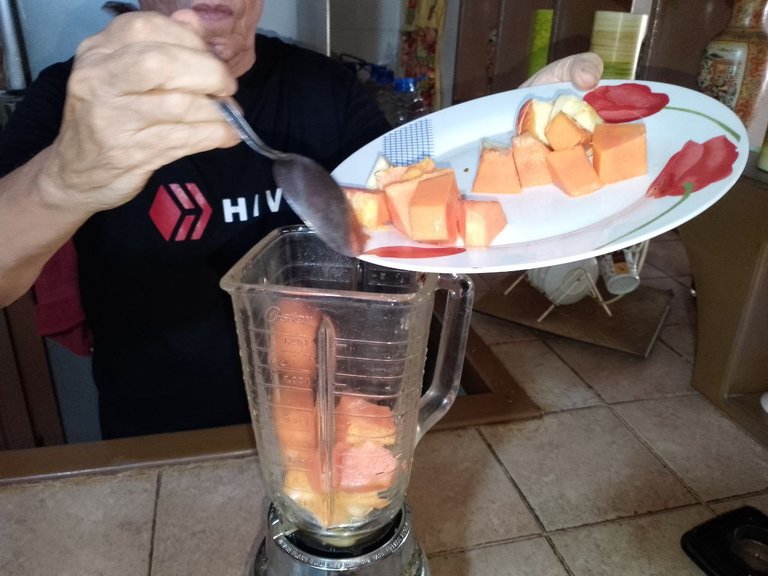 To the pieces of papaya and apple, incorporated into the blender container, we add half a cup of water.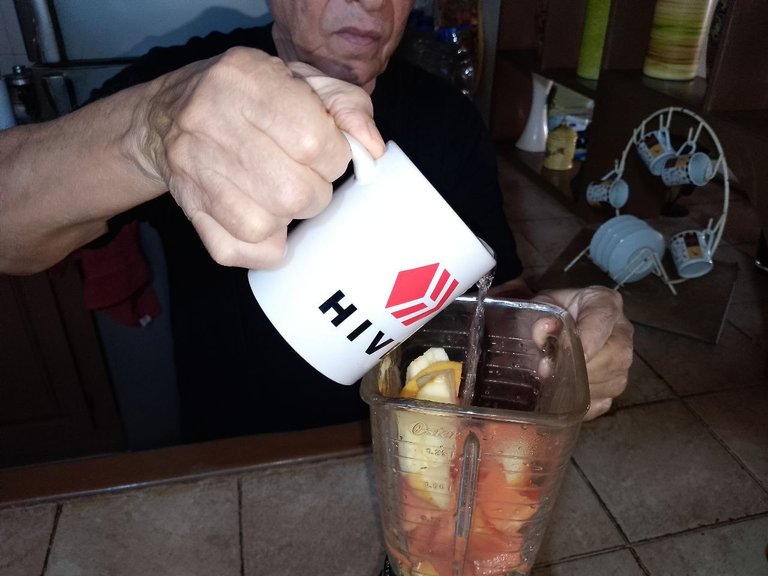 Half a tablespoon of sugar is added to the previously cut fruits, added to the blender container. Logically, each person can add the amount of sugar to taste.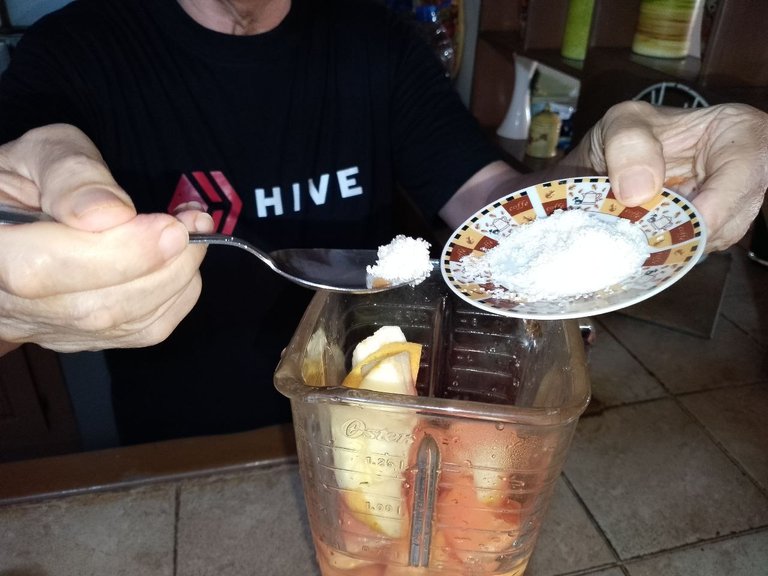 Next, we proceed to blend the selected fruits.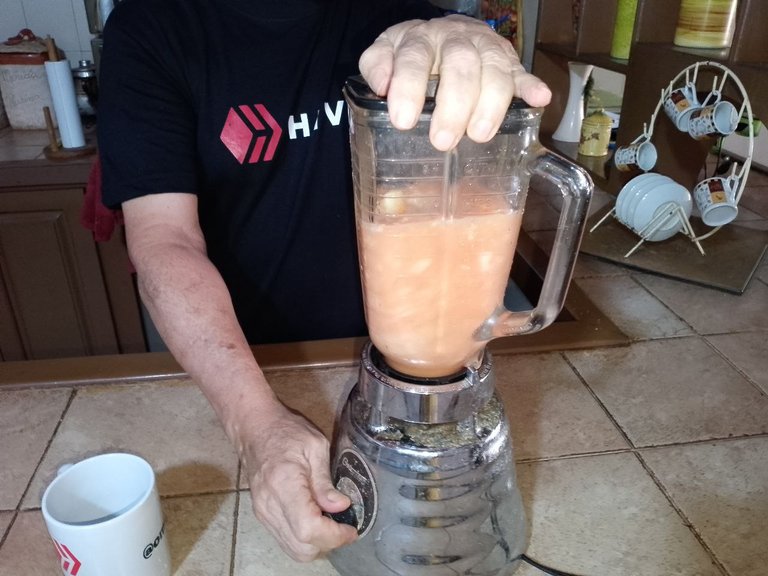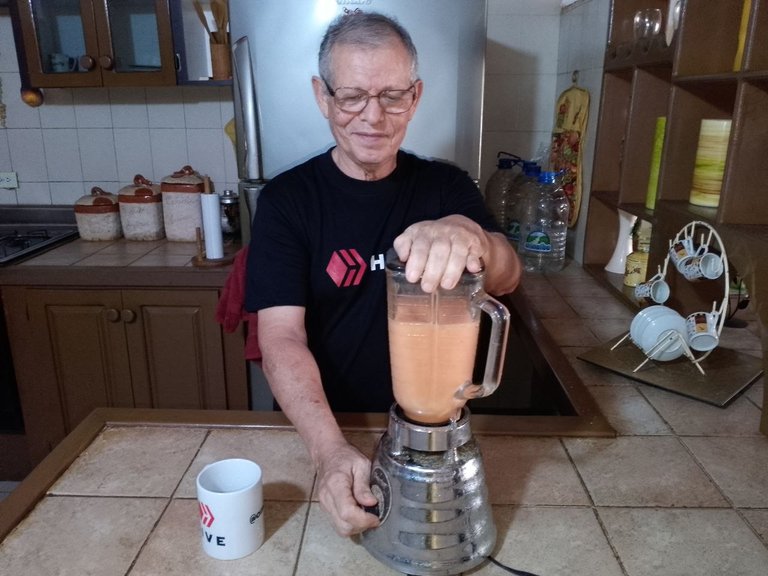 We serve the smoothie in a cup or in the container of your preference, observing its content, which we will taste exquisitely.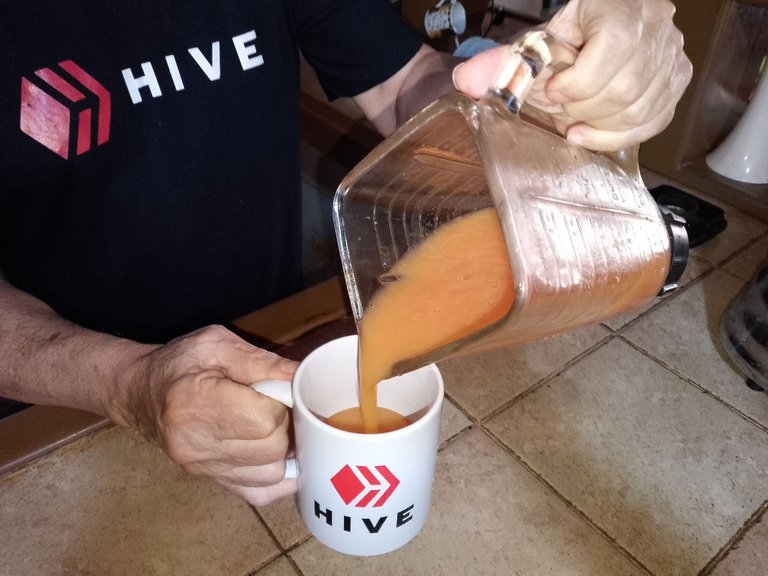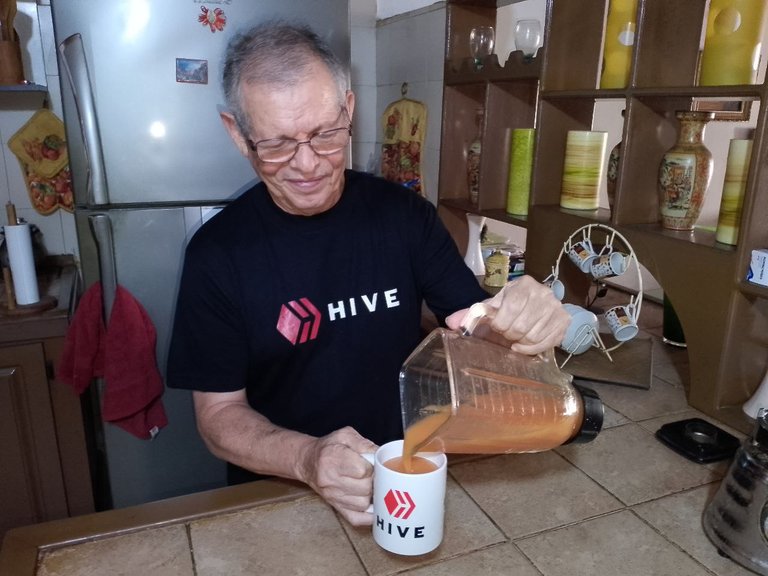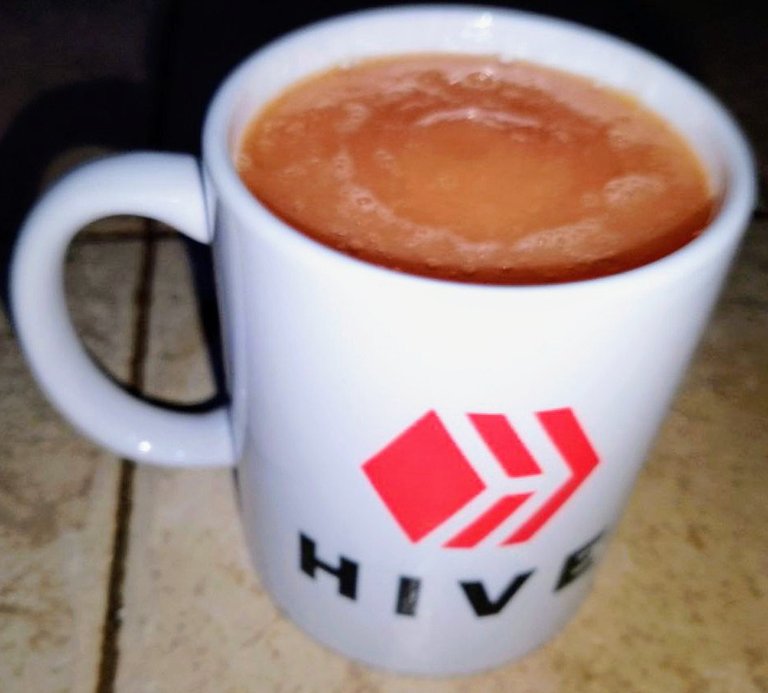 Finally, I consumed the papaya and apple smoothie, checking its rich flavor with great enthusiasm, knowing that it is very nutritious.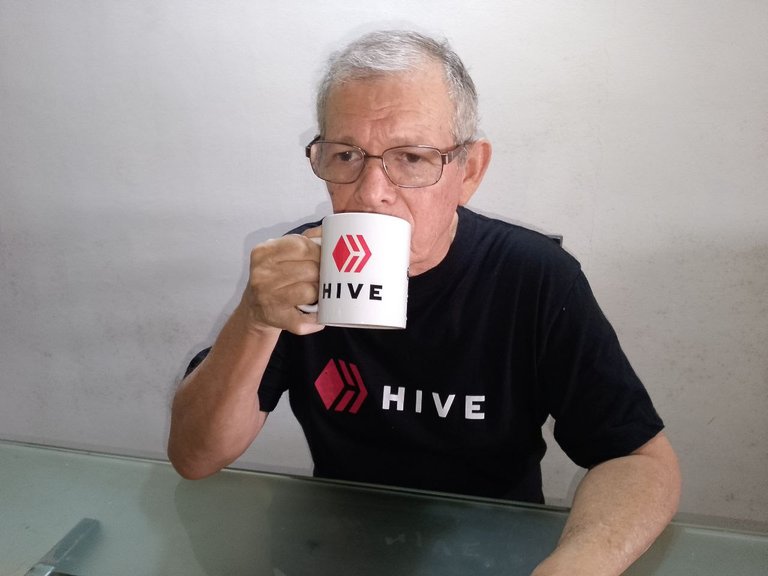 Friends, after verifying how tasty the smoothie made, which is very nutritious, I thank you for your receptivity and continuous visits, subscribing to you, with great affection. Omar Gustavo Rojas Ortiz from the city of Cumaná in the state of Sucre-Venezuela.
The images were taken by Nancy de Rojas with my Samsung Galaxy A10s cell phone and the publication is my own.
Cover edited in Canva
Logos owned by @hiveio.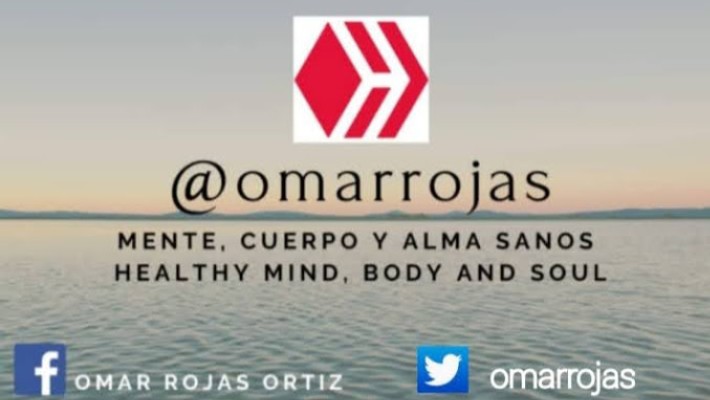 VERSIÓN EN ESPAÑOL
Consumir bebidas a base de frutas, se corresponde con la degustación de un batido muy sabroso y nutritivo, siendo la lechoza y la manzana, los frutos seleccionados para la presente publicación. En el caso de la lechoza o papaya, es un fruto con alto contenido de vitamina A y C, es digestiva y muy efectiva para evitar el estreñimiento e inconvenientes abdominales. En cuanto a la manzana o poma, además de su contenido en vitaminas A y C, su consumo mejora la función cerebral, alivia problemas intestinales y dolencias estomacales, asimismo evita el colesterol elevado, es decir, que ambos productos combinados en el batido que se presenta a continuación, es una bebida muy sabrosa y nutritiva para nuestra salud.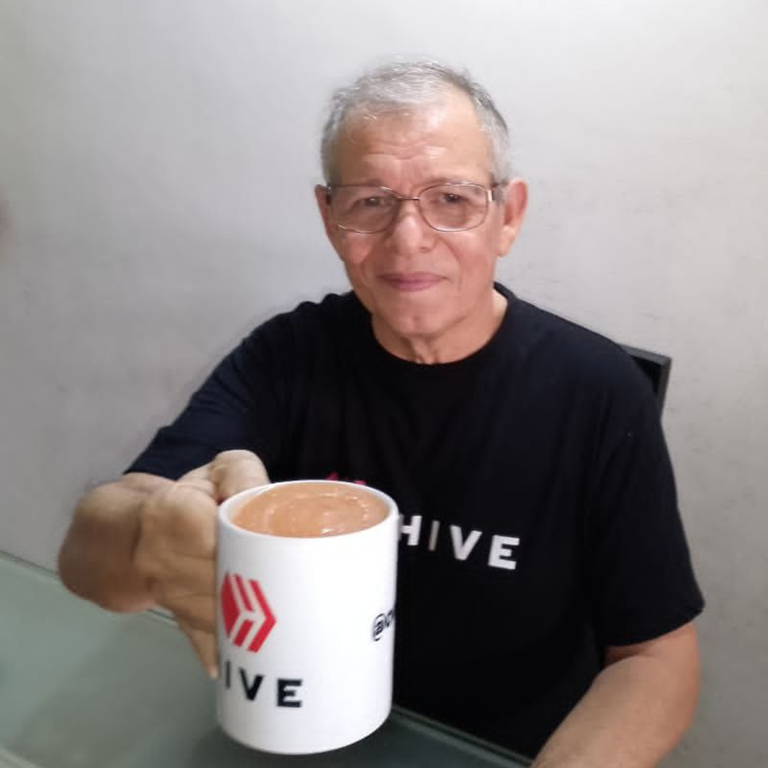 Ingredientes para la preparación del batido de lechoza y manzana
300 gramos de lechoza.
Una manzana pequeña.
1/2 taza con agua.
Azúcar al gusto.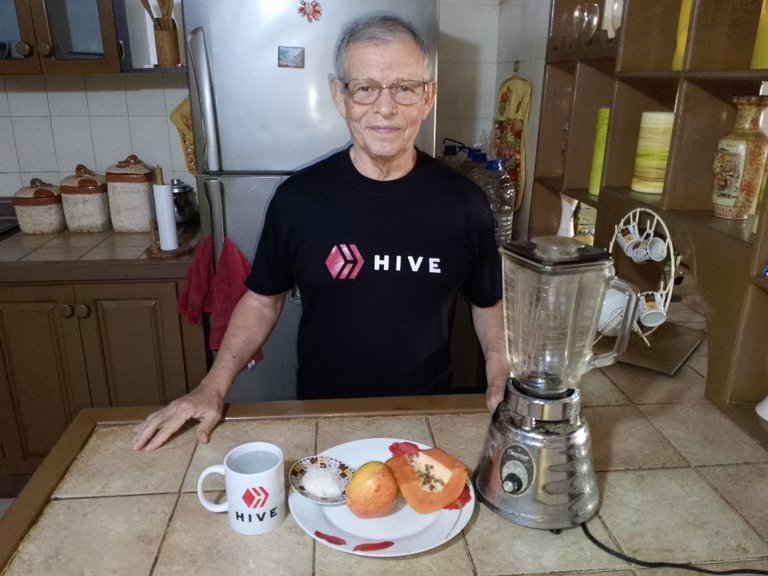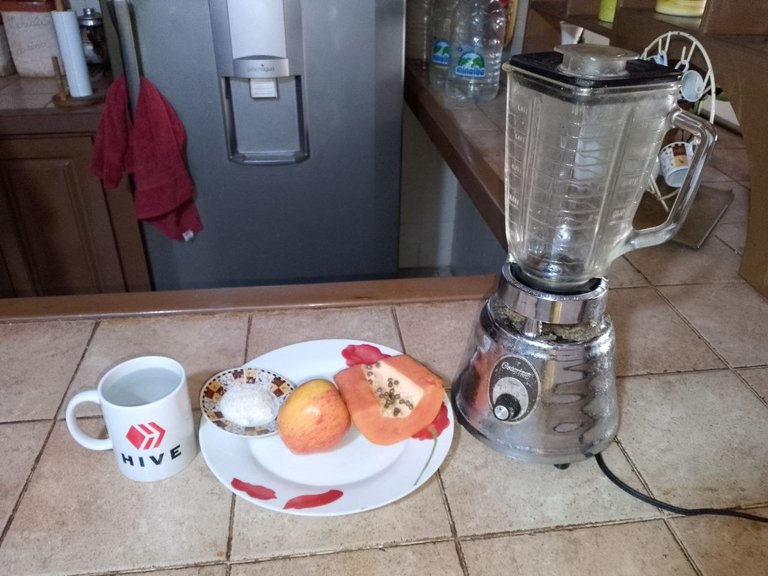 Procedimientos para la elaboración del batido de lechoza y manzana
Luego de Lavar los frutos seleccionados, es decir la lechoza y manzana, cortamos inicialmente la lechoza en pequeños trozos, colocándolos en un plato.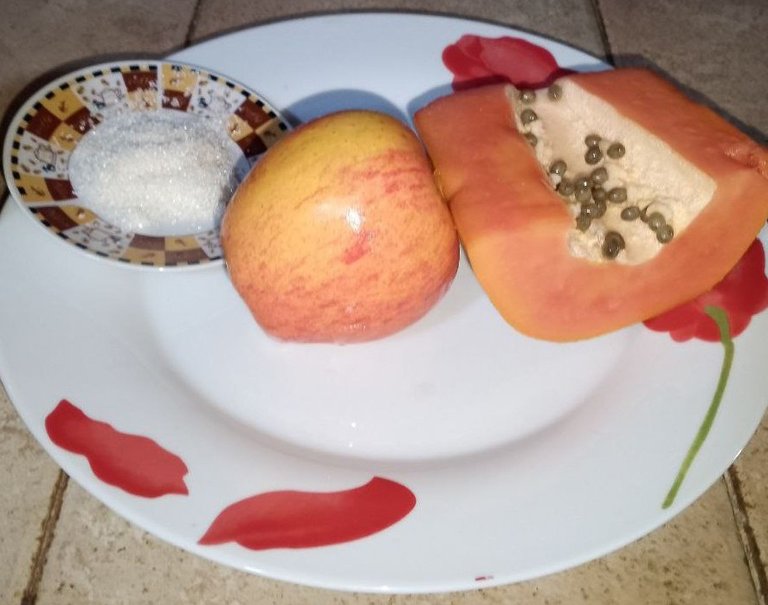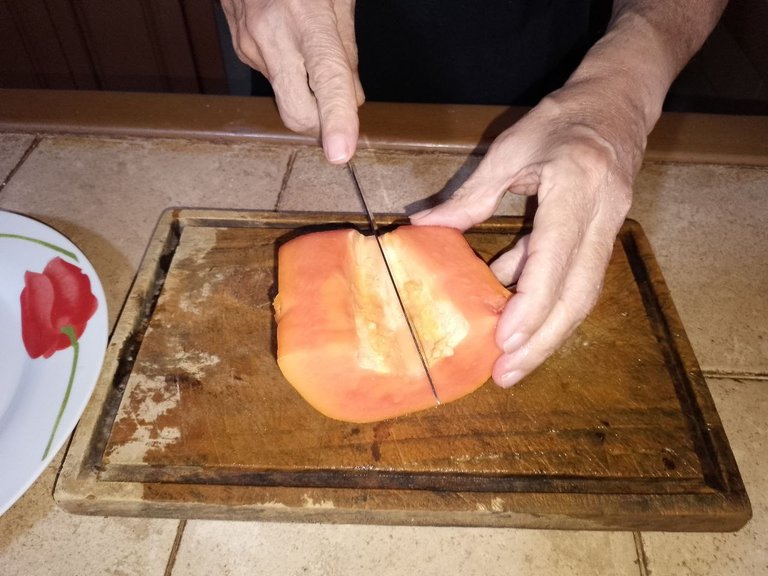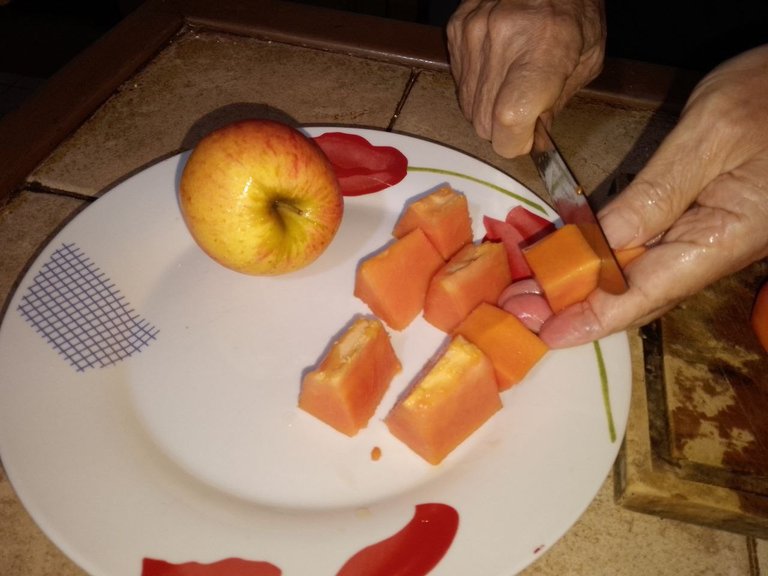 Seguidamente procedemos a cortar la manzana en pequeños trozos, ubicándolos también en en dicho plato, junto a la lechoza.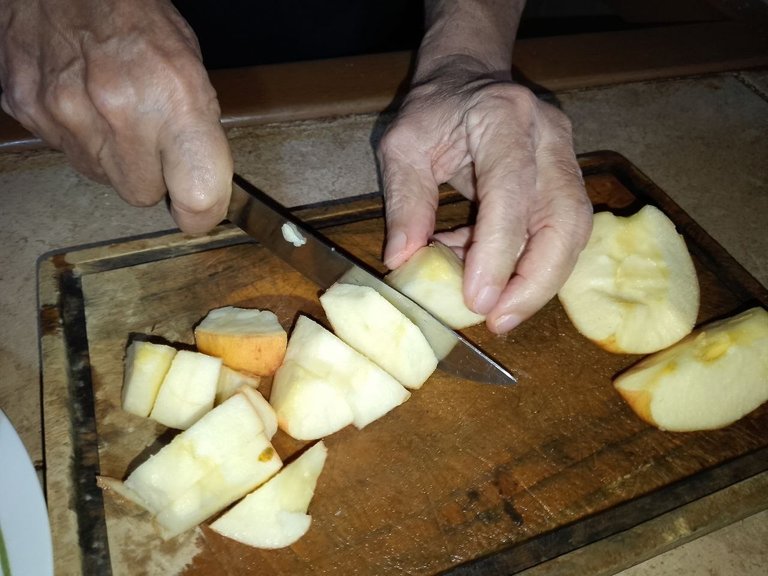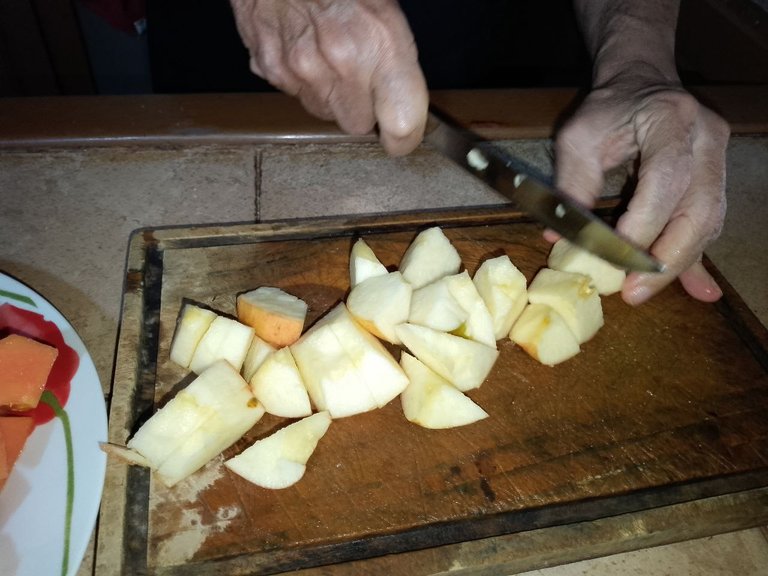 Teniendo los gramos asignados de lechoza y la manzana, cortados en pequeños trozos, los añadimos en el envase de la licuadora.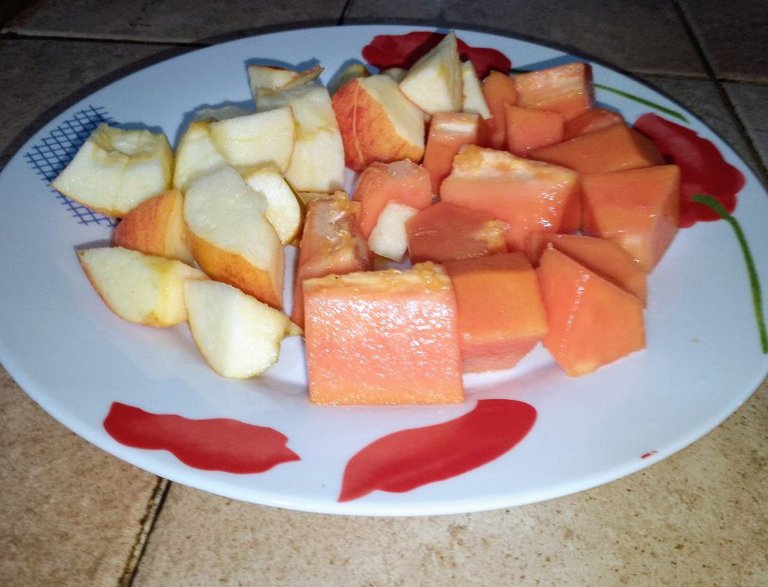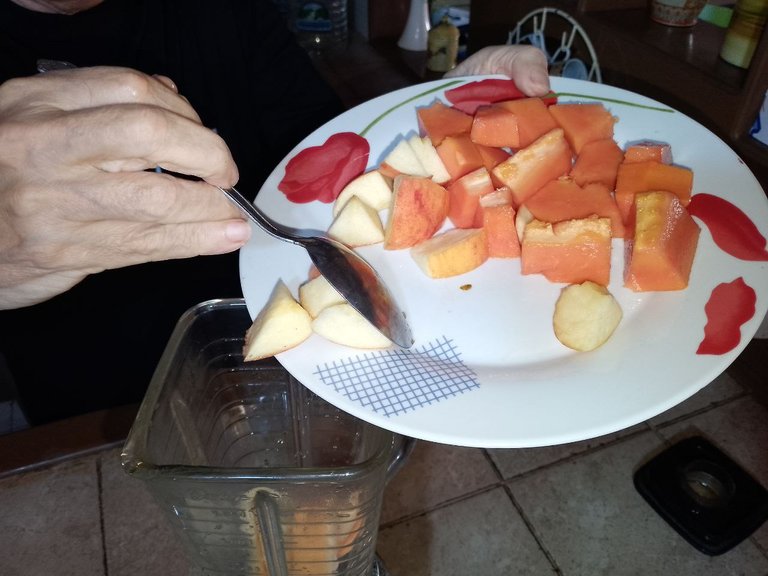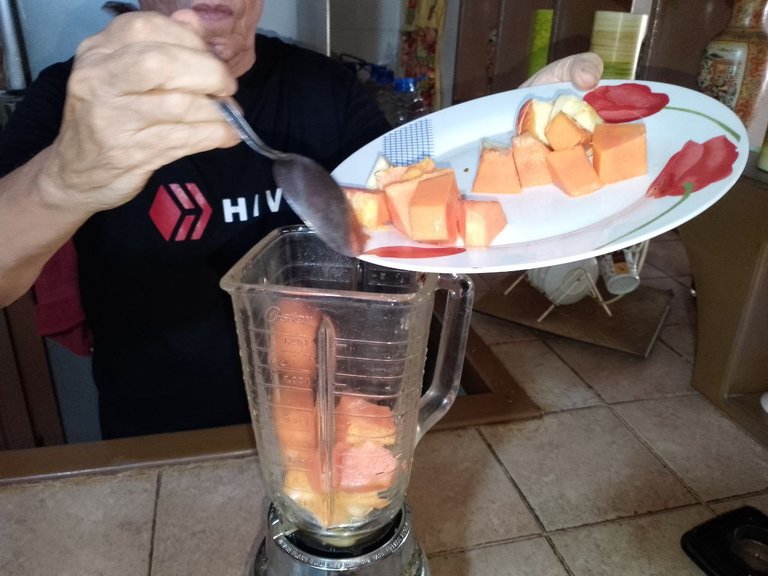 A los trozos de lechoza y manzana, incorporados en el envase de la licuadora, agregamos media taza de agua.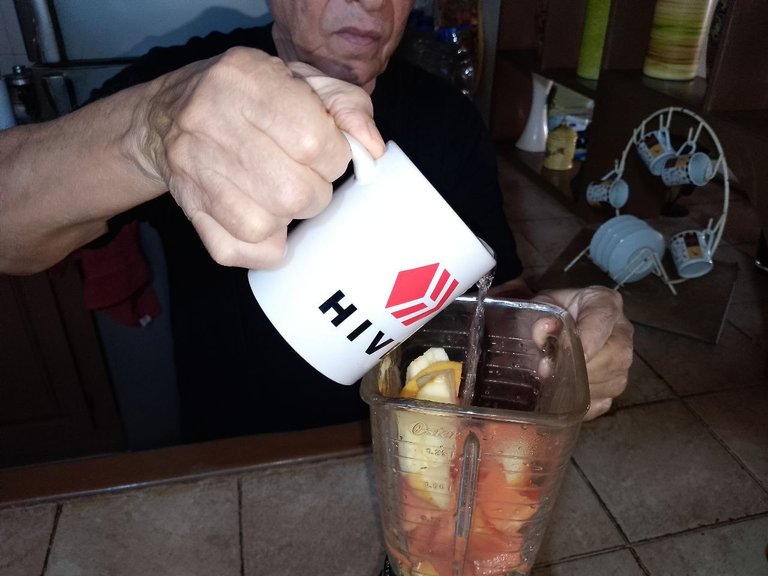 A los frutos cortados anteriormente, agregados en el envase de la licuadora, se añade media cucharada de azúcar, logicamente, cada persona puede añadir la cantidad de azúcar al gusto.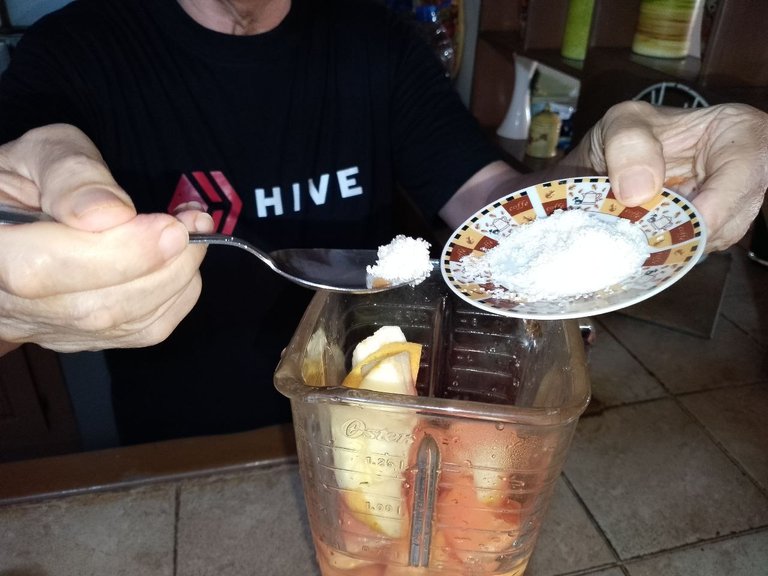 A continuación, procedemos al licuado de los frutos seleccionados.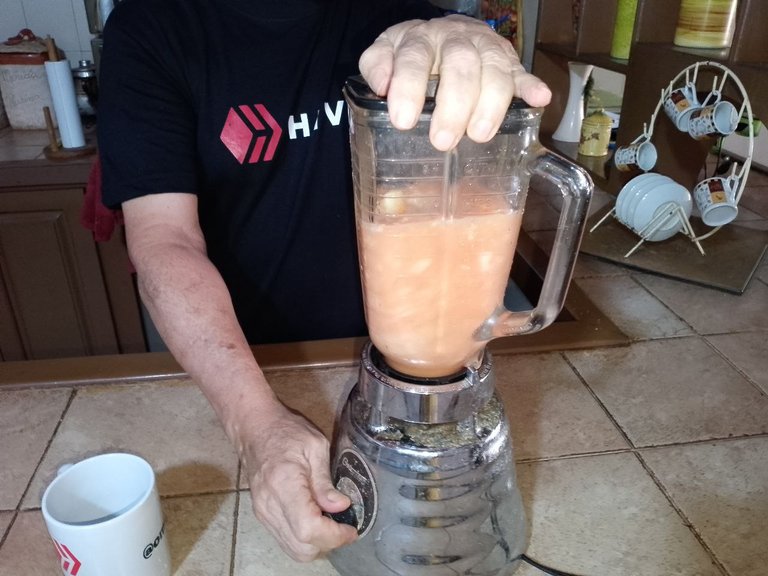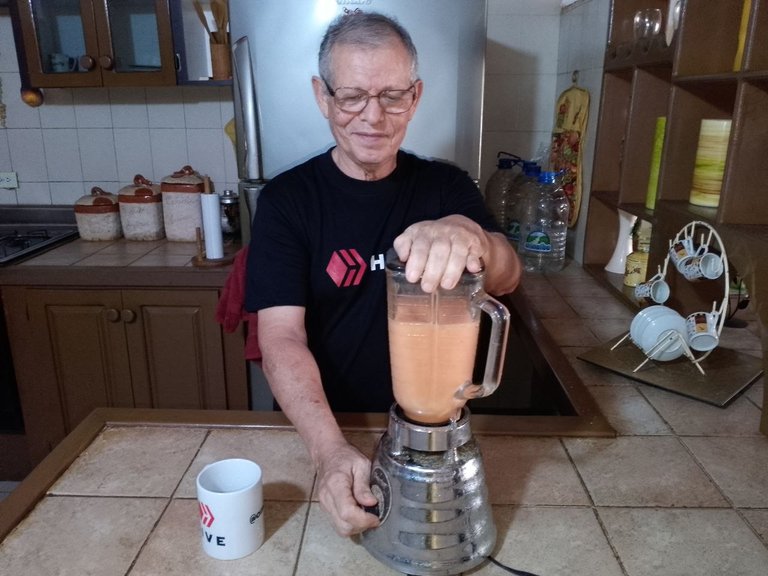 Servimos el batido en una taza o en el envase de su preferencia, observando su contenido, el cual degustaremos exquisitamente.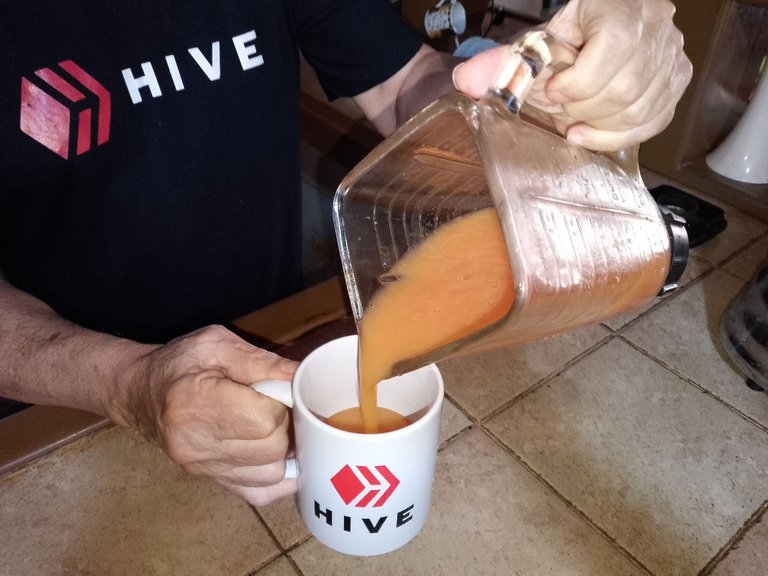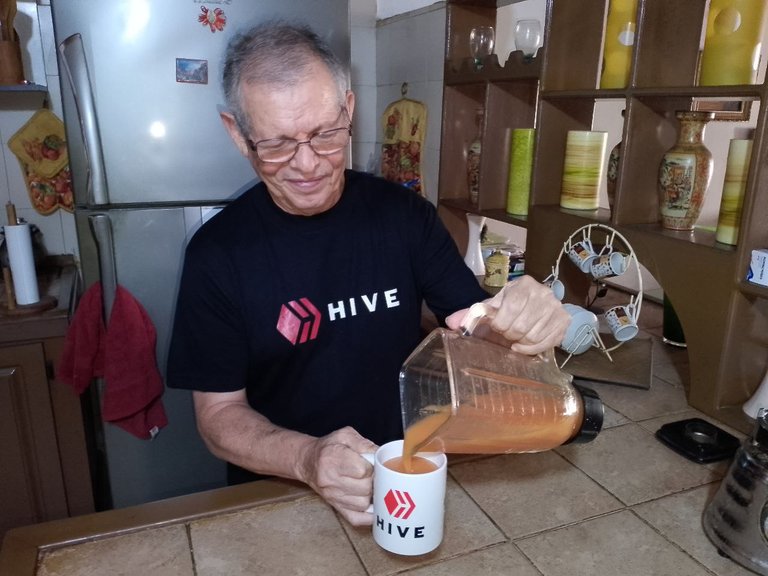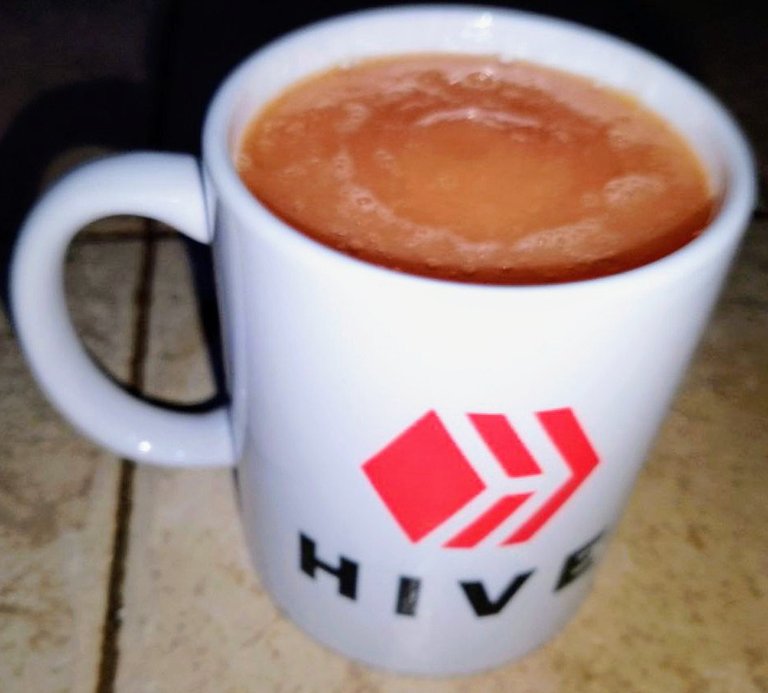 Finalmente, consumí el batido de lechoza y manzana, comprobando su rico sabor, con mucho entusiasmo, a sabiendas que es muy nutritivo.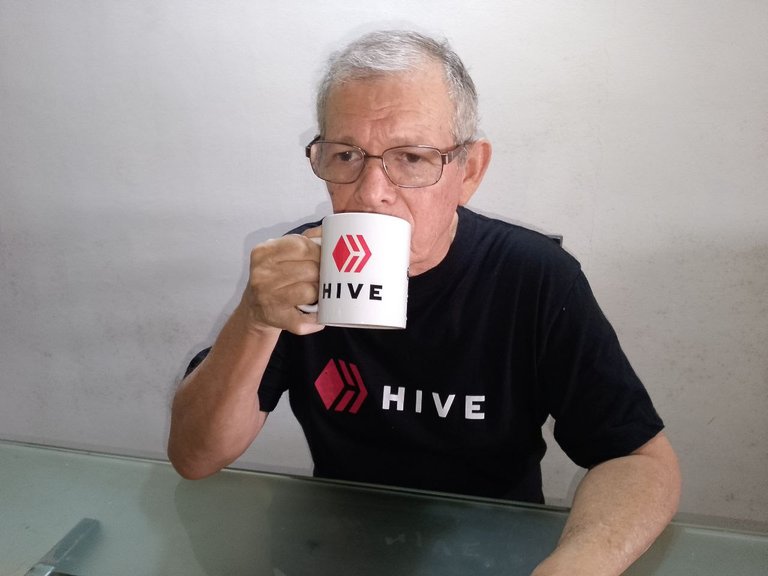 Amigos, luego de comprobar lo sabroso del batido realizado, el cual es muy nutritivo, les agradezco su receptividad y contínuas visitas, suscribiéndome a ustedes, con mucho afecto. Omar Gustavo Rojas Ortiz desde la ciudad de Cumaná en el estado Sucre-Venezuela.
Las imágenes fueron tomadas por Nancy de Rojas con mi celular Samsung Galaxy A10s y la publicación es de mi autoría.
Portada editada en Canva.
Logos propiedad de @hiveio.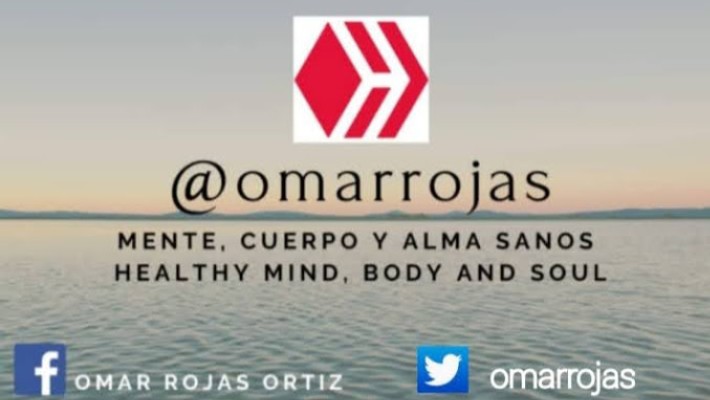 ---
---