My Splinterlands Gold III Daily Quest and End of Season Rewards (17/05/22) - Catch Up
Hi everyone,
It was weighing heavy on me that I hadn't posted on Splinterlands for a while, but I was really surprised to realise it had been 7 days since my last post.
So I'd better get started without further delay ...
11/05/22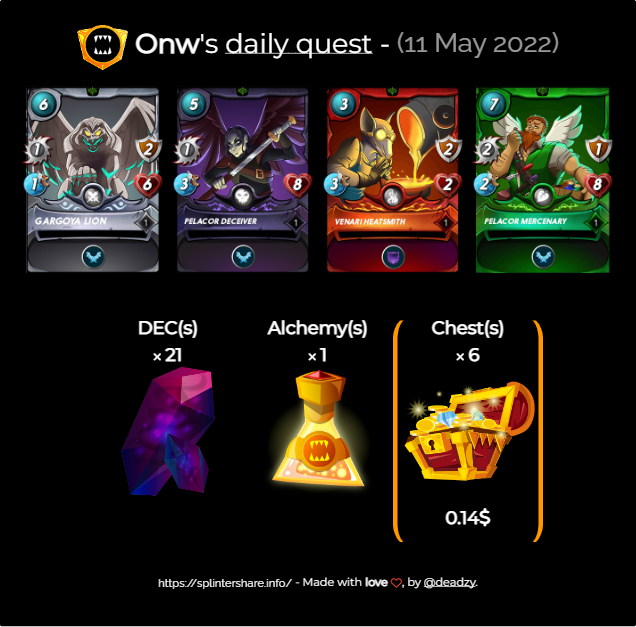 4 cards from 6 chests is a good ratio with 21 DEC.
The 4 Common Reward cards were sold for approx 12 Dec each and went towards buying more Chaos Legion Gold Foils or Untamed normal foils, in readiness for the upcoming reward changes.
I still need 6 Rare Untamed normal foil cards, Spark Pixies, Serpent of Eld, Bortus, Death Elemental, Drake of Arnak and lastly Tower Griffin.
Once I get these I Will have no ghost (Starter) cards.
Moving on ...
12,13 14/05/22
No rewards, yep I was busy playing this new game called REAL LIFE, what a fun game that is, going to a Chinese Retaurant with my Wife, the endless entertainment of watching the cat fly catching on the window sill, volunteering to wash up at the local church breakfast morning / food bank and relaxing with friends. Well that's my excuse and I'm sticking too it.
Bah, the reality is I did all that but kept losing ok, I sucked up three days of defeat served ice cold. Those Sneak and Snipe dailies aren't my forte. I initially got Sneak, opted to change and got Snipe.
15/05/22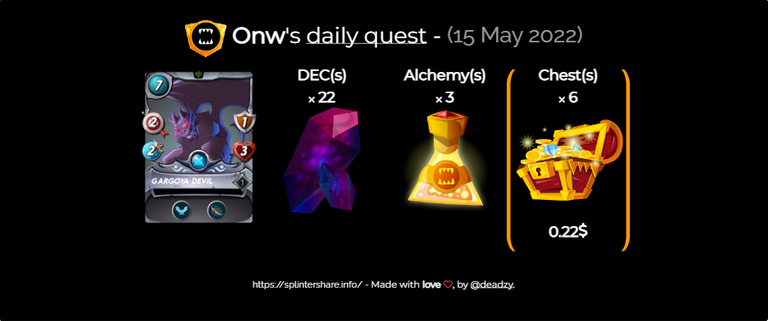 Not bad, got a rare which ironically is equivalent in CP to 4 Commons. Also got 22 DEC.
The Rare will be added to the collection.
Howzatt, after the durge of Quest Rewards for 3 days I complete two dailys in the same day: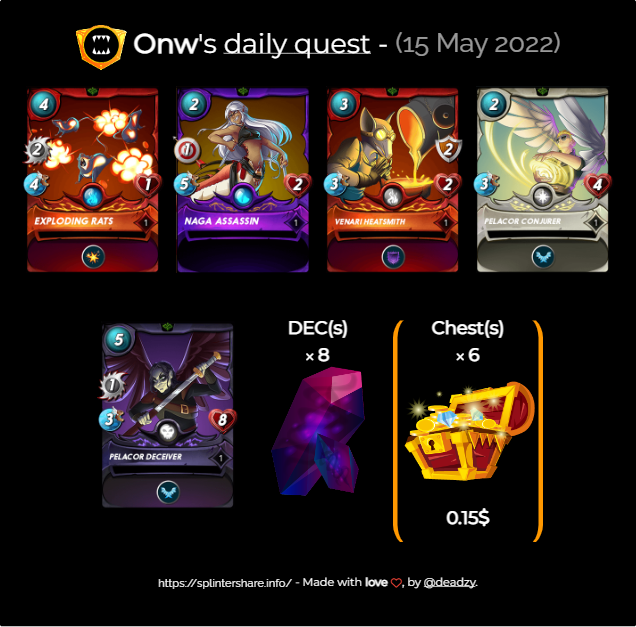 3 Commons, 2 Rares, and 8 DEC, the Commons went to market and the Rares joined the collection.
Again 5 cards from 6 chests, another good ratio.
16/05/22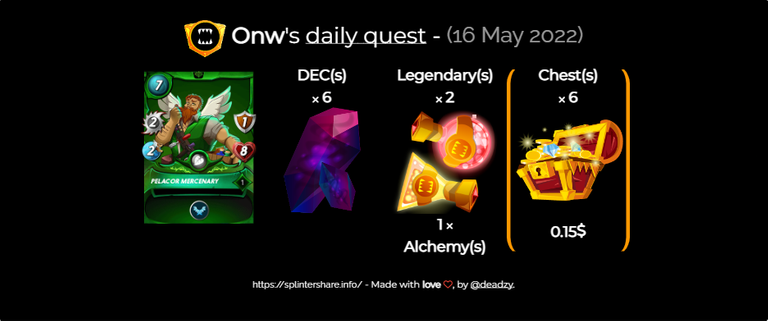 One Common Reward card, straight to market (before the price drops further), 6 DEC. Card ratio was pants this time, but hey you can't win every time.
The End of Season Rewards on the same day were as follows: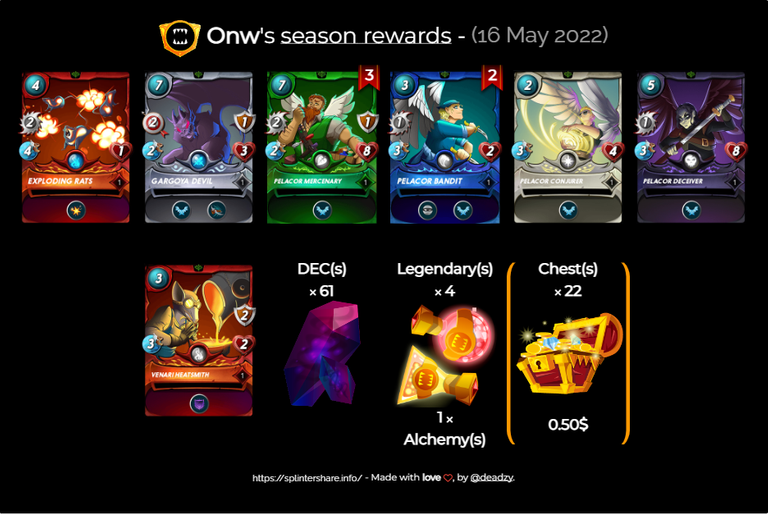 8 Common Reward cards and 2 Rare, that's almost 50% ratio from 22 chests with 61 DEC and 5 Potions.
Off to market yet again, the DEC's just rolling in.
To finish off the day I bought a Gladious Case with my Brawl rewards.
I resisted temptation and kept the pack until after the SPS Airdrop to see if the Gladius Case counted towards the Airdrop, like Choas Legion packs do. They don't :(.
So I thouoght sod it and opened the pack.

Gobsmacked, totally gobsmacked.
2 Common, 2 Rare and a Legendary.
Better still these cards carry double Card Power (CP) towards the SPS Airdrop.
So each Common is 10 CP, the Rares are 40 CP each and the Legendary was 1000 CP.
17/05/22
Todays Rewards were impressive to say I'm currently in mid Silver II and received pnly 3 chests.
A Common Reward card with an Epic Djinn Chwala and 4 DEC, none too shabby at all.
Djinn Chwala is an excellent card as it comes with Thorns, deadly if your opponent chooses a melee deck.
I do consider myself to be very lucky, I have been there in Bronze III getting low card drop rates but at least I got DEC to begin with.
Then when I had enough CP to get to Bronze I the DEC was replaced with Credits and that really made things difficult.
I was fortunate enough to be able to afford 220 CL Packs, but had to wait until only the free packs required Vouchers before I could afford to buy. From there gradually my collection has grown.
Until next time peeps,
@onw - Splinterlands
@b8l - https://RisingStarGame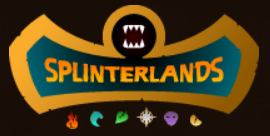 The Splinterlands Logo is copyright Splinterlands.com
The Gladius Case image was taken from Splinterlands.com
The Reward Summary images are supplied courtesy of https://splintershare.info/
---
---