Splinterlands: Daily Focus Strategy and Daily Earth Splinter rewards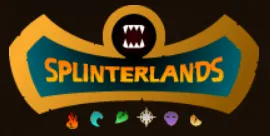 Hello everyone,
I started playing Splinterlands just before Chaos Legion came out.
The majority of my cards are from Chaos Legion for this reason, but I have managed to get all but 4 of the Untamed Commons and Rares at at least level 1.
My two best Splinters in my deck are Earth and Water, with Death coming a reasonable third. My Summoners for these three Splinters are at level 4.
I can't explain why, but I have an aversion to Fire and Life, but then my Summoners for these two Splinters are at level 3. To me they seem to be generally weaker Splinters considering the League I am in and the levels of Chaos Legion cards I have in these Splinters.
I think I just explained why I have an aversion to these two Splinters, ho hum.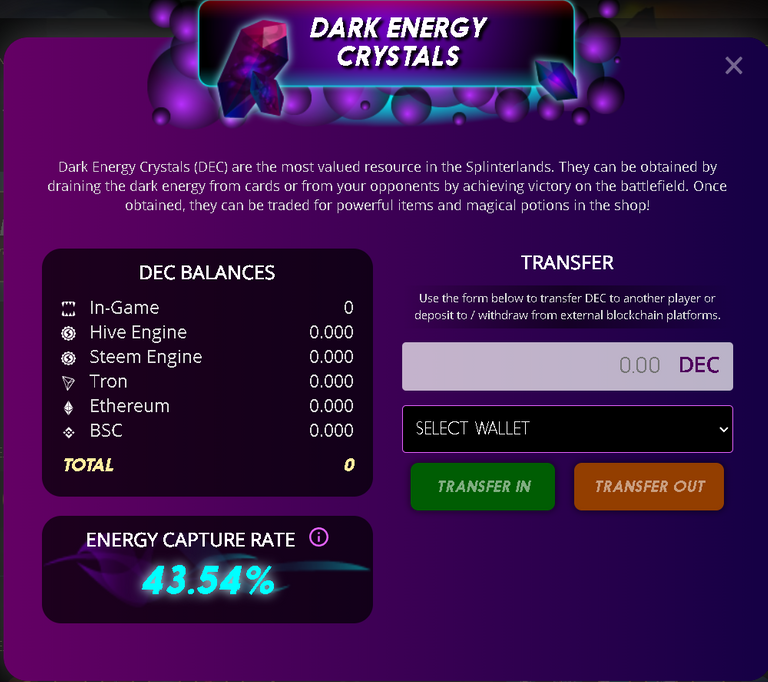 My strategy has been to play only Earth and Water Daily Focus Quests and then stop playing on days I don't draw one of these two options.
This allows my Energy Capture Rate (ECR) to recover as much as possible and then I can play constantly to try and acquire Daily Chests.
Also with the recent Resource Credits calculation changes, Resource Credits can be drastically cut for playing Starter/Ghost cards.
As far as I can gather just playing one Starter/Ghost card can reduce Resource Credits earned by approx 25%, two will halve your Resource Credits for that Battle, that's if you win of course.
Whilst the above calculation is likely to be a little inaccurate, you get the idea. Playing Starter/Ghost cards is BAD!
So the moral of this story is make sure you have the Untamed Commons and Rares (Starter/Ghost cards) for the Daily Splinter Quest you are playing, and don't forget the Untamed Neutral Commons and Rares too.
If you don't want to get lots of those scrumptious Daily Chests, then no worries.

Don't forget your rating, as this is also factored into the Resource Credit calculation.
So rather than my rating plunging when playing a bad Daily Quest Splinter for my deck (Fire/Life), I would rather wait and get more Daily Chests another day.
On the flip side of this, is the thought that if your Rating plunges with a bad Splinter, it could rebound with a decent Winning Streak, doubling your rewards, but only if you get a decent Winning Streak.
Or it will be easier to climb back up the Ratings as you will be playing opponents with a lower rating whilst climbing back, making it easier to win.
The choice as they say is yours for the making!
Today I pulled Fire quest and on resubmitting got Life, with my ECR at 43.5%, I will stop playing now until I get Earth or Water Daily Focus and then aim for getting another 20 of the maximum 30 Daily Chests.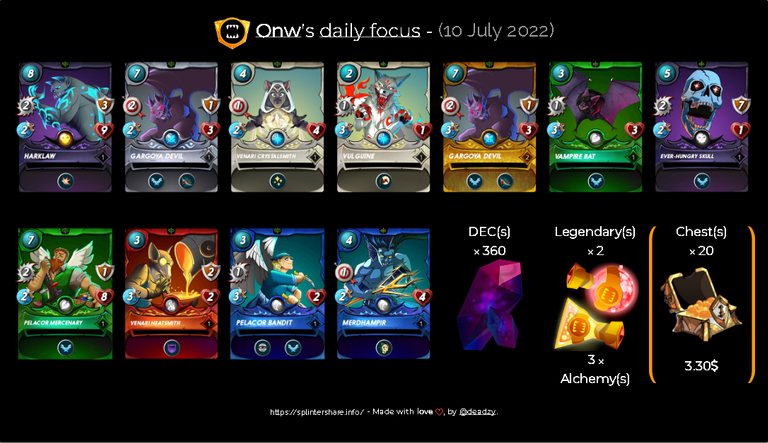 The fruits of my labour yesterday was 20 Daily Chests.
This result was greatly helped by starting with a 100% ECR.
It makes me wonder if the quality of rewards is proportionate to the number of Daily Chests you are awarded, but that would be some pretty devious coding by Splinterlands if it was the case.
So not a bad haul, the break down is as follows:
1 Legendary cards
4 Rare cards
6 Common cards of which one was a Gold Foil
350 DEC
From 20 Chests that's over 50% Card drop rate.
I have already moved the Legendary and Common Gold Foil to my Rental account which is managed by SplinterRents and automated for a 5% fee.
The rest of the cards went to my Reward card account, merged to make level 3 Commons or level 2 Rares and then sent to the rental account.
The proceeds from renting then fund future purchases of Chaos Legion and Untamed Commons and Rares.
Well that's all folks..
Thanks for reading and have fun,
@onw - Splinterlands
@b8l - https://RisingStarGame
The Splinterlands Logo is copyright Splinterlands, as are the ECR and Rating images
The Reward Summary images are supplied courtesy of https://splintershare.info/
---
---