Funny How People Think We Wouldn't See Another Bull Run

As Humans how we think things are and how things should go really amazes me most of the time, during the bull run at the ending of 2020 when the bitcoin price pumped like crazy some people thought it will not end until it hit an all time at $64k in the month of April and then it dropped again as hard as it pumped, the same set of people thought the crash won't come to an end an that might be the end of Bitcoin because of the prolonged sideways movement around $28k, which some people predicted it will continue dropping to $10k level because that was where they were hoping to buy from.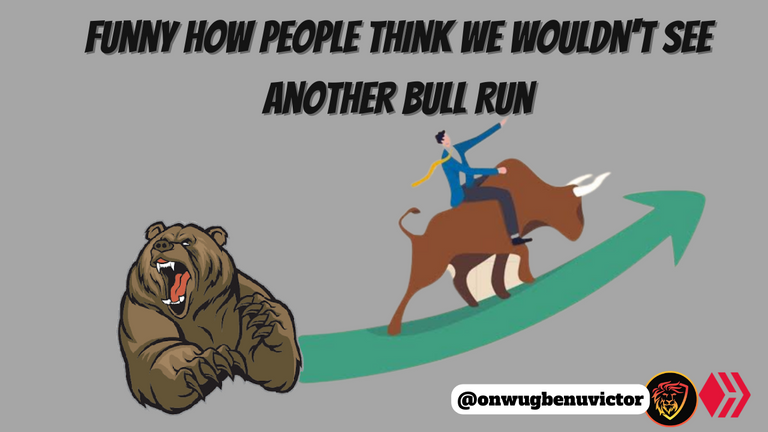 But bitcoin did not get to $10k before the bull run in 2021 began, in July last year then it started pumping again many people thought the market will always continue to go up and not come back down again, and when we later had the huge correction which led to the bear market. the same set of people are already thinking we will never see another bull run due to the persistent dip or dump, which came after Bitcoin hit its all time at $69k in November last year, but that is just the market cycle for you, we will always have bull and bear markets, if you even followed what I wrote in my carefully you will notice that there was a bull run then bear run before another bull run came again, so most definitely we will see another bull run or bull season, it will only take time.
I think the problem is most people who think this bear market won't come to an end, don't understand the Bitcoin market structure and cycles, because if they do they would not be talking the way are talking right now, also feel they might have been buying the dip, dollar cost averaging (DCA) in the market which is a very good strategy, by the way, accumulation and all that shit but don't have the patience to wait for the market to reverse and playout, then the frustrating sitting down and watching their money lose value without any clear direction of when the market will pump, that's what is bring up the thought of there is not going be another bull run again.
The market is in cycles and just like the bull market has come and gone, this bear market will also go someday, it's time it will take. All you are required to do is keep accumulating as much as you can right now, so when the bull market comes eventually, you don't want to be caught unprepared. No matter how long it takes the bull run will surely come.
THANKS GUYS FOR READING MY POST.
PLEASE FOLLOW ME ON:
Discord: onwugbenuvictor#3447
Twitter: @VictorOnwugbenu
---
---