How is SBF not in jail, still a Guest Speaker at the New York Times DealBook Summit but Tornado Cash Developer is in jail?
Honestly, I don't know what to think or how to feel about this situation of Tornado Cash Developer Alexey Pertsev being in jail until at least till late february next year, after the Netherlands court found him to be a fight risk and Sam Bankman-Fried is not in jail and still a "Guest Speaker" at The New York Times DealBook Summit event on November 30th? Which his official Twitter handle confirmed that he will be speaking with Andrew Ross Sorkin at the New York Times DealBook summit event next week Wednesday on the 30th of November 2022.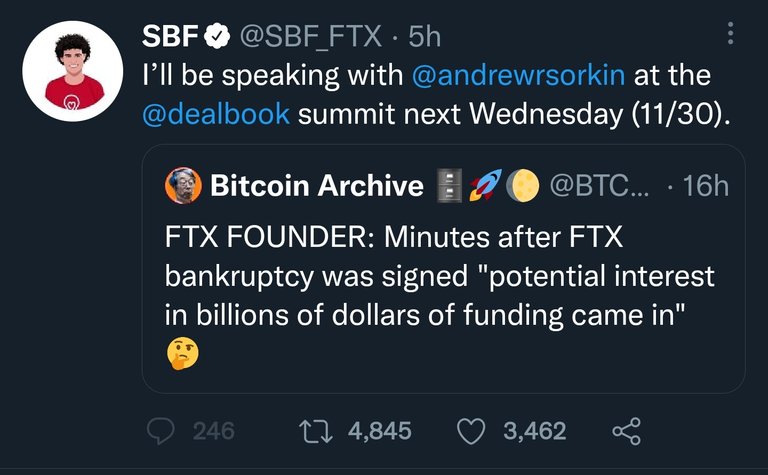 Alexey Pertsev Tornado Cash Developer is in prison because he tried to provide a safe and secure system, he has been accused and held in detention since August, days after the U.S. Treasury used sanction powers against the Tornado protocol, which it said had been used to launder over a billion dollars worth of cryptocurrencies and used to support North Korean hackers. But Sam Bankman-Fried is free and not in jail, running around the Bahamas with his family like FTX did not just collapse and filed for bankruptcy due to his and his team's greed and over-leveraging with consumer's funds. Ruining a lot of lives including FTX staff that had their life savings on FTX and was been paid in FTT.
There can only be two explanations as to why Sam Bankman-Fried is not in jail right now is either his family has the right government officials in their back pocket or he has paid off the right people in the US government because honestly, Sam Bankman-Fried deserves to be in jail, jail is where he belongs and a lot of crypto traders/investors have been saying but the government is doing nothing, but they could be quick to arrest Tornado Cash Developer Alexey Pertsev back in August, how is that fair.
In 2008, Bernie Madoff was arrested within 24 hours of his fraud being revealed but In 2022 due to gready and probably backroom deals that involve money exchanging hands, Sam Bankman-Fried will be attending the New York Times Dealbook summit as a Guest Speaker after his fraud was revealed, He lost billions, misused clients and customers money or funds but he can go on the New York Times event summit? I do not still get it yet. Are they trying to tell us that as a scammer you can now talk in public and give your opinion, instead of being arrested and sent to jail?
Something fishy must be going on here because it totally makes ZERO sense.
PLEASE FOLLOW ME ON:
Discord: onwugbenuvictor#3447
Twitter: @VictorOnwugbenu
Posted Using LeoFinance Beta
---
---