If You Were To Start Life All Over Again, Would You Still Choose Crypto???
For me, this is not even a hard choice to make, despite the ups, downs, bear market, bull market, dips, pumps, and the crazy a*s emotional roller coasters that come with crypto, I will still choose crypto a 1000% times over any other job out there, first of all, I am someone who likes to work for myself (entrepreneur), I have always wanted that to be my lifestyle right from when I was little, because of the way I see some employers treat their employees like they are less than humans just because they pay them salaries at the end of the month and employees can not do anything because they need the money. Salaries that don't even match half of what they do for their employees, some would even go as far as telling you that they own you because they know the job situation of my country Nigeria is bad. These employers threaten their employees with sack letters to keep them in line, for me that is just Modern Day Slavery. That is why I will choose crypto anytime, any day, over and over again, with no regrets.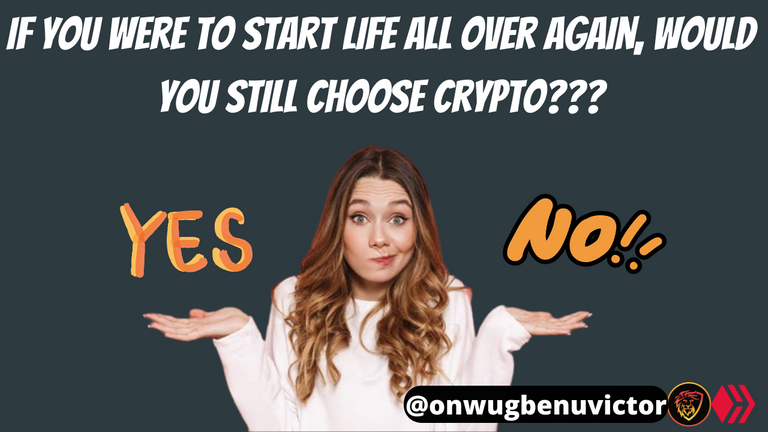 Crypto Does Not Just Offer Financial Freedom Alone.
Crypto does not just create or offer a pathway to financial freedom, It helps you in so many other ways, for a full-time crypto trader you can work from the comfort of your home or anywhere else you feel comfortable, and when I say work I meant trading, in fact, any job related to crypto can be done anywhere, although there are still some that feels like a 9 - 5 job, but you get more benefits and free time to try out other things. And for those who are into blockchain content creation just like Hive (Leofinance.io), you get to learn, earn and make new good friends that could be come family someday.
Opportunities In Crypto And It Utilities
So in my opinion crypto is not just a choice, it is the future of money, finance, and payment, also blockchain technology is being used in many great technologies, we have play-to-earn and move-to-earn, for play-to-earn you can make money from playing games, that's you having fun and getting rewarded for it. Then for move-to-earn, from the name, you know what to do to earn your rewards, either you walk, run or do exercises, as long as you are moving you get paid. Although you have to own the move-to-earn NFT sneakers for that to happen, and honestly it is not that cheap, one sneaker cost about 11 SOL (solana) or more for the StepN NFT sneakers. And in the digital assets space, we still have Metaverse and NFTs you can also earn from them or their tokens, It's either you adopt crypto now or you adopt in the future. Cryptocurrency will keep getting bigger and better. it is just inevitable.
THANKS GUYS FOR READING MY POST.
PLEASE FOLLOW ME ON:
Discord: onwugbenuvictor#3447
Twitter: @VictorOnwugbenu
Posted Using LeoFinance Beta
---
---