R.I.P to the money we have lost in Crypto/Forex Trading.

I don't think there is any Crypto or Forex trader that is truthful to himself or herself that would say they haven't lost money in trading both as a beginner and at whatever stage they are currently, even though they have attained some level of profitability they still lose some money from time to to time, the best thing to do Is that we make our wins higher or bigger than our losses so that in the end we are still profitable. Honestly, I lost a lot of money gambling in both crypto and forex as a newbie when I started because I was expecting to become a billionaire overnight, but I learned the real truth the hard way both from forex and crypto.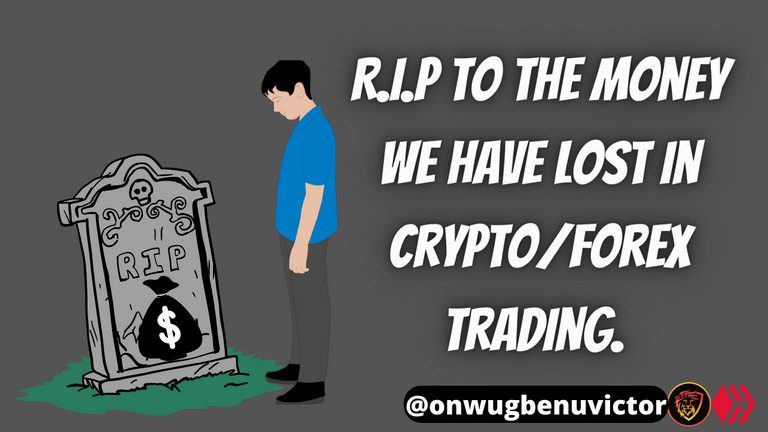 Before I paid someone to teach me how to trade, because I saw that just jumping in and out of trades (gambling) was not going to make me profitable, trading should always be treated as a business venture, not a casino where you can gamble if you are lucky enough you get to win a lot of money and if you are not you lose a lot of money. The worst thing to do in trading is to try and avenge the money you have lost in the market, 90% of the time it will not end well, it will end in tears because you would even lose more money than you bargained for trusting me, I am a living example, I did that a lot as a newbie. But I cleaned up my act and learned how to trade, now I am better for it.
Don't Chase The Market, Let It Comes To You And Learn How To Control Your Emotions
Getting emotional is one of the fastest ways to lose money in crypto or forex, blessing the market makers with your money, to succeed in the trading industry you need to learn how to control your emotions because no matter how good of a trader (analyst) you are if lack control of your emotions you would definitely lose a lot of more money because you might have made the best analysis of the market before you place the trade, and when the market consolidates for a while before actually moving the direction you predicted, or maybe it decided to dip a lot further before going your way, you get inpatient (emotional), and when that happens your logical reasoning is shut down and you start reacting based on how emotional you are at that point, you will just close that trade at loss, and when you come back to the market may be in a few minutes of hours, and you find out it is actually going your way instead of waiting for the price to come to you.
Either when it corrects a little before continuing the trend direction you will just jump into the market at the price you see currently because of FOMO (Fear of missing out) and when you jump in again then at that point the market, decides to correct a little before it continuing, you will just jump out of the trade again losing more money, at that point, you will feel like the market is out to get you, but you know it was because you were not patient enough. Patience is key in both crypto and forex trading, it will help you can avoid losing your money from leaving trades too early. To the money, we have lost Rest in Peace, and to the money, we have made or gained, Cheers.
THANKS GUYS FOR READING MY POST.
PLEASE FOLLOW ME ON:
Discord: onwugbenuvictor#3447
Twitter: @VictorOnwugbenu
Posted Using LeoFinance Beta
---
---