They say Michael Saylor is a Gambler and the Worst Investor, Do you agree?
Honestly, I do not agree with this saying that Michael Saylor is a Gambler and the Worst Investor, although I feel people are entitled to their own opinion, But in this case, I disagree 1000%, in my humble opinion I would say only a crypto hater or critic would think this way because their Bitcoin investment has helped their company's stock to grow, people like our crybaby Peter Schiff who couldn't save his bank from getting shut down in Puerto Rico is here advising the board of directors of Microstrategy to sell off all their Bitcoin now while they still can, that their former CEO and Chairman Michael Saylor who recently stepped down as CEO of the company for Phong Le is a Huge Gambler.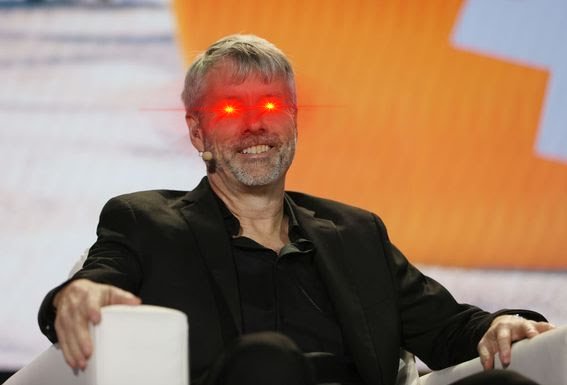 Rumours and People's wrong impression about Michael Saylor and Microstrategy
Rumours already have it that Michael Saylor, our very own former crypto skeptic and critic turned Bitcoin maximalist, crypto evangelist, and investor was forced out as CEO or made to step down as CEO of the company by the board of directors because he was wasting the company's money on buying Bitcoin and also that the company would soon start selling their Bitcoin holding which is funny because first of all Michael Saylor is still on the border of directors for Microstrategy and despite the rumours going around that they have sold some Bitcoin in the past as Tesla did.
MicroStrategy and Michael Saylor have proven times without number that they have never sold a Sats of Bitcoin they are holding on the company's balance sheet, Sats or Satoshi means the smallest unit of Bitcoin, named after the founder of Bitcoin Satoshi Nakamoto. Now to shut up all the crypto haters and critics, the company just purchased an additional 301 Bitcoin worth $6 million to add to the previous Bitcoin holding, right now MicroStrategy holds 130,000 Bitcoins which was purchased for $3.98 billion at an average price of $30,639 per bitcoin, this information was shared in a tweet by Michael Saylor on Twitter a few days ago.
Michael Saylors Tweet
MicroStrategy has purchased an additional 301 bitcoins for ~$6.0 million at an average price of ~$19,851 per bitcoin. As of 9/19/22 @MicroStrategy holds ~130,000 bitcoins acquired for ~$3.98 billion at an average price of ~$30,639 per bitcoin.
In Conclusion
MicroStrategy might be down about $1.5 billion which is 40% of their total Bitcoin holding in unrealized loss, meaning they have not lost anything yet until they close their position and their Bitcoin investment has helped the company's stocks performance much better than any big tech company, So crypto critics calling Michael Saylor a Gambler and the Worst Investor on the planet should just take a chill pill.
THANKS GUYS FOR READING MY POST.
PLEASE FOLLOW ME ON:
Discord: onwugbenuvictor#3447
Twitter: @VictorOnwugbenu
Posted Using LeoFinance Beta
---
---