Francis Uzoho saves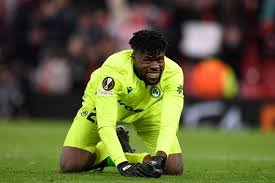 Licenseable
Francis Uzoho really tried on thursday evening while Manchester United and Omonia (the club he's playing for) met at Old Trafford, the way Francis Uzoho saved goals is an excellent one, he denied so many goals and when he was interviewed and asked if that's his best performance in his career, he said arguably because he did more than expectations. Francis Uzoho is the second goalkeeper of the club but the coach (Neil Nenon) gave him chance to play because Francis made the coach know that he is a Manchester United fan since his young age and he would love to play in Old Trafford and the coach have him that chance and he proved himself to the world.
With Francis Uzoho's performance last night, he might be the first goalkeeper in the club now if he use that performance as stepping stone, like playing like that continuously. Even Christiano Ronaldo appreciate him for his performance yesterday. Uzoho is just 23, so he have chance to become great like Edouard Mendy, Mendy won the number one best goalkeeper in the world last season and he didn't even think that he can ever play at Chelsea and this is how he also started his career and he finally become great, the one that almost give up on football won the best goalkeeper all over the world award.
All thanks to Neil Nennon for Francis Uzoho's performance because if he didn't give him that chance, he wouldn't have be seen by the world but he game him Chance and the chance still help the club because Manchester United might have score so many goals if it hadn't been Francis Uzoho that keep in that match. It's good to be good, the coach is good to his players and it really helped the club because the club might have concede more than one goal ever since first half of the match and I even hope the match would result to goalless match but Manchester United final have their three points and I felt bad, not because of Omonia but because of Francis Uzoho.
Maybe Uzoho never win man of the match before ever since his career stated, but he won it on thursday due to the great work that he did for the club on that match and I think it's because he really want to play in Old Trafford that help him in that match because I never see Francis Uzoho saves this much, even on Nigeria vs Ghana, he is the reason why Nigeria didn't qualify for the World Cup because he should at least save that Thomas Partey's shot but he couldn't, so Nigerians would be surprised as he saved so much ball on thursday evening against a big club like Manchester United, especially denied Christiano Ronaldo's shots.
---
---