Klopp's comment about the penalty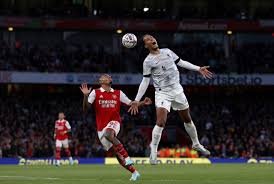 Licenseable
Jorggen klopp said something that is not even among the rule of football but because he's the coach, he won't speak against his team. He said the penalty shouldn't be awarded for Arsenal to play simply because it's minimal. The English that he said is "Soft Penalty". In football, they don't care if your kick is soft or hard, once you kick, it's a foul because the only thing you are chanced to kick is the ball, not the opponents. Gabriel Jesus didn't see Thiago Alcantara and the ball is still at Gabriel Jesus leg and as an experienced striker, he placed his leg right at the spot where Thiago would kick the ball and as Thiago kicked him as he wanted to clear the ball out, he fell and penalty was awarded to Arsenal and it worth it.
VAR even checked the penalty after referee awarded it and it worth penalty because any contact in the box is a penalty and Micheal Oliver (Refree) have awarded it before VAR even checked it for him and many penalties was awarded for Liverpool last season, which help Mohammed Salah's EPL numbers of goals, if penalty was removed from the goals that he scored, the goals are very view, so it's obvious that Heung Min Son is the real highest goals scorer that score without penalty. Jorggen klopp isn't happy as things keeps getting worst for Liverpool but as there is nothing he can do to it, he gives coming up with different excuses after the match.
It is very obvious that Trent Alexander Arnold is not good in his primary assignment, thank God he was injured, if he's not injured, Gabriel Martineli might show him pepper in that match. Anold can only attack, he didn't have the mind of defense. There are chances that Arsenal might get despite how much we thought Geo Gomez isn't good enough but he denied the chances and it's because he didn't really over lap which gave him chance to cover, if it's Anold, the goal might be much for Arsenal, and if goals is much, we won't be talking about one penalty, we would be talking of many goals like Manchester United versus Manchester City match.
Jorggen Klopp started the match with 424 and ended it with 442 but the formation didn't really bring anything fruitful and it's because Liverpool is really down mentally and Klopp is looking for something to do to get them back to form, clubs have really known their weaknesses and they are working on it. Mohammed Salah is finished and the only player that they play with now is Luis Diaz and as he was injured, there is nothing in the attack anymore, there is no one to supply Danwin Nunez ball again so William Saliba and Gabriel Magaheas didn't find trouble at the back anymore and Ferminho that was the strongest man in the midfield last season is currently down now and for him to be on bench even at big match, it means things aren't right for Jorggen klopp.
---
---