WEEK 140: Weekend-Engagement concept
The men
It's gets obvious quickly when someone with Athletic stature like me start gym 💪, so someone with Athletic body stature that adds gym with it gets attracted by girls, because of that, my friends go to gym in order to build muscles and the main reason why they go to gym is to build their arm and chest so ladies can see them and want to move with them when they pull off their clothes at the swimming pool sides. The swimming pool side is where we go to when it's hot and it's always hot here in my country (Nigeria) but as a guy with Athletic stature, I don't need much gym to get attracted by ladies. I may not even need to go to gym at times, all I need is just 100 press-up non stop after I come from road jog and my chest would come out.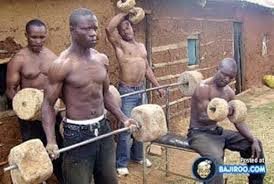 Source
The part of my body that I would like to be bigger than it currently is my chest ,so as to be attracted by the ladies even without going to gym because I will need to go to gym before it can be possible and that is not free, it worth thousands of Nigeria Naira and that is not easy to get as at now in Nigeria. But we have a way to build our muscle in Nigeria even if we don't have the money to go pay at gym and that's with the help of cement and trashed iron and we build the heavy loads on bench, to build our muscle and get the same posture as those that do go to gym everyday and of course we do use our local one everyday, depends on the health status.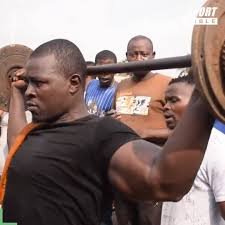 Source
We use the local one but it can't ever be like the ones inside the gym house, all that we can make with the local ones is one that we can use to build our arms, the bench that's useful for only the chest but since all that we want to do is to build our chest, then we don't need to go to the gym house if we don't have money to pay, so we don't need to go to the gym before we can be fit, it's just that the fitness materials that is inside the gym house can't be compared with the local ones that we made with cement and iron or cement and sand only and it can be just iron only, it depend on the nearest or available material that we have when we want to make the gym.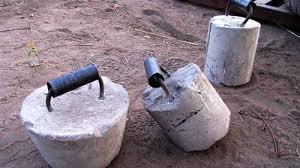 Source
Instead of the mile track, we use the road jog, so we run for at least an hour before we go and push the one on bench and then later make use of the ones we build for training our arm to be big. And to train the chest and arm together at a time, we push the one we build on the bench while standing, not by resting the back, the ones we do while we rest our back is the one works only for the chest but I don't think I need to build my arm since I'm not a boxer or a fighter, all I need to to build my chest in order to look fit in the sight of girls.
---
---