OPG Wheel of Luck Round 2 results - Round 3 is open
---
Results of the OPG Wheel of Luck Round 2
---
Congratulations to the participants for what they have won. Great to see there was 3 people wanting to participate, let's hope this grows by another 1 or 2 for round 3. OPG has been burned, now have 12 OPG burned in total yay!

@failingforward received 20 LIST so I will send 25 instead for being in both rounds.
@indiebandguru got the rare Splinterlands card, or if you don't have a Splinterlands account I will send another token of similar value just let me know some options that you like, preferably from the list of what the wheel has for now
@amaillo won the 250 starbits and will have that sent
Got to chop up some firewood and do some housework so that will be first up, adult life I tell ya!
Third round for the OPG Wheel of Luck
---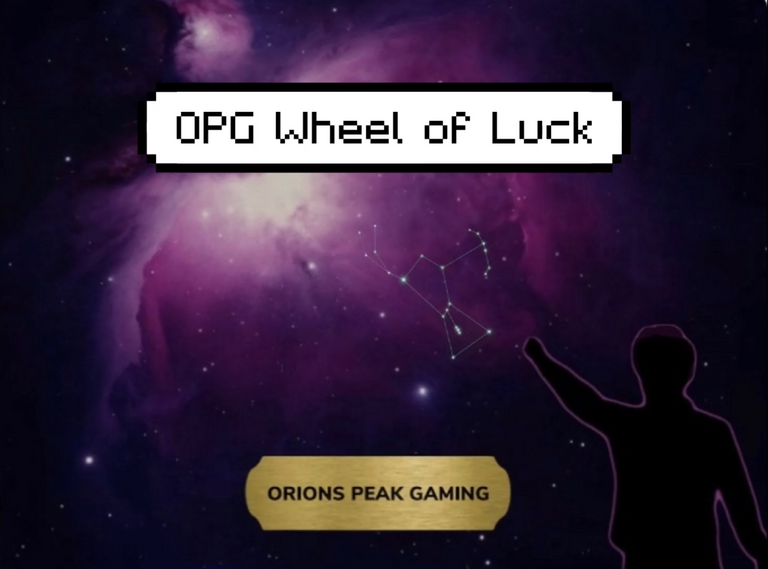 Here it is the third round of the OPG Wheel of Luck which will give you another use case for the OPG token and a fun one where the OPG you earned from blogging and using the #opg or got another way, will be burned.
~ Take a spin and get rewarded for a way to get a variety of different prizes, which future rounds will be looking to rise up to higher values and more tokens/prizes to add even more goodies!
Rules: You will have to do a few things
---
1st is sending the amount of 3 OPG tokens, to @orionspeakgaming with the memo 'OPG Wheel of Luck Round 3' which will get sent to @null to be burned.
2nd is ensuring you have commented your interest in the participation of the wheel, how many times you want it shuffled between 0 and 5 times and add to the comment that you have sent the amount of OPG tokens to spin the wheel.
3rd is to wait until I can do the spins which I will try to do all at once on the same day in a video if possible, otherwise if running out of time I will not get a video out. I will randomise the list of people spinning the wheel, 3 times and go through the list one by one with that persons amount of times to shuffle the wheel, then the next etc.
---
The prizes and a bit about the tokens
---
I aim to get some prizes at a range of values include lower, average and higher so it adds some luck to the spins and changes up what and how much can be won.
For this round the wheel will have these prizes:
8 OPG, 2 OPG (increased from 1 OPG), 30 LIST (increased from 20 LIST), 150 SIM (increased from 100 SIM), 30 COM (increased from 20 COM), 40 SPT (increased from 30 SPT), 40 VYB, 250 Starbits, 250 DEC, Splinterlands Common Card, Splinterlands Rare card, Consolation Prize of 10 VYB.
VYB - Verify Your Brain token is one aimed at stopping downvotes or self-votes abuse, but bringing tribe-wide muting instead and the token rewards for constantly self-voting or plragiarising etc can stop you getting VYB rewards. They want people to be HODL'ing the VYB tokens by making rewards be staked and you can temporarily stop getting rewarded should you try selling your token. Find out more about VYB here which has a lot on what it is aiming for and the differences between VYB and POB which is the token it wants to complement and is a sort of parallel to it. There is so much to read up on, but I was in with POB for a while at the start and both seem like good tokens for me anyway.
SIM - Most people will know/know about this token and it's use. You can use it for the game dCity which has a variety of different strategies that can be used, with governance taxes affecting things like war and SIM gained during it, earnings daily and much more and has always been a solid game for a long time now.
LIST - The LIST token is linked to Hivelist which talks about the variety of ways you can earn it, including using it as a store currency for items you are selling on the store, or in the classifieds which includes selling or services offered, contests and more.
COM - A dividend token which can earn a small amount of different tokens every day and linked to Hustler and LIST tokens and can also be mined by staking Hustler and the LIST tokens.
DEC - Needs no introduction as pretty much anyone would know it is linked to Splinterlands and very common, always a great prize opportunity for people to win!
SPT - The Splintertalk token is another popular tribe sort of token and is great for those to curate or post about Splinterlands related topics, to earn more and use or sell it as they see fit.
OPG - Last but not least is a chance at either getting back a bigger amount or a small amount of OPG tokens to use for the future wheel spins or just to hold in general.
Consolation Prize - The consolation prize will just be 5 VYB tokens for now, so people at least can win something. Just like how the giveaways I do, always have the consolation prize now.
---
▶️ 3Speak
---
---