Cardboard "Mini Christmas Tree" // "Mini arbolito de Navidad" elaborado con cartón
A cordial greeting to all the artists who decorate the community with their arts every day HiveDiy We are close to the Christmas celebrations, for the birth of the "Child Jesus ", where in many homes it is used to install the popular" tree ", which represents Christmas, so today I decided to make a mini Christmas tree out of cardboard.
Un cordial saludo a todos los artistas que día a día decoran con sus artes a la comunidad HiveDiy Ya estamos cerca de de las celebraciones navideñas, por el nacimiento del "Niño Jesús", donde en muchos hogares se acostumbra a instalar el popular" arbolito", el cual representa la Navidad, por ello, hoy decidí hacer un mini arbolito de Navidad con cartón.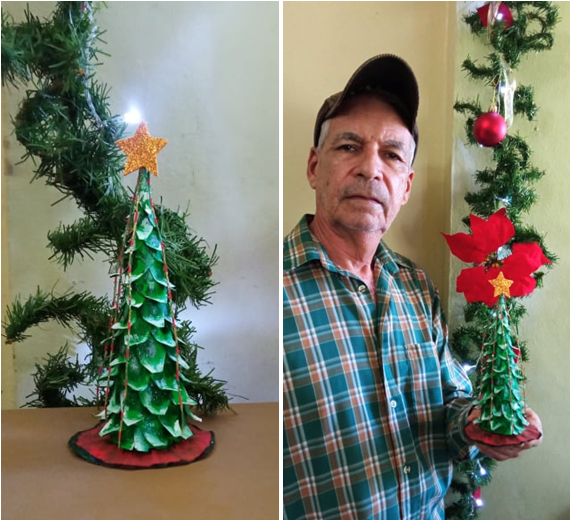 Cardboard "Mini Christmas Tree" // "Mini arbolito de Navidad" elaborado con cartón
| The work consists of making a cardboard cone, which I will then cover with small sheets in the shape of triangles, also made of cardboard, I will glue these interleaved sheets, similar to a tile roof | El trabajo consiste en hacer un cono con cartón, que luego lo voy a cubrir con pequeñas hojas en forma de triángulos, también hechos de cartón, estas hojas las pegaré de forma intercaladas, similar a un tejado. |
| --- | --- |
| Materials: | Materiales: |
| --- | --- |
| - Cardboard | - Cartulina |
| - White glue | - Pega blanca |
| - Paint: Light green, green liquid frost, gold, red and white color | - Pintura: Verde claro, escarcha líquida verde, color dorado, rojo y blanco |
| - Step-1: The first thing I will do, will be the cardboard cone: | - Paso-1: Lo primero que haré, será el cono de cartón: |
| --- | --- |
| - Step-2: In this step, I will make the small leaves in the shape of triangles, these will have a measure of: 2 cm to cover half of the cone, then I will make other 1.2 cm triangles to cover the third part of the cone, and others of 8 and 5 mm to cover the tip of the cone: | - Paso-2: El este paso, voy a elaborar las pequeños hojas en forma de triángulos, estos tendrán una medida de: 2 cms para cubrir la mitad del cono, luego haré otros triángulos de 1,2 cm para cubrir la tercera parte del cono, y otros de 8 y 5 mm para cubrir la punta del cono: |
| --- | --- |

| - Step-3: Now I will glue the triangular sheets, starting from the bottom up, each sheet will be placed at the junction of the sheets from the previous row: | - Paso-3: Ahora pegaré las hojas triangulares, comenzando de abajo hacia arriba, cada hoja se colocará en la unión de las hojas de la fila anterior: |
| --- | --- |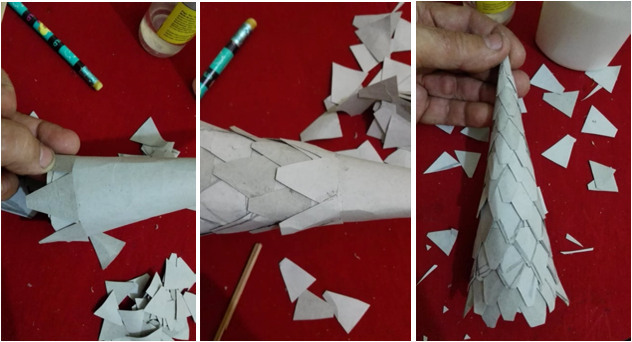 | - Step-4: Once all the pieces are in place, I am going to curl them, so that the ends are raised: | - Paso-4: Una vez colocadas todas las piezas, las voy a rizar, para que las puntas queden levantadas: |
| --- | --- |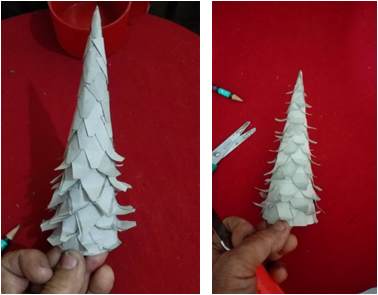 | - Step-5: Now I'm going to paint all the leaves with light green paint: | - Paso-5: Ahora voy a pintar todos las hojas con pintura verde claro: |
| --- | --- |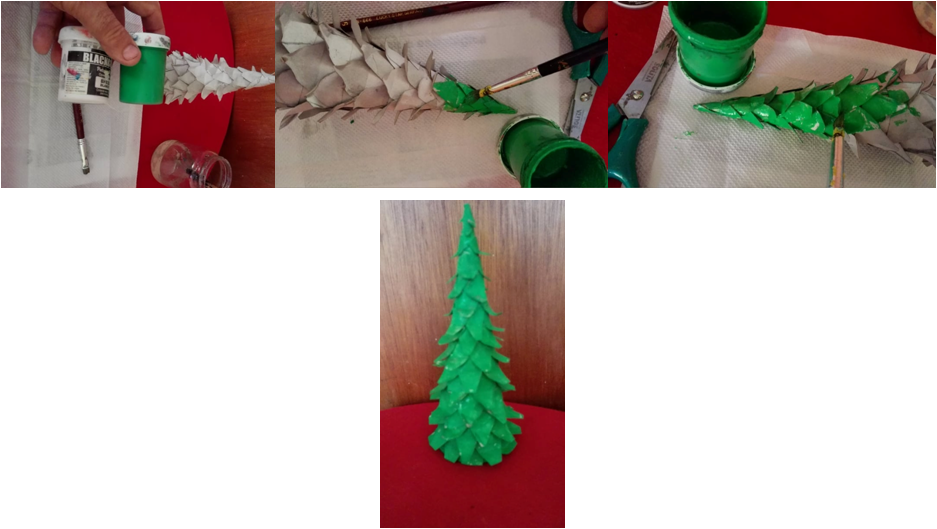 | - Step-6: In this step, I will dab each sheet with liquid frost paint: | - Paso-6: En este paso, le haré unos toques a cada hoja con pintura de escarcha liquida: |
| --- | --- |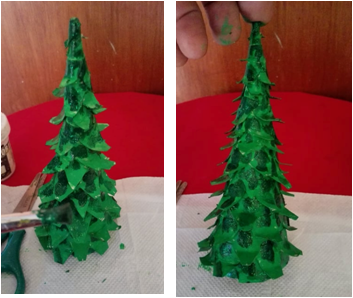 | - Step-7: I will paint the tips of the leaves with white paint, so that it looks like snow: | - Paso-7: Pintaré las puntas de las hojas con pintura blanca, de manera que parezca nieves: |
| --- | --- |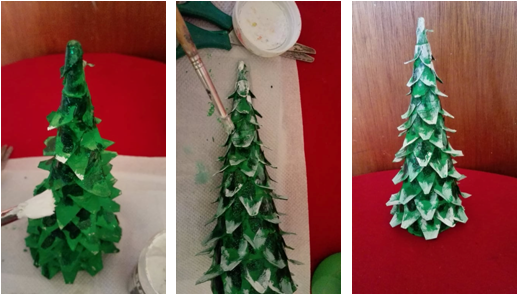 | - Step-8: I will put in its lower part, a tablecloth made with green, gold and red paint paper, also | - Paso-8: Le pondré en su parte inferior, un mantel elaborado con papel pintura verde, dorada y roja, también |
| --- | --- |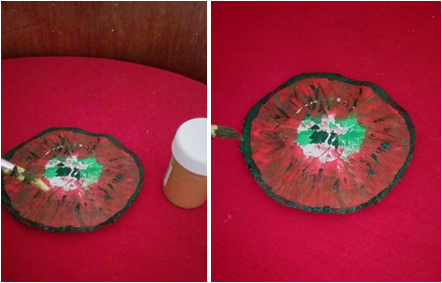 | - Step-9: Well friends, my Christmas Tree is already formed, so far it looks very good, but it lacks some decoration, therefore, I will place a golden star on the top and some hanging threads, which I painted with the green and gold liquid frost, I also added gold and silver frosts. I also put some red dots on the thread: | - Paso-9: Bueno amigos, ya mi Arbolito de Navidad esta formado, hasta ahora se ve muy bien, pero le falta alguna decoración, por ello, le colocaré una estrella dorada el la parte superior y unos hilos colgantes, los cuales pinté con la escarcha líquida verde y dorado, además le puse escarchas doradas y plateadas. También le puse al hilo unos puntos rojos: |
| --- | --- |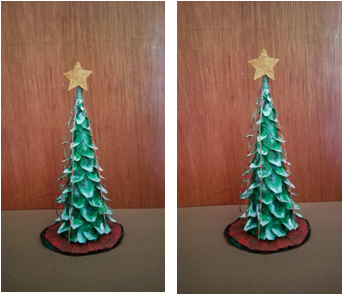 After this interesting process, this is the result: // Después de este interesante proceso, este es el resultado: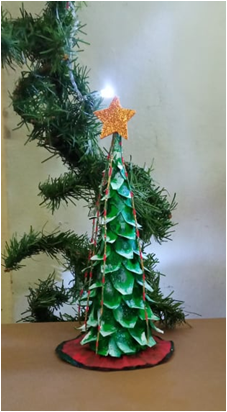 I hope you liked this idea and can do it, as you have seen, it is very easy to do and with few materials, greetings.
Espero que esta idea, les haya gustado y la puedan hacer, como han podido ver, es muy fácil de hacer y con pocos materiales, saludos.
---
---