CLOSING OF THE YEAR 2021: "My Gallery of Arts in Hivediy" // CIERRE DEL AÑO 2021: "Mi Galería de Artes en Hivediy"

In English:
Hello friends, there are just a few hours until the end of the year 2021 and into 2022, we all hope that the new year will bring us much prosperity, that it will be a better year than the previous one, but this will depend on ourselves, we must look for new strategies To improve what we have done so far, and above all to have a positive attitude towards difficulties, to be proactive, we must always think that every day is a challenge, therefore we must be prepared to face it.
Today December 31 is a day of family union, where families gather to welcome the new year, it is a day that awakens many emotions, there are those who remember their loved ones who are in heaven, as well as those relatives who are in other countries, especially children, we have to settle for hearing and seeing them on the Internet, but the important thing is to know that they are well.
To end the year 2021, I want to show you my Art Gallery in HiveDiy, I confess that for a long time I was looking for a community to show my works, until Hivediy emerged, directed by our great friend @equipodelta, the truth is that this community It looks splendid with the works that users show every day, below I show you my 18 works of the 47 that I have published in 3 months, some that I could not include in the exhibition because I had already given them away.
En español:
Hola amigos, faltan pocas horas para que finalice el año 2021 y le de entrada al 2022, todos esperamos que el nuevo año nos traiga mucha prosperidad, que sea un año mejor que el anterior, pero esto dependerá de nosotros mismos, debemos buscar nuevas estrategias para mejorar lo que hemos hecho hasta ahora, y sobre todo tener una actitud positiva ante las dificultades, ser proactivos, siempre debemos pensar que todos los días son desafíos, por lo tanto debemos estar preparados para enfrentarlos.

Hoy 31 de diciembre es un día de unión familiar, donde las familias se reúnen para recibir el nuevo año, es un día que despierta muchas emociones, hay quienes recuerdan a sus seres queridos que están en el cielo, así como aquellos familiares que están en otros países, sobre todo los hijos, que tenemos que conformarnos con oírlos y verlos a través de la red, pero lo importante es saber que están bien.

Para finalizar el año 2021, les quiero mostrar mi Galería de artes en HiveDiy, les confieso que desde hace mucho tiempo andaba buscando una comunidad para mostrar mis obras, hasta que surgió Hivediy, dirigida por nuestra gran amiga @equipodelta, la verdad que esta comunidad luce esplendorosa con los trabajos que día a día muestran los usuarios, a continuación les muestro mis 18 obras de las 47 que he publicado en 3 meses, algunas que no las pude incluir en la exhibición porque ya las había regalado.
CLOSING OF THE YEAR 2021: "My Gallery of Arts in Hivediy" // CIERRE DEL AÑO 2021: "Mi Galería de Artes en Hivediy"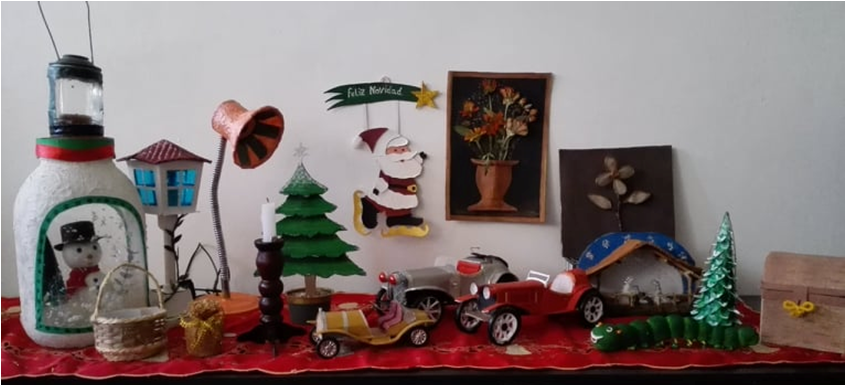 My favorite works : // Mis obras preferidas:
Manufacture of a miniature car "Alfa Romeo 1750 Gran Sport Limited" from 1931 // Elaboración de auto en miniatura "Alfa Romeo 1750 Gran Sport Limited" del año 1931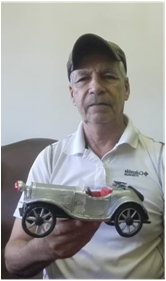 Elaboration of racing car, model "Alfa Romeo 6C 1750 SS", from the year 1930 // Elaboración de Auto de carreras, modelo "Alfa Romeo 6C 1750 SS", del año 1930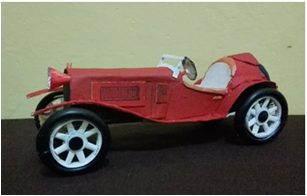 RECYCLING: Practical and functional "Camp lamp", made from recycled material // Práctica y funcional lámpara de campamento, elaborada con material reciclado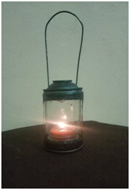 Well friends, this has been some of my main works published in HiveDiy, I hope to continue sharing my works for this new year 2022, may God bless the entire Hivediy team to whom I wish a "Happy year 2022" especially @equipodelta who has managed to lead this community along the paths of success, greetings, a big hug to all.
Beautiful painting, made with flowers and dry branches, with the pressing technique // Hermoso cuadro, elaborado con flores y ramas secas, con la técnica del prensado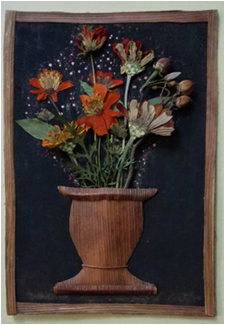 Bueno amigos, esta ha sido algunas de mis principales obras publicadas en HiveDiy, espero seguir compartiendo mis obras para este nuevo año 2022, que Dios bendiga a todo el equipo de Hivediy a quienes les deseo un "Feliz año 2022" en especial a @equipodelta que ha sabido conducir esta comunidad por los caminos de éxito, saludos, un gran abrazo para todos.
---
---