The caliper piston of my Optra car is stuck, Is it the ABS? / Se queda trabado el pistón del caliper de mi carro Optra, ¿Será el ABS?

IN ENGLISH:
Hello my friends, today I bring you a new experience, I tell you that yesterday afternoon my son went out in the car and noticed that the car was braking, immediately it stopped and he could see that the right wheel was too hot, the brake pads the brakes had stuck, that's when he called me and I went to see what had happened.
Hola mis amigos, hoy les traigo una nueva experiencia, les cuento que ayer mi hijo salió en el carro y notó que el carro estaba como frenado, enseguida se detuvo y pudo observar que la rueda derecha estaba demasiada caliente, las pastillas de los frenos se habían quedado pegadas, fue entonces cuando me llamó y fui a ver que había pasado.
Well friends, between my son and I, we had to push the piston with a lever, because it was stuck, we even had to loosen the screw used for bleeding the brakes to remove the pressure from the cylinder, but it was really quite locked, after separating the pads from the disc the wheel was free and my son went little by little to the house, using only the handbrake.
Bueno amigos, entre mi hijo y yo, tuvimos que empujar el pistón con una palanca, porque estaba trabado, incluso, tuvimos que aflojar el tornillo que se usa para la purga de los frenos para quitarle la presión al cilindro, pero en verdad estaba bastante trabado, después de separar las pastillas del disco la rueda quedó libre. mi hijo se fue poco a poco hasta la casa, usando solo el freno de mano.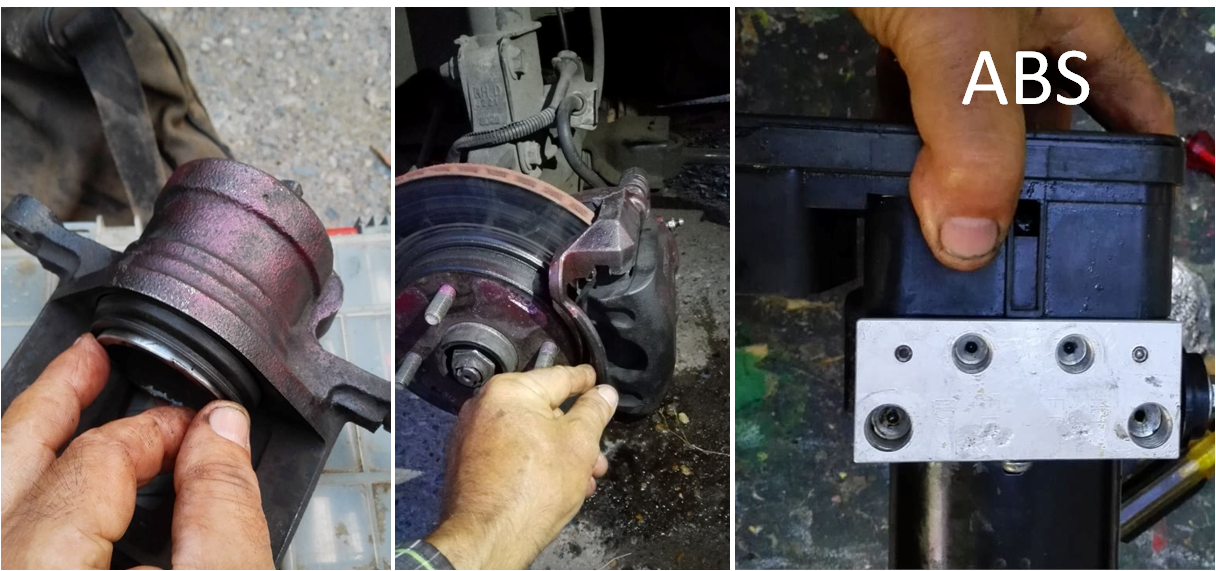 The caliper piston of my Optra car is stuck, what could it be? / Se queda trabado el pistón del caliper de mi carro Optra, ¿Será el ABS?
Very early this morning, I began to disassemble the brakes of the car, more than all the caliper of the right wheel, due to the problem that had occurred in that wheel, as I said at the beginning, yesterday my son got out in the car and while he was driving he began to notice that the car was braking, for this reason he stopped and called me by phone, I immediately arrived at the site and I could see that the brake pads were squeezing the disc Apparently the caliper piston did not return, you know, when the brake pedal is activated, the pump drives the brake league, pressing the piston to push the pads or the calipers, then when the pedal is released, the The pump sucks the brake league and the piston returns to its position inside the caliper cylinder, thus releasing the pads, but in this case, the piston stayed outside, as if stuck, this situation made me It has led me to think that the caliper cylinder may be dirty, so to clear up any doubts, I decided to start the job, doing maintenance on the cylinder and then check the brake master cylinder, although if the master cylinder were bad, the others as well wheels would have presented the same problem.
Hoy en la mañana desde muy temprano, me puse a desarmar los frenos del carro, mas que todo el caliper de la rueda derecha, por el problema que se le había presentado en esa rueda, como les decía al comienzo, ayer en mi hijo salió en el carro y mientras manejaba comenzó a notar que el carro andaba como frenado, por esta razón se detuvo y me llamó por teléfono, enseguida llegué al sitio y pude observar que las pastillas de los frenos estaban apretando el disco, al parecer el pistón del caliper no se regreso, ustedes saben, que cuando se acciona el pedal de los frenos la bomba impulsa la liga de frenos haciéndole presión el pistón para que empuje las pastillas o las pinzas, luego al soltar el pedal, la bomba succiona la liga de frenos y el pistón regresa a su posición dentro del cilindro del caliper, liberando de esta manera las pastillas, pero en este caso, el pistón se quedó a fuera, como atascado, esta situación me ha llevado a pensar en que puede estar sucio el cilindro del caliper, así que para salir de dudas, decidí comenzar el trabajo, haciéndole el mantenimiento al cilindro y luego chequear la bomba de los frenos, aunque si la bomba estuviera mala, también las demás ruedas hubiesen presentado el mismo problema.
Maintenance of the cylinder and piston of the brake caliper: / Mantenimiento el cilindro y al pistón del caliper de los frenos:
Maintenance consists of removing all the dirt from the walls of the cylinder and piston, for this it is necessary to remove the caliper.
El mantenimiento consiste en remover toda la suciedad de las paredes del cilindro y del pistón, para ello es necesario retirar el caliper.
Removing the entire piece from the Caliper: / Retirando toda la pieza del Caliper: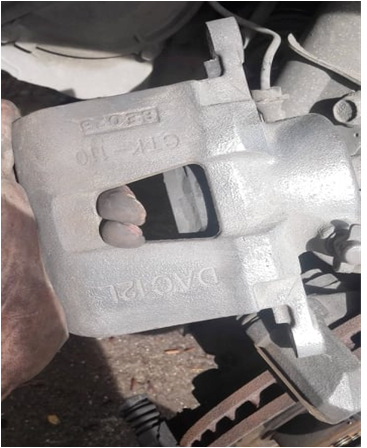 Cleaning the cylinder and piston:I did this cleaning using fine 600 grit sandpaper and dishwashing soap. I rubbed the sandpaper lightly on the cylinder walls and on the piston surface:
Limpieza del cilindro y el pistón:Esta la limpieza la hice utilizando una lija fina grano 600 y jabón lavaplatos, la lija la froté levemente por las paredes del cilindro y por la superficie del pistón: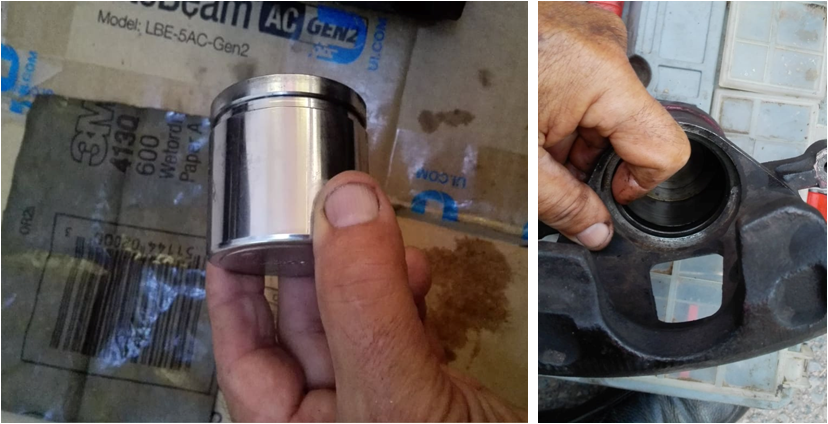 Lubricating the piston and cylinder: In order for the piston to slide smoothly in the cylinder I put a small amount of thin grease and oil 3 in one on it, again, only a small amount is applied to it because if you we apply a lot of lubricant we can contaminate the brake league liquid:
Lubricando el pistón y el cilindro: Para que el pistón se deslice suavemente en el cilindro, le voy a poner una pequeña cantidad de grasa fina y aceite 3 en uno, repito, solo se le aplica una pequeña cantidad, porque si le aplicamos mucho lubricante podemos contaminar el liquido de liga de frenos: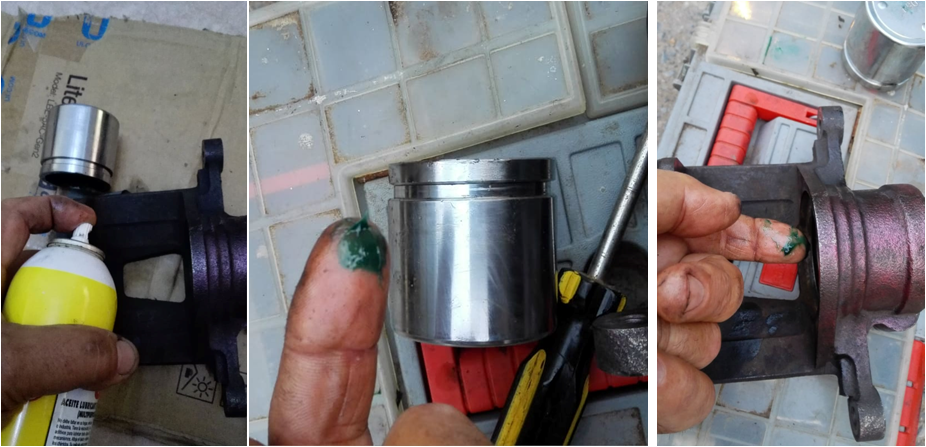 Introducing the piston inside the cylinder: / Metiendo el pistón dentro del cilindro: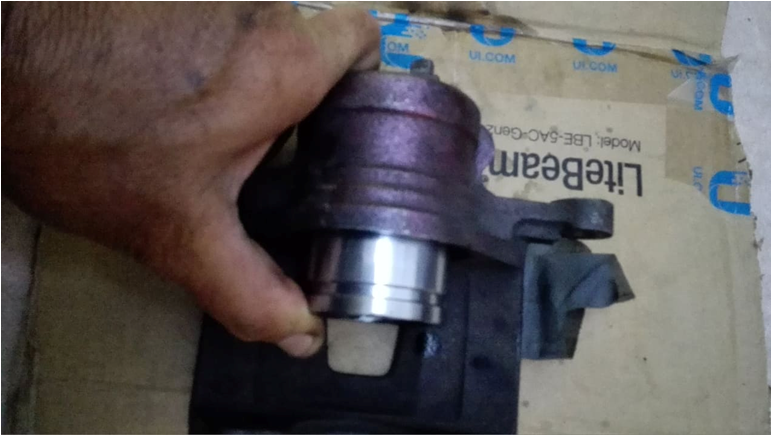 Placing the dust guard rubber again: / Montando nuevamente la goma del guardapolvo: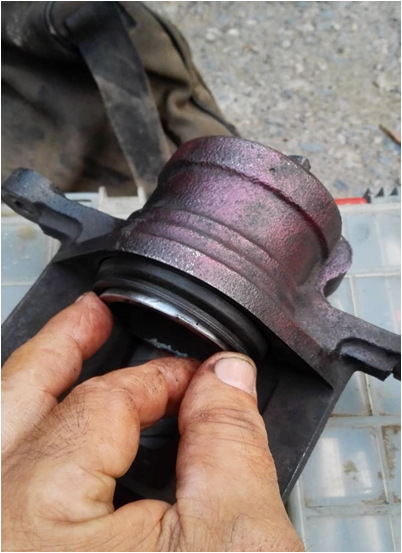 Well folks, after cleaning I put the piston back into the cylinder and it slid smoothly, actually I noticed a big difference, because when it was locked I had a hard time pushing it back in, so I think the dirt accumulated near The rubber seal could have stuck the piston, well this was what I expected, but to continue ruling out the possible causes that caused the piston to stick, I decided to check the brake master cylinder.
Bueno amigos, después de la limpieza coloqué nuevamente el pistón dentro del cilindro y se deslizó suavemente, en realidad, noté una gran diferencia, porque cuando estaba trabado se me hizo difícil empujarlo hacia adentro, así que pienso que la suciedad acumulada cerca del sello de goma pudo haber trabado el pistón, bueno esto era lo que yo esperaba, pero para seguir descartando las posibles causas que provocaron que el pistón se trabara, decidí revisar la bomba de los frenos.
Master cylinder check: / Revisión de la bomba de los frenos:
Actually, if the pump were bad, the same problem would also have occurred to the left wheel, in fact, all brake systems for this wheel work well, since when you step on the pedal the piston comes out of the cylinder and when you release the pedal it gets in again, that is to say that the brake league returns to the pump, thus decreasing the pressure in the cylinder.
En realidad, si la bomba estuviera mala también se le hubiese presentado el mismo problema a la rueda izquierda, en verdad, todo sistema de frenos de esta rueda funciona bien, ya que al pisar el pedal el pistón sale del cilindro y al soltar el pedal se mete nuevamente, es decir que la liga de frenos retorna a la bomba disminuyendo de esta manera la presión en el cilindro.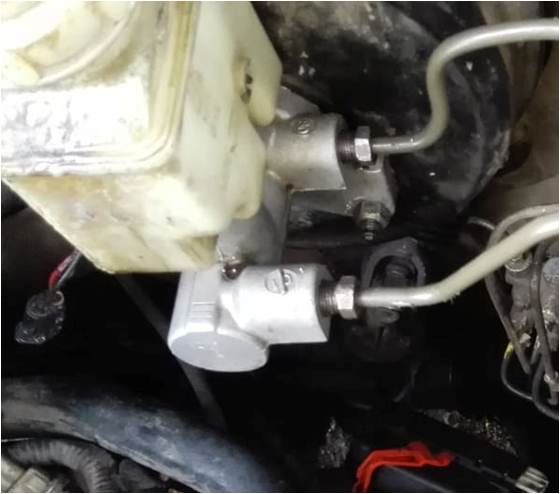 Brake bleeding: / Purgado de los frenos:
Now I am going to bleed the brake system, more than the entire system of the right wheel, which is the one with the problem, I did the work in the traditional way, which consists of pressing the pedal several times and leaving it pressed while it release the brake. purge plug to expel air from the pipes, I understand that many people or mechanics do this procedure in different ways, there are those who inject air through the mouth of the container to push the liquid until it comes out through the purge plug and other people We let the liquid moves by gravity, in this case I did this procedure in the most common and traditional way.
Ahora voy a purgar los frenos delanteros, más que todo el sistema de la rueda derecha que es la del problema, el trabajo de purgado lo hice de la manera tradicional, la cual consiste en apretar varias veces el pedal y dejarlo apretado mientras se afloja el tapón del purgado para que expulse el aire de las tuberías, tengo entendido que muchas personas o mecánicos hacen este procedimiento de diferentes maneras, hay quienes le inyectan aire por la boca del envase para impulsar el liquido hasta que salga por el tapón del purgado y otras personas dejan que el liquido se desplace por gravedad, en este caso hice este procedimiento de la manera más común y tradicional.
After bleeding the wheels, I can tell you that the left wheel, which is located on the driver's side, worked perfectly as expected, because this wheel had no problems, but the wheel continued with the problem, because when you stepped on the pedal it braked well, but when you released the brake it did not return, that is, it was left outside again, pressing the pads against the disc, then I loosened the bleed plug and I forced the piston to I had to put it inside the cylinder and it went in smoothly, so the problem is that the brake fluid does not return to the pump, now, this makes me think that it could be ABS,but to check this, I have to identify the pipe that comes from the ABS to this right wheel, to check the fluid inlet and outlet holes, so I will have to check the ABS inlets and outlets including the sensors that are in the wheels, actually, I think that something inside the ABS is blocking the return of the brakes to the pump, for this reason the right wheel remains loaded and under pressure, perhaps the ABS has a check valve that is activated electronically .
Después de realizar el purgado de las ruedas, les puedo decir, que la rueda izquierda la que esta ubicada del lado del chofer, funcionó de manera perfecta como lo esperaba, porque esta rueda no presentaba problemas, pero en la rueda derecha siguió con el problema, porque al pisar el pedal frenó bien, pero al soltar el freno el pistón no regresó, es decir, que se volvió a quedar afuera, apretando las pastillas contra el disco, luego afloje el tapón de la purga y le hice fuerza al pistón para que meterlo dentro del cilindro y entró suavemente, de manera que el problema es que el liquido de liga de frenos no retorna a la bomba, ahora, esto me hace pensar en que puede ser el ABS, pero para comprobar esto, tengo que identificar la tubería que sale del ABS hacia esta rueda derecha, para revisar los orificios de entrada y salida del liquido, así que tendré que revisar las salidas y entradas del ABS incluyendo los sensores que están en las ruedas, en realidad, pienso que algo dentro del ABS esta bloqueando el retorno de la liga de frenos a la bomba, por esta razón rueda derecha se quede cargada y con presión, quizás el ABS posee una válvula chek que se acciona de manera electrónica.
ABS del chevrolet Optra:
Quiero sesarmar para revisar este ABS, pero lo haré, después que obtenga algunas informaciones por INTERNET, sobre todo por los tutoriales de YouTube.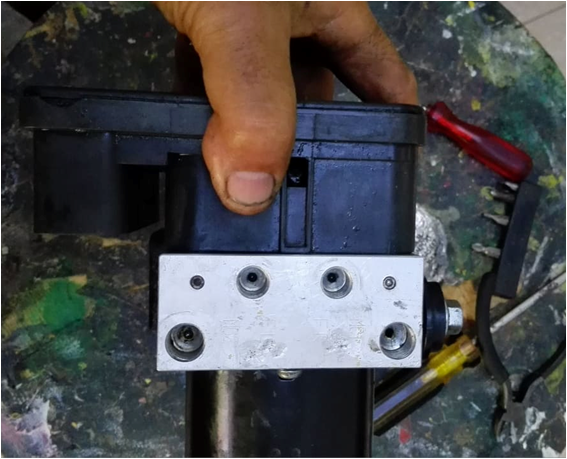 Well friends, I accept any suggestion or recommendation, for my part I think that the problem is caused by the ABS, but before reviewing this piece, I am going to investigate through some YouTube tutorials, because it is important to seek help from the different means, I am also going to consult with a friend who is a mechanic and knows a lot about the brake system, in any case I will be attentive to his recommendations, because I know that here at Hive-Motors, there are good mechanics who will surely be able to advise me, regards.
Bueno amigos, acepto cualquier sugerencia o recomendación, por mi parte pienso que el problema lo esta causando el ABS, pero antes de revisar esta pieza, voy a investigar a través de algunos tutoriales de YouTube, porque es importante buscar ayuda por los diferentes medios, también voy a consultar con un amigo quien es mecánico y conoce mucho del sistema de frenos, de todas maneras estaré pendiente de sus recomendaciones, porque se que aquí en Hive-Motors, hay buenos mecánicos que seguro me podrán asesorar, saludos.
---
---