Heart of the Forest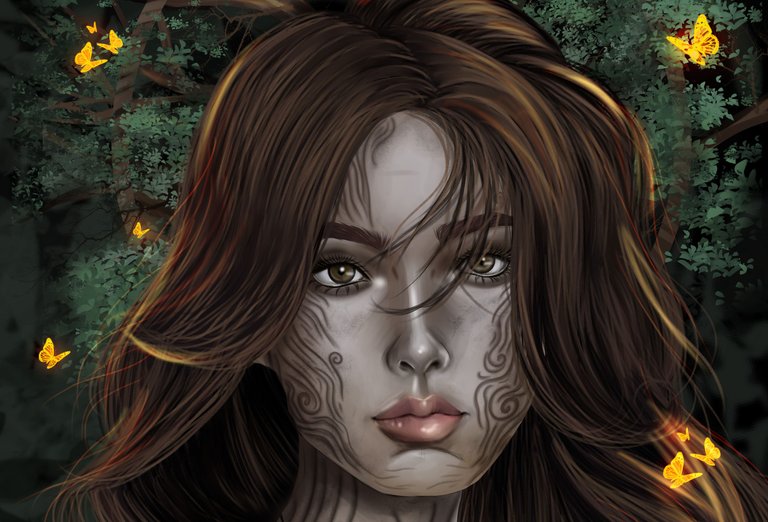 ---
English
Happy beginning of the week my people, today I was making a fantasy illustration, I thought of making a kind of forest fairy, with some branches and leaves in her hair, I share with you the process below.
Spanish
Feliz inicio de semana mi gente, hoy estuve haciendo una ilustración de fantasía, se me ocurrió hacer una especie de hada del bosque, con algunas ramas y hojas en el cabello, les comparto el proceso a continuación.
---
---
When I made the sketch I wanted to make this fairy as part of a tree, the design of the sketch was a little more rustic, but when I advanced in the painting I wanted to make this one in a more delicate way, so the little marks on her face and the rest of the body I made them softer and thinner than I wanted at the beginning. For the painting I used a palette of colors with different browns to give the illusion that it was like a log.
Cuando hice el boceto quería hacer esta hada como parte de un árbol, el diseño del boceto era un poco mas rustico, pero cuando avance en la pintura quise hacer esta de una manera mas delicada, así que las pequeñas marcas en su cara y el resto del cuerpo las hice mas suaves y delgadas de lo que quería al principio. Para la pintura utilicé una paleta de colores con diferentes marrones para dar la ilusión de que era como un tronco.
---
---
After making the hair I started to try different brushes that I have to make natural leaves, I also tried different backgrounds, I could not save them, because as I was so entertained seeing what could go better I forgot to save that process, but the different backgrounds were mostly skies with different tones, the truth did not please me so in the end I ended up using the brush of leaves.
Después de hacer el cabello pasé a probar diferentes pinceles que tengo para hacer hojas naturales, también probé diferentes fondos, no pude guardarlos, porque como estaba tan entretenida viendo que podía salir mejor se me olvidó guardar ese proceso, pero los diferentes fondos eran en su mayoría cielos con diferentes tonos, la verdad no me gustaron así que al final terminé usando el pincel de hojas.
---
---
The next thing I added were some butterflies with some sparkles, these are also from a brush I have saved 😅, I finished her crown and added some leaves, I adjusted the saturation of the leaves to give it a softer tone and also took the green tone to a more bluish green. Lastly I added some lights. This is the whole process, today I did something pretty simple hehe. See you next time.
Lo siguiente que añadí fueron unas mariposas con unos destellos, estos también son de un pincel que tengo guardado 😅, terminé su corona y añadí algunas hojas, ajusté la saturación de las hojas para darle un tono más suave y también llevé el tono verde a un verde más azulado. Por último añadí algunas luces. Este es todo el proceso, hoy hice algo bastante sencillo jeje. Hasta la próxima.
---
Final Illustration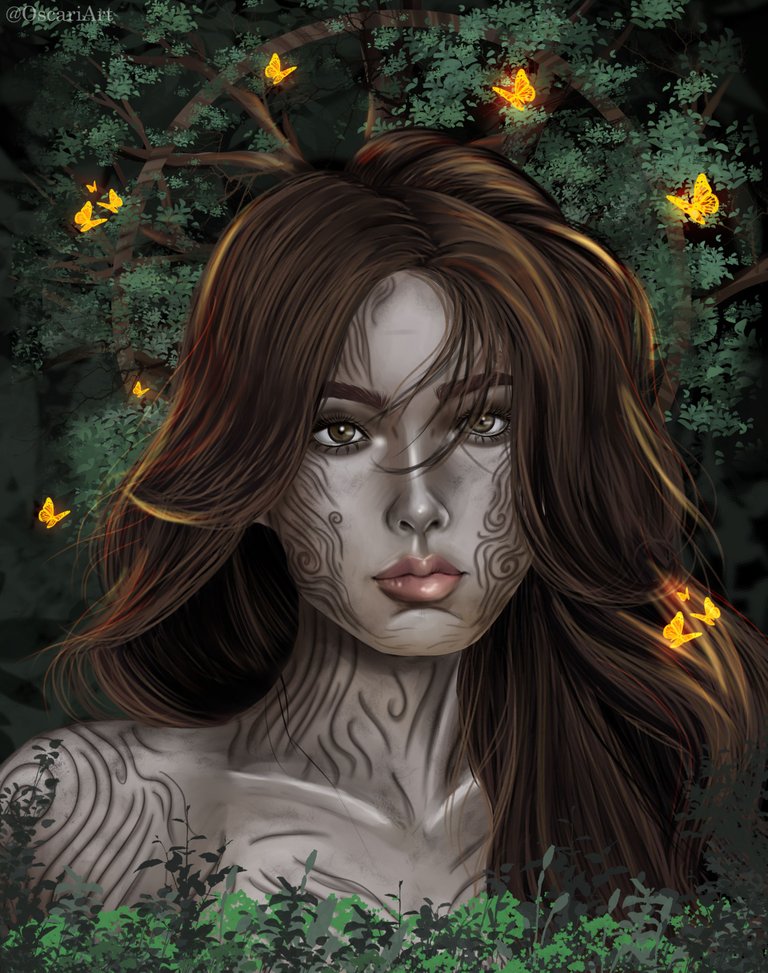 ---
Thanks for taking a few minutes to read me, until next time ✨😊.
Gracias por dedicar unos minutos a leerme, hasta la próxima ✨😊.
---

---
Twitter
Instagram:
Tools - Herramientas
Huion H1060P Graphics Tablet | Tableta Gráfica Huion H1060P
Translated in Deelp
App used | App utilizadas:
Illustration made in Clip Studio Paint - Ilustración elaborada en Clip Studio Paint
All images are my own - Todas las imágenes son de mi autoría
---
---