Kida Fan Art - Atlantis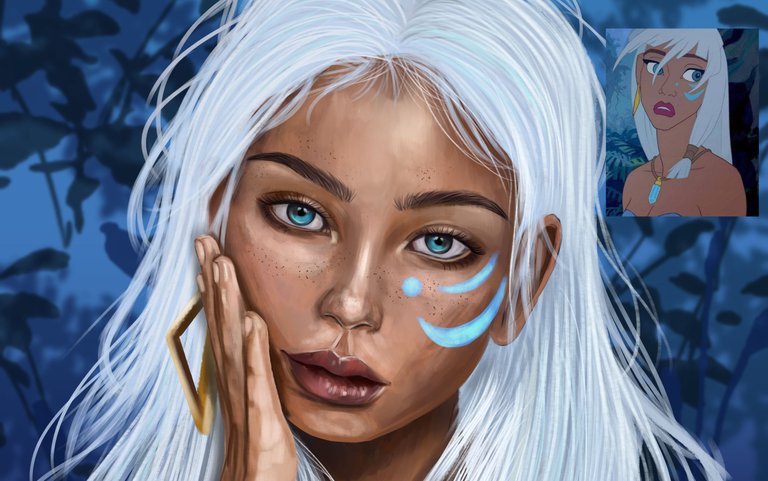 ---
English
Hey people! Happy Sunday. Welcome to a new art post 😁.
For a long time I wanted to make a fan art of a character from Atlantis, this movie is one of my favorites from my childhood (followed by Mulan 😊), and the truth is I couldn't decide whether to do Kida or Audrey, I know that both would have been a challenge, but this time I won the option to do Kida, I love her eyes, they stand out against her brown skin and that's what made me choose her. Without more to say, I leave you the process.
Spanish
¡Hey gente! Feliz domingo. Bienvenidos a un nuevo post de arte 😁.
Desde hace mucho tiempo quería hacer un fan art de un personaje de Atlantis, esta película es una de mis favoritas de mi infancia (seguida de Mulán 😊), y la verdad es que no me decidía si hacer a Kida o a Audrey, sé que ambas hubieran sido un reto, pero esta vez ganó la opción de hacer a Kida, me encantan sus ojos, resaltan sobre su piel morena y eso fue lo que me hizo elegirla. Sin más que decir, les dejo el proceso.
---
---
As my style is based on semi-realism I looked for a reference on Pinterest for this portrait (which I will leave in the description at the end of the post), the girl I chose I liked a lot for her elongated eyes and lips. When I made the sketch I did modify the face a little bit where I made the eyes a little bigger and her nose a little smaller.
Como mi estilo se basa en el semi-realismo busqué una referencia en Pinterest para este retrato (que dejaré en la descripción al final del post), la chica que escogí me gustó mucho por sus ojos y labios alargados. Cuando hice el boceto si modifique un poco la cara donde hice los ojos un poco más grandes y su nariz un tanto más pequeña.
---
---
Then I started with the painting of the skin. It was complicated because it seemed to me that the skin was getting a little orange, I was looking for a way to lower that tone so I looked for some more pink tones, and so I was mixing until I got a pretty nice result.
Luego comencé con el pintado de la piel. Fue complicado porque me parecía que la piel estaba quedando un poco anaranjada, buscaba la manera de bajar ese tono así que busqué algunos tonos más rosados, y así fui mezclando hasta que conseguí un resultado bastante bonito.
---
| | |
| --- | --- |
---
I placed the base of the hair and stopped on this, I wanted to make part of the clothes and accessories that Kida has and then I dedicated myself to make the background, where I placed a gradient of blue colors and placed some silhouettes of plants, which I blurred a little and lowered the opacity.
Then I continued applying details, both in the hair and in the accessories. One thing I had to fix at the last minute was the nose and one of her eyebrows, I hadn't noticed that they were a little weird until the end hehe. Well this is my process, I hope you like it.
Coloqué la base del cabello y me detuve en esto, quería hacer parte de la ropa y accesorios que tiene Kida y luego me dediqué a hacer el fondo, donde coloqué un degradado de colores azules y coloqué algunas siluetas de plantas, las cuales difuminé un poco y bajé la opacidad.
Luego seguí aplicando detalles, tanto en el cabello como en los accesorios. Una cosa que tuve que arreglar a última hora fue la nariz y una de sus cejas, no me había dado cuenta de que estaban algo raras hasta el final jeje. Bueno este es mi proceso, espero que les guste.
---
Final Illustration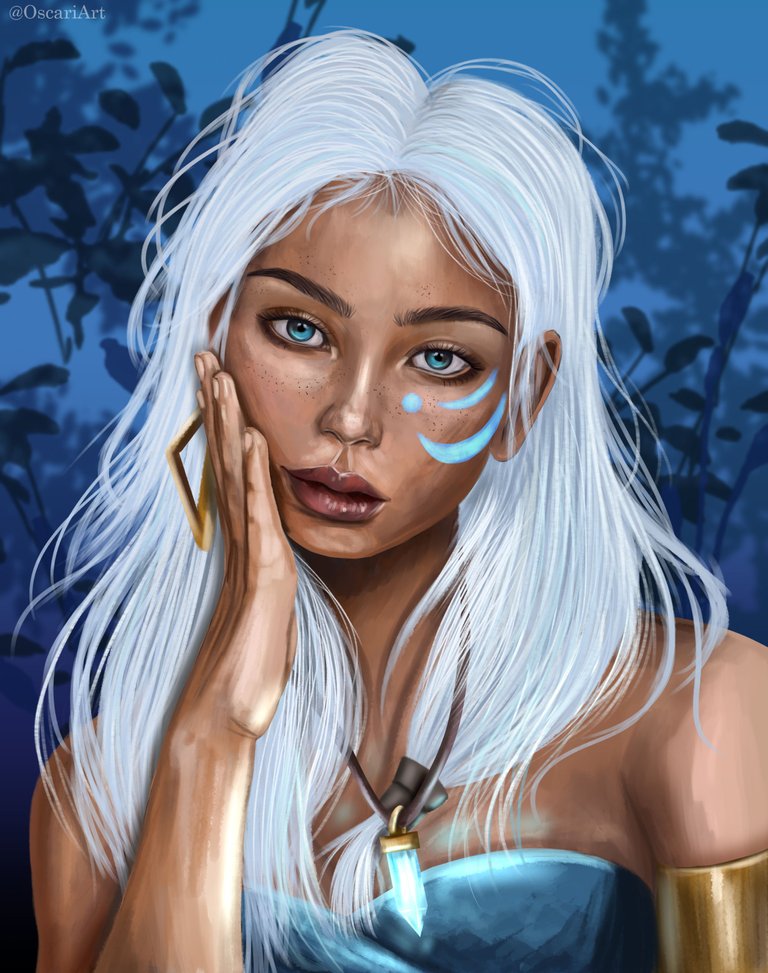 ---
Thanks for taking a few minutes to read me, until next time ✨😊.
Gracias por dedicar unos minutos a leerme, hasta la próxima ✨😊.
---

---
Twitter
Instagram:
Tools - Herramientas
Huion H1060P Graphics Tablet | Tableta Gráfica Huion H1060P
Translated in Deelp
App used | App utilizadas:
Illustration made in Clip Studio Paint - Ilustración elaborada en Clip Studio Paint
All images are my own - Todas las imágenes son de mi autoría
---
---