Make a place for me in your skin - Hazme un sitio entre tu piel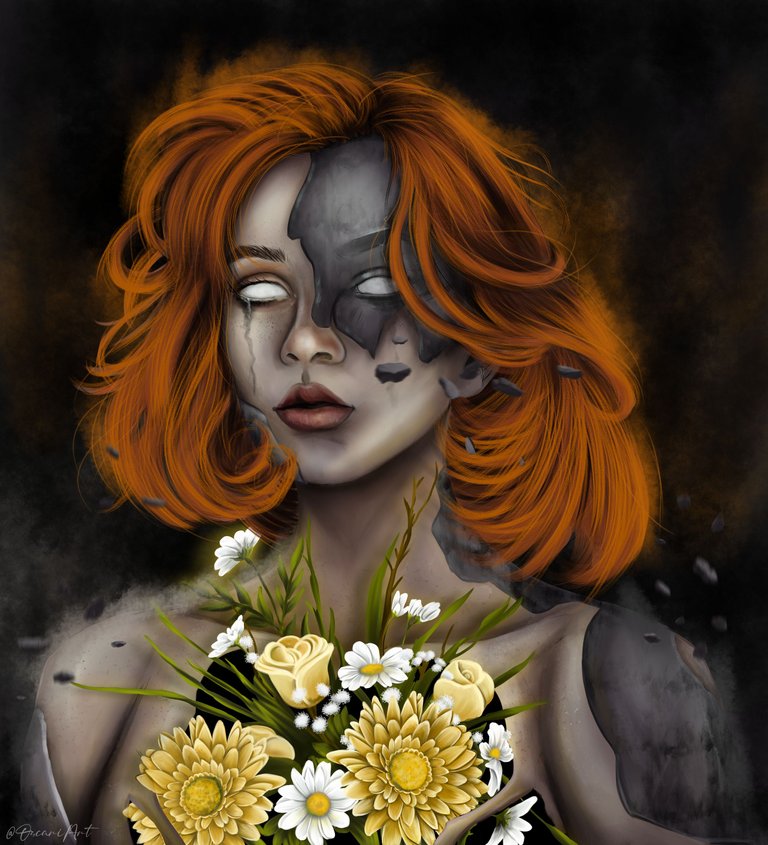 ---
With the passing of time, toxic relationships and friendships, family problems, big losses, among other things, you can lose your personal essence and you create a great shelter or armor, so strong that you do not let anyone pass for fear of being hurt or hurting someone else, but at some point you meet someone who helps you to overcome yourself, it will add you in life, so much that the shelter you built for fear is crumbling little by little and that is where you look at the past, no! you didn't go back to being that person, but today you are someone better.
Con el paso del tiempo, las relaciones y amistades tóxicas, los problemas familiares, las grandes pérdidas, entre otras cosas, puedes perder tu esencia personal y te creas un gran refugio o coraza, tan fuerte que no dejas pasar a nadie por miedo a que te hagan daño o a herir a otra persona, pero en algún momento conoces a alguien que te ayuda a superarte, te va a sumar en la vida, tanto que el refugio que construiste por miedo se va desmoronando poco a poco y es ahí donde miras al pasado, ¡no! no volviste a ser esa persona, pero hoy eres alguien mejor.
English
Hey hivers, welcome back to an art post, today I wanted to retake this illustration, I had already several days with the sketch and some parts of the painting already done, I had left it because there was a moment that bothered me, haha! I will tell you later why...
Spanish
¡Hey hivers!, bienvenidos de nuevo a un post de arte, hoy quise retomar esta ilustración, ya tenía varios días con el boceto y algunas partes de la pintura ya hechas, lo había dejado porque había un momento que me molestaba, jaja! Ya les contaré más adelante el porqué....
---
PROCESS - PROCESO
---
---
This illustration as you can notice is somewhat significant, I have been inspired by personal reason and by my favorite song of Mago de oz "Hazme un sitio entre tu piel", for this reason it has this name. It is a very nostalgic portrait, where I represent the girl with part of her body covered with rock which crumbles and you can notice that there are flowers coming out of her chest.
Esta ilustración como se puede notar es algo significativa, he estado inspirada por motivos personales y por mi canción favorita de Mago de oz "Hazme un sitio entre tu piel", por esta razón tiene este nombre. Es un retrato muy nostálgico, donde represento a la chica con parte de su cuerpo cubierto de roca que se desmorona y se puede notar que hay flores que salen de su pecho.
---
---
Well, This is something personal, sometimes I have strong anxiety attacks where I start to get tachycardia, these along this month have been more constant than other months, so I try to distract my mind by drawing, but for some reason this drawing made me lose control at some point. When I made the biggest flower I realized that it took me 3 hours in just that flower, doing petal by petal to make it look beautiful, but my thoughts were crazy, usually listening to music while drawing helps me to control that, but this time it was not the case.
Bueno, esto es algo personal, a veces tengo fuertes ataques de ansiedad donde me empiezan a dar taquicardias, estas a lo largo de este mes han sido más constantes que otros meses, por lo que trato de distraer mi mente dibujando, pero por alguna razón este dibujo me hizo perder el control en algún momento. Cuando hice la flor más grande me di cuenta que me tomó 3 horas sólo esa flor, haciendo pétalo por pétalo para que se viera hermosa, pero mis pensamientos estaban locos, usualmente escuchar música mientras dibujo me ayuda a controlar eso, pero esta vez no fue el caso.
---
---
Since a couple of years ago I am very reserved about my feelings, so it is very hard for me to express what I feel, in fact finding the right words for this writing is being more difficult than you think, as well as making illustrations with such a personal meaning, it affects me a lot! but I decided to share it and comment that that afternoon a person helped me with that anxiety attack. Lately that person has added a lot to my life, despite the short time of having met him I feel that he has been with me all my life, it feels nice when someone motivates you so much that makes you overcome day by day.
Desde hace un par de años soy muy reservada con mis sentimientos, por lo que me cuesta mucho expresar lo que siento, de hecho encontrar las palabras adecuadas para este escrito está siendo más difícil de lo que se piensa, así como hacer ilustraciones con un significado tan personal, ¡me afecta mucho! pero he decidido compartirlo y comentar que esa tarde una persona me ayudó con ese ataque de ansiedad. Últimamente esa persona ha aportado mucho a mi vida, a pesar del poco tiempo de haberla conocido siento que ha estado conmigo toda la vida, se siente bonito cuando alguien te motiva tanto que te hace superarte día a día.
---
---
Surrounding yourself with people like that is the best thing for you, because people who subtract from you abound and they only like to see you at lower levels than them. Of course, one must also add to others, because if there is something I have learned well this year is that I receive what I give to the world.
Rodearte de gente así es lo mejor para ti, porque la gente que te resta abunda y sólo les gusta verte en niveles inferiores a ellos. Por supuesto, también hay que sumar a los demás, porque si algo he aprendido bien este año es que recibo lo que doy al mundo.
---
Final Illustration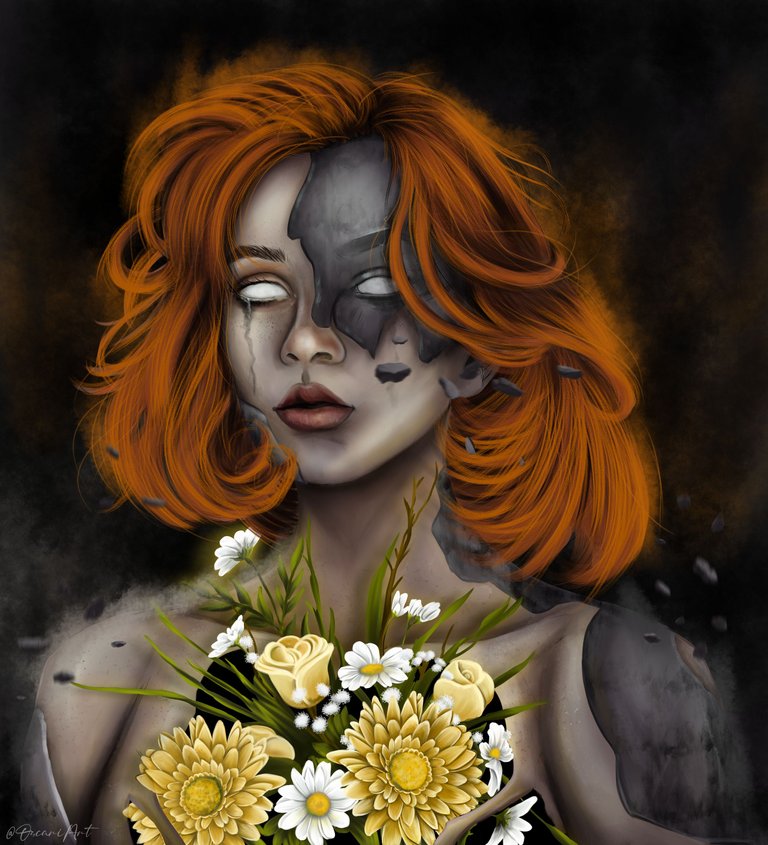 ---
Thanks for taking a few minutes to read me, until next time ✨😊.
Gracias por dedicar unos minutos a leerme, hasta la próxima ✨😊.
---

---
Twitter
Instagram:
Tools - Herramientas
Huion H1060P Graphics Tablet | Tableta Gráfica Huion H1060P
Translated in Deelp
App used | App utilizadas:
Illustration made in Clip Studio Paint and Krita - Ilustración elaborada en Clip Studio Paint y Krita
All images are my own - Todas las imágenes son de mi autoría
---
---