Skull with roses - Blackwork tattoo practice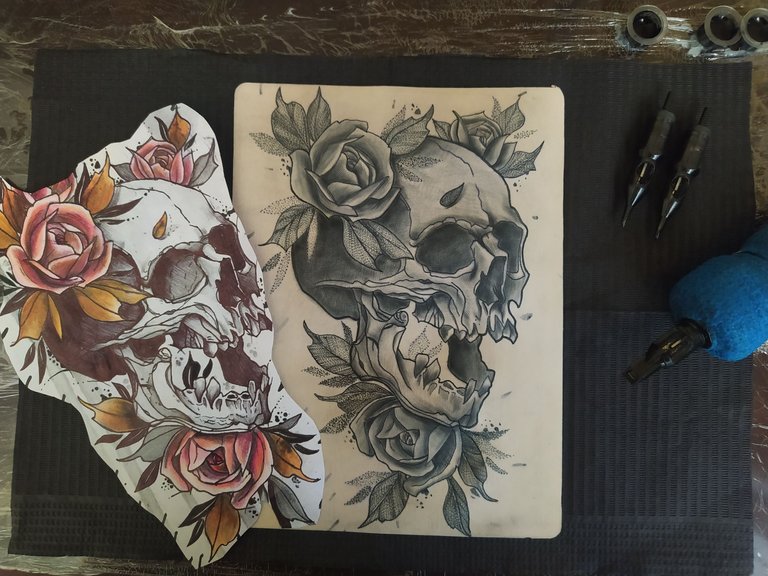 ---
English
Hello beautiful hivers! My sunday was to resume a little practice, this time leaving aside the digital and going to the practice of tattoo. Tattooing is one of my passions although I have left it aside for a long time, so I keep myself in constant practice even on synthetic skin, maybe it is not the same as tattooing someone, but at least it helps you to keep the technique... without anything else to say, I share with you the process below.
Spanish
¡Hola hermosos hivers! Mi domingo fue para retomar un poco la práctica, esta vez dejando de lado lo digital y pasando a la práctica del tatuaje. El tatuaje es una de mis pasiones aunque lo he dejado de lado por mucho tiempo, así que me mantengo en constante práctica aunque sea sobre piel sintética, tal vez no sea lo mismo que tatuar a alguien, pero al menos te ayuda a mantener la técnica... sin más que decir, les comparto el proceso a continuación.
---
PROCESS - PROCESO
---
I started this practice on Friday, but I put it on pause until today to continue and get it right.
Well this time I took one of my old drawings to practice, the drawing was too big for the size of the faux fur so I had to cut it out and remove some extra in the design so it could fit. After that, I stenciled it and waited for it to dry. I almost always have problems with stenciling the tattoo on the synthetic skin because it's like a rubber-like material, and it doesn't dry as fast so there's gel residue left behind and the hectographic ink starts to run T.T
Esta práctica la empecé el viernes, pero la puse en pausa hasta hoy para continuar y hacerla bien.
Pues bien, esta vez tomé uno de mis viejos dibujos para practicar, el dibujo era demasiado grande para el tamaño de la piel sintética así que tuve que recortarlo y quitar algo de más en el diseño para que pudiera caber. Después de eso, lo he colocado con plantilla y he esperado a que se secara. Casi siempre tengo problemas con el stencil del tatuaje en la piel sintética porque es como un material parecido a la goma, y no se seca tan rápido por lo que quedan residuos de gel y la tinta hectográfica empieza a correr T.T
---
---
After that I started with the lines and at the end I did the shadows, I had so much time without tattooing that my wrist started to hurt hehe, but I really like this activity that's why I took the rest between days.
Después empecé con las líneas y al final hice las sombras, tenía tanto tiempo sin tatuar que me empezó a doler la muñeca jeje, pero me gusta mucho esta actividad por eso me tomé el descanso entre días.
---
---
I wanted to place some leaves in dotwork and others with drag pointillism shadows to give differences between them. Unfortunately in the end I realized that I used a permanent marker to mark the placement points of the design hehehe and that's why it has some dots around it that I have not been able to remove.
Quería colocar algunas hojas en dotwork y otras con sombras de puntillismo de arrastre para dar diferencias entre ellas. Lamentablemente al final me di cuenta de que utilicé un rotulador permanente para marcar los puntos de colocación del diseño jejeje y por eso tiene unos puntos alrededor que no he podido quitar.
---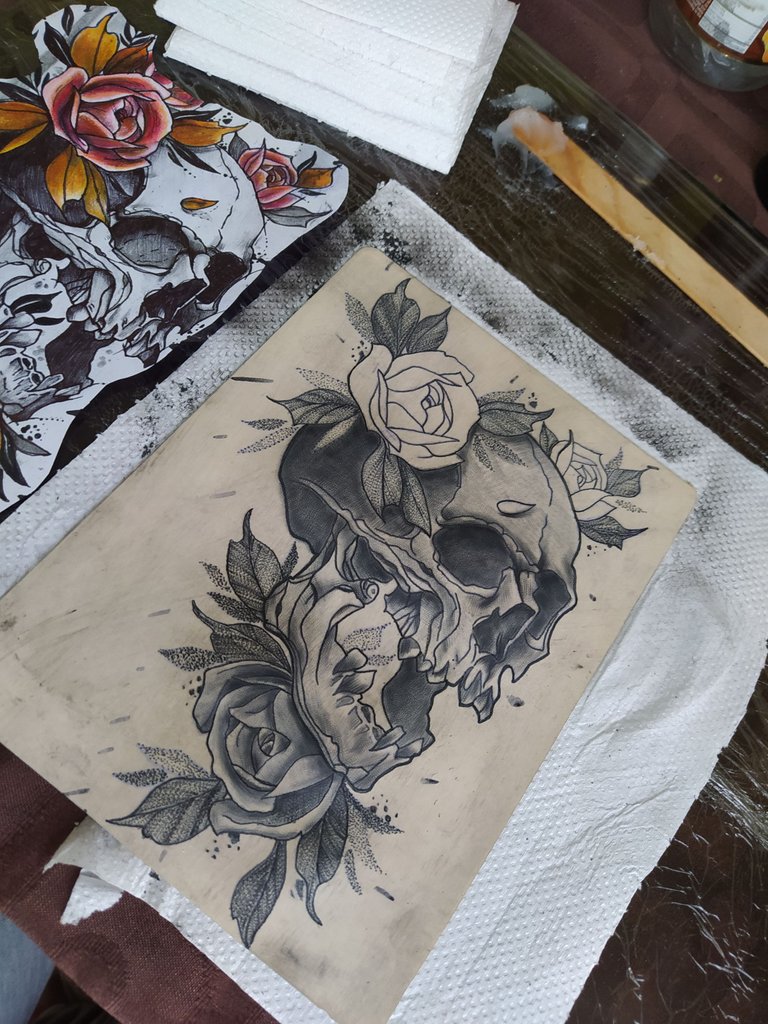 ---
So this is the final result. In spite of everything I think my practice went pretty well, I will keep trying to be more consistent with this. I hope you liked it.
Así que este es el resultado final. A pesar de todo creo que mi práctica salió bastante bien, seguiré intentando ser más constante con esto. Espero que les haya gustado.
---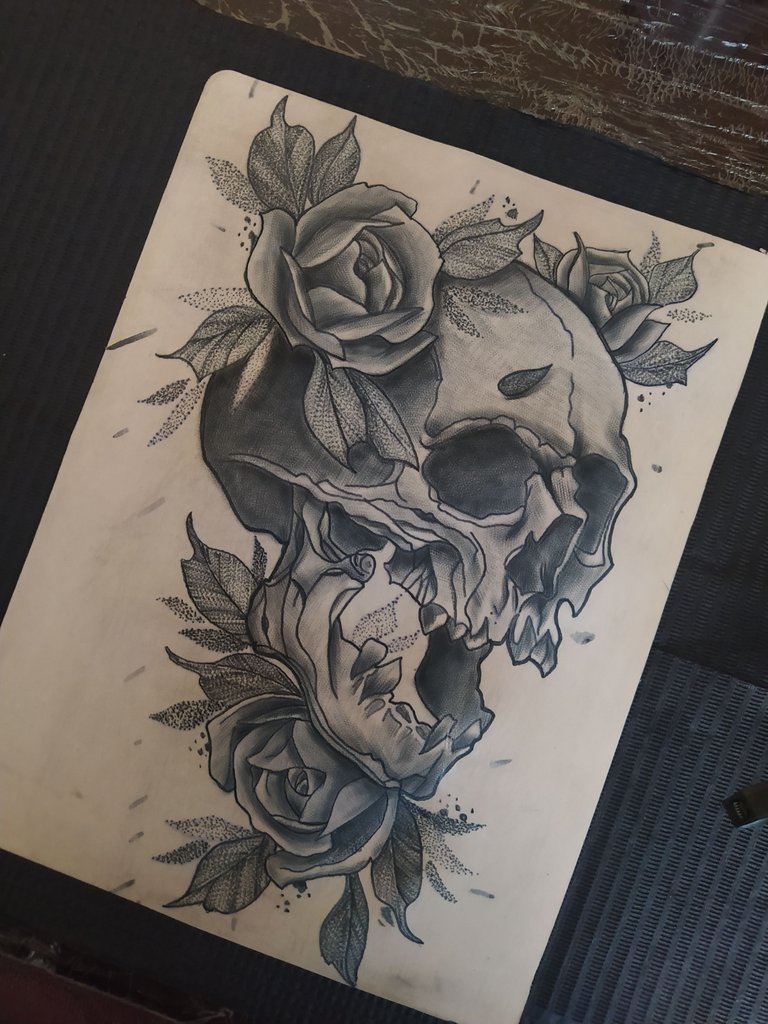 ---
Final Illustration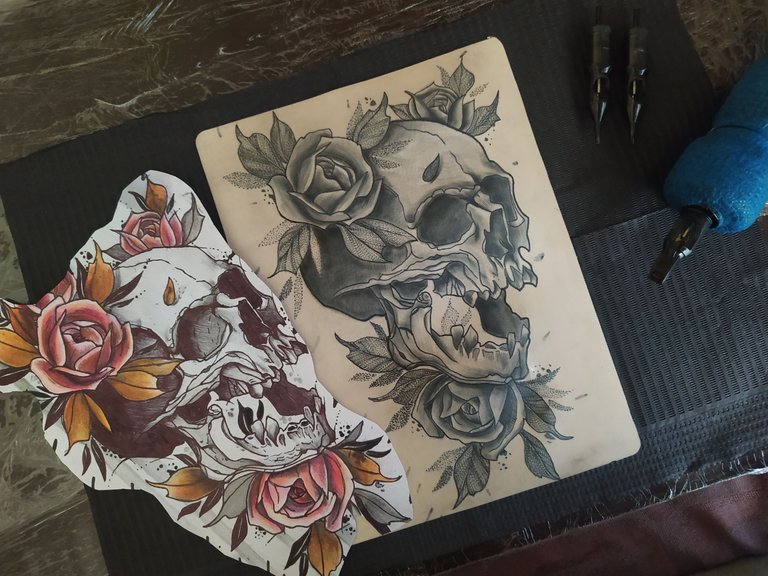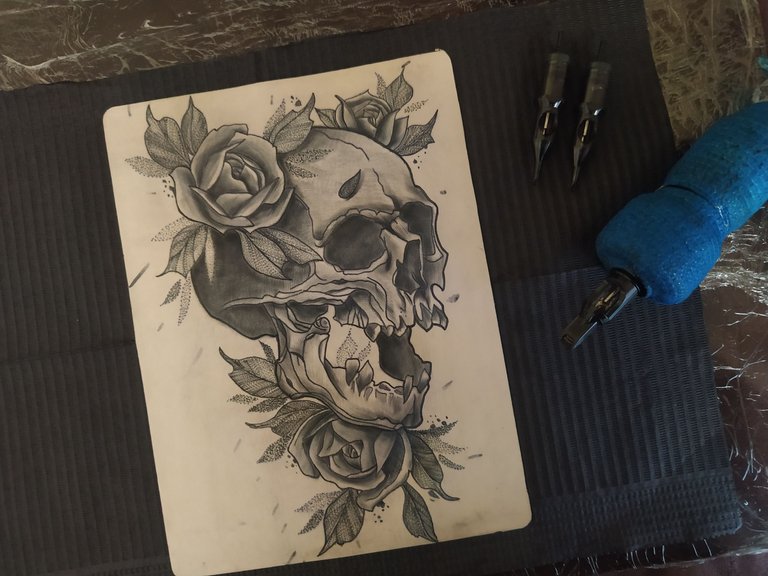 ---
Thanks for taking a few minutes to read me, until next time ✨😊.
Gracias por dedicar unos minutos a leerme, hasta la próxima ✨😊.
---

---
Twitter
Instagram:
Translated in Deelp
Photographs taken with Xiaomi Note 8 phone
All images are my own - Todas las imágenes son de mi autoría
---
---