Spring Portrait
Spring Portrait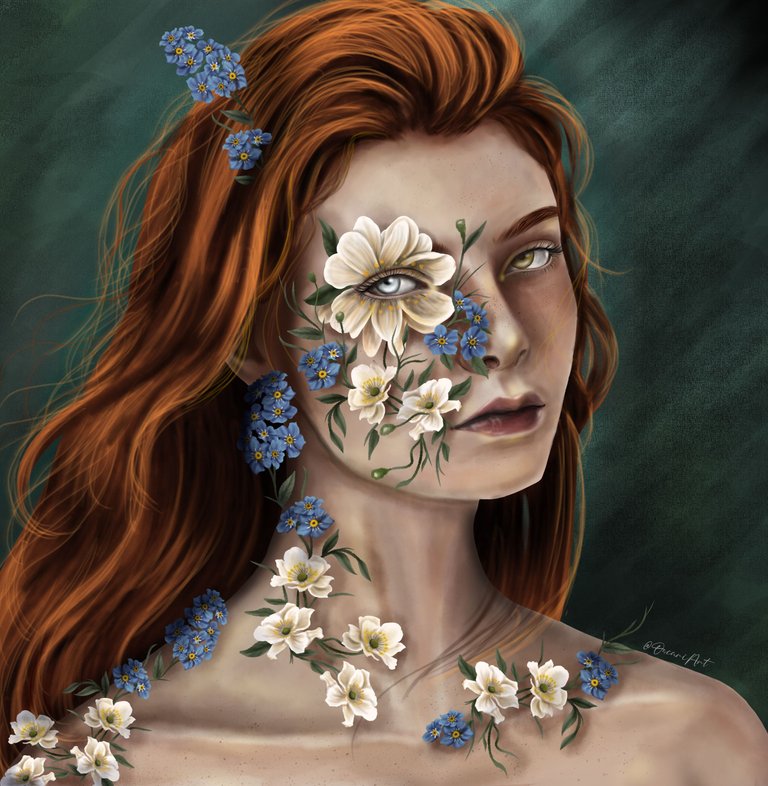 ---
English
Greetings dear hivers! Welcome back to one of my posts! Today I want to tell you that I feel totally proud of myself for this amazing piece, I'm impressed to see this level in me, all my life I've been drawing, but I haven't been illustrating for a year yet and that's why I'm so surprised to have such a great progress.
I will share the process below!
Spanish
¡Saludos queridos hivers! ¡Bienvenidos de nuevo a uno de mis posts! Hoy quiero contarles que me siento totalmente orgullosa de mi misma por esta increíble pieza, estoy impresionada de ver este nivel en mi, toda mi vida he estado dibujando, pero aún no he llevado un año ilustrando y por eso estoy tan sorprendida de tener un progreso tan grande.
¡A continuación comparto el proceso!
---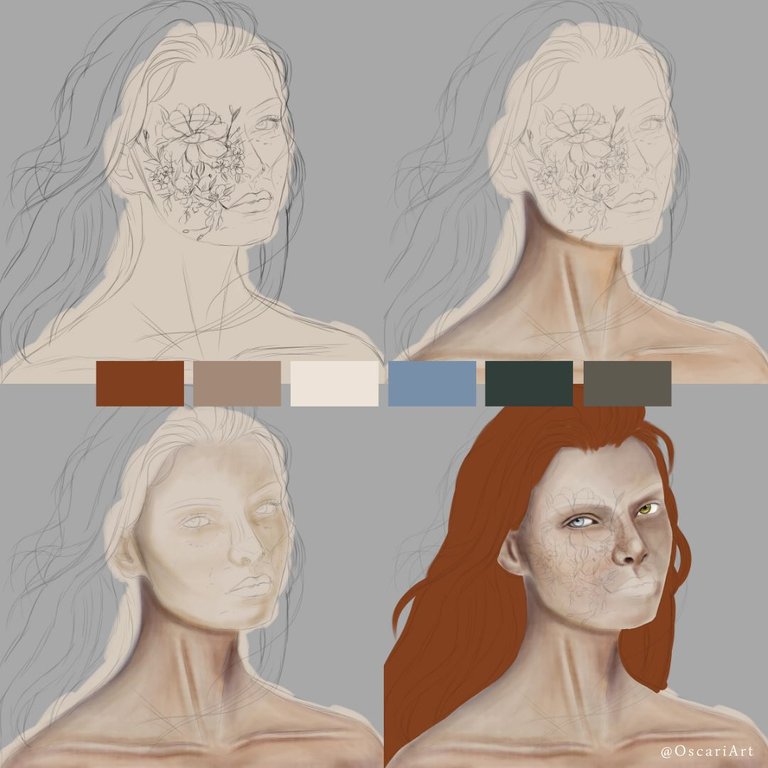 ---
I have put a lot of love in every detail of this piece, I still have a long way to go, but every day I learn something new.
This time I used oil brush for the base colors, because I wanted to combine that texture with those of another brush, so in the shadows I used a watercolor brush that I had not had the opportunity to use before, sincerely I was delighted with how you can work with it.
He puesto mucho cariño en cada detalle de esta pieza, aún me queda mucho camino por recorrer, pero cada día aprendo algo nuevo.
Esta vez utilicé el pincel de óleo para los colores base, porque quería combinar esa textura con las de otro pincel, así que en las sombras utilicé un pincel de acuarela que no había tenido la oportunidad de utilizar antes, sinceramente me encantó cómo se puede trabajar con él.
---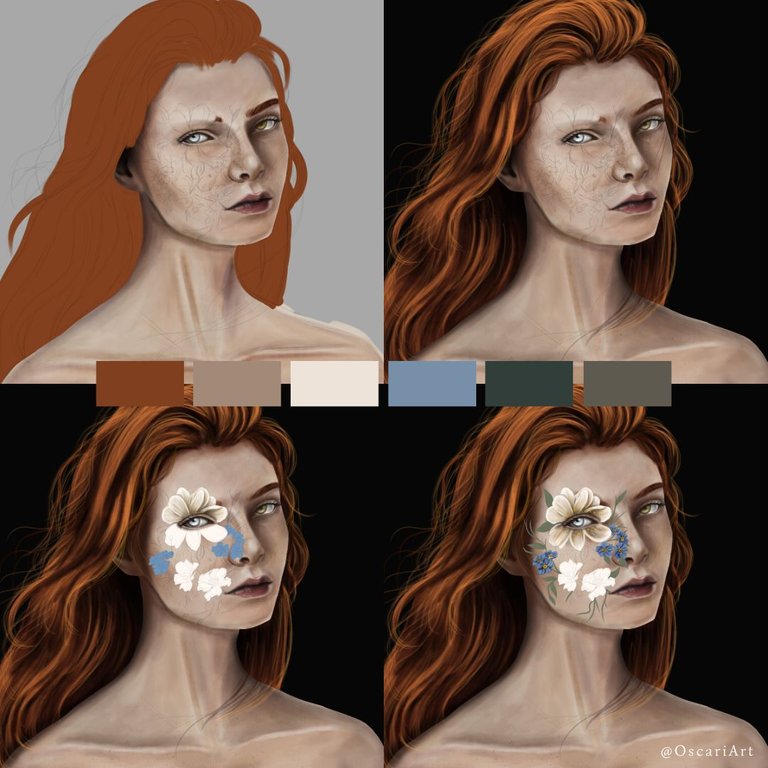 ---
What I like the most is the hair, in this one I used ocher and wine tones, the brushes for the base and shadow were the same used in the rest of the illustration, only in the effect of hair by hair I varied it with the triangular tip brush. I duplicated this last layer and added a blur filter, because I wanted some of them to look more moving than others.
While making the flowers on the face, it occurred to me to place more on the rest of the body, so I did my best to duplicate some of them and place them in different areas, just by modifying their shadows.
Lo que más me gusta es el cabello, en este utilicé tonos ocres y vinos, los pinceles para la base y la sombra fueron los mismos utilizados en el resto de la ilustración, solo en el efecto de cabello por cabello lo varié con el pincel de punta triangular. Esta última capa la dupliqué y le añadí un filtro de desenfoque, porque quería que algunos se vieran más movidos que otros.
Mientras hacía las flores en la cara, se me ocurrió colocar más en el resto del cuerpo, así que hice lo posible por duplicar algunas de ellas y colocarlas en diferentes zonas, simplemente modificando sus sombras.
---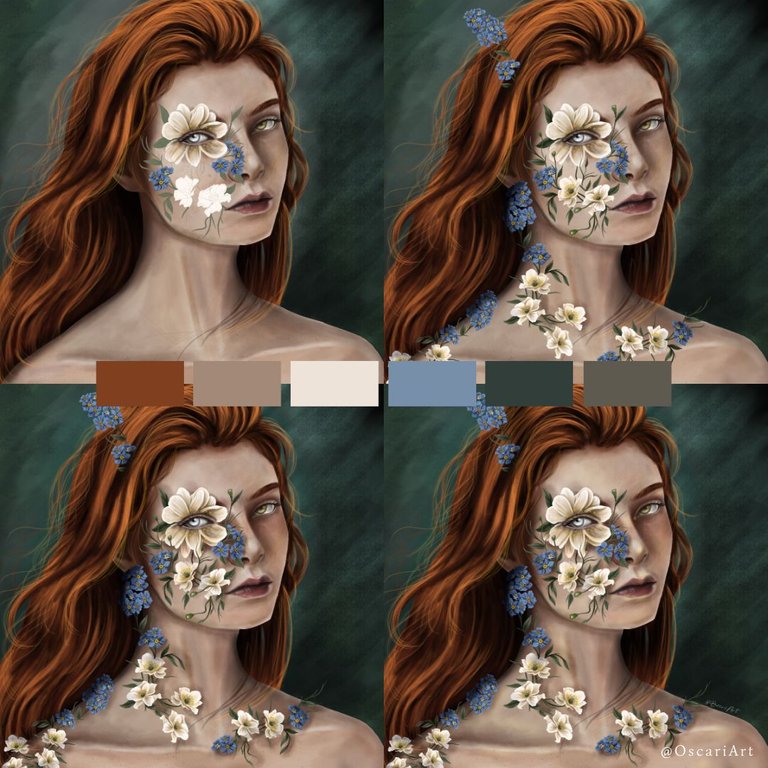 There was a while that I got bored of making the flowers (it's a lot of work haha), then to pause a little I made the background, I just added the aqua green tone and gave some light with sky blue, overloading this was not in my plans since I wanted all the attention to be on the character of the girl.
To finish the final touches, I improved some shadows and added light in some points of the face.
Hubo un rato que me aburrí de hacer las flores ( da mucho trabajo jaja), entonces para pausar un poco hice el fondo, solo añadí el tono verde aguamarina y di algo de luz con azul cielo, sobrecargar esto no estaba en mis planes ya que quería que toda la atención estuviera en el personaje de la chica.
Para terminar los toques finales, mejoré algunas sombras y añadí luz en algunos puntos de la cara.
---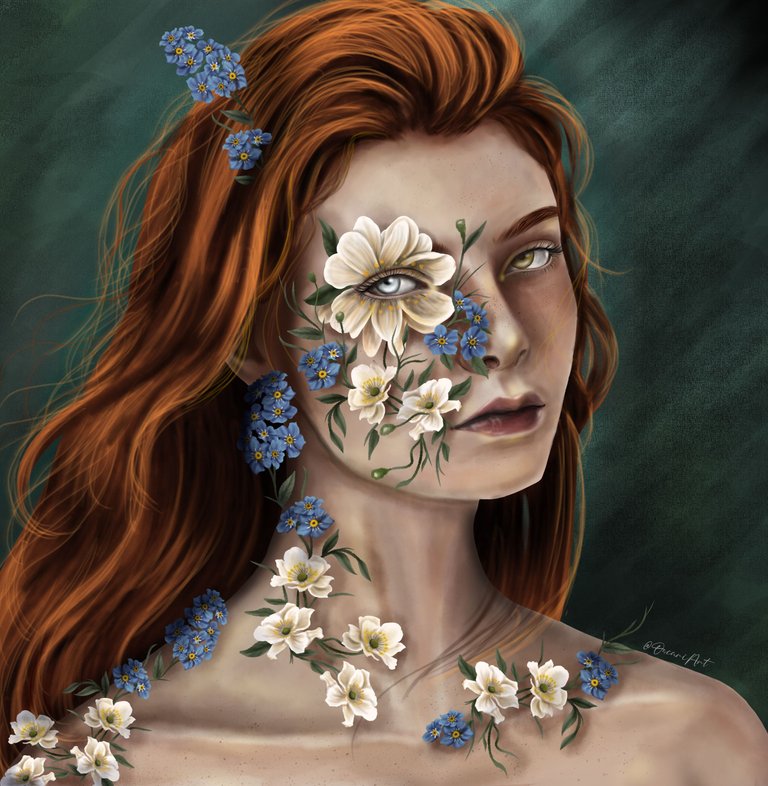 ---
It took me approximately 18 hours to make, I called it "Spring" because of the floral touch and the colors used in it. Thanks for reading me again, happy Saturday ✨😊.
Me llevó aproximadamente 18 horas de trabajo, la llamé "Primavera" por el toque floral y los colores utilizados en ella. Gracias por leerme de nuevo, feliz sábado ✨😊.
---
---

---
Twitter:
Instagram:
Tools - Herramientas
Huion H430P Graphics Tablet | Tableta Gráfica Huion H430P
Translated in Deelp
App used | App utilizadas:
Illustration made in Clip Studio Paint - Ilustración elaborada en Clip Studio Paint
All images are my own - Todas las imágenes son de mi autoría
---
---